Discover more from Wonkette
Wonkette is filthy, hilarious, liberal news. YOU CAN HANDLE THE TRUTH!
Over 18,000 subscribers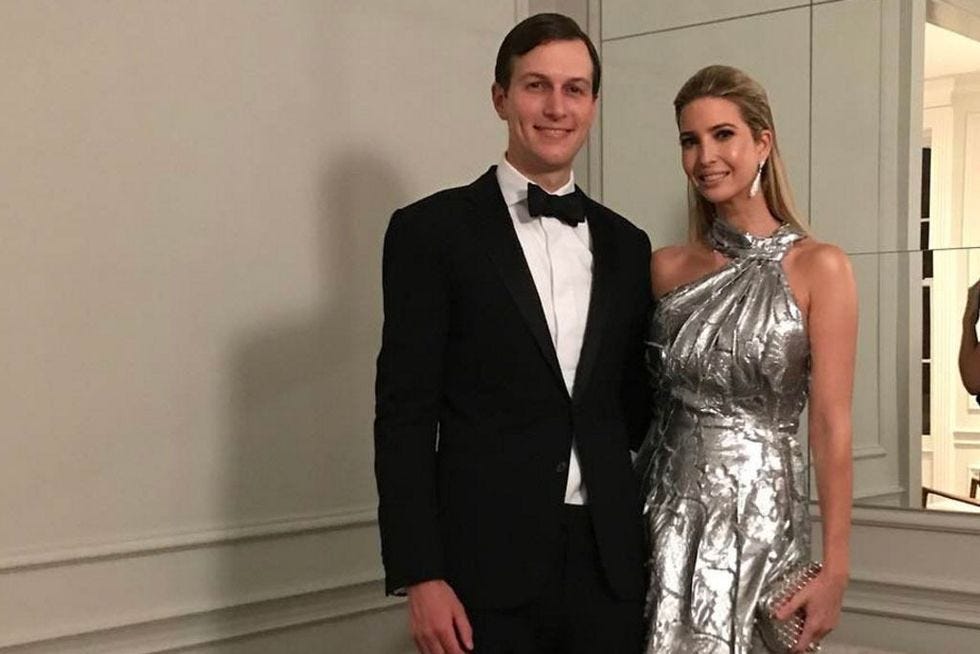 The absolute worst thing in the world is coming home from a double shift to find an eviction notice taped to your door. I swear there's a secret training in which people are warned that it would be negligent to use anything less than half a roll of packing tape to paste up a humiliating paper for all the world to see, which leads you to spend the hour after you come home trying to scrape the fucking thing off the apartment or house that will only be yours for another few days.
In totally unrelated news, this .
"They put them [eviction notices] in the windows for everybody to see, to see your business. That's not right. You don't put people's business out like that."
I have usually been evicted for refusing to pay my rent, because I have a personal rule of only paying money to corporations in exchange for goods and/or services. But let me share the reasons I stopped paying: a utilities-included apartment's utilities being shut off repeatedly for nonpayment, actual mushrooms growing through the living room carpet, a bathroom with no running water for three weeks instead of three days like the maintenance guys said, and once because my apartment was flooded feet high and became a hothouse for at least four different colors of mold. In every case the landlord said the apartments were livable, and even if they weren't I still had to pay for the unit every month.
Oh, and when the apartment flooded, ruining everything I owned, I was eight months and three weeks pregnant. If you want to feel rage, pure and unadulterated, I suggest finding yourself homeless and with no possessions in the summer heat with a pissed-off fetus making sure you can never be comfortable and then being told by your landlord to your face that it was your fault there was a fucking storm to begin with. 
They began with the bedroom ceiling, which started leaking one day. Then maggots started coming out of the living-room carpet. Then raw sewage started flowing out of the kitchen sink.
Jared Kushner's company sent her a $600 invoice for the carpet. When others got permission to move out early to avoid their ever-expanding rings of sewage and mold, Jared Kushner garnished their wages for money they didn't owe.
This is entirely legal. See, you have to pay your landlord literally anything they ask you to in order to avoid eviction. Your legal remedy is to pay them whatever they ask, hire a lawyer, and have a court order them to repay you. And let me tell you, when I was working two fast-food jobs I was just ROLLING in spare lawyer money!
Slumlords count on the fact that most of their tenants don't know real estate law and are frightened of courts. Even the classiest of slumlords, like Jared Kushner! That's right, Mr. Real Estate couldn't figure out how to do things like repair drywall and windows in the apartment complexes he bought (as a hedge against inflation, natch) and never bothered to fix. This sounds like a smaller thing than it is; if you've never lived with a six-foot hole in your bedroom ceiling that holds a growing family of rodents and then been charged over a grand and had the little bit of credit you've managed to build destroyed for "not reporting an infestation" despite your more than 30 documented complaints to not just your landlord but the health department and the HUD authorities, you've never lived!
"Every time I ask about drywall they say, 'Oh, well, we only have one drywall person,' " Riggs told me. There was also black mold spreading around the bathtub, a large brown stain and crack on the wall adjacent to the stove and a gap in the bathroom skylight that allowed in rain and snow.
If you *do* speak to someone in authority or a position to help, the people who are on the other side of the business contract will come to intimidate you! "Westminster staff had scolded her for speaking with me and told her not to do so again," says our New York Times reporter at the scene in Baltimore. And that's also within their rights! Lots of shitty apartments tell you who you can and can't have over, like that time a lease specified that I, a grown-ass woman, could not have overnight guests without prior written permission from management.
 "That Jared Kushner?" Danny Jackson, a plumber in his 15th year living at Harbor Point Estates, exclaimed. "Oh, my God. And I thought he was the good one."
"Our goal is to keep buying and incrementally growing — they're good markets where you can get yield," said Jared in a remark that would make pre-haunted Scrooge start yelling about the dignity of the proletariat. Poor people are a fucking hedge for Jared Kushner's risk.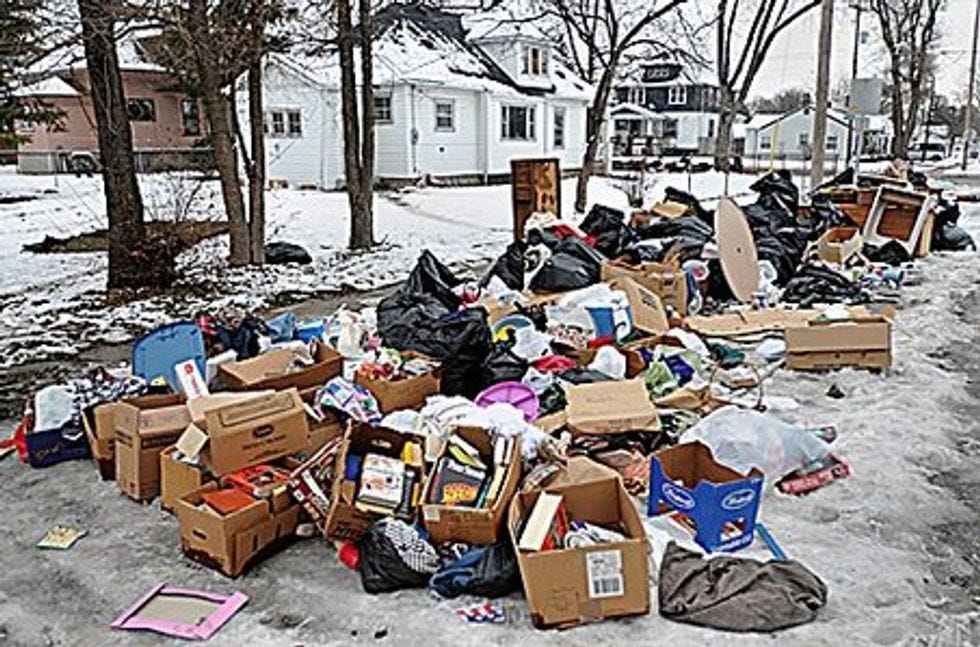 These fuckers, by which I mean the people who own and run absentee slumlord shops, have no souls. They name their collection agents "property managers" though the job rarely if ever involves the property itself. (The job is usually to make sure late or eviction notices are served, and to duck residents' calls.) They are the hands of Wall Street; who the fuck else do you think threw Granny in Peoria out on the road after her pension fund collapsed? They revel in the shame, humiliation and fear of those they think beneath them and they're boorish enough to make it part of their business plan.
Westminster was now after her for April's rent, despite the fact that the company had literally barred her from being able to move before April, as she had intended. On April 25, a judge ruled that she needed to pay half of April's rent, plus court costs: $471.
It ain't hard to maintain a house. I know; I was a low-income renter for well over a decade so I've become a skilled handyman. I learned basic electric and plumbing work, drywall, and even once road maintenance when a bunch of tenants each bought a bag of concrete and patched the parking lot. I know how to install windows and that snap-together flooring, and how to replace a fridge coil. It's a weird skillset for someone who's always had a landlord to fix things! I shouldn't know any of this shit!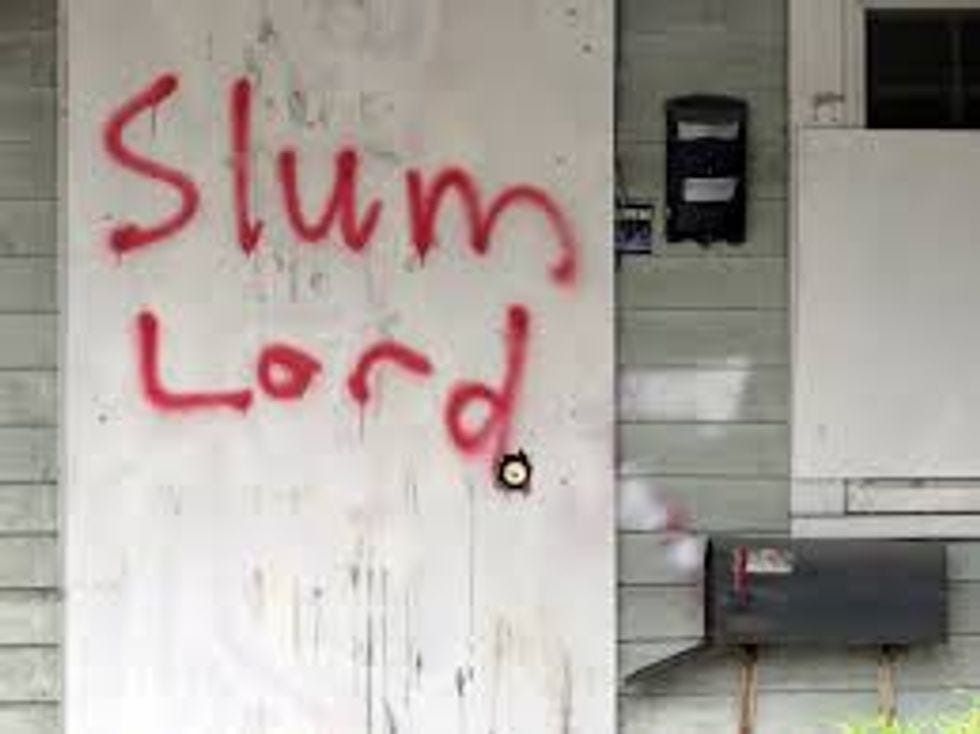 I wrote a book about being poor. Housing got a whole chapter on its own, and that's mostly just stories of shitty landlords. Point here is this is a story about Jared Kushner and his companies, but this time Jared gets no elevated status because he's as run-of-the-mill as they come. Just another wannabe Donald Trump, buying properties with other people's money but unable to manage them effectively because both his brain and his soul are the size of large plums.
I cannot wait until the time this whole Administration is having their jail reform epiphanies, which as we all know comes after any white-collar criminal does prison time. Suddenly they all understand scarcity and bad conditions! Here's hoping they're all sentenced to live in a Kushner property.