Discover more from Wonkette
Wonkette is filthy, hilarious, liberal news. YOU CAN HANDLE THE TRUTH!
Over 15,000 subscribers
Should they really assume everyone hates sick babies?
We knew, while we were watching and crying along with Jimmy Kimmel's monologue about his newborn son's rough first day on earth and his fears as a dad about that tiny little baby with all the monitors and tubes hooked up to him, that it was inevitable someone would have to be an asshole about it, because OMG Kimmel said a political thing! And the Usual Suspects showed up to tell Kimmel that he's lying: We CAN'T all agree that every child deserves life-saving surgery, because who's going to pay for it? And how can you talk about loving your baby if you support the right to choose abortion, you hypocrite? But mostly, how dare you politicize your son during his first week of life? You must wait until he's a preschooler and can hold his own little sign full of bloody aborted fetuses to do that! Or at least until you are a former vice-presidential candidate and can fret about Barack Obama's death panels, but not the House Republicans' death panels. 
For instance, there's former congressman and notorious deadbeat dad Joe "Not the one from the Eagles" Walsh, who approaches all issues logically and unemotionally, except when he's talking about scary Muslims who want to kill us all. Here's Walsh's principled stand against helping babies born with bad hearts: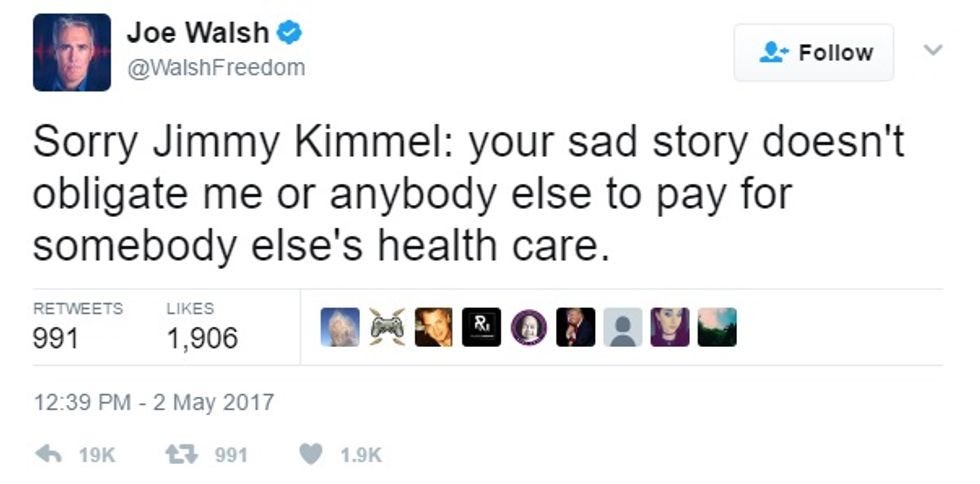 Strangely, this didn't elicit a lot of support from people eager to align themselves with Walsh. But virtually everyone on Twitter noted the irony -- or perhaps the horrible consistency -- of a guy who failed to pay child support for his own kids also being against other people's useless sick children. Some people clarified Walsh's message for him, because they care: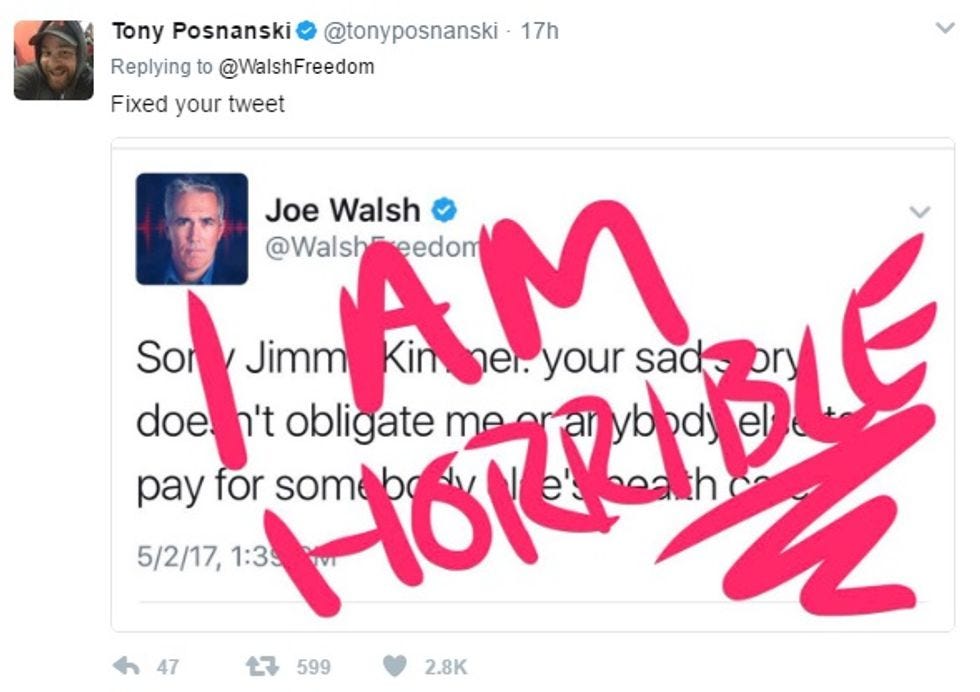 At least one person -- obviously a wild-eyed socialist lunatic -- attempted reason: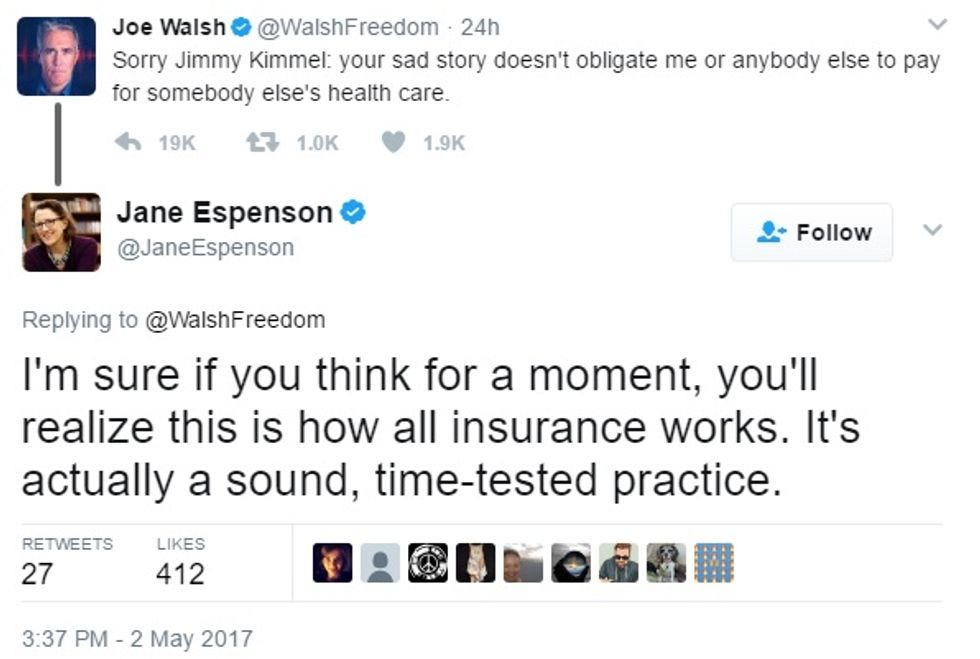 Fortunately, Walsh knows he's just a clearer thinker than all these hysterical libs and that crying wuss Kimmel: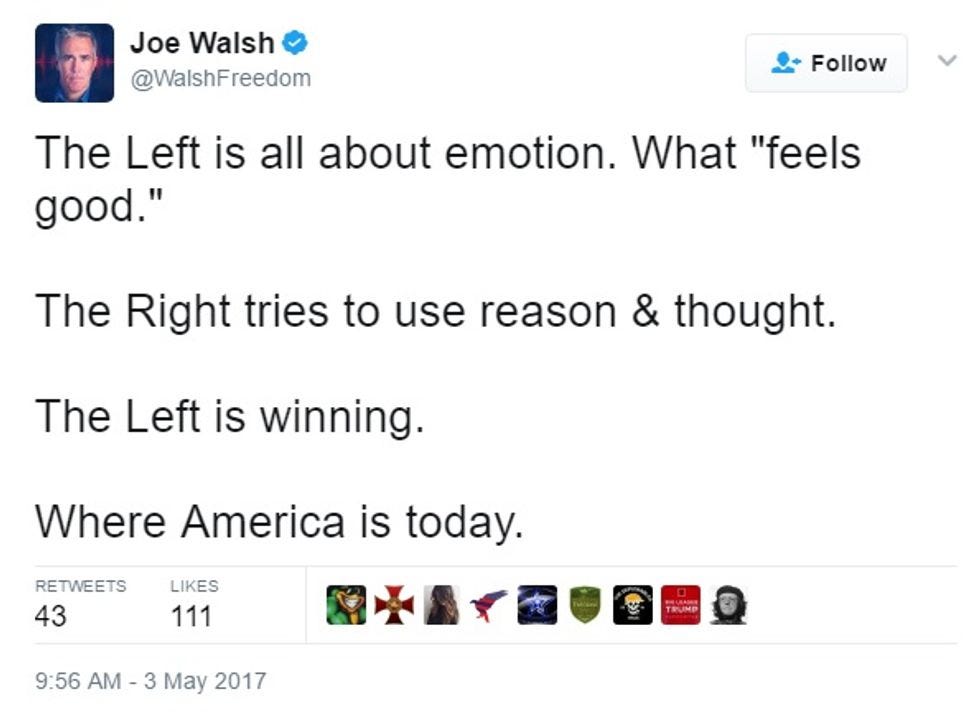 Hmm. We reject the claims there, but we can see why a lot of people might not be convinced by "reason" like Walsh's. A man who is logical, and never stoops to emotion, except when he does: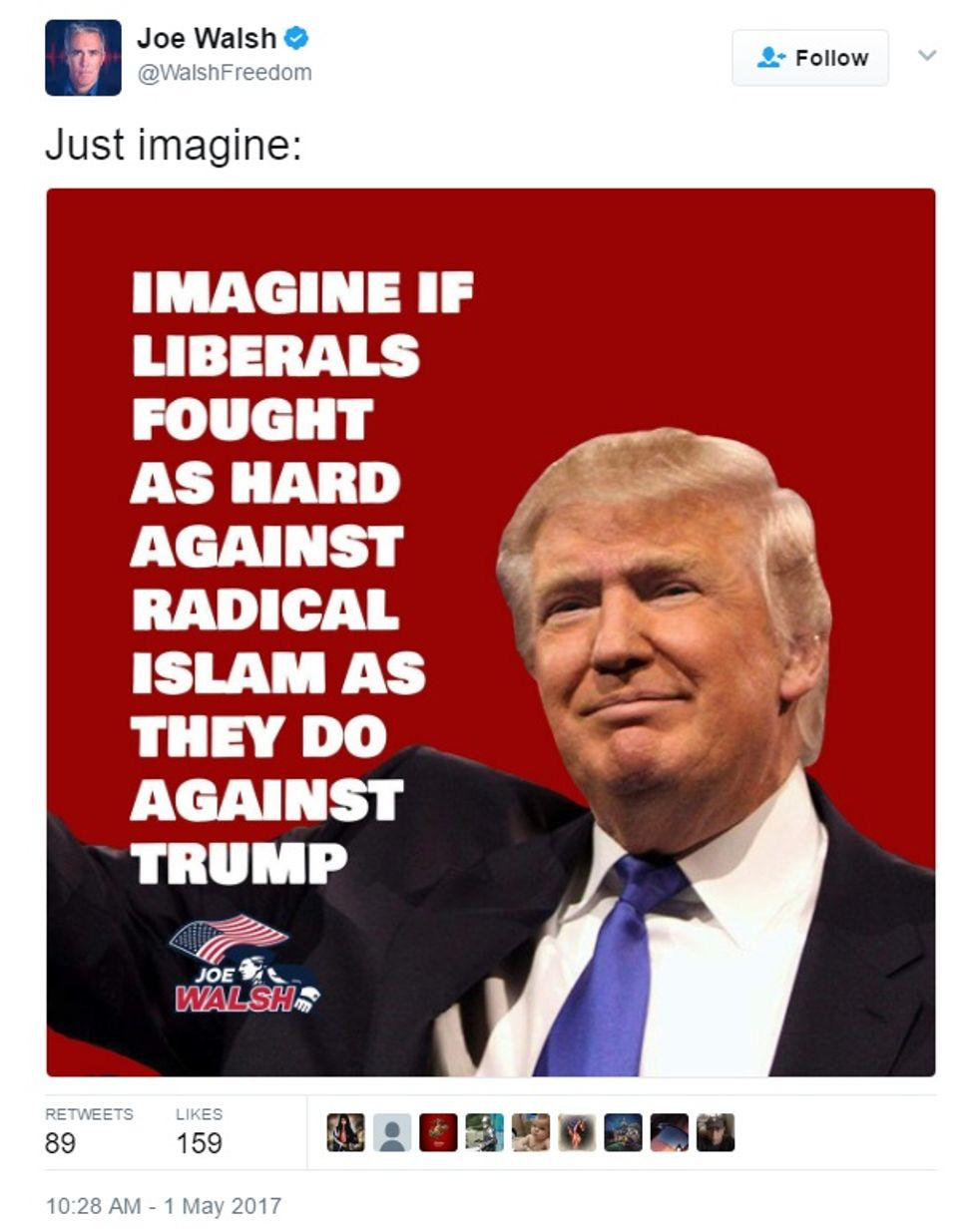 Or when he fantasizes about that great day when the liberal media gets its comeuppance, radical Islam takes over America, and terrorists behead everyone on TV in an orgy of bloodletting, which liberals so richly deserve, Ha! Ha!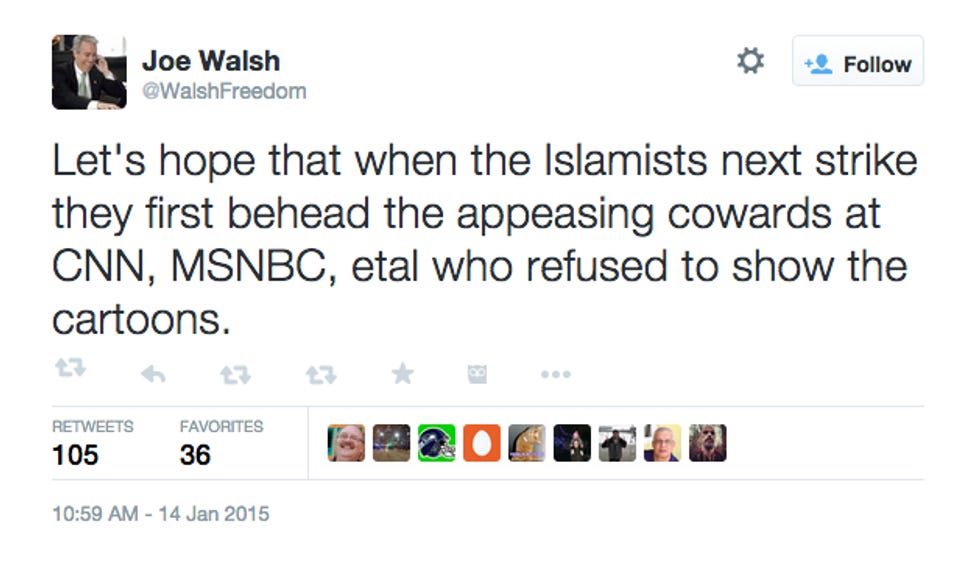 Give Walsh a day or so, and he'll figure a way to have the terrorists (here any day now!!) behead Jimmy Kimmel and his whole family for being liberal elitists. Or maybe for co-hosting "The Man Show" and tempting men with those "Juggies" on the TRAMPolines.
Walsh is just one failed congressmen with a regional radio show, though (except for some reason he keeps getting booked, now, on MSNBC?). For truly spectacular cluelessness, you had to turn to the Washington Times, which started things off with a single outrageous headlinecarefully calculated to get hate-clicked ("Shut up, Jimmy Kimmel, you elitist creep"), then when people insisted on being offended by its offensive hed, followed up with a "media analysis" piece on "Jimmy Kimmel's crying pro-Obamacare jag." And just for good measure, the paper also explained that stupid, stupid Jimmy Kimmel was getting all upset over nothing, because he is a socialist who is stupid and cries: "Science Says: Kimmel baby's heart defect is common, fixable." What a crybaby idiot you are for being concerned about your newborn son, Stupid Jimmy Kimmel, and also for thinking that any babies in America would ever die because their parents can't afford surgery!
We aren't going to do a deep dive on these three pieces, because while we're insured, we're not 100% certain anyone should be exposed to this much toxic sludge. But here are a few samples!
From Charles Hurt, who thinks Jimmy Kimmel is a creepy elitist for thinking all American babies deserve the excellent care his own baby got, because elitists are always thinking about other people:
Here was this moment highlighting the preciousness of life, the heroism of nurses, the unmatched expertise of surgeons and the magical power of family. And what is the point of it all for Jimmy Kimmel?

Politics. Grubby, dirty politics. [...]

It was suddenly as if instead of bringing forth into life an exquisite bundle of joy, Mr. Kimmel had been handed a stupid golden statue. And as if at the Oscars, the dirty, self-absorbed, narcissistic exhibitionist could not help himself but step into the klieg lights and start blubbering about politics.
How shameful! A man thought his experience as a parent might somehow be relevant to a national issue? You are only allowed to do that if an undocumented immigrant killed your child -- then you are a noble hero for taking the staged of the Republican convention to make Americans hate all immigrants because they are all murderers. But to generalize your son's close call? GRUBBY! Even worse, that sick bastard Kimmel wants all of us to be robbed to pay for other people's sick babies, "Easy thing to say for a gazillionaire from Hollywood." Thank god, Charles Hurt (please, commenters, no "butthurt" jokes, since they really are over-used in the Moonie Times comments) sees right through Kimmel for the pandering whore he really is, a shameful man who is exploiting his family's near tragedy, OH THE PAIN!!!
He just had a kid and the kid nearly died and he wants you to know that if you are not for bloated federal bureaucracy, socialized medicine, higher taxes and tons of more debt piled onto your grandchildren, then you are not a "decent person."

Actually Jim, if you were a "decent person," you would shut your fat trap about partisan politics and go care for your kid, who just nearly died, you elitist creep.
One good thing about all this: The comments are almost universally condemnatory of Hurt, and wonder why he thinks anyone is fooled by his politicizing Jimmy Kimmel's baby, the damn snowflakes.
Just to prove Charles Hurt isn't the only staffer who's clear-eyed enough to resist Kimmel's sob story, we also have the "crying jag" piece by Cheryl Chumley, which starts with "The left has an uncomfortable habit of slinging around tears to get what it wants," goes on to assure us that she really is sorry Billy Kimmel came into life with a bad ticker, but explains that Kimmel's tears are no reason to throw money at the National Institutes for Health to blow on useless research and wasteful government takeovers of healthcare, because she is logical and not swayed by your dumb tears. Kimmel's whole premise is a lot of silly hyperbole, she assures us:
Where in America did newborn children not receive the health care they needed?

What hospitals in the country cruelly tossed a child into the street — a newborn child born with a heart defect — and called out, as the door slammed shut, "No health care for you!"

Fact is, Americans received emergency care before Obamacare. Fact is, too, Americans also received treatment from insurers for pre-existing conditions after a certain amount of time had passed.

Maybe they received bills in the mail for the emergency care, and for co-pays and deductibles for other medical services received — but not as large as the bills taxpayers and insurance holders alike are receiving now, post-Obamacare. Pre-Obamacare, the system was more free market; post-Obamacare, it's a spread-the-wealth, subsidize the poor system.
[Raises hand] Oh, I know this one! In St. Louis, where respected political analyst Our Girlfriend told us her own grandmother gave birth to 13 children back in the bad old days before neonatal ICUs, and five of them -- FIVE -- were "blue babies" with heart defects, sent home to die because nothing could be done for them. Her mom remembered, as a child, seeing one of the departed babies "lying in his box" on the kitchen table in the 1920s. See, if you let them die, no preexisting condition! [Note: this anecdote updated after Our Girlfriend corrected a couple of details]
And if, after receiving those bills in the mail, people went bankrupt because they couldn't pay them, at least their babies were alive. Please ignore the reduction in medical bankruptcies under the ACA, too. And ER visits never raised healthcare costs, no, not at all. Sure, maybe a doctor's office is a far less expensive place to treat people with chronic conditions (who in the olden times were never denied coverage), and just as long as people aren't actually ON the street when they die from preventable conditions, then everything's great!
Also, congenital heart defects never caused anyone to be denied coverage, except when they absolutely did that on the regular. The emotional idiots at the American Heart Association sure seemed to think the ACA's protections had improved healthcare for people with heart problems, even before the exchanges were implemented.
Hey, stop your sob stories, will you? If you really want a tragedy, look at all the people killed by having insurance, who are definitely out there in anecdotes. Or the wealthy people whose taxes went up! Where is the late-night comedian who'll cry for them?
 Yr Wonkette is supported by reader contributions, and we think every baby deserves healthcare, because we're weirdly emotional about sick kids. Please click the "Donate" clicky if you too are an over-emotional liberal! 
[ Joe Walsh on Twitter / Washington Times / Washington Times Redux / NYT / Kaiser Family Foundation ]