Discover more from Wonkette
Wonkette is filthy, hilarious, liberal news. YOU CAN HANDLE THE TRUTH!
Over 18,000 subscribers
He ain't gonna make it with anyone anyhow
Used-up teabag, former congressidiot, and notorious deadbeat dad Joe Walsh still has a radio show in Chicago for some reason, and so he remains a thing on the wingnut welfare circuit. He's been giving the coming election a lot of thought lately, and by golly, if Americans choose the wrong candidate, he's not going to stand for it, because there's no way Hillary Clinton could win a fair election. Ergo , if Donald Trump loses, it's Tyranny, and as Walsh explained in a prolonged Tweetgasm Wednesday, it'll be time to take ACTION: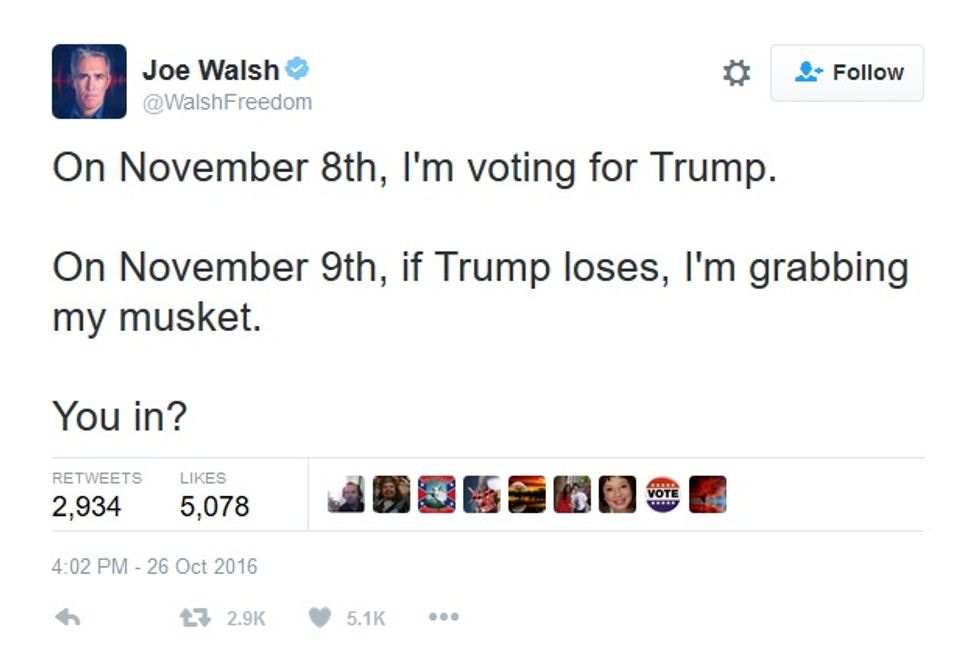 In reply to a whole bunch of smartass Liberal Media types, Walsh immediately clarified that he's not talkin' 'bout a revolution, oh no. No no no no!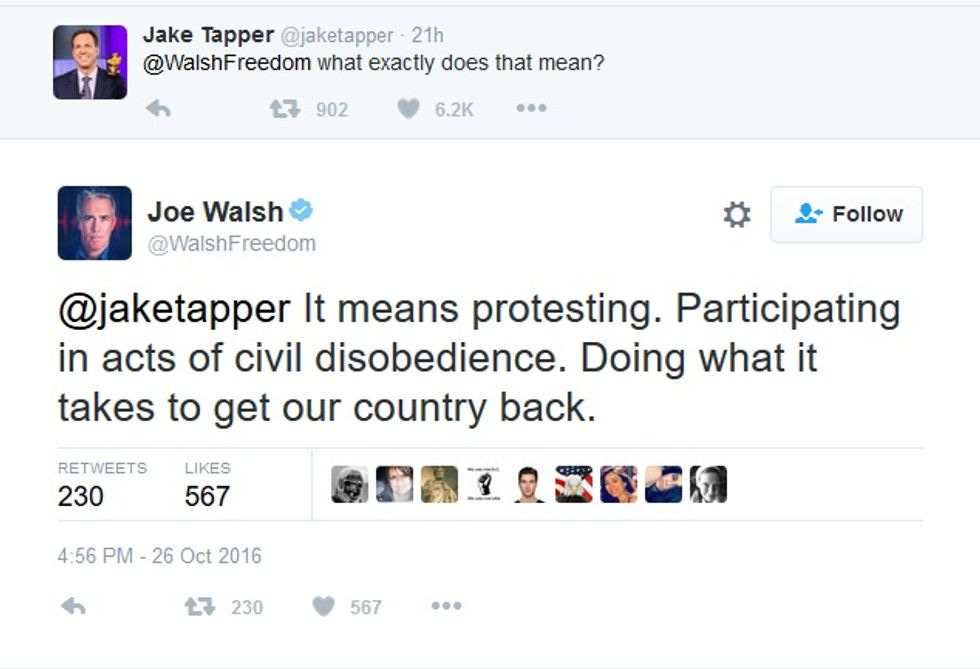 Or considering that "doing what it takes" could potentially include the armed insurrection that gun-humpers are always ready for -- as a last resort only -- maybe that should be "No no no maybe."
Nor was Walsh amused by this little witticism from smartass Jeopardy! champion Ken Jennings: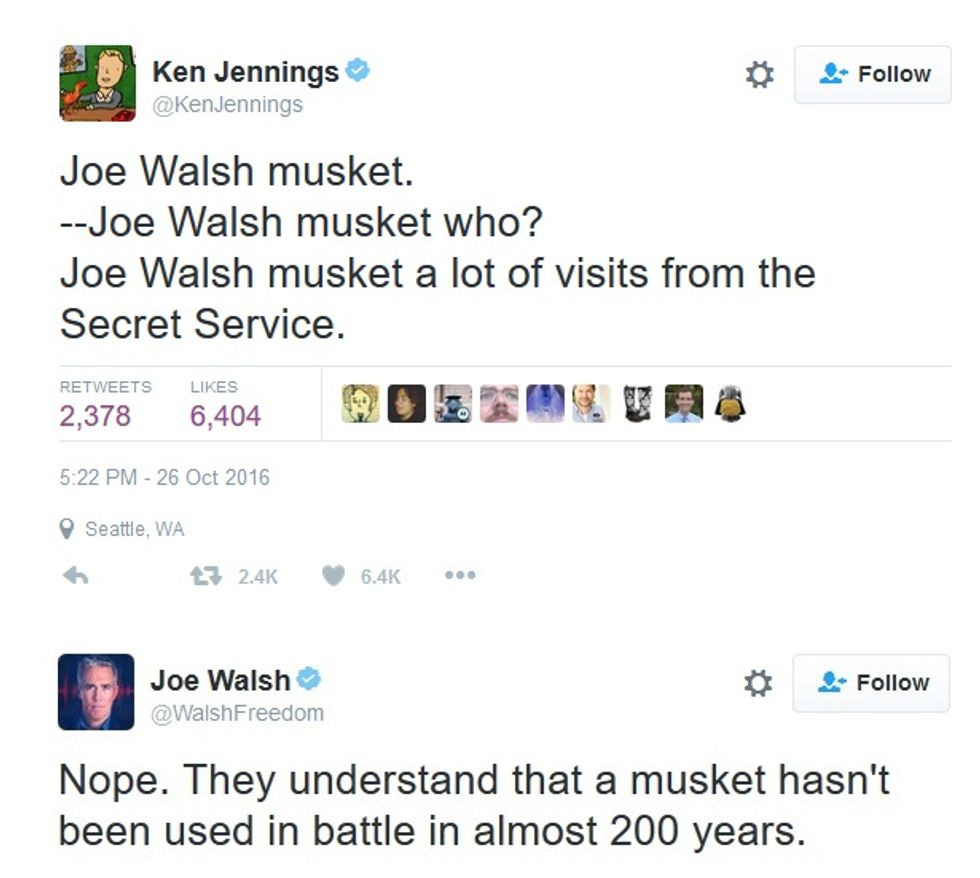 No worries, Mang, he's not talking about shooting anyone. Leastwise not with no musket. Why are liberals always so triggered (HA! HA!) by the occasional allusion to armed revolt, when it's clearly just a metaphor for protest (and taking our country back by any means necessary, as it were)? That couldn't have anything to do with all those gun-humpers out there who can't shut up about watering the Tree of Liberty with the blood of Tyrants, could it? Don't be silly. People with "Liberal Hunting Licenses" are just joking, you know: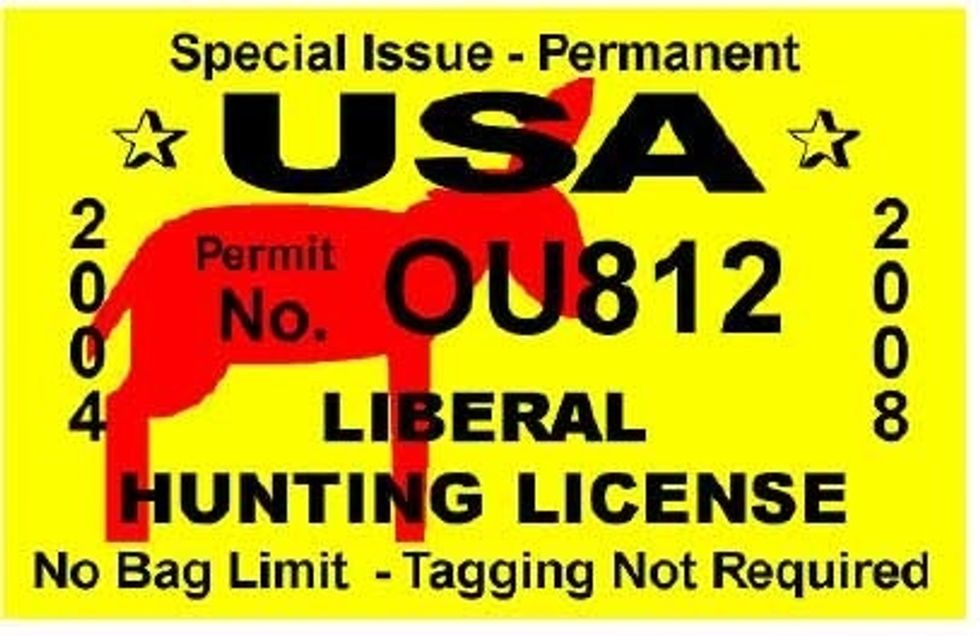 Except maybe for that Anders Breivik guy, who also thought it was pretty funny before he shot up that youth camp in Norway and killed 77 people.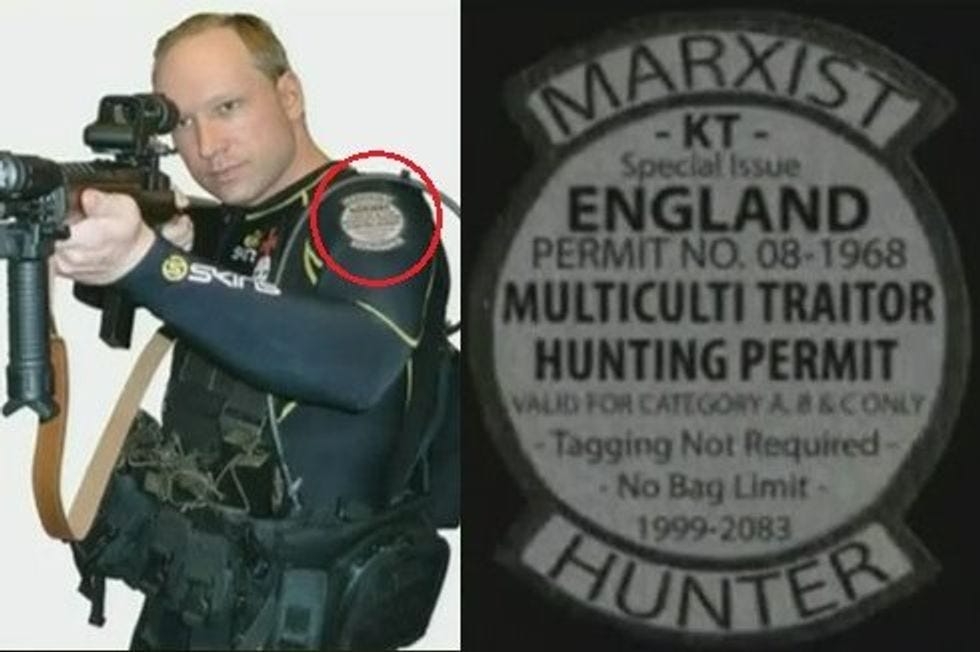 But he was really an outlier. So stop being so darn jumpy, you crazy libs! Guns don't mean shooting, (until they do).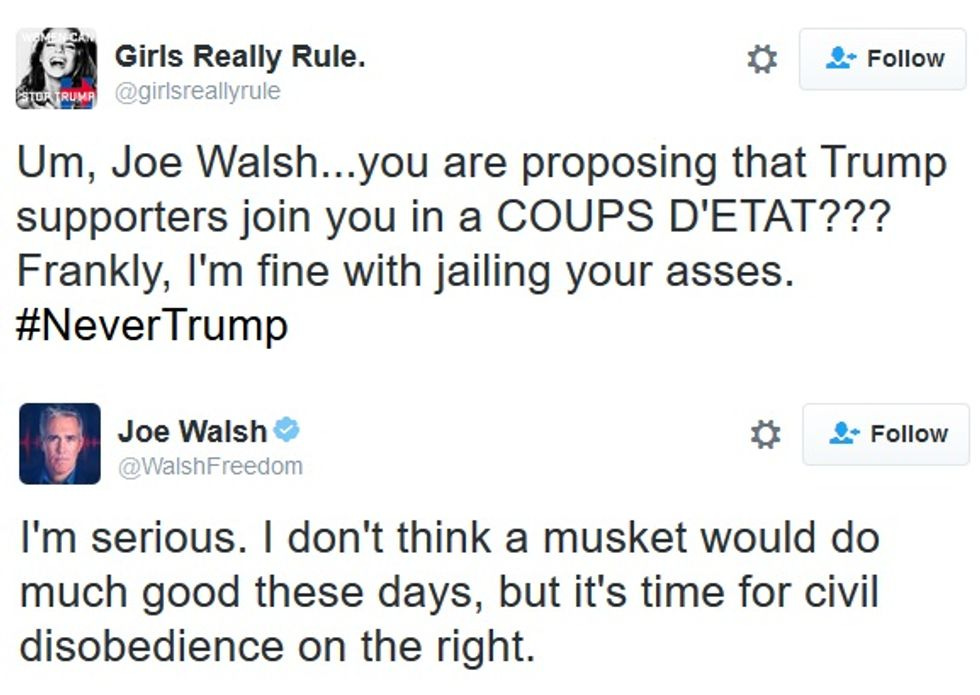 Besides, it's not like he means to imply we're on the verge of civil war, for heaven's sake: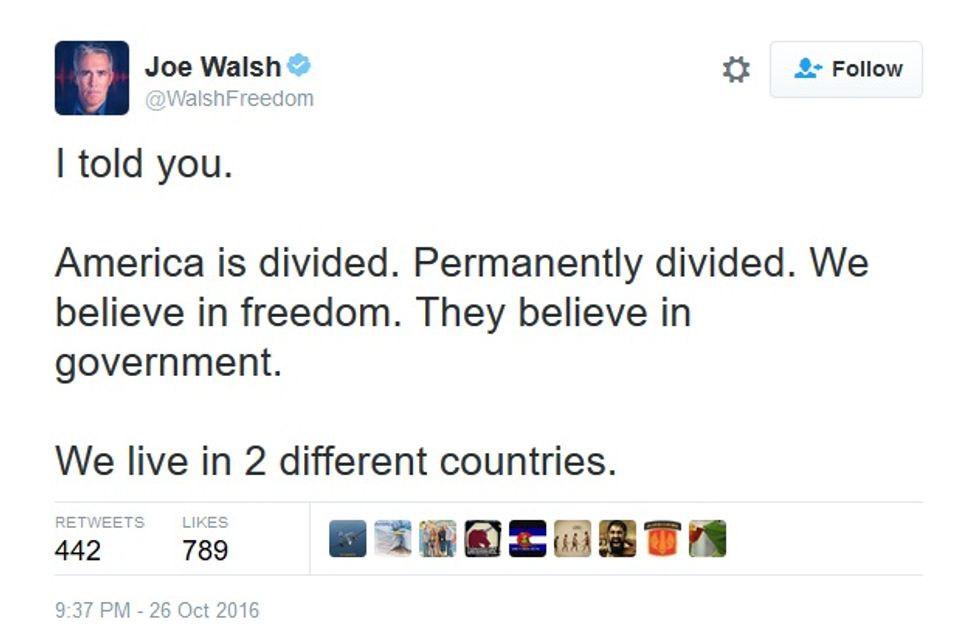 And if we are, it's only metaphorical. Seriously. Besides, as somebody on the Twitters pointed out, Walsh says this stuff all the time, and he has yet to actually shoot anyone: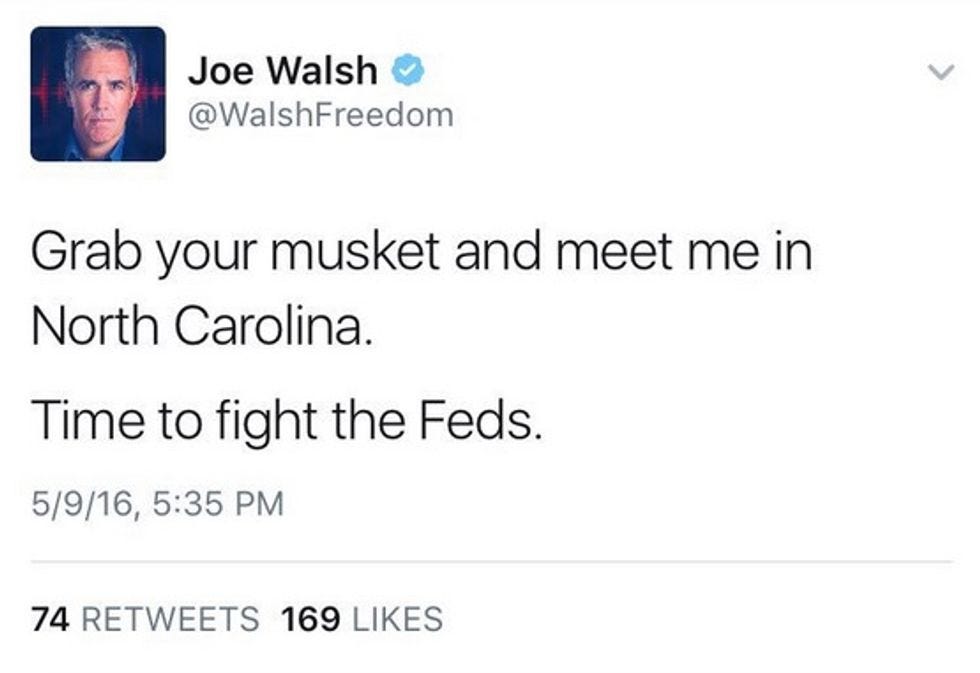 North Carolina, May 9? Oh yeah, that was the day Loretta Lynch took away that state's freedom to tell people where they can and can't pee. Remember how many musketmen showed up to protect the toilets from dangerous transgender people? Nope, neither do we.
In any case, Joe Walsh had himself a good chat with Thomas Jefferson about the government forcing gay cakes down everyone's throats, and you'll never guess what Thomas Jefferson told him to get a grip on -- no, not his hyperactive imagination, his boomstick!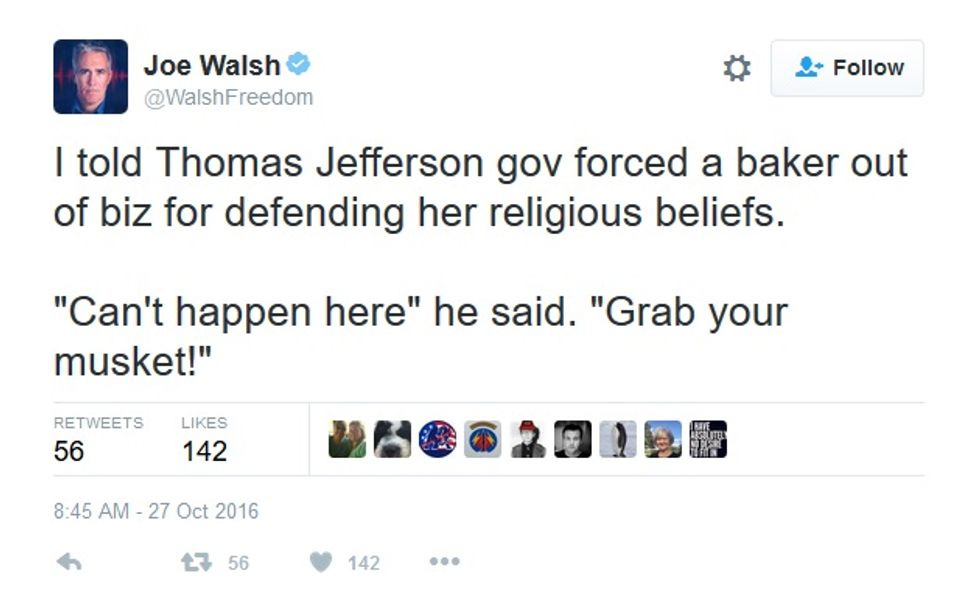 You know, in a metaphorical way. We're not sure what it is with these teabaggers and their imaginary chats with dead Founders, but they sure do talk to them a lot, like that failed congressional candidate from Alabama who thought Dead George Washington wanted him to "Gather your armies" against the IRS.
We bet Joe Walsh doesn't even own a real musket, but maybe he does. In any case, he sure likes grabbing it a lot. Not that he means anything by it. Not this time. Not yet. He's keeping his powder dry. Besides, by Thursday morning, he simply wanted us to wake up.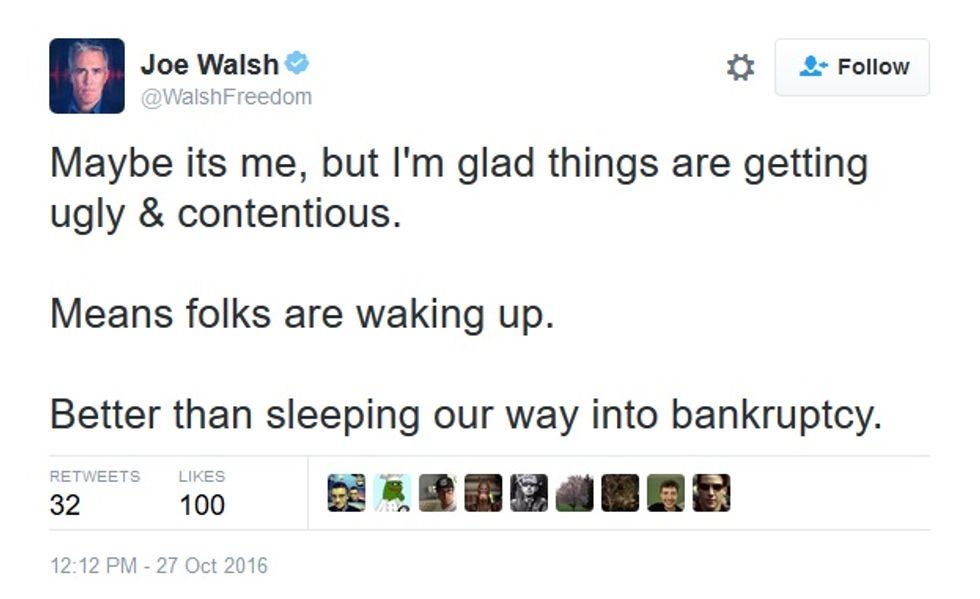 So, just to make everything clear, he was only talking about peaceful protests when he said he'd grab his musket, and only in the wildest imagination of a crazy liberal could his tweet have been interpreted as meaning armed revolt. Which sort of leaves us wondering why he retweeted this: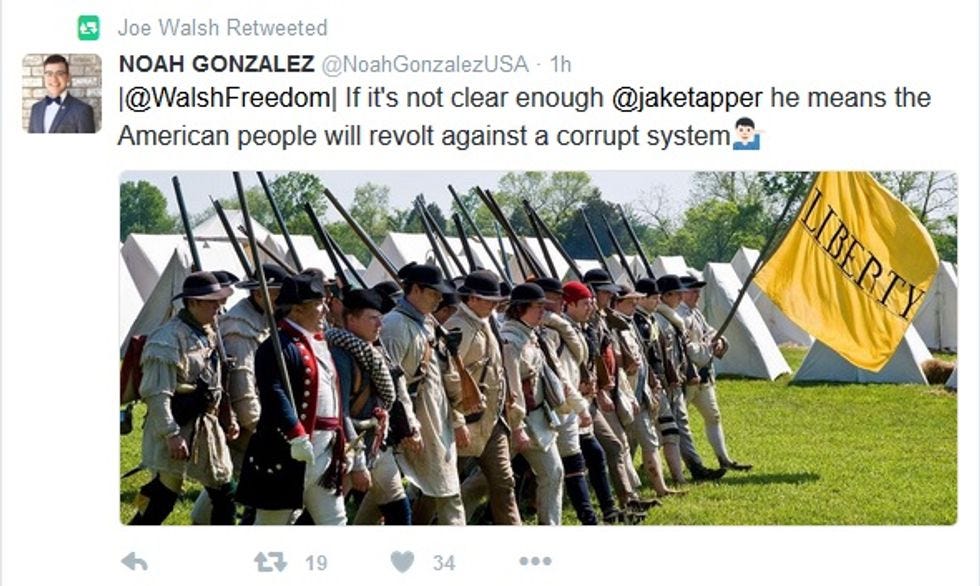 OK. Glad we got that all cleared up. And that this moron is no longer in Congress.
[ Joe Walsh on Twitter]