Discover more from Wonkette
Wonkette is filthy, hilarious, liberal news. YOU CAN HANDLE THE TRUTH!
Over 18,000 subscribers
In Kerry Bentivolio 's short legislative career, brought to you by the staggering incompetence and possible sabotage of the dunces on his predecessor's campaign staff, the reindeer-wrangler-turned-congressman has fought for his tea party values , dreamed dreams of impeachment , and promised to look into which shadowy forces   in particular are behind these nefarious chemtrails afflicting the population. Now the truth about the government's secretive Death From Above program might never be known, so we hope the 11th Congressional District of Michigan is pleased with itself: on Tuesday night, Kerry Bentivolio lost his primary by 32 points. The Wonkette Preemptive Nostalgia Desk now presents a look back at the Accidental Congressman's unlikely trot through the lower chamber.
Kerry took over the seat of Thaddeus McCotter , who packed up his American flag guitar and left the United States Congress in July 2012. Thad had utterly failed in his bid for the presidency and the signatures gathered by his campaign to secure his ballot line in the House primary had turned out to be a bit sloppy (if by "a bit sloppy" we mean "comically fraudulent," which we do). After promising he'd "clean up my mess" with a write-in campaign, Thad decided he wouldn't be running in the primary at all and then juststraight-up resigned from his seat with six months left to go so he could spend the rest of the summer concentrating on the script for his teevee pilot .
McCotter's late withdrawal left only tea party reindeer rancher Kerry Bentivolio on the GOP primary ballot. A comparatively sensible former state senator mounted a valiant write-in effort to try to save her party from joke status, but her campaign was doomed from the start by the electorate. Do you think Republicans in the district that sent Thad McCotter to Washington five times cared about all those lawsuits from when Kerry got mad at the people he stiffed calling him a crook while they found him playing Santa Claus or that role he played as a doctor in a movie where a comatose president character based on George W. Bush causes 9/11 and then has to convert to Islam before he can die and go to heaven? No they did not care. Kerry won the primary and then defeated a Democratic doctor in the general in November (though he somehow lost, on that same ballot, the special election for the last scrap of Thad's orphaned term to a card-carrying, literal Democratic Union Thug ).
Like a lot of iconoclasts, Kerry struggled for acceptance from his peers. Most of the bills he signed onto didn't make it to the floor for a vote and he never even got his hearing on the chemtrails, which looks to us like a treasonous abdication of his duty as a member of the House Oversight and Government Reform committee . His re-election campaign was caught flatfooted by a media blitz when his opponent pulled in nearly eight times what Kerry was able to raise. Even with help from John Boehner , a flurry of what we're sure are Unconscionably Misleading ads went unanswered for lack of funds, and just like that the Reindeer Man will be removing what we assume is a large number of antlers from the walls of his office in Cannon HOB.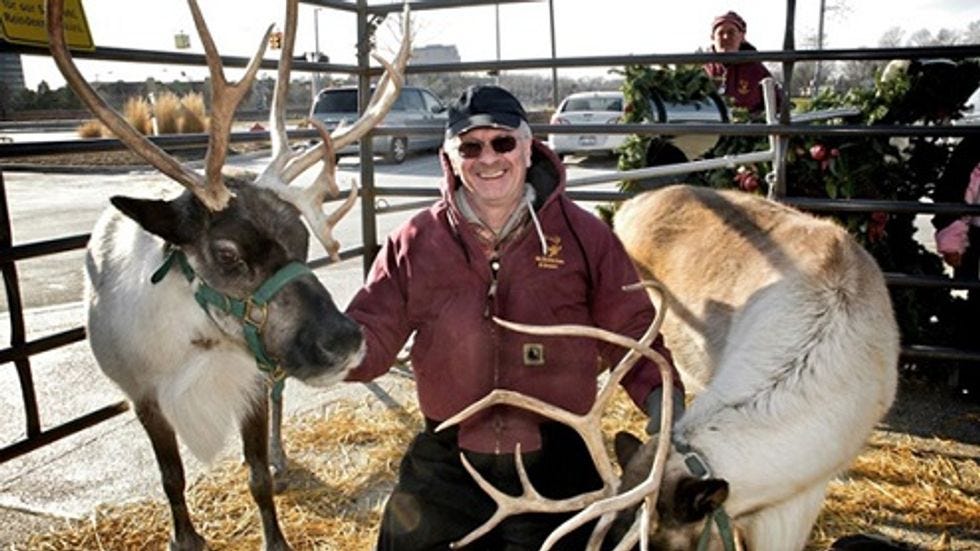 Kerry's conqueror is a guy named Dave Trott , a Michigan lawyer, foreclosure entrepreneur, and major GOP donor. Trott (whose website inexplicably lacks the slogan "Hott to Trott") will now face off against whomever the local Dems put up against him. Considering the recent electoral history of this district, we imagine even the endorsement of Mittens von Romington will not be enough to bring him down as long as he has an R after his name.
Perhaps Kerry Bentivolio's defeat shows that a small number of Republicans in Michigan decided they wanted someone a bit less tea-stained representing them in Congress. Far more likely, however, is that somebody got to them -- somebody who does not want you to know about the chemtrails.
  Follow Beth on Twitter for the latest in weather machine technology.