Discover more from Wonkette
Wonkette is filthy, hilarious, liberal news. YOU CAN HANDLE THE TRUTH!
Over 15,000 subscribers
Knives Out In Trumpland As Lawyers Find Representing Serial Con Man Has Its Perils
Donald Trump is in a heap of legal shit, and his lawyers are starting to turn on each other.
Donald Trump has one pending criminal prosecution ; one pending civil prosecution ; is the subject or target of two federal grand juries and one state grand jury; and is staring down a second tort suit by E. Jean Carroll. He's also embroiled in several idiotic defamation suits against everyone from CNN to the Pulitzer Prize Board , plus he's appealing a million dollar sanctions order in his idiotic RICO LOLsuit against Hillary Clinton, James Comey, and half of DC. And to top it all off, Devin Nunes, the CEO of Trump Media and Technology Group, is suing the Washington Post and The Guardian for defamation, apparently oblivious of the fact that, if he survives a motion to dismiss, reporters are going to get discovery on TMTG's shaky finances .
Trump's got a shitload of legal trouble, albeit most of it self-inflicted. He's also got infinity griftbux to throw at lawyers , thanks to the rubes who send cash to his PACs. And so he's got a whole stable full of attorneys trying, and mostly failing, to get their client to buckle down and take this stuff seriously. But that's never going to happen — the man's far too busy posting insane shit on social media, often about the very cases which pose the most danger to him .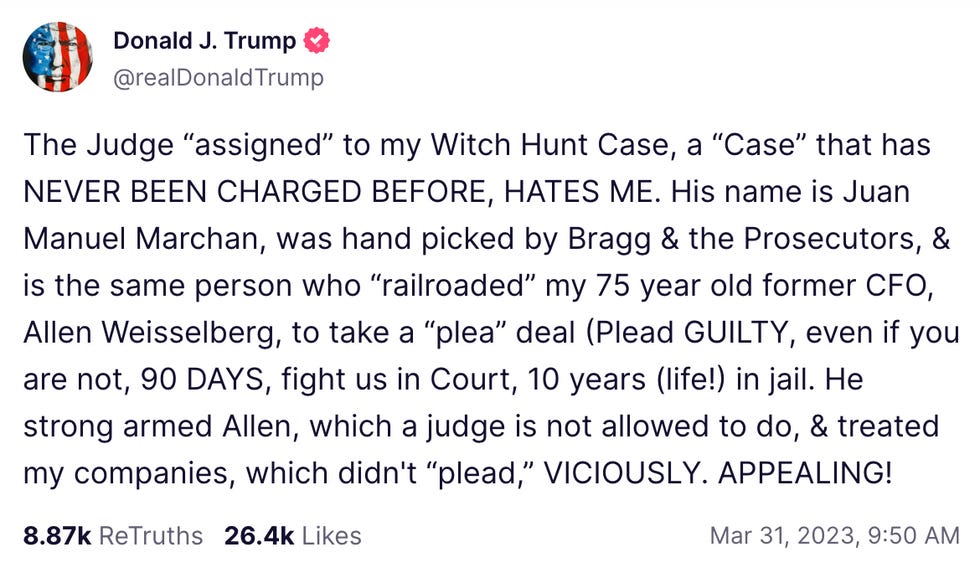 With indictments seemingly imminent in both Georgia and the federal documents case, Trump's lawyers are starting to turn on each other. Just two weeks ago, attorney Timothy Parlatore tapped out , claiming that he couldn't do his job because fixer/lawyer Boris Epshteyn had "done everything he could to try to block us, to prevent us from doing what we could to defend the president."
"He served as kind of a filter to prevent us from getting information to the client," he told CNN's Paula Reid. "In my opinion, he was not very honest with us or with the client on certain things."
Epshteyn, who practiced law in a firm for a few years but has scant experience with criminal prosecutions or First Amendment litigation, has reportedly steered Trump into some of his more disastrous legal debacles, including an extremely ill-advised lawsuit in Florida state court against New York Attorney General Letitia James. He's described as running point on Trump's many legal woes, despite himself being smack in the middle of many of them. Epshteyn was among the lawyers furiously plotting the fake electors scheme via email , earning him a subpoena from the special purpose grand jury in Georgia and an invitation to come in for a chat with Special Counsel Jack Smith, in addition to losing him his phone , which was seized by the FBI in September. He's also been blamed for Trump's disastrous strategy to tell the National Archives and the DOJ to get bent in its search for documents.
And today, the Daily Beast's Jose Pagliery has a piece confirming that everyone in Trumpland hates everyone else, but they all hate Boris the most.
"Boris pissed off all the Florida lawyers. People are dropping like flies. Everybody hates him. He's a toxic loser. He's a complete psycho," a source told Pagliery. "He's got daddy issues, and Trump is his daddy."
Several lawyers even banded together for an intervention in April at Mar-a-Lago threatening to quit if Epshteyn wasn't removed — which, uh, no shit, dude, the guy is going to be a witness in like three different cases. Nevertheless, he persisted.
Pagliery reports that the special counsel has "turned up the heat" by subpoenaing multiple lawyers to testify, and even piercing attorney-client privilege under the crime-fraud exception with respect to attorney Evan Corcoran's role in the documents case. And a story out today from Hugo Lowell at The Guardian will probably not help matters, since Corcoran's notes and testimony say that he was "steered away" from searching Trump's office, AKA the bridal suite at Mar-a-Lago. Corcoran was told — by whom it's not entirely clear — that all of the records which came out of the White House were stored in the storage locker near the pool.
In June, the lawyer searched through the boxes there and handed over 38 classified documents in a meeting with the head of the DOJ's counterintelligence division, Jay Bratt. At that meeting, another lawyer, Christina Bobb, signed a declaration saying that, to the best of her knowledge, the entire premises had been searched and no classified documents remained. But in fact, when the FBI returned with a warrant in August, they found several highly classified documents in Trump's office.
Coupled with prior reporting that Trump's valet Walt Nauta moved boxes in and out of the storage unit, waving Corcoran off searching the office is highly suggestive that someone knew that the classified documents were there, and that someone did not intend to give them back to the FBI.
All of which has lawyers in Trumpland nervous as hell, particularly about the documents case, because lying to a jury for your client is the kind of thing state bars tend to get a little tetchy about.
"I have nothing to do with that. I have a law license to protect," one told Pagliery.
 Frog, meet scorpion. 
[ Daily Beast / Guardian ]
Catch Liz Dye on Opening Arguments podcast.
Click the widget to keep your Wonkette ad-free and feisty. And if you're ordering from Amazon, use this link, because reasons .