Discover more from Wonkette
Wonkette is filthy, hilarious, liberal news. YOU CAN HANDLE THE TRUTH!
Over 18,000 subscribers
Calm and collected
On a weekend of mass protests -- like, ACTUALLY YOOGE -- over Donald Trump's racist Muslim ban, and as we also learned that Trump decided to kick all the professionals out of his NSC and replace them with the goons he has masturbatory fever dream threesomes with at night, Kellyanne Conway went out to do her usual hustle, lie-yelling at the Sunday shows about everything is GREAT JUST GREAT in the Trump administration, and we are all haters for not bowing down to Trump's historic greatness. And oh boy, did she ever do her job! We are, of course, assuming that "her job" is to cry and complain about how LAST WEEK everybody made fun of her for saying "Alternative Facts" on "Meet The Press."
On "Fox News Sunday," host Chris Wallace asked a very simple question about Sweaty Gargoyle-In-Chief Steve Bannon's statement that the media should "keep its mouth shut," and Conway spun it out of control by saying Bannon just means the media should listen to America MORE, dismissively sneering, "I work with him every day, I know what he meant." Yes, Kellyanne Conway is up close and personal with President Bannon, knows what vapors waft from 'neath his glazed armpits, and is therefore qualified to know what he's really thinking. Doesn't mean she's not lying about it to America, of course.
But the fun really started a few seconds later. (Start a little after the 14-minute mark.)
Who's cleaning house? Which one is going to be the first network to get rid of these people who said things that just weren't true. Talk abut fake news! Talk about alternative facts! What happened last week? I went on three network Sunday shows. I spoke for 35 minutes on three network Sunday shows. You know what got picked? The fact that I said "alternative facts." Not the fact that I ripped a new one to some of those hosts ...
Please report on things the way Kellyanne Conway remembers them, as opposed to focusing on that time she literally said the Trump regime is officially lying to the American people by presenting "alternative facts," when the actual facts don't align with the regime's plans. And if you don't do that, Mr. and Ms. Mediapants, you should be fired, or at least keep your mouth shut like President Bannon said.
Now, Kellyanne Conway didn't win Miss New Jersey Blueberry Princess by being rude and uncouth, so she notes, "I'm too polite to call them by name," referring to the analysts and pundits and bloggers who talked smack and failed to note her rhetorical brilliance and instead lied by focusing on her yammer-schmammering on about "alternative facts."
Then she talked about how, due to this meanness by the press, the Trump team is bleeding from its wherevers every day, just like Jesus we guess:
And yet we deal with him every single day. We turn the other cheek. If you are part of team Trump, you walk around with these gaping, seeping wounds every single day ...
They should get their Obamacare doctors to check that out!
It's OK, though:
... [T]hat's fine. I believe in a full and fair press.

I'm here every Sunday morning. I haven't slept in a month.
Poor thing. Lying all day and night, trying to convince the 36% of voters who still approve of Trump that he is a good and smart man, doing good and smart things. Meanwhile, she's not sleeping, she's eating nothing but York Peppermint Patties and Funyuns, and unless this photograph has been #AlternativeFacted by #FakeNews, girl is biting her fingernails down to the quick . They actually look infected?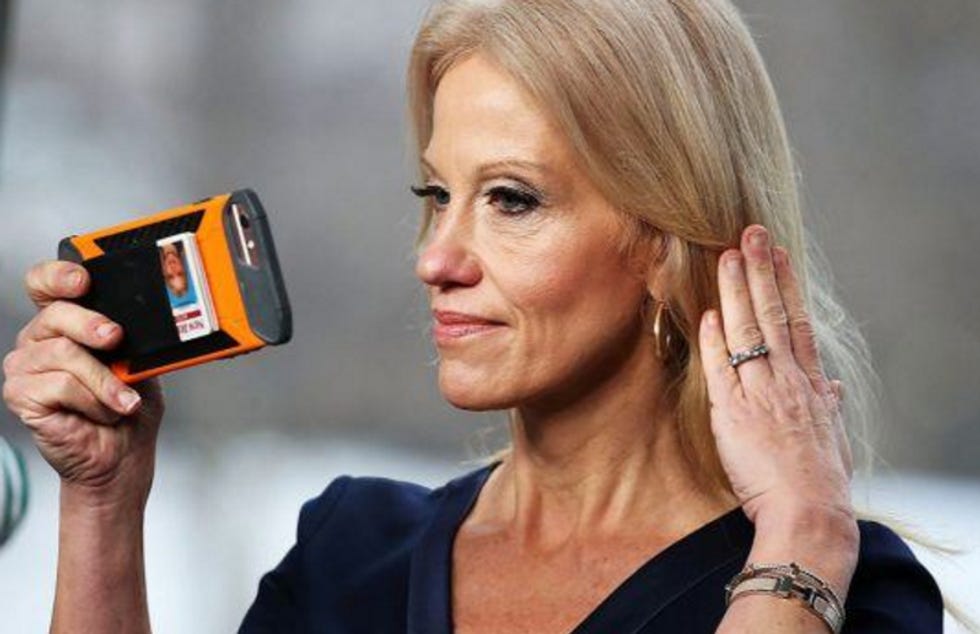 Not pictured: ALL THE STIGMATA
Anyway, Kellyanne Conway believes in a "full and fair press," you know, the kind that remembers to tell America all the GREAT YOOGE THINGS Trump is doing, like the executive orders he's signing and his nice meetings with Theresa May and whatever, things nobody knows about because the press hasn't said a word.
And if we're not willing to do that, we should just keep our mouths shut.
(BUT SERIOUSLY, BITING YOUR FINGERNAILS LIKE THAT IS UNHEALTHY AND YOU COULD GET GANGRENE OR YOUR WHOLE FINGERS COULD FALL OFF PROBABLY IF YOU KEEP BITING THEM LIKE THAT.)
Sorry, we were supposed to be shutting up.
(BUT SERIOUSLY, ALSO TOO TAKE A NAP AND STOP LYING AND BEING A TERRIBLE PERSON, KELLYANNE CONWAY, AND ALSO FUCK PRESIDENT BANNON AND HIS SHOW PONY "PRESIDENT" DONALD TRUMP.)
Shhhhhh. Ain't nobody here but us chickens!
[h/t PoliticsUSA ]