Discover more from Wonkette
Wonkette is filthy, hilarious, liberal news. YOU CAN HANDLE THE TRUTH!
Over 18,000 subscribers
Aryan Mountain Steed Madison Cawthorn Bids Masculine Farewell To Masculine Political Career, Masculinely
These testicles came pre-tanned.
We want to get one important fact out of the way before we give North Carolina GOP Rep. Madison Cawthorn's farewell speech the respect it deserves:
If Madison Cawthorn was a furry, a really good name for him would be "Madison Paw-thorn."
OK. That's handled.
As we all know, Mister One-Term Cawthorn lost loooooooong before the prophecied Red Wave ended up being more of a Red "Don't Worry, It Happens To All Guys." He lost in the primaries. That is how much errbody in his own party hate him. And reports have said he's been mostly AWOL since then.
But for some reason he decided to go through with the humiliation of the customary farewell speech. Maybe he hadn't been invited to any hot Republican coke boner orgies that day and was thus free for speechifying.
Y'all. It's so cringe-y.
We'd feel bad making fun of this if he wasn't such a loathsome prick. But he is, so.
We all remember his severe and weird masculinity issues, yeah? Catch up if you forgot. Whining about all the menfolk getting "demasculate[d.]" Asking the mommies to raise their boys to be a "monster." Bless his heart.
 Madison Cawthorn Just Begging All The Mommies To Raise Up Some MONSTER BOYS 
 Madison Cawthorn Says He Fibbed About Getting Invited To All The Cool Republican Boner Orgies 
 Madison Cawthorn Gonna Have To Horseplay Cousin In Private Sector, We Guess 
You ready for this shit? 
"Outgoing Rep. Madison Cawthorn (R-NC) rants on the House floor about men being taught to be a "soft metrosexual": "Will you reclaim your masculinity? Will you become a man to be feared, to be respected … or will you let this nation's next generation be its final generation?""

— The Recount (@The Recount) 1669824233 
"America is weak. Her sons are sickly and her daughters are decrepit," Cawthorn began.
 Decrepit , he says about America's daughters. He should make a profile on that new MAGA Grindr app and put that on it, bet he'd get tons of human sexual contact.

"Our young men are taught that weakness is strength, that delicacy is desirable, and that being a soft metrosexual is more valuable than training the mind, body, and soul. Social media has weakened us, siphoning our men of their will to fight."
Hahahahahahaha, this sad stupid wiener just used the word "metrosexual." Gonna need the mom from "That 70's Show" to bully Madison Cawthorn real quick.
That .gif never fails to deliver.
We are trying to remember the last time a normal person used the word "metrosexual" with a straight face, and we are coming up with nothing. It's so very 1990s, back when people still said things like "no homo" and straight men felt the need to explain themselves if they bathed or wore clothes that fit them.
We know exactly who still uses it, and it's fucking weirdo conservatives who are still scared people might think they're gay if they do anything that doesn't involve grunting. Normal people don't use it anymore. Because it's not necessary for people who are comfortable in their own skin.
Look at any internet article or website about How To Be A Well-Rounded Man. Here's one! Every one of them, unless it's written by conservatives with severe masculinity issues, includes "Learn to make campfire!" and also "How to buy jeans that show off dat ass." They include how to change a tire and how to choose a fragrance and how to read a fucking book and how to bench press and how to cook and so many other things.
And we will get off this tangent in one sec, but you know who played a big part in helping straight men embrace all those things to become truly strong? These guys: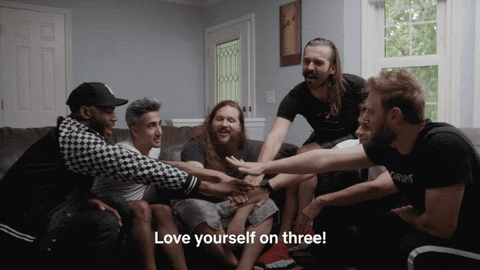 The first cast too.
"Soft metrosexual." Madison Paw-thorn, puh-leeze .
Here's how that clip up there ends:
He continued, "On this precipice of disaster, I ask the young men of this nation a question: Will you sit behind a screen while the storied tales of your forefathers become a myth? Or will you stand resolute against the dying light of America's golden age? Will you reclaim your masculinity? Will you become a man to be feared, to be respected, looked up to?"
He concluded by suggesting the obvious alternative: "Or will you let this nation's next generation be its final generation?"
One more time, the mom from "That 70's Show," everyone!
Congrats on the end of a really great career, man. We have no notes.
[ Jezebel ]
Follow Evan Hurst on Twitter right here! 
And once that doesn't exist, I'm also giving things a go at the Mastodon (@evanhurst@newsie.social) and at Post! 

Have you heard that Wonkette DOES NOT EXIST without your donations? Please hear it now, and if you have ever enjoyed a Wonkette article, throw us some bucks, or better yet, SUBSCRIBE!
 Do your Amazon shopping through this link, because reasons .