Discover more from Wonkette
Wonkette is filthy, hilarious, liberal news. YOU CAN HANDLE THE TRUTH!
Over 18,000 subscribers
The incredibly stupid saga of Michigan state Rep. Todd Courser continues to unfold, with former allies in the Tea Party urging him to resign, and Courser stating even more adamantly that he's not going to knuckle under to the Powers That Be. Most recently, Courser has released a bunch of screenshots of the "blackmail threats" that he says forced him to concoct a fake story of a gay-hooker scandalso that no one would believe the real, far more mundane scandal involving his affair with another legislator, state Rep. Cindy Gamrat. And he's also promising to prove, yes absolutely prove, that these threatening blackmail texts are true, because, he says, "another person" also received them, which means he is the real victim and therefore he wins the scandal Olympics. 
[contextly_sidebar id="cgm88dzCZzrock5CpmJQFx3cfj8vIzTv"]
Just in case you need a review of the plot of this little soap opera so far: Reps. Courser and Gamrat are both freshman members of the Michigan House, elected on a far-right platform with enthusiastic support by teabaggers. Both make a big deal of their Christian values, and of their commitment to Jebus, the Constitution, and protecting the American family from those horrible gays who are ruining heterosexual families by having sex in the butt. The two worked as a team, sharing staff and introducing a trio of bills that would outlaw civil marriages and require that all marriages in Michigan be performed by members of the clergy. At some point, the two began having an affair and were apparently far less concerned about the damage they were doing to their own spouses and children, but that's probably the gays' fault too.
When Courser received anonymous texts in May telling him that the sender knew all about the affair, Courser launched a Most Cunning Plan to do damage control: He asked an aide, Ben Graham, to help him spread a "controlled burn" disinformation campaign that Courser had been seen outside a nightclub having sex with a male prostitute and that he was a porn addict, so that if and when the real scandal came out, it would seem like no big thing. Graham refused to cooperate, found himself fired (after getting a raise), and promptly gave the media secret recordings of Courser telling him about the plot -- you should listen! Some of the best audio drama since that "Serial" podcast! -- and all the beans were spilled.
Ah, but then Courser explained he had an excellent reason for sending the fake gay affair email: he wanted to trap the blackmailer so he can expose the nefarious plot of the "Lansing Mafia" to destroy his political career.
Courser released the supposed blackmail texts Wednesday, which do not acquit Courser of anything because the alleged blackmail isn't the problem, according to the Michigan public and Courser's own party; the problem is all the lying and hypocrisy, and also possible misuse of taxpayer moneys to cover it up. (Yr Wonkette is OK with people doing sex, but not with people who do sex and then call other people perverts and sinners for doing sex differently.)
Wednesday night, Courser launched this steaming turd onto his Facebook page . He wants us all to know that he's got evidence that the blackmailer texted someone else, too: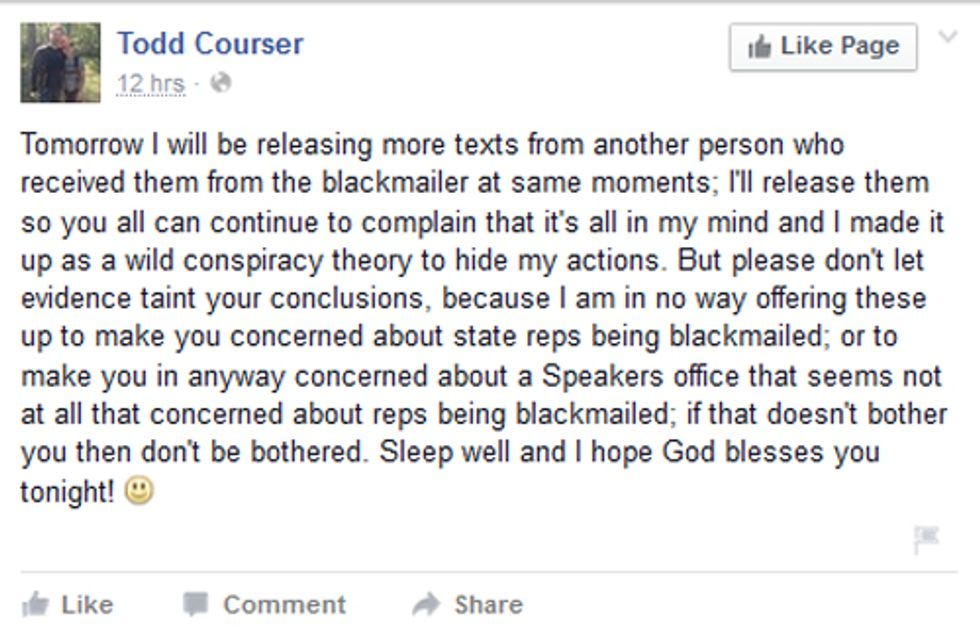 Why does no one care that the House Speaker isn't looking into this blackmail of Todd Courser, the real victim? Stop laughing at Todd Courser! He will outlast all your attempts to tear him down, because he's right, damn it, and why are you trying to destroy Todd Courser and his important work for Jesus?
As promised, Courser posted a series of screenshots Thursday , supposedly sent to his brother's phone, with more text messages calling for Courser to resign, and we guess we are now supposed to believe that this completely justifies Courser's fake gay sex scandal, because he's the victim of a creepy person who's plotting to ... tell the media about the affair that became public knowledge after the fake gay sex scandal coverup plan fell apart.
Gosh, that really changes everything. Now we are totally on the lying teabagger's side. Or at least we will be, until his next stunning revelation that it was a CIA-alien hybrid microchip in his butt that made him fake the whole thing. Maybe there IS no Todd Courser, only a reptilian who replaced him. For Jesus.
[ Todd Courser on Facebook / Mlive.com / EclectaBlog ]