Discover more from Wonkette
Wonkette is filthy, hilarious, liberal news. YOU CAN HANDLE THE TRUTH!
Over 18,000 subscribers
With Paul Ryan announcing his retirement, we decided take a peek at Wisconsin's 1st this week. Like a good cheese, this race hasn't reached maturity yet, but we're gonna take a look anyway.
Sharing its Southern border with Illinois, Wisconsin's first runs North to the Milwaukee suburbs, includes the cities of Kenosha and Racine, and stretches West to Janesville. There are six pivot counties inside the first, meaning that elections have the potential to swing left or right. After the Republican-led state legislature rammed through its new district map in 2011, Republicans (and Paul Ryan) were able to pick up a few more points in each election, tilting the district it in their favor. This has helped Ryan to win his district by an average of 64 percent.
If one were to describe the First in one word, it would be "white" -- White collared white people with white picket fences singing along to a Taylor Swift cover of Bing Crosby's White Christmas. It's remarkably middle class, the average median income being $61,000, with most people working jobs in middle-management cubic-hell, though there is still a fair bit of blue-collar workers .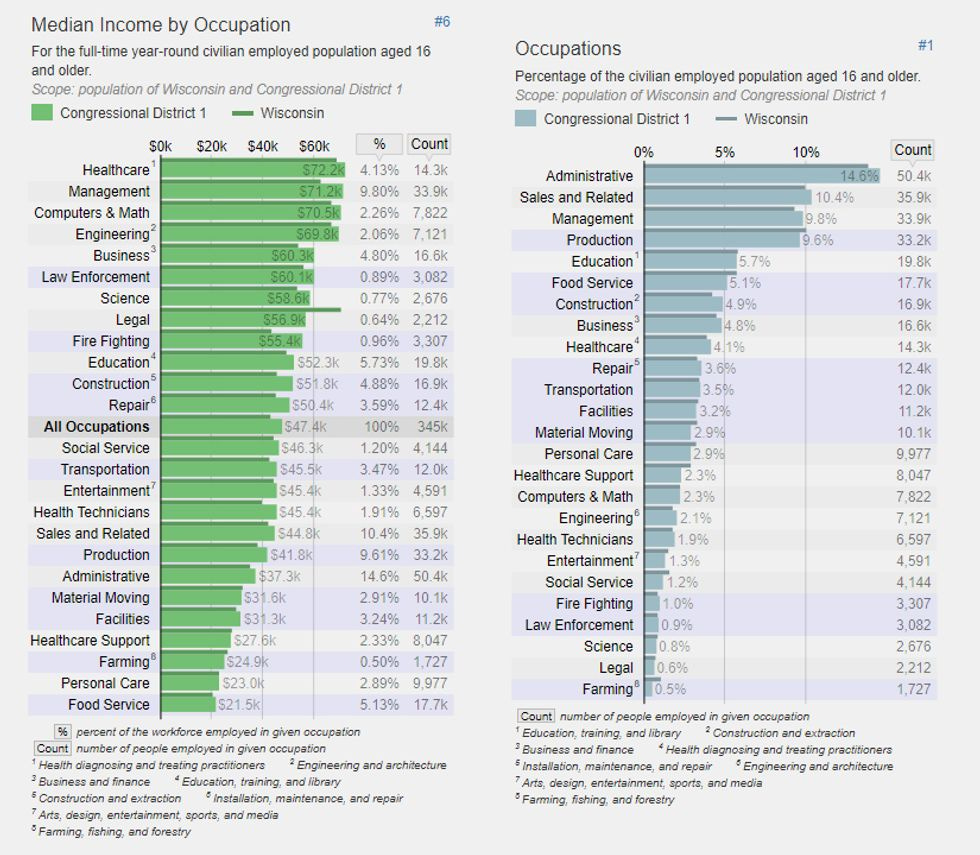 I'd love to tell you all about the number of registered Democrats, Republicans, and Independents, but the state doesn't collect that information on its voter registration forms. Instead, they just post registration totals and make it hard for nerds to find anomalies or trends that could affect the race. This means we have to wait until elections happen to actually find any useful information, leaving residents vulnerable to arcane fuckery.
What we can tell you is this: in December there were 264,403 registered voters. The next month the state recorded a loss of almost 5,000 people, leaving only 259,532 voters on the books. A month later, the state scrubbed an additional 44,866. Since there wasn't an invasion of prehistoric lizards killing about 19 percent of the population, we can reasonably assume that something strange is happening in Wisconsin.
As a modern testing lab for Republican voter fuckery, Wisconsinites have been suffering from disenfranchisement for awhile, but they've only recently been ballsy enough to openly admit it. We can safely say that there is a clear pattern of skullduggery and manipulation based on gerrymandered districts, the purging of black voters, flyers with deceptive information intended to suppress votes, robocalls, and the states new voter ID law that kept 17,000 people from voting in the 2016 election (most of them black and low-income). Hell, as recently as February, Republicans purged another several thousand people from the rolls again, and many only found out on when they went to vote in the special election primary for a state Supreme Court Justice.
Thegood newshere is that SOMEONE seems to be running around the state and signing up new voters. The winter purge was followed by a voter registration drive that has seen almost 5,000 people between 18-24 from March and April sign up. That's a shocking uptick in only two months for a demographic that statistically doesn't vote.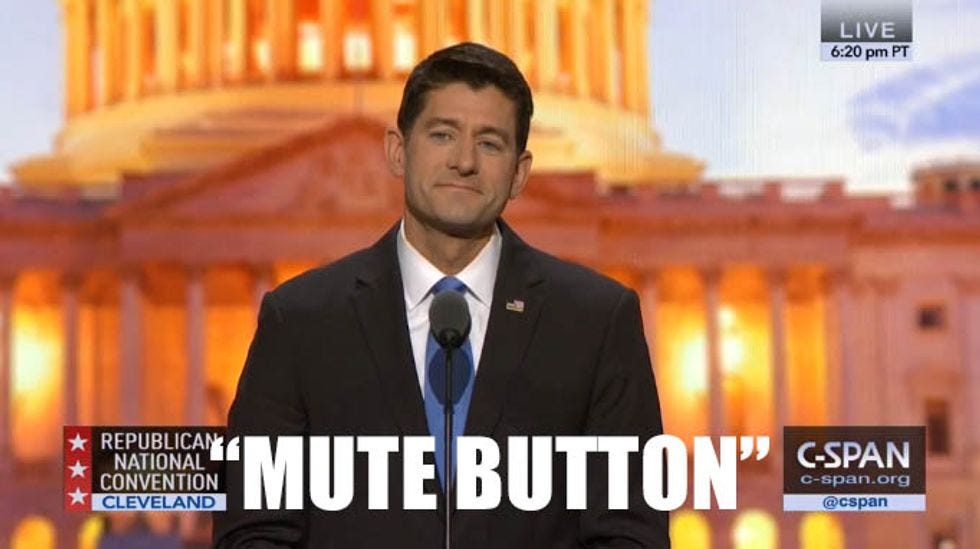 It's far too early to call much about this race, it's full of insomnia inducing wild cards that leave our bowels coffee-soaked and queasy. With Ryan having just announced his retirement, it's likely that at least one more corporate Republican throws his hat in the race, and Ryan's endorsement will go a long way for whichever carpetbagging hedge fund manager is anointed his heir.
Right now the likely Republican candidate is Nick Polce, and he does not want your meredonations.He would rather you "invest" in his campaign. Current FEC reports show that he's raised less $20,000, suggesting that he's only been able able to convince two or three friends to back his political Kickstarter.
Polce is an ex-Special Forces guy who is not only a real estate agent, but also runs a soldier-of-fortune consulting business, because of course he does. His campaign rhetoric is full of libertarian buzzwords and aphorisms, like deregulation, private health savings accounts, and "encouraging families" (whatever that means). There's even a YouTube channel where he attempts to regurgitate hardcore conservative slanguage in front of a white board. He's basically a bootleg Paul Ryan in a Green Beret uniform.
 Fun Fact: At the time of posting, this video had two views! 
Then there's Paul Nehlen, an evil shit of a human being with the reasoning skills of a goldfish. He's the local Nazi nemesis of Paul Ryan, and he's never stood a chance of being taken seriously, but now that Ryan is gone his name recognition makes him (arguably) the likely front runner. Local GOP officials have distanced themselves from him on account of his tendency to openly proclaim his hatred of JEEWWZZZZZ, Muslims, black people, Mexicans, and so on.
The only thing you need to know about him is that even Breitbart, where he used to write, and other white supremacists hate the guy. They think he has no honor after he got in a doxxing fight on Nazi Twitter and ended up revealing the secret identity of a white supremacist Trump supporter previously known only as Ricky Vaughn. Nehlen is, however, still a minor celebrity in Trump/racist circles because he's been saying deplorable stuff out loud since forever.
To their left is Randy "Iron Stache" Bryce, a former iron worker with union cred, a veteran, and cancer survivor who got PISSED after Trump and Paul Ryan tried to kill healthcare for the poors. Bryce launched his campaign last year and was one of the first people added to the DCCC's "Red to Blue" program. Since he's got the backing of the DCCC, he's been able to build a huge war chest and get some serious coverage from national news outlets. You've likely seen one of his tearjerking campaign videos.
As a progressive Democrat with the ball(s) to run in a Republican district, Bryce has become a symbol of the potential for Blue Wave this November. By focusing his campaign around raising the minimum wage, workforce investment, single payer health care, immigration, and campaign finance reforms, Bryce shows that it's still possible for Democrats to run in red districts without sacrificing their core beliefs.
Running against Bryce in in the Democratic primary is the Harley-riding teacher, Cathy Myers. She's been on the Board of Education in Janesville since 2013, and has been involved with other aspects of local politics for a few years.
Myers hasn't gotten much attention since announcing her candidacy last year. The most recent FEC reports show her with a little over a quarter million in the bank right now, which is nothing to scoff at. Myers has cast herself as a #Resistance fighter, running on women's rights, public and college education, school shootings, LGBT rights, and environmental protection.
Perhaps the biggest conundrum for this race is that the spotlight of national politics could cause any number of challenges. Since the only thing the Republican party hates more than a Democrat is a charismatic blue-collar Democrat -- an actual man of the actual people -- it's more than likely they'll run through every dirty trick in the book. Bryce comes with union support nearly built-in, which in Wisconsin is basically imperative. Those doors won't knock themselves, and given the purge in the rolls any successful campaign will need a strong field program. Luckily for Bryce, America has fallen in love with his mustache and his aw-shucks image, which means he's got a ton of money and national support -- at least three major national grassroots associations have already endorsed him. 
This is a bit of a problem for Myers, even if she's a damn good candidate. Politics is as much about timing and luck as it is talent or skill. Bryce simply got to the donors, voters and press first, and this can create a frustrating feedback loop. For example, you remember when Bryce got himself arrested in solidarity with immigrants? Well, so did Cathy! She was at the very same event, they had appeared jointly as the Democratic contingent, but only the local papers noted that both candidates were arrested. Stuff like this could cause an unnecessary rivalry between their supporters even though they're both running on very similar platforms, and you can bet that Republicans will exploit that with the states open primaries.
We love both "Iron Stache" and Cathy Myers, their backgrounds in hyper local politics would make them great representatives and effective legislators. Since they're currently running against a Nazi without a country and a rejected clone of Ryan, we have to wonder who else Republicans will dredge up from their sludge pile of prospective candidates. The primary here isn't until August, and that's more than enough time for Republican Gov. Scott Walker (and his bald spot) to concoct any number of dirty tricks to hobble Bryce or Meyers, and squash Democratic turn out.
Find voter registration info here!
Download a voter registration form in .pdf format!
Donate to Randy Bryce! 
Donate to Cathy Meyers! 
[ US Census / Ballotpedia / Statistical Atlas / Wisconsin Secretary of State   Milwaukee Journal Sentinel / Wisconsin State Journal / Green Bay Press Gazette / The Hill ]