Discover more from Wonkette
Wonkette is filthy, hilarious, liberal news. YOU CAN HANDLE THE TRUTH!
Over 18,000 subscribers
Silas Nacita has been homeless since he was a senior in high school, yet he managed to overcome that adversity and work his way onto two NCAA football teams. Unfortunately, he did all that while having the ever-loving gall to want to sleep inside, so the NCAA has ruled him ineligible. The Dallas Morning News brings us this story of the NCAA wallowing in its own crapulence.
According to Nacita, a family friend offered to help the homeless Baylor hopeful out with housing and living expenses so he could pursue his dream of being a Baylor football player. However, accepting the help constitutes an NCAA infraction.
And infractions in the NCAA must be punished! Infractions such as drinking from the wrong bottle of water and not wanting to die of exposure are the kinds of things that the NCAA simply cannot tolerate from its student-athletes. Unless that athlete plays quarterback . If it's a quarterback who does bad stuff, then you really need to hear both sides.
As a senior in high school, Nacita posted a 4.1 GPA while sleeping on friends' couches, and he enrolled and played football at Cornell the next year. But Cornell isn't exactly known as a stepping-stone to the NFL, so Nacita transferred to Baylor. Baylor accepted his transfer, but the school wanted Nacita to pay full tuition.
There aren't many homeless students who can afford Baylor's $34,000 annual tuition , and Nacita was unable to secure a loan. So he enrolled at McLennan Community College, got a job waiting tables, and waited for his chance. That chance arrived last June, when he competed for and won a walk-on (non-scholarship) spot on the Baylor Bears football team. SB Nation gives us a taste of what Nacita did in his one year in Waco.
Nacita walked on at Baylor in June, homeless and hungry, sleeping on friends' floors and taking pictures of book pages from the campus store to study on his phone. He still made Academic All-Big 12. As a sophomore last season, Nacita ran 31 times for 191 yards with three touchdowns and also recorded nine tackles.
So, obviously, the NCAA had to take action against Nacita, lest his hifalutin, floor-sleepin' ways cheapen the NCAA's sacred vows of amateurism. Baylor fan site Our Daily Bears points out that if Nacita had been a regular student, Baylor and the NCAA literally wouldn't have cared where he was sleeping. But since he is a foo'baw player where he sleeps matters, though it doesn't matter enough to actually provide Nacita with housing — that's a privilege reserved for scholarship players only.
Here's Nacita's full statement on the matter: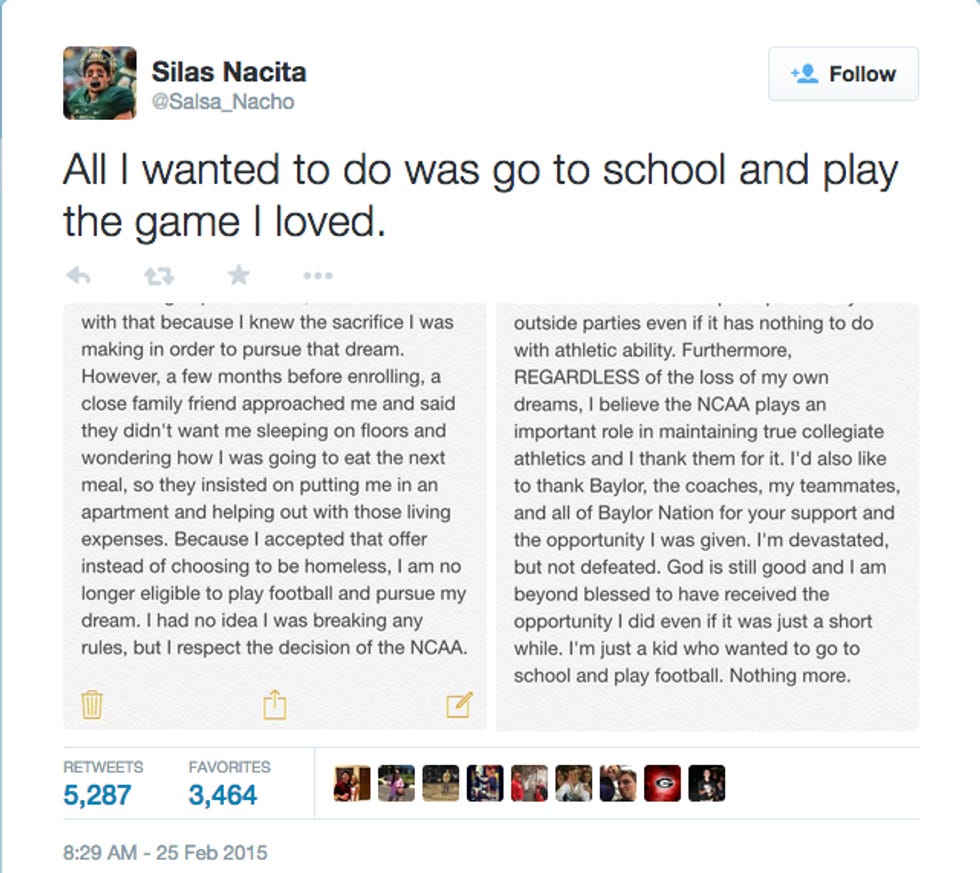 For true college football fans, the story of Baylor running back Silas Nacita is just one more eggshell they won't think about as they dine on concussion-flavored omelets each Saturday. If you get a minute, please shame the college football fans in your life for continuing to enjoy those omelets.
UPDATE: The NCAA took to Twitter about an hour ago to say "Nuh uh" to this whole thing. More as it develops.
[ Dallas Morning News / SB Nation / Our Daily Bears ]
Follow Dan on Twitter .