Discover more from Wonkette
Wonkette is filthy, hilarious, liberal news. YOU CAN HANDLE THE TRUTH!
Over 15,000 subscribers
Sup New Mexico? Are You Even A State?
Let's meet the Democrat who's gonna retake the Second District!
This week we're taking a look at the general election in New Mexico's Second District! Democrats have been eyeballing this Republican stronghold for decades, and this might be the year that the district flips.

The New Mexico Second is one of the largest congressional districts in the country, stretching from the outskirts of Albuquerque to the suburbs of El Paso, running right down to the Mexican border. American legends are all around this vast mountainous desert in towns like like Roswell, Truth or Consequences, and Silver City, surrounded by wildlife refuges, Native American reservations, and military bases.
The American Southwest has been changing over the last 30 years. Much like the rest of flyover country, cities are getting larger and more diverse as small towns dry up like raisins in the desert sun. As the Hispanic and Latino populations have skyrocketed, so too has the number of young people in urban areas like Las Cruces. With so many young people clustered in cities, most have low-wage retail jobs while the older crowd has white collar gigs in education and healthcare. Ranchers still play a role in the regional economy, but their numbers have started to fade over the last few decades. Interestingly, Hispanic and Latino people now make up over 50 percent of the population, a plurality of whom are between the ages of 18 and 24.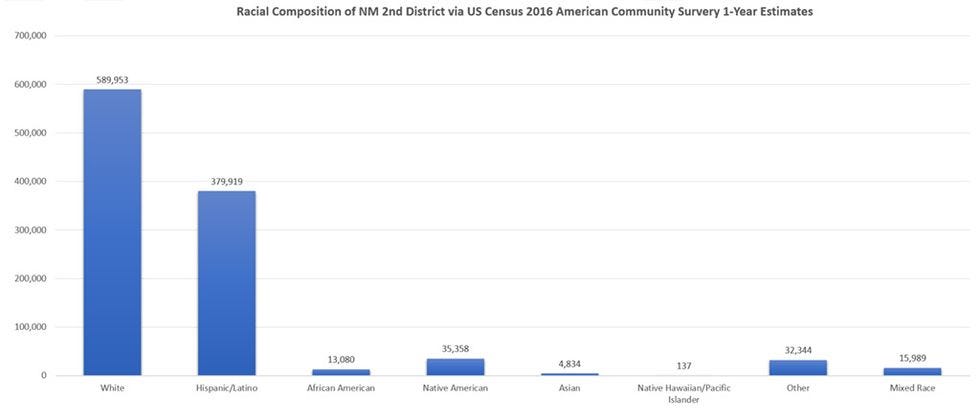 This race is wide open after incumbent Republican Rep. Steve Pearce saw his reelection prospects drying up, leading him to make a run for governor now that the current Republican Governor Susana Martinez is term limited. Hopefully nobody will remember that time Pearce tried to mansplain women back in their place ... with spankings.
GOP state Rep. Yvette Herrell just won the Republican nomination, and she's been telling supporters, "I've been on the Trump train since Day One of his announcement." It's an apt description considering her support of anti-abortion racebaiting gun fetishism.
Ten years ago Herrell would be called a hardcore Tea Party Republican, but in the last year she's gone out of her way to embrace Trump policies. She's sponsored a number of horrendous bills in the state legislature that would scale back abortion rights, break up employee unions, reinstate the death penalty, and lower restrictions on militia groups so that parents can take their kids to the border and play soldier of fortune.
Right now she's on the campaign trail touting concealed carry in schools, building Trump's wall, scuttling DACA, repealing Obamacare and reverting to the old "free market" healthcare system that screws poor people. Whenever there's a thorny subject, like dealing with Syria, Afghanistan, the opioid crisis, or public education, Herrell dodges the question and responds robotically with some variation of "I'll support the President's agenda."
In a sad twist of irony, Herrell is the chair of ALEC's Federalism and International Relations task force where she pushes for the kind of trade policies that are in direct opposition to Trump's trade war. She doesn't have any bio on their website, which we suspect means she's not important enough for anyone to care about. Lucky for her, ALEC still supports gun-humping, union busting, and voter purging, so she'll have plenty of things to pivot towards in order to avoid contradicting herself.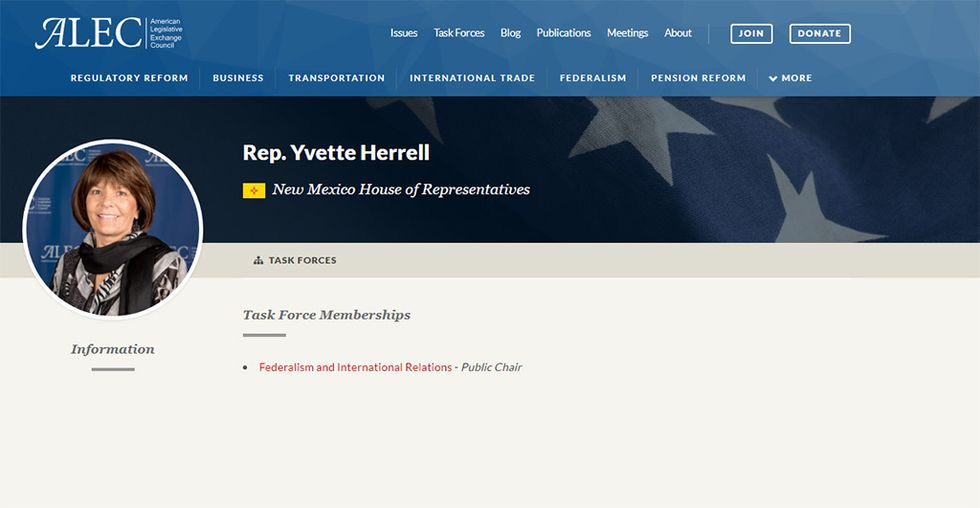 They didn't even give her a bio. That's so sad...
Herrell's campaign is already suffering from scandals. Her former political advisor ran to Texas to avoid being charged with battery and sexual slavery in Las Vegas. Herrell herself was caught trying to hide a half-million dollars in contracts with state agencies to her personal business, potentially putting her on the receiving end of a state ethics investigation. And if that wasn't bad enough, the Republican governor declined to endorse her. 
The Democrat in this race is Xochitl Torres Small, a local water rights attorney and field staffer for former Democratic Rep. Tom Udall. Aside from being tapped by the DCCC Red to Blue program, her local endorsements have been piling up, including influential nods from the Las Cruces Sun News and Emily's List during the primary.
Though she's a political newcomer, her background in field organizing in rural areas gives her an advantage most politicos wouldn't have. As a result, Torres Small has been keeping her campaign focused on healthcare, education, and local development. 
Much of the sparsely populated areas of the 2nd face similar problems as the rest of flyover country. They need new roads, schools, and broadband for the rurals, but they're also facing pressure to shrink protected public lands and wildlife refugees necessary to the local ecosystem. This delicate balancing, managing new infrastructure projects with environmental sustainability, puts Torres Small at unique advantage. Her career as a water attorney gives her insight into concerns facing both urban and rural voters; that's going to be important in the coming months as the EPA rolls back the very environmental protections that are of such dire importance to areas like the 2nd.
According to the most recent FEC reports, Torres Small currently holds the fundraising lead with $155,798 in cash on hand to Herrell's $37,868. Much of Torres Small's cash has been pouring via progressive PACs large and small, and she's going to need it in the coming months as the local Republicans have already attempted to brand her as Nancy Pelosi's scarfless clone.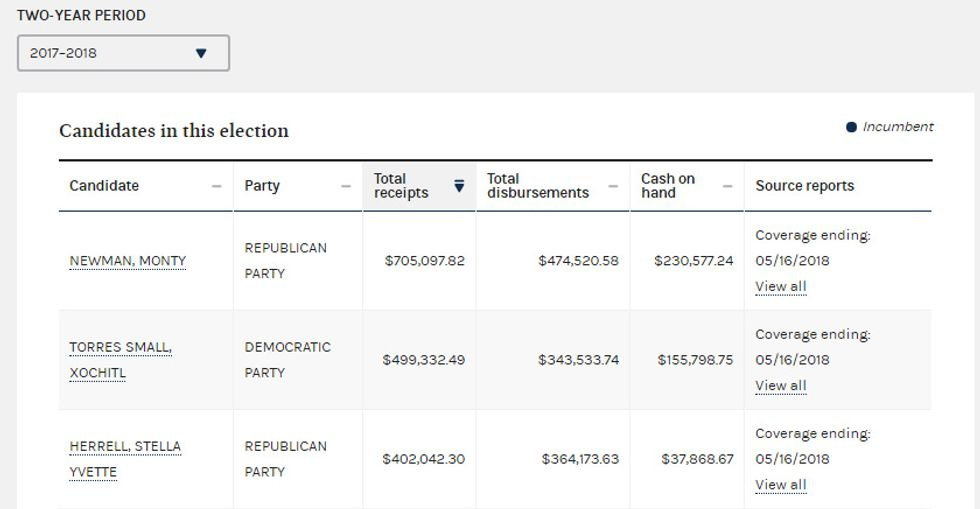 Herrell had a lot of money from super rich people who slither just under the radar -- like large farms and ranchers, bankers, CEOs, and retirees -- but she blew it in the primary. Most of her cash is coming from oil and gas companies, Realtors, the owners of an international movie theater chain based out of Texas that sued mass shooting victims, a private healthcare company for senior citizens that's made a fortune off the Trump tax cuts (for the super rich), Devin Nunes, and various local conservative politicians. There's also your standard donations from big anti-abortion and Tea Party PACs. Since many of her donors have made multiple contributions that bring them close to the $2,700 limit, it'll be interesting to see how many conservative PACs appear on her next FEC filing now that the primary is over.
Historically the 2nd has been a Republican district. Trump won here by 10 points, 50 percent to Hillary Clinton's 40, and Mitt Romney beat out Obama 52 to 45 in 2012. In 2008 Democrat Harry Teague was able to best an incumbent Pearce, though Pearce regained his seat in 2010. Democrats have long been eyeballing this district as potential steal, and with the Latino population now above 50 percent they just might.
This is likely to be a contentious election. Republicans ran four candidates during the primary, and Herrel stomped all over the them with almost 50 percent of the vote. Democrats only had two candidates, and Torres Small ran away with 72 percent. Since New Mexico has a closed primary only 67,169 people voted, but Democrats still came away with 2,381 more votes than Republicans. On average, about 150,000 people vote in the midterms in the 2nd, and though that's only a third of registered voters, this suggests GOTV efforts have been paying off for Democrats. It's still way too early to know what might happen in November, but right now the math is in favor of Torres Small.
 Register to vote here! The last day to register in New Mexico is Tuesday, October 8!
 Donate to Xochitl Torres Small!
 
 Wonkette is 100% ad-free and reader supported, so buy us a beer if we've done a good job on our homework. 
[ Ballotpedia / New Mexico Sec. of State / US Census / FEC / Statistical Atlas   Daily Kos / Roll Call / Politico / Las Cruces Sun News ]