Discover more from Wonkette
Wonkette is filthy, hilarious, liberal news. YOU CAN HANDLE THE TRUTH!
Over 18,000 subscribers
Dick Cheney is in the middle of one of his busier post-White House periods. Last fall, he waded into a bitter public feud between his two daughters when Liz, during a quixotic Senate primary run in which she attempted to attack Republican Senator Mike Enzi from the right, came out against marriage equality and provoked the ire of gay-married sister Mary. Following another failed Dick Cheney intervention , the dustup apparently ruined the down-home Cheney Family Christmas before Liz finally dropped out of the race in January. In March, Dick surfaced in Las Vegas at the Sheldon Adelson Ring-Kissing Jamboree for 2016 Wannabes (formally known as the Republican Jewish Coalition Spring Leadership Meeting ). In a closed-press speech that Mother Jones naturally has a recording of, Dick lamented that Obama, along with Republicans who don't want to bomb everything (cough Rand Paul cough), have reduced America's standing in the Middle East. Also NSA surveillance has come in for so much criticism not because the public is upset about being spied on but because B. Barry Bamz couldn't defend it after ObamaCare killed his credibility. "Nobody believes him, with good reason. Look what he did with healthcare." Zing! Classic Dick!
Despite his recent trip to the desert, Dick Cheney remains a creature of DC, living in the Virginia suburbs and ghosting around the local conservasphere. He serves as a trustee at the American Enterprise Institute, where his wife is a senior fellow, so naturally AEI invited them both over to celebrate last week's release of Lynne Cheney's biography of James Madison . And it was not just any ordinary book release to shamelessly push a $38 hardcover on a dusty old political subject because the author was going to be "interviewed" by an actual former vice president of the United States!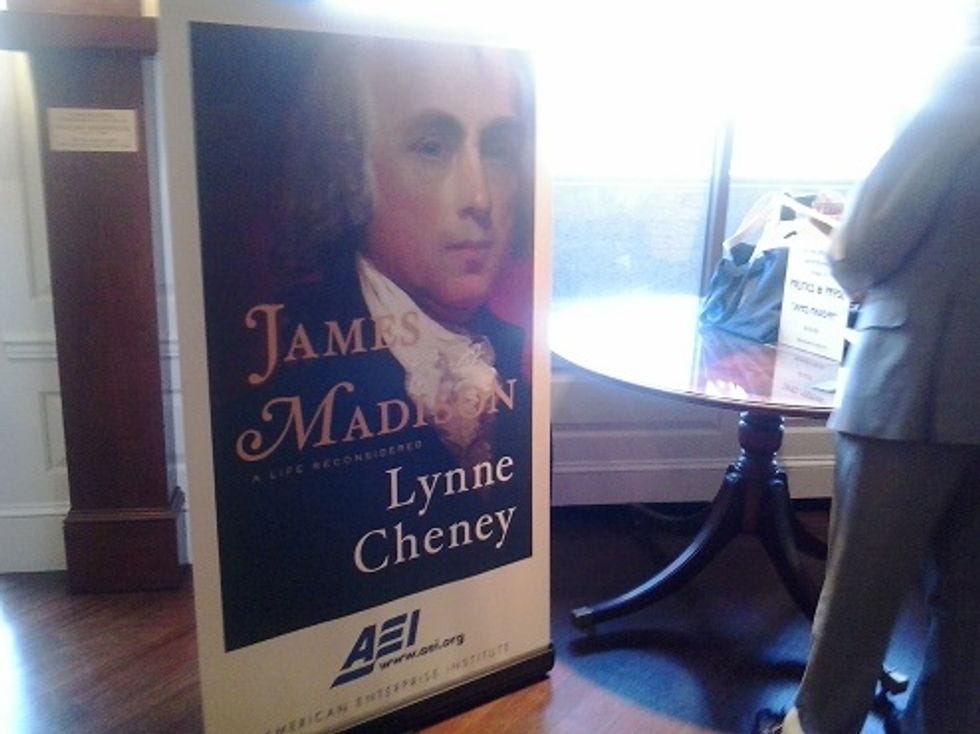 AEI's in-house conference center was jammed with admirers and cameras and your correspondent when the Cheneys came in to an extended standing ovation. "I really wish you had let us rehearse," Lynne said to Dick as they were fitted with cordless microphones. She didn't need to worry, though, since the "interview" gave her plenty of chances to cast a favorable light on the subject of her book. When Dick asked what she thought Madison's biggest disappointment was, Lynne took the opportunity to spin a novel defense of Madison's ownership of slaves and his lack of meaningful action to eradicate slavery as founder and president. She described Madison's unfortunate "inability to free himself from being dependent on slave labor," which made him very disappointed in himself since he considered slavery "morally wrong." His one proposed national solution, a repatriation scheme to free slaves by shipping them to Liberia, came about because the states kept passing laws banning freed slaves from settling anywhere. (It seems to us that he could have tried pushing states into overturning the bans, but that is because we believe in the federal nanny state.) The repatriation plan turned out to be a failure, but Madison was unwilling to go further and so "clung to it almost desperately and died owning slaves." Such a tragedy. For him.
As is so frequently the case at these events, the real show started with the unscripted, unscreened audience questions. Having been scolded to direct inquiries to the author and not her infinitely more famous and interesting spouse, audience members still found ways to try to get Dick. One managed to use a question about Madison's thoughts on Federalist No. 51 to ask whether Dick would prefer golfing with Vladmir Putin or Edward Snowden. Someone else referred to James and Dolley Madison as an early DC power couple and asked what Dick and Lynne had in common with them as a "new power couple" (which is more or less an accurate description of the Cheneys by AEI standards).
The undisputed highlight of the evening came in response to a question about whether Alexander Hamilton had pulled the strings behind George Washington's presidency. Lynne replied that since the early days of the republic, these accusations have been common. "There's the idea that somebody's manipulating the president. The president's really a good guy, but there's this evil genius that is, uh..." The room exploded into laughter, including the nation's most recent Shadow President. "...that's manipulating."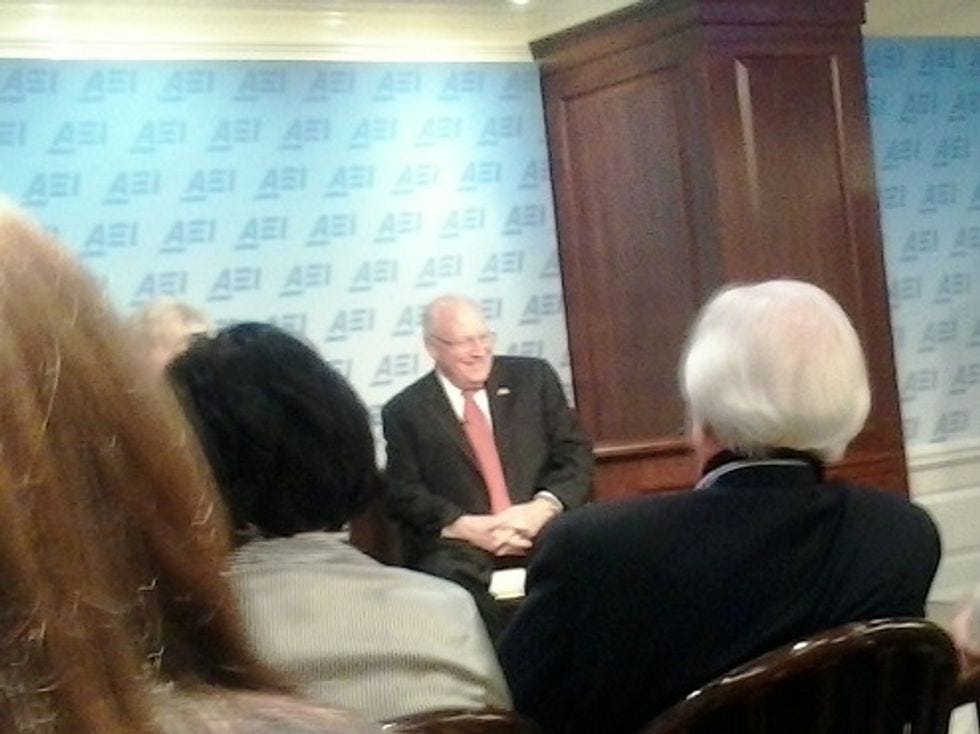 Lynne went on to say that the "evil genius" argument was "a good political tactic, if you think about it, because you demean the guy who's the evil genius and you make the president look weak. So, it wasn't something dreamed up in modern times. It's been going on for quite a while."
After the program finished up, a table appeared on stage for Lynne to sign books and a line of people soon ran down the aisle and around the back of the room. At stage left, Dick stood casually next to a podium with his hired goon and held court for a cluster of admirers. While AEI staffers tried to discourage it, presumably to keep from stealing Lynne's thunder, Dick signed copies of his wife's book and some of his own books that people brought along and posed for pictures. The marble check-in counter was converted to a wine dispensary and one of Cheney's staffers chided another, "You're falling down on your duties. I had to get the old man a glass of wine." Cheney kept his drink on the podium to help ease the understandable discomfort of being fawned over by non-famous people.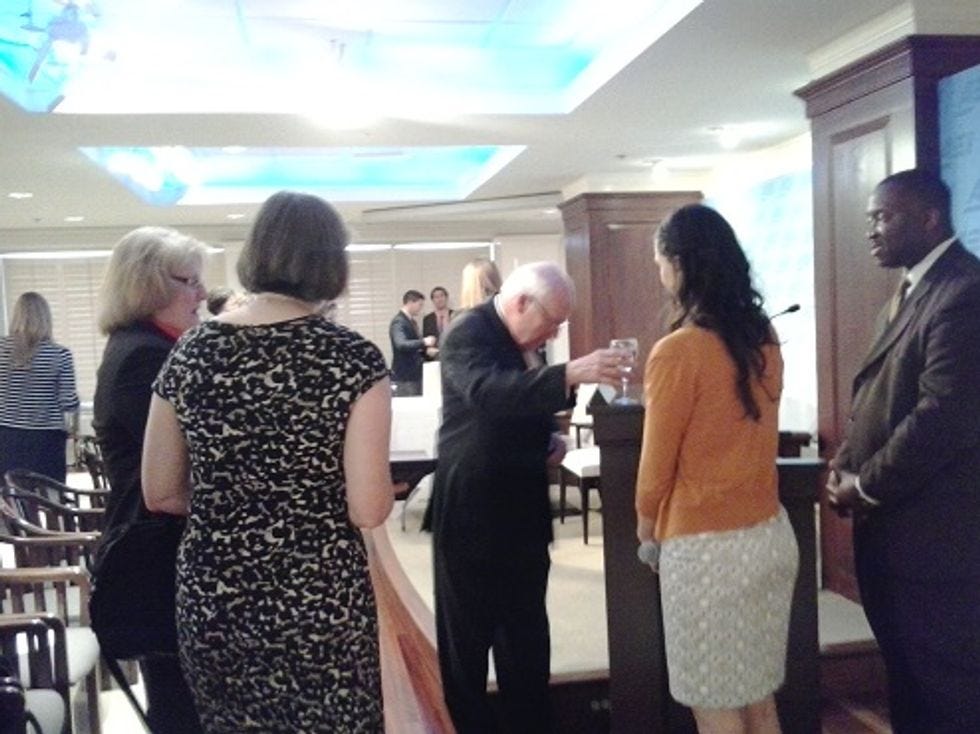 We'd just finished taking a picture for a nice lady with a sparkly silver beret whom we'd met in the line when we realized that Dick Cheney was looking straight at us. "Is that my wine?" he said, squinting, the Grinch-like smile that he'd worn for most of the evening starting to fade. Your correspondent, holding a glass of white wine, realized that his had disappeared from the podium, but the two events were in reality unconnected. We promised him we had not taken his wine, a likely story and we're sticking to it, but he did not appear convinced, and eyed us resentfully even after a nearby AEI staffer fetched him a new glass.
When a guy who shoots his friends in the face accuses you of stealing his booze, it's a sign the party has entered Stage 3 and someone's about to get thrown over a car hood. We've been to enough of these to know that when all the Medjool dates are gone from the imported cheese platter, it's time to split.
 You can follow Beth on Twitter if this was too long for you to read.