Discover more from Wonkette
Wonkette is filthy, hilarious, liberal news. YOU CAN HANDLE THE TRUTH!
Over 15,000 subscribers
makes more money than you
John Cole over at the nice Balloon Juice website fucking called it. A couple hours ago, he published a thing noting that the front page of CNN featured the image just below, which linked to Chris Cillizza, the stupidest hack in the entire kingdom of hacks, doing a #HotTake on the awful Harvey Weinstein sexual assault revelations (which are getting awful-er by the hour ) by making it all about how nasty woman Hillary Clinton still hadn't answered the hard-hitting #journalism question, "Do you think rape and sexual abuse are bad?" Goddamn her for not getting back to Chris Cillizza in a timely manner!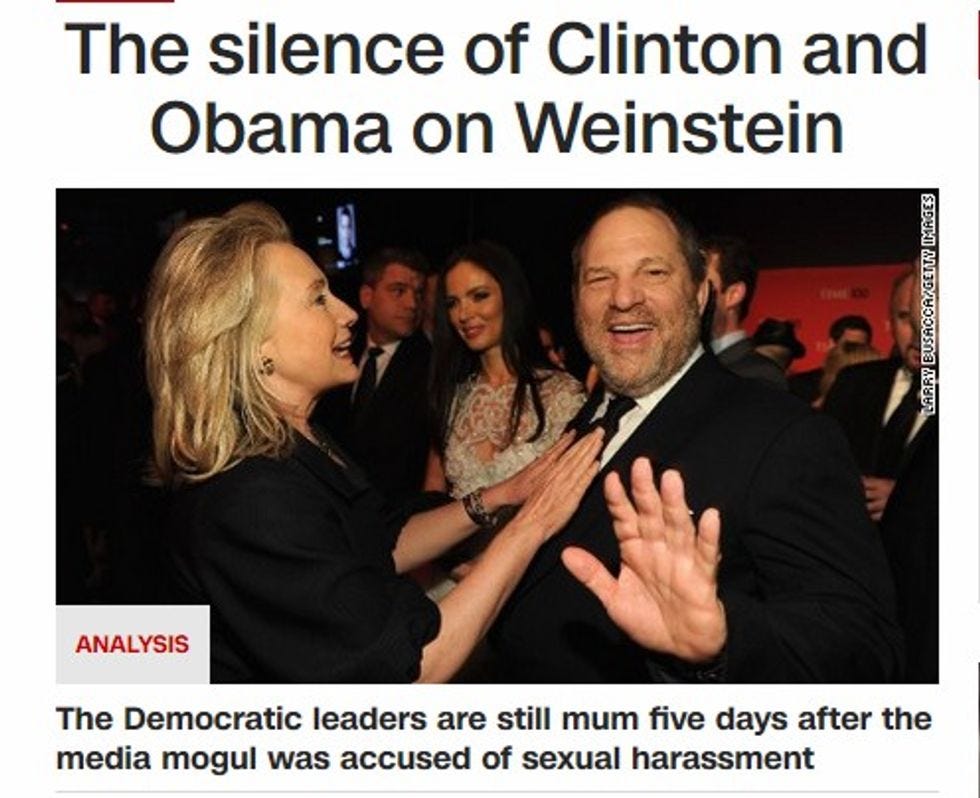 Screengrab stoled from Balloon Juice 
Cole noted exactly what Cillizza's game is here:
Make no mistake, this is no "analysis" as he has it labeled. And the thing you need to realize is Cillizza KNOWS that Clinton doesn't support rape and sexual assault, he just wants make her respond. It's him using his forum to make her jump -- he might as well be saying "Dance, mad bitch, dance," because we all know that if she does respond, Cillizza's next piece will be "what took her so long" and "was she sincere" and so on.
Well wouldn't you know it, but not long after Cillizza hit "publish" on the LiveJournal trash he inexplicably gets paid the big bucks to produce, Hillary Clinton made a statement on Harvey Weinstein:
"I was shocked and appalled by the revelations about Harvey Weinstein," Clinton said in a statement through her spokesman Nick Merrill. "The behavior described by women coming forward cannot be tolerated. Their courage and the support of others is critical in helping to stop this kind of behavior."
Good. We done here? NOPE, because what did Cole say up there about how Cillizza's next piece would be "what took her so long"? The only thing he got wrong is that Cillizza didn't write a "next piece," he merely CHANGED THE FUCKING HEADLINE OF HIS ORIGINAL PIECE to reflect that Clinton had finally acceded to his wishes by releasing a statement, but that she had done so INCORRECTLY:
Hey, what can he say? He's a one-trick pony, and it's a dumb fucking trick.
Also, he  haaaaates Hillary Clinton for some reason, just like he hates Nancy Pelosi for some reason. We'd call it a weird manifestation of deep-seated sexism possibly rooted in feelings of severe inadequacy, but ... nah fuck it, why not let's just call it that!
Now, we know what's likely rolling around in that weird-shaped head of his. Since Cillizza went to the Chuck Todd School For Kids Who Can't Journalism Good And Want To Learn How To Do Other Stuff Good Too, this is probably his proof that BOTH SIDES DO IT, because hey, President Donald Trump might be an admitted sex slimer, but did you hear about Harvey Weinstein? AND EVEN MORE IMPORTANTLY, #WhatAbout Hillary Clinton and Barack Obama BUT MOSTLY HILLARY CLINTON, who didn't comment on the Harvey Weinstein allegations on Chris Cillizza's holy schedule?
Jesus man, go fuck yourself.
On Monday, we noted all the men on the internet blaming all the various women for the actual sex crimes committed by Harvey Weinstein. Remember this one?
And this one?
Congratulations, Chris Cillizza, your #HotTakes are equally as hot as the ones leaking out of Julian Assange's and Dildo Stump Junior's assholes. Your mom should be proud.
Scanning Cillizza's Twitter feed for more wisdom, we found something else to make fun of for no other reason beyond pure meanness:
He is proud of ... that ? Good Christ, Wonkette wouldn't even award that headline a participation trophy . That's the sort of hed we put on our drafts while we are writing them , wait, no we don't, because not even our placeholders are that lame.
When, oh when, will CNN stop pissing away its money on this shit?
 Follow Evan Hurst on Twitter RIGHT HERE.    Also, this is youropen thread! 
 Wonkette salaries, servers, and all of the things are fully funded by readers like you! If you love us, please click here to fund us!