Discover more from Wonkette
Wonkette is filthy, hilarious, liberal news. YOU CAN HANDLE THE TRUTH!
Over 15,000 subscribers
Freedom-Loving Orange County Deputy DA Dies Of Freedom
Your coronavirus roundup of so so so so so much more.
Orange County Deputy District Attorney Kelly Ernby, an Orange County, California, GOP Central Committee member and state Assembly candidate, died of COVID-19 over the weekend, the OC Register reports. She was only 46 years old! You have to read past several paragraphs of encomia from her Republican colleagues to learn, at the end of the eighth paragraph, that in addition to wanting to embrace "tough love" policies for homeless people, toughen border security, and never raise taxes ever, Ernby "also spoke publicly against government mandates requiring people to get vaccinated against COVID-19."

By contrast, the Daily Beast put that fact in its story's headline and the lede, which just shows you how the liberal media has politicized this pandemic.
At a Turning Point USA rally on December 4, Ernby spoke out against vaccine mandates, explaining, "There's nothing that matters more than our freedoms right now," because what good is living if you have to get an injection that will help keep others alive?
The Daily Beast notes that it's not yet clear whether Ernby was vaccinated herself.
The LA Times also notes that even before the pandemic, Ernby had campaigned against California's law requiring all school kids to be vaccinated against childhood diseases, with no exemptions for religion or "conscience." At a 2019 town hall for her first, unsuccessful Assembly run, Ernby declared,
I don't think that the government should be involved in mandating what vaccines people are taking [...] I think that's a decision between doctors and their patients…. If the government is going to mandate vaccines, what else are they going to mandate?
Wearing seat belts? Not bringing guns to school? You know, your basic socialist tyranny. In November of this year, Ernby replied on Twitter to news that Austria would impose a lockdown for unvaccinated residents by explaining that trying to contain a deadly infectious disease is Hitler.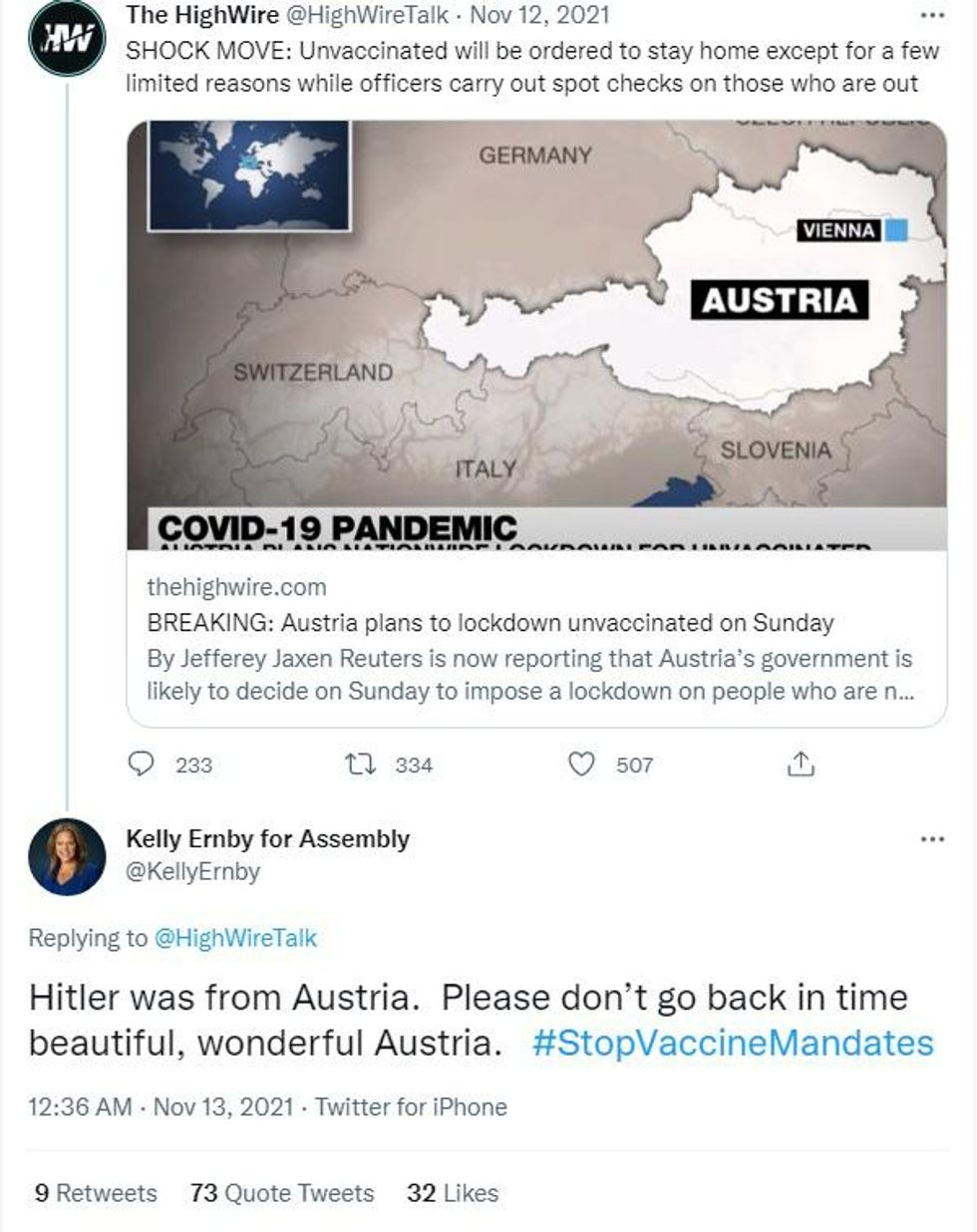 Hitler was from Austria. Please don't go back in time beautiful, wonderful Austria. #StopVaccineMandates 
Fans of irony may note that in reality, the Nazis running the concentration camps allowed infectious disease, particularly typhus, to run rampant in the concentration camps, killing tens of thousands, even in those camps not designated as extermination centers. Anne Frank was one such victim of the Nazis' indifference to public health. [ OC Register / Daily Beast / LA Times ]
OC Vaccination Site Workers Attacked By Guy Insisting Pandemic Is Hoax
In quite the coincidence, staff at a mobile vaccination clinic in Orange County were assaulted last week by a man who called them "murderers" and accused them of being part of a conspiracy. It doesn't appear he mentioned Hitler, but if he hadn't started throwing punches, we're sure he'd have gotten around to it. The OC Register reports the man had been "pacing in the health care provider's parking lot," and that he refused to wear a mask when asked, then "attempted to enter a closed area before security asked him to leave."
Parsia Jahanbani, Mobile Operations Manager for Families Together of Orange County Community Health Center, said the attack was shocking, even though the group has received no end of threatening voicemails, like many other public health clinics.
"He said 'I don't need a mask, I don't have the virus and you are the ones making people sick,'" Jahanbani recalled. "And just every type of profanity you can imagine."

The man was shouting at the top of his lungs with his fists clenched at his sides, and causing a scene in front of patients. Jahanbani and a colleague walked over to offer support to the security guard. That's when the man lunged at them, Jahanbani said.

Jahanbani said he was punched several times before his colleague stepped between him and the assailant. The attacker knocked that coworker onto the ground and then rained punches down on him, all while calling clinic staff "murderers" and accusing them of causing the pandemic, Jahanbani said.

"You could just see the rage in his face at this point," Jahanbani said.
Five clinic staffers and patients eventually got the man pinned before police arrived and arrested him. None of the staff were badly injured. Jahanbani also noted that even some patients who get vaccinated by the clinic complain that they're only getting the shots because of an employer mandate, and that they helpfully inform clinic staff they know it's all a hoax because they read about it on social media.
This is all very normal and all about freedom.
Hospitalizations Way Up, And That IS Bad
The Wall Street  Journal notes that the US is seeing a big increase in hospitalizations for COVID, which Dr. Anthony Fauci said this weekend is probably the more important statistic for the Omicron surge, and not positive tests, because for fully vaccinated and boosted people, infections with the Omicron variant seem to result in relatively mild symptoms.
Hospitalizations are up to a seven day average of 97,855 as of Monday, per US Health and Human Services stats. And again, the Journal notes the reasons it's difficult to compare one surge to another:
That is up 41% in the past two weeks but below both the pandemic peak of 137,510 on Jan. 10, 2021, and the smaller peak of 102,967 on Sept. 4, 2021, during the Delta-variant surge. While Covid-19 tests remain in short supply in much of the U.S., testing was less robust last year, complicating comparisons between pandemic surges.
As we've noted before, even if the Omicron variant turns out to result in less severe cases of COVID-19 in general, even among the unvaccinated, that can still be bad for hospitals because of its greater infectiousness. You end up with hospitals filling up with lots of people who are still very sick anyway. [ WSJ ]
FDA Approves Boosters For Kids 12 To 15
The Food and Drug Administration yesterday expanded its emergency authorization for the Pfizer vaccine to allow booster doses for kids aged 12 to 15. In addition, it shortened the recommended time between completion of the two-shot Pfizer/BioNTech vaccine and a booster, from six months to five months. The US Centers for Disease Control and Prevention is expected to sign off on the recommendation tomorrow, the last regulatory step for getting boosters to kids.
Also too, the FDA will also allow some immunocompromised kids as young as five to get boosters; that one's a definite "check with your doctor" situation.
CNN explains:
The FDA updated the emergency use authorization after review of real-world data from Israel that showed there were "no new safety concerns" in expanding boosters to adolescents or shortening the timeframe between the initial series and a booster dose.

Specifically, the data showed there were no new cases of myocarditis or pericarditis reported among adolescents who received a booster, according to a statement from the FDA.
As of now, Pfizer's is the only vaccine approved for everyone aged 12 and up, and the new, shorter booster timeline applies to everyone in that age range who's had the Pfizer vaccine.

For adults who received the Moderna shots initially, the booster is still recommended after six months of the initial course, since the FDA hasn't yet seen that a booster after five months shows any benefit. [ Politico / CNN / NYT ]
Delta's Still Around, Making Some Treatment Decisions Tougher
The New York Times has an interesting piece on how early treatment of COVID infections might be complicated because there's no simple way to tell whether whether COVID patients are infected with the Delta variant or the Omicron variant of the virus. High-risk patients infected with Delta can be kept out of the hospital in many cases by treatment with monoclonal antibodies, but the two most common antibody treatments don't do much of anything to fight off severe disease in patients infected with Omicron. A third antibody treatment does work against Omicron, but it's in short supply. Pfizer's new antiviral drug Paxlovid works well against both variants, but it's in short supply too.
The Times notes that
While U.S. officials have endorsed using a workaround test that can identify Omicron's genetic signature, experts say it's not feasible for large health systems facing a crush of patients to employ in each case.
The story points out that currently, there's no approved test to identify which variant an individual has, so health systems have to rely on genomic sequencing that can at least say which variant is prevalent in a community and make decisions based on that. And the existing genomic sequencing takes a week to complete, while both monoclonal antibodies and antiviral pills need to be started within the first few days of diagnosis to be really effective.
Omicron is now responsible for 95 percent of new infections nationwide, however, so this concern may only remain a problem in some areas where Delta remains a large percentage of cases. Yr Doktor Zoom is only a doktor of rhetoric, so the best he can add is "Christ, this fucking virus." [ NYT ]
Peter Navarro Remains Idiot
Former Trump administration economic adviser Peter Navarro explained on Newsmax that vaccinating children is "child abuse at a minimum and murder in some cases," and we can't possibly imagine that such hyperbole might inspire people in the real world to attack medical workers, because it's just free speech.
Peter Navarro says vaccinating children is "child abuse at a minimum and murder in some cases"pic.twitter.com/iRiwrqujna

— Jason Campbell (@Jason Campbell) 1641307825 
In general, the risk of the heart problem myocarditis among kids who've been vaccinated is extremely small, and far smaller than the risk of serious illness or death from COVID. Navarro claimed the exact opposite, but he is not a doctor. He also feels qualified to insist, falsely, that there's no need for children to be vaccinated against COVID-19, although coronavirus cases continue to surge among unvaccinated children . Children remain the group with the lowest rate of vaccination against the coronavirus, CNN reports,
with around 53% of ages 12-17 fully vaccinated and those ages 5-11 far less, according to CDC data . Americans at age 18-24 are nearly 59% fully vaccinated and those ages 25-39 are at 63%.
Please stay careful, folks. [ CNN / Scientific American ]
Yr Wonkette is funded entirely by reader donations. If you can, please give $5 or $10 a month so we can keep bringing you accurate information and dick jokes.
 Do your Amazon shopping through this link, because reasons .