Discover more from Wonkette
Wonkette is filthy, hilarious, liberal news. YOU CAN HANDLE THE TRUTH!
Over 15,000 subscribers
Secretary Mayor Pete Just Saying DeSantis's Anti-Trump Ad Kiiiiiiiind Of ... You Know.
It is definitely that.
The 2024 campaign is getting weird and Ron DeSantis is making it weird, y'all.
DeSantis made an anti-Trump ad for the last day of Pride Month, and the very subtle point seemed to be to insinuate that Donald Trump is a lover of LGBTQ+ people who associates with LGBTQ+ people and EWW, LGBTQ+ PEOPLE! It's got Caitlyn Jenner in it, and it's got Trump saying trans women can compete in the Miss USA pageant. Trump doesn't even trans-bash anybody. This is unacceptable to the modern conservative movement, and that is DeSantis's point, we guess.
The second half we thiiiiink? is meant to portray DeSantis as a big tough guy who is doing all the LGBTQ+ bashing, but really it just shows a lot of clips of DeSantis doing that weirdo laugh face he does, interspersed with pics of muscly men, with what sounds like a gay club track playing in the background. There are gladiators, there is some kind of Patrick Bateman thingie, we'll let a team of psychologists handle the rest.
Transportation Secretary Pete Buttigieg saw the ad. You might remember that he is gay. (Of course you remember! If you watch Fox News's reporting, you may be under the impression that his gayness has the power to collapse bridges and derail trains and pull planes out of the sky.)
 On Sunday on CNN, Pete said:  
— (@)  
"I'm going to choose my words carefully, partly because I'm appearing as secretary, so I can't talk about campaigns and I'm going to leave aside the strangeness of trying to prove your manhood by putting up a video that splices images of you in between oiled-up shirtless bodybuilders," he said.

Buttigieg went on:

"Who are you trying to help? Who are you trying to make better off and what public policies do you get up in the morning thinking about how to solve?"
Uh yeah, Ron. You fucking weirdo.
As The Messenger notes, Pete's gay husband Chasten, who he is gayly married to, had already said the ad was "actually very gay." It's obviously offensive, and DeSantis is a drooling bigot, but um, yeah.
The rest of Secretary Mayor Pete's comments were productive.
Lots of people have weighed in on the weird video. The Log Cabin Republicans were pissed, but they'll put up with all kinds of rank bigotry for partisan purposes, so it's best to view their complaints about the DeSantis ad through that lens. A lot of the comments have been along the lines of noticing that it's DeSantis surrounded by a bunch of half-nakey men.
And again, the number of shots where DeSantis is doing his trademark human laugh? Interspersed with the half-nakey men?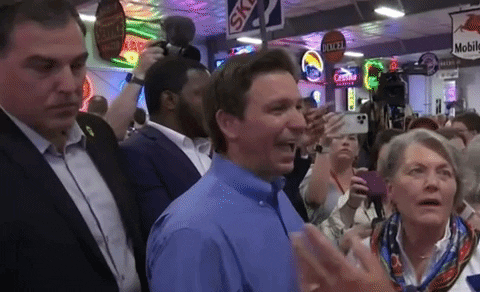 OK.
Also this:  
— (@)  
Huh.
In summary and in conclusion, remember that time DeSantis wore those saucy little white boots? LMAO.
The end.
[ The Messenger ]
Follow Evan Hurst on Twitter right here. 

Just got to BlueSky! 
I have profiles those other places but I think I forgot how to log on.

Have you heard that Wonkette DOES NOT EXIST without your donations? Please hear it now, and if you have ever enjoyed a Wonkette article, throw us some bucks, or better yet, SUBSCRIBE!
 Do your Amazon shopping through this link, because reasons .