Discover more from Wonkette
Wonkette is filthy, hilarious, liberal news. YOU CAN HANDLE THE TRUTH!
Over 18,000 subscribers
Please Send Wonkette To The #Teens' March For Our Lives, Because I Really Fucking Want To Go
YOU GUYS. You know how about 4000 of you send us money every month, because you are swell and we are swell and you are generous and we are awesome?
Well, we're going to ask for some extra right now, so PLEASE GIVE US MONEY TO GO TO THE #TEENS' "March For Our Lives," because I really fucking want to go. 
Some years ago, we purchased the #Wonkebago -- only seven years of payments left, lololol, actually not at all lol -- and if the #Wonkebago wasn't bought for JUST such an occasion as going to DC and DOING ON-LOCATION JOURNALISM and APPLAUDING THE TEENS AND KISSING THEM ON THEIR FACES AND HOLDING SIGNS THAT SAY "YAY TEENS" when they are LEADING THE FUCKING REVOLUTION, but also the journalism, then I don't know what the fuck we bought it for .
The teens' march for NOT BEING HUMAN TARGET PRACTICE ANYMORE, JESUS CHRIST, is on March 24, and I'm estimating Montana to DC and back would cost us about $5000. (We just did the accounting on our Not Being In Montana In The Winter World Tour, and it went like so: $250 for campgrounds; $1446 for gas; and $1756 for buying you pizza and beer. That was for just shy of three weeks and lots less driving -- and only four or five parties where we feted YOU!)
Also? Guess what! IT IS MY BIRTHDAY! I am 45 on Sunday, or "50 weeks older than Alex Jones." Here, have a picture!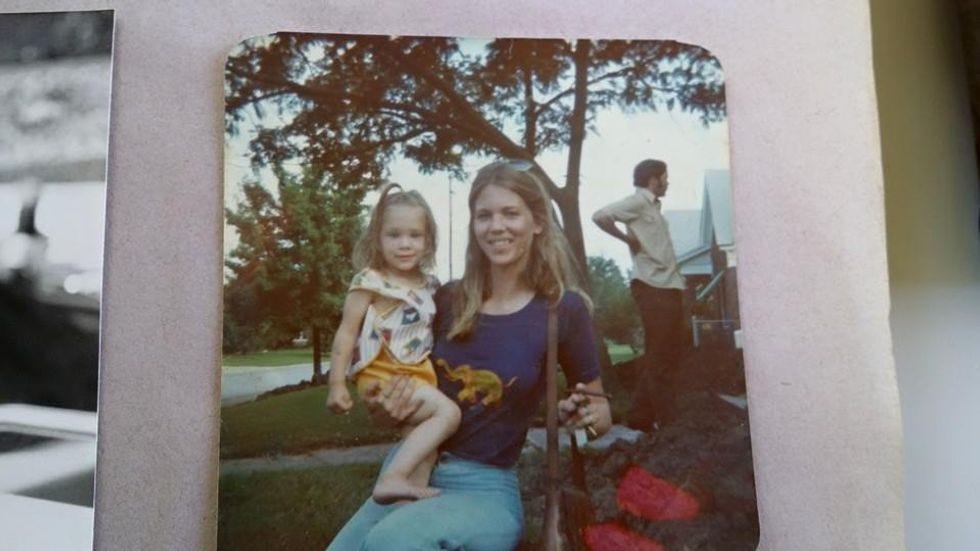 Wait, that lady holding Donna Rose is awfully "a supermodel" for 45? No, dummy, that is my mom, and she was 33ish, and she is holding ME, and she is thinking, 42 years from now you should send Rebecca and Shy and the Wonkette Baby to Washington DC, for NO MORE FUCKING GUNS, because she is psychic, I'm assuming!
What is in it for you? Besides knowing you sent old people (AND A BABY) to the Children's Crusade, and the smile of gladness that puts in your heart? Well, let's call it:
A wine tasting party in Chicago!
A beer-tasting party in Madison, WI.
A whatever they have in Pittsburgh party in Pittsburgh.
And one in Brooklyn.
And we'll buy all comers pizza in DC to carbo-load you the night before the march.
Then maybe we will come home through Baltimore, and Kentucky, and ... Indianapolis? Sure, Indianapolis. Also, don't we have some people in North Dakota and weird parts of MN? Shoot me an email and we'll come see you too.
We honestly can't make the trip without a ton of extra cash this month, so check your bank statement and if you can do it, ready, set, MONEY US! 
We love you VERY, VERY MUCH.
xoxoxo,
Rebecca Schoenkopf
Mommyblogger
(Oh, I forgot, you may OPEN THREAD.)
 Did we mention we really, really want to go? If you can help, please money us!