Discover more from Wonkette
Wonkette is filthy, hilarious, liberal news. YOU CAN HANDLE THE TRUTH!
Over 18,000 subscribers
Red States Simplify Matters, Burn Down All The Libraries
OK, not quite yet, but they're working on it.
The Right's war on libraries just keeps getting uglier, and yet somehow the inventiveness of the assaults on letting people read books keeps surprising us. Today, we bring you two more novel variations on the theme:
Mississippi Goddam
The state of Mississippi has come up with a nifty way to keep minors safe from ever encountering some of the many things that rightwing Republican pecksniffs might consider offensive. The state's new library censorship law, Senate Bill 2346, went into effect on July 1, and it bans libraries from allowing minors to have access to any materials that include sex, nudity, or the Very Existence Of LGBTQ+ people. As a result, the law's practical effect has been to prohibit everyone under the age of 18 from accessing digital materials like ebooks and audiobooks from school and even public libraries, statewide, unless they have written permission from a parent or guardian — and in many cases, not even then.
Here's the dealio: Most libraries use apps like Overdrive or Hoopla to check out digital materials. But under the new dumb law, even if a library user under 18 has permission to use the service, the library could still face fines unless the app's vendor can certify that every single item available with the app contains nothing that falls afoul of the law. And the law is so broadly written that any ebook collection that includes books for grownups (and loads of YA books) would in fact break the stupid, facially unconstitutional law. As a result, libraries have begun flat out banning anyone under 18 from using the services. If you want an image of the future, imagine this notice from First Regional Public Library in Hernando, Mississippi, stamping on a teen's phone, forever: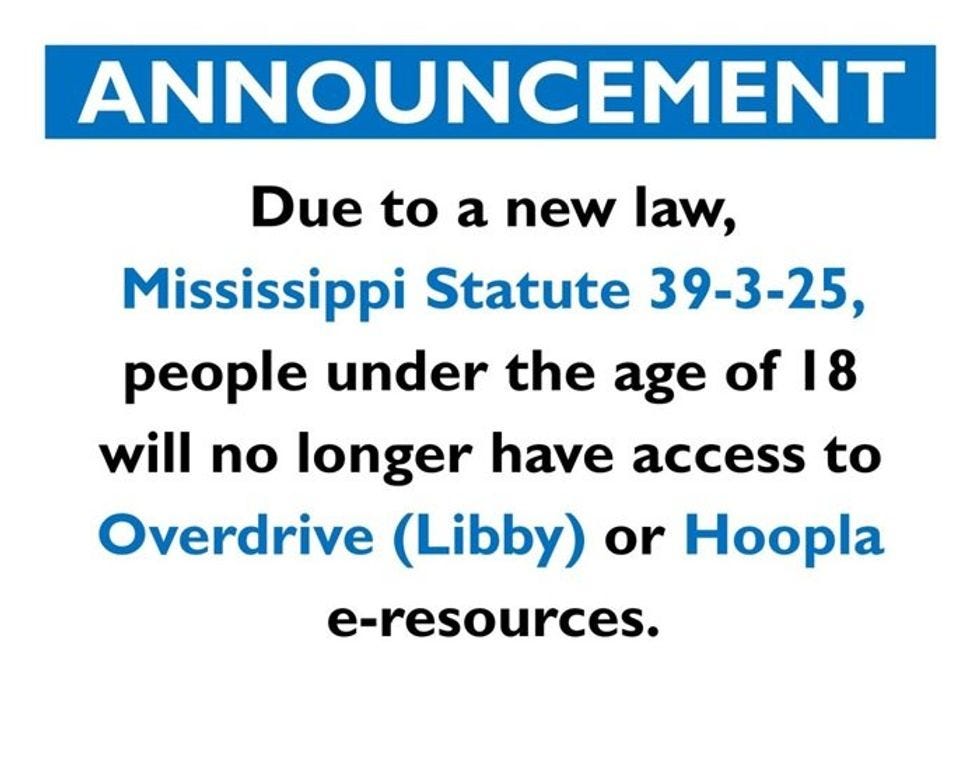 There's a great long list of things that app vendors must certify can't be accessed using their services, starting with child pornography (presumably not including the nekkid babby in Maurice Sendak's  In the Night Kitchen,   but who knows anymore?), as well as "materials that depict child sexual exploitation or trafficking," obscene materials, "inappropriate materials depicting or dealing with matters of sex, cruelty and violence in a manner likely to be injurious or harmful to a child" (there goes Maus,  we suppose), and finally, "sexually oriented materials," which covers a whole paragraph of stuff that might cause irreversible mental trauma to a hypothetical child. We like how the law shovels in a mishmash of anti-obscenity terms that may or may not hold up in court, then adds a categorical ban on gay people:
"[A]ny material is sexually oriented if the material contains representations or descriptions, actual or simulated, of masturbation, sodomy, excretory functions, lewd exhibition of the genitals or female breasts, sadomasochistic abuse (for the purpose of sexual stimulation or gratification), homosexuality, lesbianism, bestiality, sexual intercourse, or physical contact with a person's clothed or unclothed genitals, pubic area, buttocks, or the breast or breasts of a female for the purpose of sexual stimulation, gratification or perversion."
Now, does the law only forbid depictions of lesbians that are for the purpose of sexual gratification, etc., or does it also ban virtually anything by Alison Bechdel, and does your library want to risk fines starting at $500 for each violation to find out?
And again, because the ebook apps don't include the option to restrict access only to adults, or to materials that comply with cockamamie laws written by white christian nationalists, libraries have little choice but to ban minors from ebooks and electronic audiobooks altogether.
In Vicksburg, Book Riot notes, the library has yet to decide how to handle digital access to materials, but the system is already revising its library card policy. Formerly, anyone aged 16 or up could get their very own library card without parental permission, but now, all those users will have their accounts locked until they come in and add an adult's permission. None of those nasty Mangas for you!
For many kids, this will either be no big deal, just another hoop to jump through. For others, though, any extra paperwork will just be a pain, and they won't bother. Worse, and as is always the case, it's going to hit marginalized kids the hardest:
This move by the state ensures that those with the least privileges–those in unstable homes, those without regular internet access, and those without active parents or guardians in their lives–have even fewer opportunities to utilize public goods and services.
Whenever some libertarian idiot comes up with a nifty plan to do away with public libraries because can't people just use Amazon, it always evokes stories from people who, as kids, found solace in libraries, where nobody was yelling at them or telling them they were garbage, where they found books that depicted other people like them and gave them some inkling that they weren't alone and that reading was a way to connect with other people across time and space.
Yeah, can see why Mississippi would want to stamp that out.
Here's a link everyone aged 13 to 21 in Mississippi should have: Brooklyn Library's Books Unbanned initiative, which lets young people anywhere in US America get an unrestricted e-library card so they can read freely. It's not quite a warm place to sit and read on a rainy day, but it's got the book part taken care of.
Previously!
 Brooklyn Library Gonna Give Teens All The Banned Books They Want 
Montana Goddam Stupid
In the Big Sky/Small Minds State, the commission that oversees the Montana State Library voted Tuesday to withdraw immediately from the American Library Association because ALA President Emily Drabinski described herself on Twitter last year as a "Marxist lesbian" when she was elected head of the nonprofit. That really upset wingnuts around the country, because obviously that means every library associated with the national organization has Marxism and lesbianism all over it, ew. Drabinski deleted the April 2022 tweet, which also endorsed "collective power" and thanked her mom (talk about dangerous!), but we found it quoted at "Focus on the Family," which also warned that prior to taking the ALA job, Drabinski had been
interim chief librarian and the critical pedagogy librarian at the City University of New York's Graduate Center. "Critical pedagogy" is an educational philosophy that is a kissing cousin of "critical race theory."
Why, that commie can't-say-it-in-Mississippi even thinks climate change is real!
Montana state library commission member Tom Burnett, in his motion to "immediately withdraw" the state library from the ALA, also directed that the commission send a letter to the organization to inform it that "our oath of office and resulting duty to the Constitution forbids association with an organization led by a Marxist."
Burnett didn't specify which part of the US Constitution includes the "no associating with Marxist lesbians with suspiciously ethnic names like Drabinski" clause.
Five other members of the eight-member commission voted with Burnett. Only the commission's newest member, Brian Rossmann, a professor at the Montana State University Library, voted against the motion; Peggy Taylor, chair of the commission, abstained.
In public comments before the vote, a whole bunch of Moms for Illiteracy types urged the commission to sever ties with the ALA. Among them were comments by
Derek Oestreicher, legal counsel for the conservative Montana Family Foundation, and by David Ingram, a board trustee at Kalispell's ImagineIF library. Both framed their support for withdrawing the state library from ALA membership in the context of national culture-war issues, claiming the organization embraces policies tied to critical race theory and uses public funds to, as Ingram stated, "undermine truth and natural law."
Not surprisingly, Ingram accused the ALA of doing Culture War against America instead of sticking to the business of making sure books are returned on time.
Other speakers accused the ALA of promoting Marxism, promoting "pornography," and trying to turn children gay, because of course they did.
A few souls spoke up in favor of the ALA, noting that it provides a lot of useful resources to libraries like professional development for librarians, guidance on policy, and expanded broadband access. Rossmann — is that an American name, either? — noted that the presidency of the ALA is "largely a ceremonial role," and that ALA policy is actually set by the group's executive director and its 100-member council. For all the good it did.
The Montana Free Press notes this isn't the first controversy to wrack the state library commission; last fall, the members voted against a new logo for the state library because the stylized primary colors in the logo were too gay, like a Pride flag; the commission eventually approved a redesigned version that used a slightly different color palette and we swear we are not making this up apart from our enhanced labels at the top: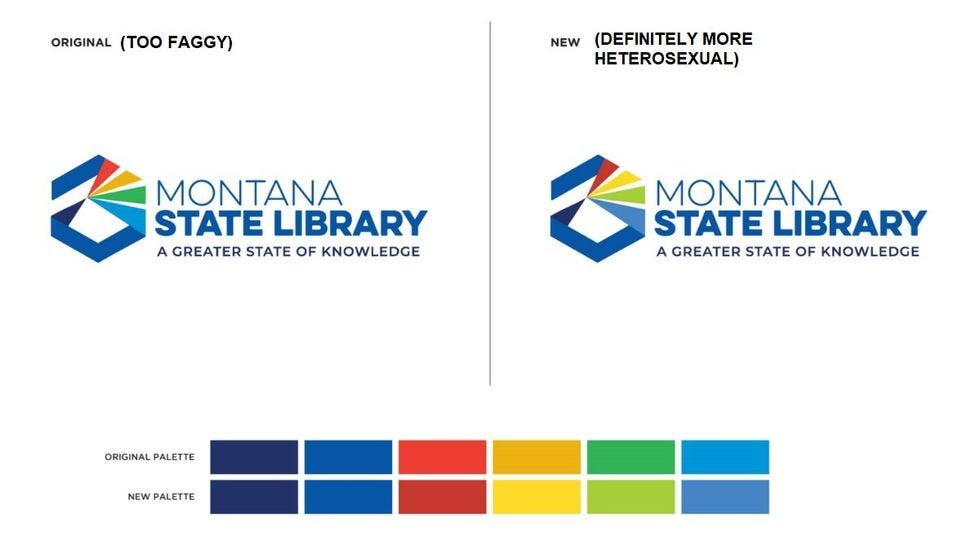 In conclusion, Crom help us all, please support your local library!
[ BookRiot / The Mary Sue / Montana Free Press / Photo:  Derry Public Library, Creative Commons License 2.0 )

Yr Wonkette is funded entirely by reader donations. If you can, please give $5 or $10 monthly so we can keep you up to date on all the bullshit they keep throwing at us every day. If you're shopping at Amazon anyway, the link below provides Yr Wonkette a little cut.
 Do your Amazon shopping through this link, because reasons .