Discover more from Wonkette
Wonkette is filthy, hilarious, liberal news. YOU CAN HANDLE THE TRUTH!
Over 15,000 subscribers
Seems Like The Kennedys Would Support Zombie Little Edie For President Over RFK Jr.
He's got Steve Bannon and Roger Stone on his side though, so that's something.
Robert F. Kennedy Jr., as you may know, is running for president. He is one of two people hoping to snatch the Democratic nomination from Joe Biden, the other being Marianne Williamson. But while those who like a good train wreck are looking forward to that primary debate, his family, including his own siblings, are very much not — and not because they're afraid of any Kennedy curse.

Alas, while they love their brother, they don't seem to love his anti-vax, pro-Sirhan-Sirhan stances or the way he makes people feel the need to Google "Which Kennedy is it that got the lobotomy?" 
Via CNN:  
"They're angry to be put in this position – because they always want to support the family, but they're being put in a position that makes that impossible," said one person who has spoken to several members of a family generally so guarded that even longtime aides often feel like they barely understand the dynamics themselves.

"Which brother?" Chris Kennedy, a former gubernatorial candidate in Illinois, joked when asked by CNN about his thoughts on his brother's campaign.

"This is a difficult situation for me. I love my older brother Bobby. He has extraordinary charisma and is a very gifted speaker," Rory Kennedy, the filmmaker and youngest child of Robert F. Kennedy, told CNN. "I admire his past work as an environmentalist – because of him, we can swim in the Hudson. But due to a wide range of Bobby's positions, I'm supporting President Biden."

"I prefer not to talk," texted Kathleen Kennedy Townsend, the former Maryland lieutenant governor who's now an adviser on retirement at the Labor Department, when asked about the frustration within the family about her brother's run.
It's like my mom always said — there's one in every family, and if you don't think so, it's you .
"It has been my difficult choice to put my principles ahead of my personal affections for the President which remain undiminished," RFK Jr. said in his own statement to CNN. "Some members of my family agree with me and others do not. I bear them no ill will. Families can disagree and still love each other. We hold that possibility for the entire country too."
And yet, it does not actually seem like there is a single Kennedy, anywhere, who wants him to run for president or agrees with any of his anti-vaccine nonsense. Mostly they all just talk wistfully about how they liked it better when he was just super into environmentalism and wanted to save birds and stuff.
Oddly enough, people who do support him — outside of his wife, Cheryl Hines (who at this point seems like she would have been better off actually married to Larry David) — all seem to be people who actually hate the idea of saving the planet. Hell, Steve Bannon is rumored to be the one who convinced him to run in the first place . With a few especially bizarre exceptions, like this weirdo who thinks he'd make vaccines free if he were president ...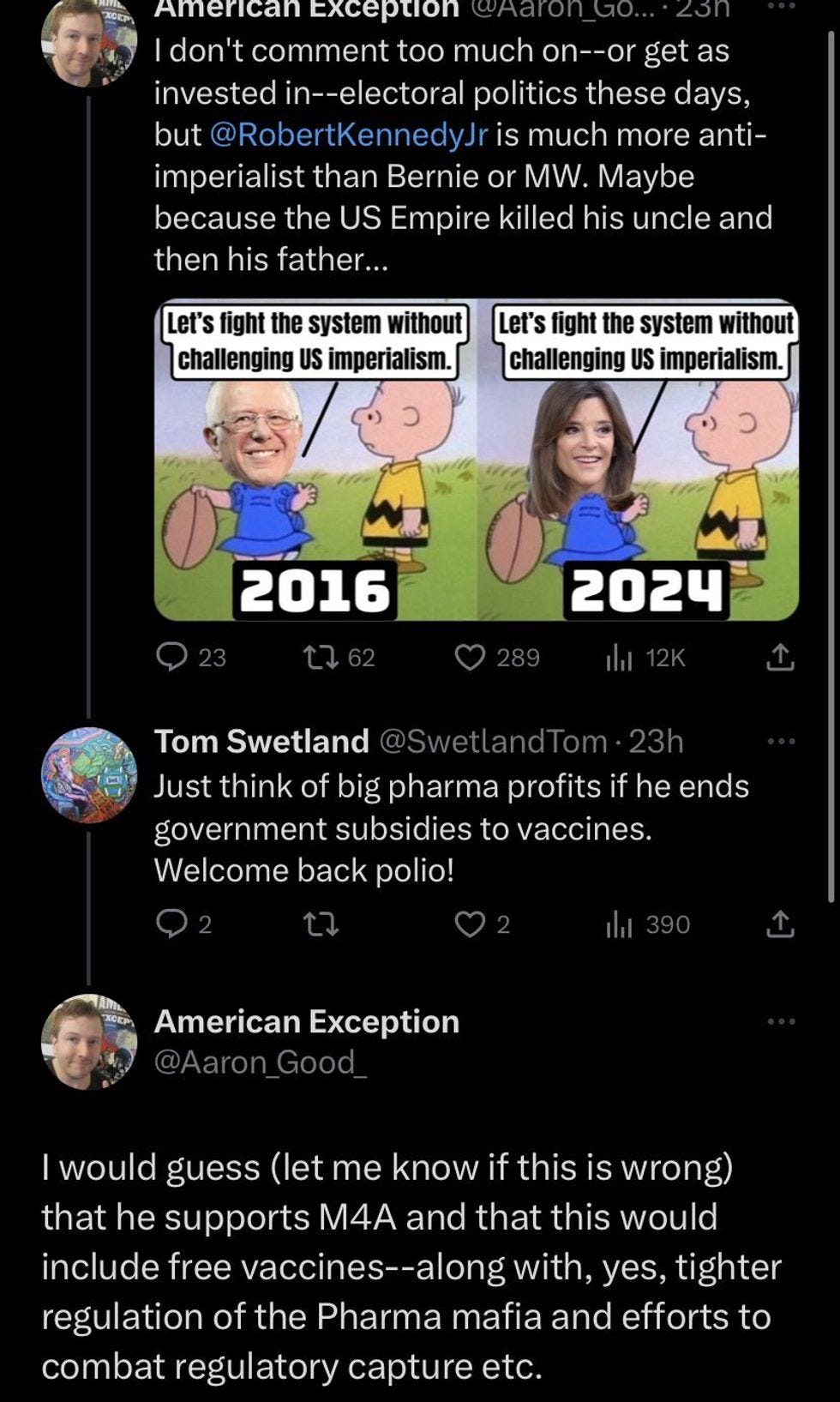 ... most of his support has come from far-right dingbats and Trump loyalists. This would be more surprising if these same people hadn't spent the past few years trying to recruit RFK Jr.'s dead cousin to their cause as well. They'd hoped that JFK Jr. would be Trump's running mate, but now that this seems increasingly unlikely to happen, what with the fact that he has yet to rise from the dead and all, many of them are saying they'd like RFK Jr to take his place on that "dream ticket" — including Roger Stone.
From Stone's substack:  
Given America's state of peril, if RFK performs better than expected, the former President should consider the drafting of RFK as the Republican vice presidential candidate in a "bipartisan" unity ticket. This idea is not without precedent; Senator John McCain really wanted Democrat Senator Joe Lieberman as his running mate in 2008. McCain was ultimately talked out of the idea.

Whether a freshly nominated Trump - who I believe will sweep to the Republican nomination despite the obstacles put in his way by the deep state and the two-party duopoly that is increasingly frantic not to face him again at the polls - could persuade a Republican National Convention to nominate Kennedy for Vice President, whether Kennedy - having been man-handled in the Democrat Party nominating process - would accept such a nomination, and whether state law in certain states would allow for the nomination of a registered Democrat on the Republican ticket, are all potential obstacles to what I believe could emerge as a "dream ticket."

No incumbent president in modern times who faced but beat back a significant challenge for re-nomination has gone on to be re-elected. This includes Carter in 1980 who was challenged by Ted Kennedy, not Ford who was challenged by Ronald Reagan and not Biden next year. One thing is certain, however, the selection of RFK would silence those within the Republican Party who are today critical, in retrospect, of Trump's handling of the Covid-19 pandemic, as well as building a bridge for thousands of Democrats and Independents disgusted by Biden's fumbling foreign policy and the implication of the collapse of U.S. economic dominance to vote for Trump.
No. Just no.
 Do your Amazon shopping through this link, because reasons .
Wonkette is independent and fully funded by readers like you. Click below to tip us!