Discover more from Wonkette
Wonkette is filthy, hilarious, liberal news. YOU CAN HANDLE THE TRUTH!
Over 18,000 subscribers
Spread 'Em: Break Out The Summer Jams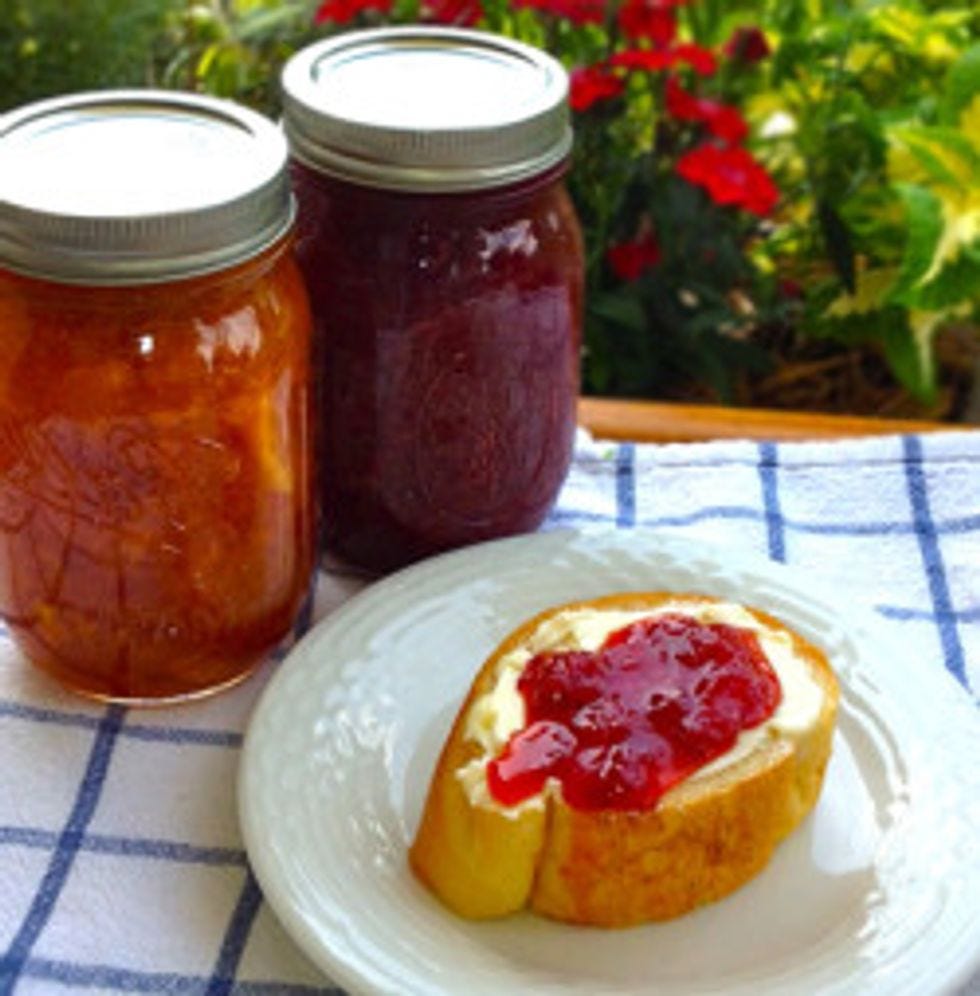 Are you sick and tired of buying factory made jam? Good, me too. Abandon your jars of unnatural concentrates and throw away the shackles of commercially prepared pectin! We are going to make our own jams!
It's August, when the temperatures are south of hell. Fruits and vegetables are reaching their peak flavors, though. Anything worth eating and saving for later will require us to turn our kitchens into saunas. Once I get my mind set on the flavor of real jam, it's not hard to crank up the stove like a total badass because the flavor of homemade preserves are out of this world. Don't believe me, though. Check out these comments by my jam fans:
"OMG, OUTSTANDING!"
"I wish I could use this as lip balm all day."
"My pants feel tight!"
You would not believe how many people are laying dibs on these homemade jams. Now I know how my Mom felt every August.
Let's use my mother's recipes - they're so simple! I've been doing this since I was big enough to stand on a box and stir. I will also hook you up with some links for water-bath canning (the easiest!), and inexpensive options for newbies who don't have canning equipment.
Strawberry Jam
4 lbs. of strawberries (washed, hulled and mashed)
3 c. pure cane sugar
4 tsp. lemon juice
Salt, a few shakes
Peach Jam
8 ripe peaches (par-boiled, skins and pits removed, chopped and mashed)
3-½ c. pure cane sugar
3 tsp. lemon juice
Salt, a few shakes
After you have prepped your fruit, mash it in a large glass bowl. You can use a potato masher, pastry cutter, food processor, or fists (messy). This mash can be as pulverized or as lumpy as you like. Sprinkle this with lemon juice, a little salt, and mix.
Pour this mixture into a deep saucepan, and then add sugar. Depending on the quality of your fruit, you might not need three entire cups. No idea why you would short-change the sugar when it makes jam taste so good, but you be YOU.
Turn the heat to medium, so that the sugar starts to melt, then bump it up to medium/high. Keep stirring. A long wooden spoon – the ass-beating kind – comes in handy, to keep the spatters of bubbling jam from melting your knuckles.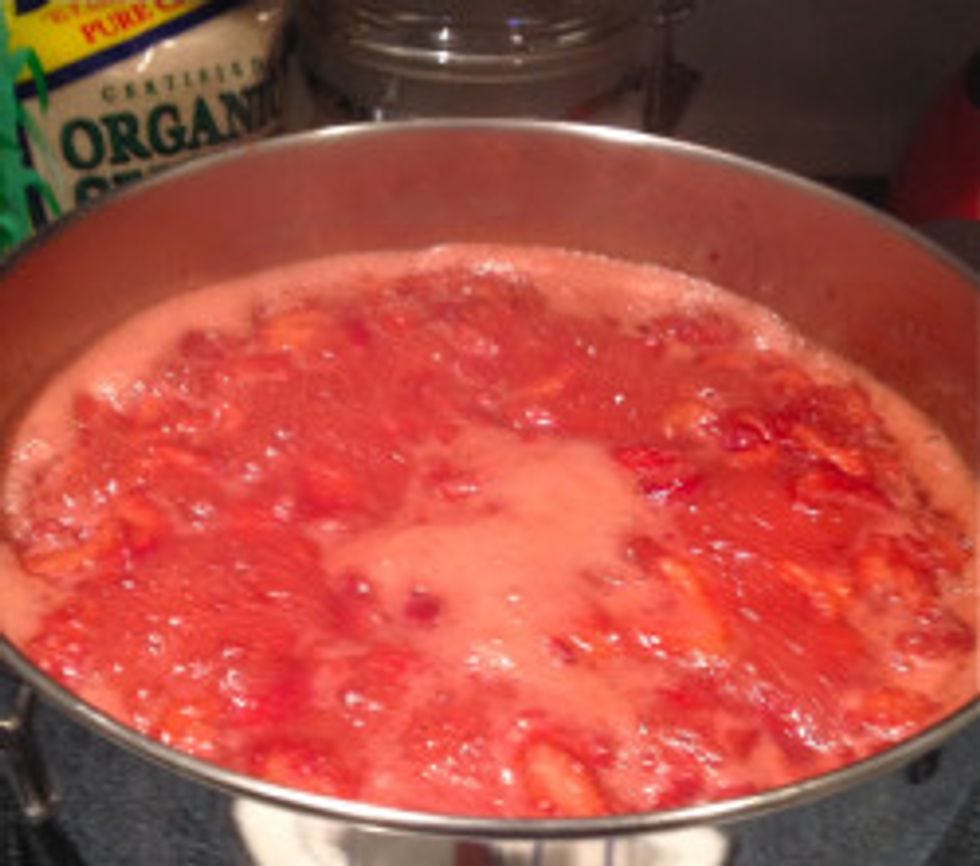 Bring this to a hard boil. Reduce the heat back to medium and keep stirring, to prevent scorching and burning anything. There really is no way to set a timer on thickening, because batches vary depending on produce and the your own quirky stove. Check the thickness of your jam by spooning a little bit on a plate and blowing on it. If it slows to a crawl when you tilt the plate, you are in the right direction.
Skim as much foam off the top as you possibly can. Discard this or save it for your morning toast. Remove the jam mixture from heat.
The canning process is next. If you're too freaked out to try canning, pour the jam into jars and refrigerate it for up to ten days.
If you do not have canning equipment, but you're can-curious, I found a beginner's kit at the local supermarket. The kit cost approximately $10, and it comes with a few jars, lids, rims and a boiling basket. I gave it a spin and it works! If I had to can fruit or vegetables in the middle of nowhere, with nothing but a cannibal pot and BBQ tongs, I would totally use the kit. Links for the water-bath method are here.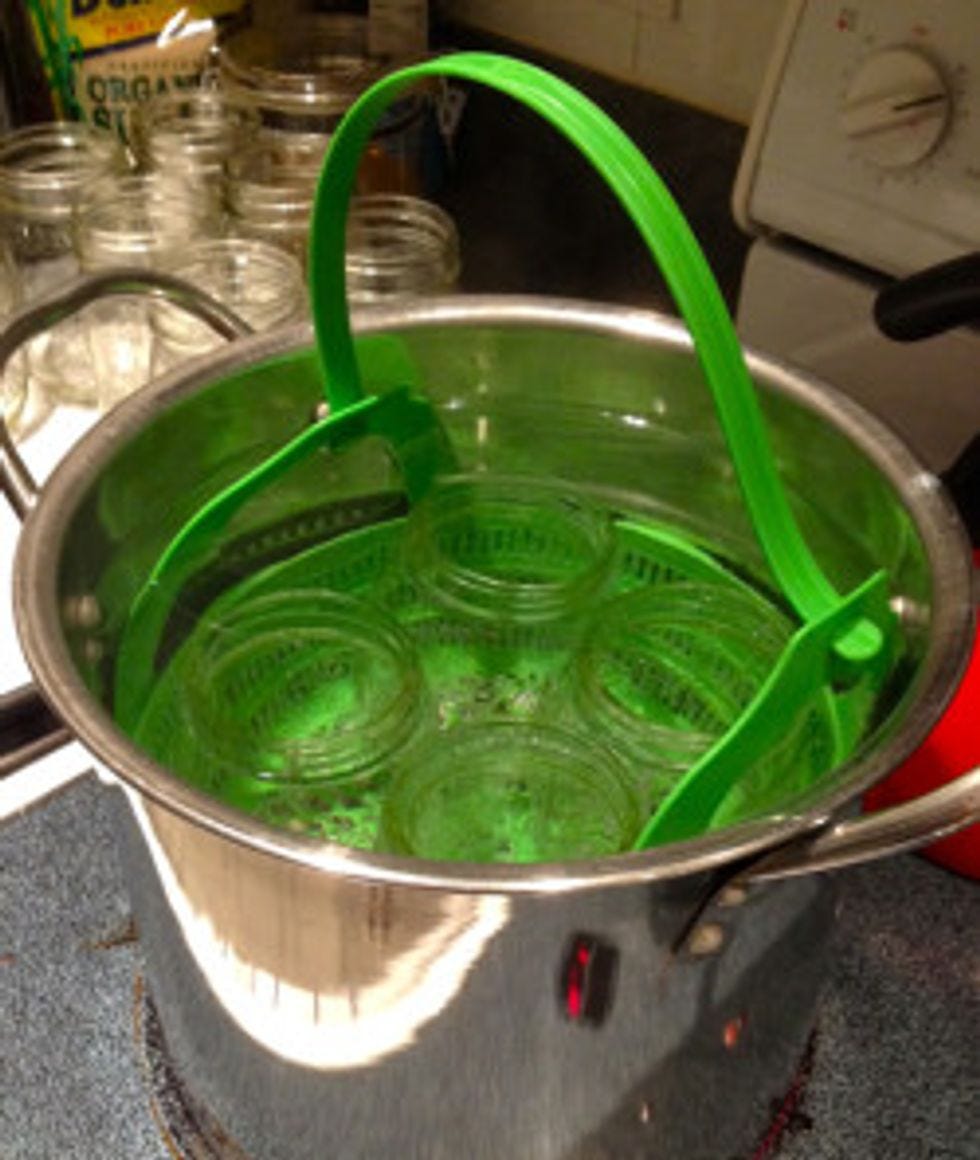 Use small jars for canning jams and jellies, unless you plan to eat entire pints every other week. Store the jars up to a year. As long as the glasses never get chipped, you can reuse them to infinity (and beyond).
The best part about canning is the flavor! You can seal summer goodness in a glass jar, to be enjoyed as a condiment or used as currency. Canning food also gives you a leg up on the prepper jerkbags. Why should they be the only ones eating during the apocalypse? Do the right thing and make sure cool people have delicious food, too. Make some jam and can it. Get some bread, break out the butter and live it up.