Discover more from Wonkette
Wonkette is filthy, hilarious, liberal news. YOU CAN HANDLE THE TRUTH!
Over 18,000 subscribers
Republicans Pretty Sure Stacey Abrams Will Turn Georgia Into Nightmare 'Star Trek' Future
We kind of see this as a selling point.
A recent Fox News poll has Democratic incumbent Senator Raphael Warnock with a five-point lead over Republican insult candidate Herschel Walker in Georgia. Unfortunately, the same poll shows Republican incumbent Gov. Brian Kemp pulling further away from Democratic challenger Stacey Abrams. Kemp's lead has grown three points since July. He's now at 50 percent to Abrams's 43 percent, now safely outside the margin of error.
This split decision isn't an outlier. A significant number of Warnock voters are also sticking with the Republican governor. It's not that shocking: Walker is a moron, and negative partisanship only goes so far. Warnock has delivered for his constituents and not just wacky liberal things like affordable healthcare and much needed infrastructure.
Warnock released a smart ad last week detailing how he'd teamed up with Republican Sen. Tommy Tuberville from Alabama to help the state's peanut farmers. They'd "eliminated regulations," which is downright sexy talk for economic conservatives. (The Lugar Center has ranked Warnock as the 18th most bipartisan senator.)
Walker's campaign insists Warnock is just a rubber stamp for Joe Biden's agenda, but while he votes consistently with the president, he doesn't come across to reasonable voters as radical. Abrams's problem is that Republicans have effectively painted her as a liberal bogeyman. Kemp has leaned heavily into the Scary Black Lady tropes.
Also, right-leaning Georgia voters might not think Warnock has grand aspirations beyond his current job. Abrams has become a national figure thanks to her important voting rights advocacy, and Kemp argues that she views Georgia as merely a stepping stone to the White House. He went so far as to define the very rationale of his campaign as a "Stop Stacey" mission. Republicans were gearing up to deny Abrams the governor's office before she'd even officially announced her candidacy.
PREVIOUSLY:
   Stacey Abrams Gonna Be Georgia's Next Governor. There We Said It. 
 Stacey Abrams Is President Of Earth, The Universe And Everything 
Abrams is certainly more of a celebrity than Warnock. Republicans lost their damn minds when "Star Trek: Discovery," which is fictional, cast her as the President of Earth in a distant future where there are no more Republicans. (We know the Republicans don't exist because the planet isn't an uninhabitable ball of fire. That was back in March, but Republicans are bringing it up again. Abrams has no secret children stashed away so she hasn't really given them any serious ammunition. They have to stick with poorly PhotoShopped images of her from her "ST: Disco" cameo.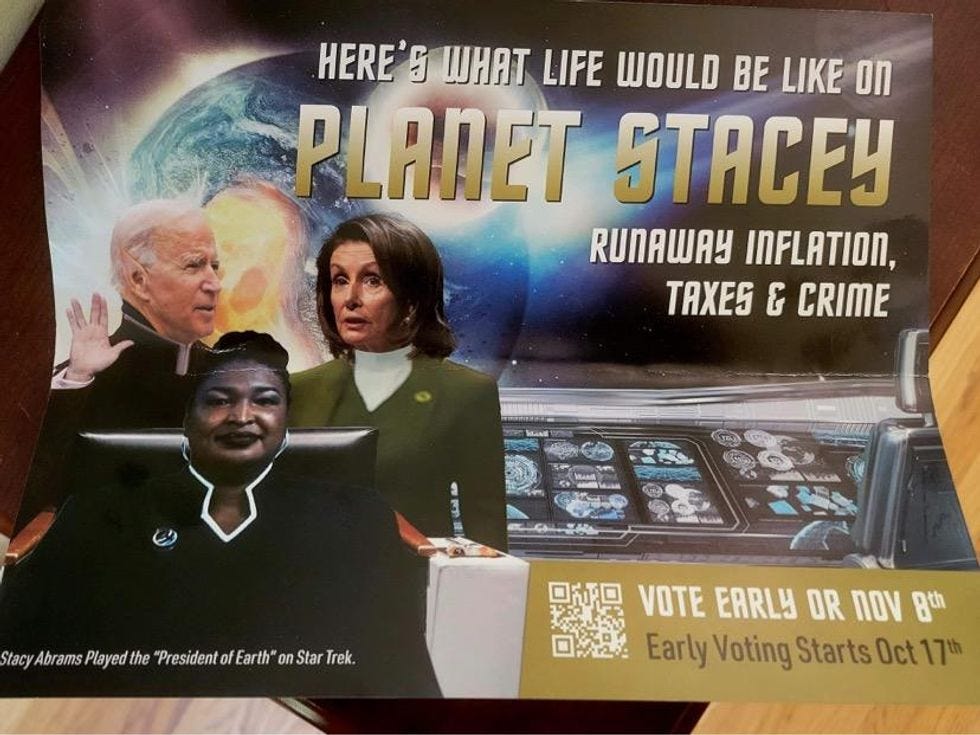 My friend Jennie, who lives in Georgia, received this absurd mailer last week. She's not a Republican, but she's white so statistically, the Kemp campaign thinks she's a potential flip. Warnock won the 2021 special election runoff with just 29 percent of the white vote.
The mailer proclaims, "Here's what life would be like on Planet Stacey," and that miserable life would include runaway inflation, taxes, and crime. The graphically illiterate image features Abrams seated in what looks like the Enterprise captain's chair. She was the civilian president, not a member of Starfleet, but the caption underneath Abrams's picture misspells her first name "Stacy." So that's how much effort went into this.
Biden and House Speaker Nancy Pelosi stand behind Abrams. Biden is giving the Vulcan salute with what looks like an itty-bitty baby hand. Pelosi looks fierce as ever in a green Starfleet uniform. These geniuses apparently don't realize that Starfleet officers are the good guys, and Vulcans are our friends, if sometimes annoying to others with their unfeeling logic. (I can relate.) This isn't the Empire from Star Wars , which Ted Cruz insists was actually liberal. He told Mark Hamill — Luke Skywalker himself — that "it was Vader who supported government power over everything said and done on the Internet." I don't know what the hell he's talking about. There is no Internet in Star Wars . Otherwise, the Rebels would've safely emailed the Death Star plans to Princess Leia.
Right-wingers like Cruz probably prefer Star Wars because it feels more like a cowboy space opera. Star Trek promotes inclusion and exists in a multiracial utopia where science is respected. No wonder they want to "Stop Stacey." She could help create the future they fear most.
  Follow Stephen Robinson on  Twitter.   
 Do your Amazon shopping through this link, because reasons .

Yr Wonkette is 100 percent ad-free! Please subscribe, donate, and otherwise help keep us alive and kicking!