Discover more from Wonkette
Wonkette is filthy, hilarious, liberal news. YOU CAN HANDLE THE TRUTH!
Over 15,000 subscribers
Normally, here in the Sunday show rundown, we look at the dumb and perplexing things said by people on the political Sunday shows, but this time Trump himself interrupted them to announce the death of the Islamic State leader Abu Bakr al-Baghdadi.
Now, as you are aware, Trump announced this solemn moment with all the respect and quiet dignity of the presidency ... NOPE! Who are we kidding folks?! Trump had to make this whole thing a weird, graphic, and overcompensating mess that is typical of everything in his life. While most of it was covered by Dok already, there were three moments that need special highlighting. The first is Trump's utter lack of understating of the internet or dogs:
TRUMP: They're very technically brilliant. They use the internet better than almost anybody in the world,perhaps other than Donald Trump.But they use the internet incredibly well and what they've done with the internet through recruiting and everything, and that is why he died like a dog, he died like a coward.
The guy who has been known for not using a computer , who has webpages/tweets printed out on paper so he can annotate in Sharpie? That guy?! It's also clear Trump has NEVER had a dog in his life or he thinks all dogs die like Old Yeller . If he wasn't such a cruel shitbag, maybe Trump could have been saved by getting the unconditional love from a dog he clearly never got from his father. But knowing Trump, he would have just gotten dog care lessons from the Huckabees .
While the internet and dog things were disturbing, it got even worse. Trump, like a fat cat proudly presenting you with a dead animal it just killed, couldn't help take this accomplishment and use it to "dick measure" with President Obama, which your editrix called before going off to bed to watch 15 episodes of "Cheers."
gonna announce he got Bin Laden https: //t.co/2QsSEnUVoS

— Master Rebecca Schoenkopf, Wonkette Editrix, King (@Master Rebecca Schoenkopf, Wonkette Editrix, King) 1572140282.0 
And much like in any other circumstance, he knows he doesn't measure up so he tries to inflate his "qualities."

TRUMP: Osama bin Laden was very big but Osama bin Laden became big with the World Trade Center. This is a man who built a whole, as he would like to call it, a country, a caliphate, and was trying to do it again.
Sure, okay, whatever, we get it. But it's the third moment when he doubles down on this already dumb statement:
Here's the transcript of Trump's entirely fictional tale about how "nobody" had heard of "handsome" Osama bin Laden until Trump demanded his death in a 2000 book, but nobody listened, and people still marvel at his prescience, "it's true,"
and the press won't report all this. pic.twitter.com/qfMNBbZyBX 
— Daniel Dale (@ddale8) October 27, 2019 
Yep! Apparently, Nostradumbass over here is claiming that he warned everyone of bin Laden before 9/11 while simultaneously no one but him knew about him. Not only are his "warnings" another easily disprovable lie but, as Malcolm Nance points out, he was a well known figure before he committed the atrocities of 9/11:
Trumps taking claim his book warned abt Osama Bin Laden as a threat before 9/11 before the rest of the world is an incredible lie. Bill Clinton was ridiculed for trying to kill Bin Laden in 1997 after OBL declared war on TV. & alQaeda attacked the USS Cole in 2000. EVERYONE KNEW
— Malcolm Nance (@MalcolmNance) October 27, 2019 
Here is the whole announcement, but set to the Trump "bin Laden prediction" moment:

But as with any moment of even mild competence, Trump's League of Extraordinary Kiss Asses fanned out to the remaining Sunday shows with mixed results. Mike Pence appeared on both CBS's "Face The Nation" and "Fox News Sunday" to heap praise on Trump but was met with unexpected resistance on other matters. On "Face The Nation," Pence was asked about the Ukraine call quid pro quo four times in a row and he sputtered each time without actually answering the question. Here is the clip and commentary from Bryan Tyler Cohen.

On "Fox News Sunday," Pence was grilled by Chris Wallace on why the Democratic members of congressional leadership weren't informed of the operation as is customary for operations like the Baghdadi raid. Again, Pence muttered without giving a good answer.
WALLACE: Does the president not trust the speaker of the House with sensitive national security information?

PENCE: That wasn't the implication at all. […] I think from the time that we got actionable intelligence, the president's total focus here was on a successful mission and the safety of American troops ―

WALLACE: I understand that, but why didn't he tell Nancy Pelosi?
Pence continued dancing around the question again, responding that Trump had been focused on bringing Baghdadi "to justice," with what can only be described as Tulsi Gabbard-like skill.

Tulsi boycotting rhythm pic.twitter.com/snww6gp2PU 
— D'Ag due (@ag_due) October 11, 2019 
Here is the interview clip.

Pence wasn't the only one heaping praise at Trump, and yet it seems that this victory is doing nothing to patch up the crater of Trump's presidency. As more details come out, it seems its success was in spite of Trump . In fact, Trump reportedly ALMOST made this mission much riskier ! While Trump and Republicans were so eager to take a "victory lap," they showed up to Game 5 of the World Series and saw the world outside Trump's trash-rally bubble.
Ultimately, we'll see how this military triumph does or doesn't affect Trump in the long run. Trump has already cheapened it and politicized it, unlike other presidents. Maybe for Trump, this time he should listen to his past self.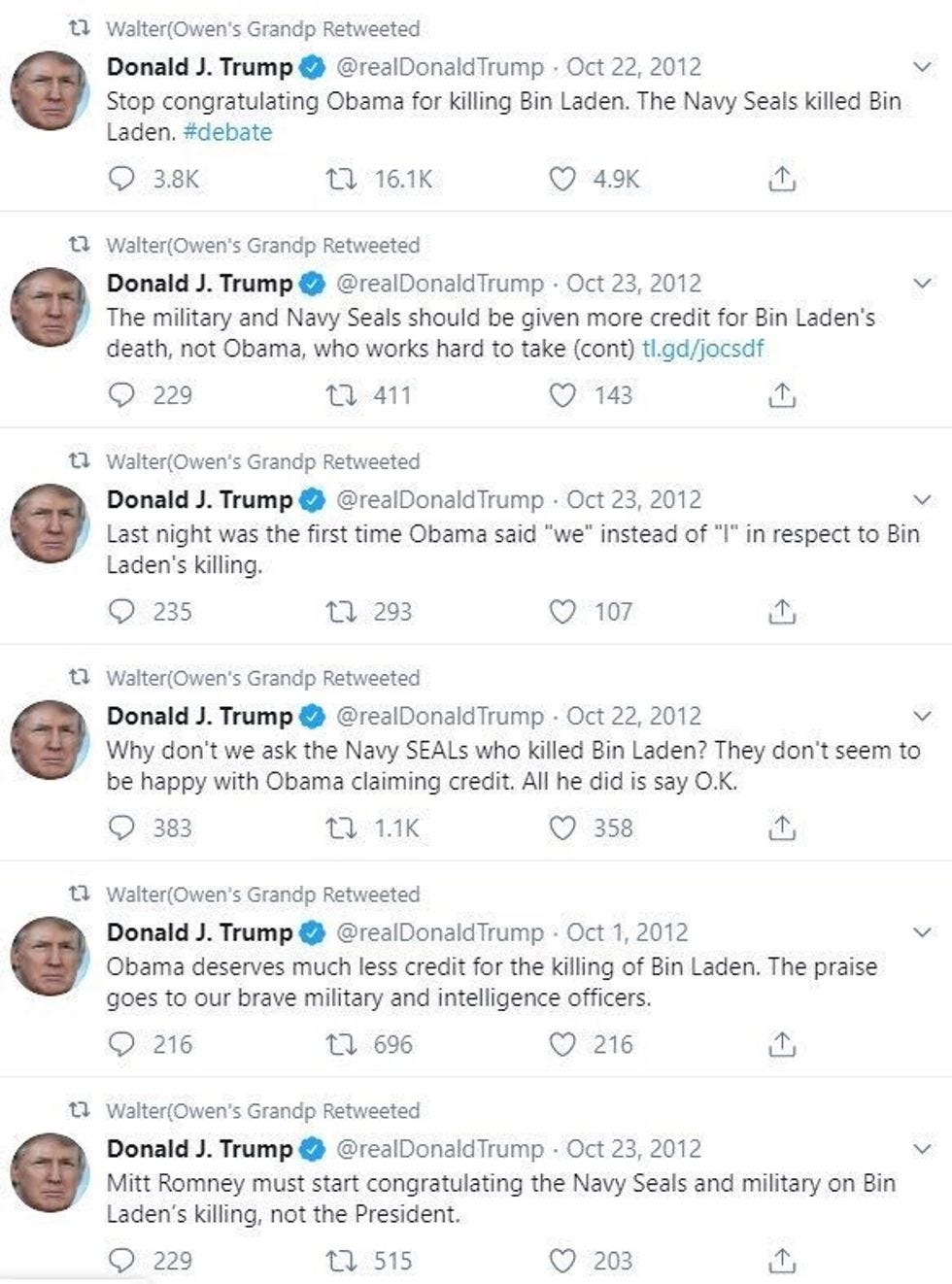 Because with Trump, there's always a tweet... 
Have a week!
Wonkette needs YOU to keep us going. Seriously you guys. Click the clickie! Choose an amount, and make it one time or monthly! Then click Paypal or "credit cards" (Stripe) to MONEY US! : D