Discover more from Wonkette
Wonkette is filthy, hilarious, liberal news. YOU CAN HANDLE THE TRUTH!
Over 15,000 subscribers
words words just words lying words more words
Slow news day, guys, wonder what White House Press Secretary Sarah Huckabee Sanders is even going to talk about.
Just fooling, today's White House press briefing is gonna be great! Let's see what she has to say about Paul Manafort and Rick Gates being in jail, and also about George Papadopoulos, who is not in jail because Mueller done TURNED HIM. We will make jokes about it in this, which is called a "liveblog" if you are new at internet!
Here's some video:
It starts at 1: 15, which is ... NOW. Let's go!
1: 20:Sarah Huckabee Sanders! Come out, come out, wherever you are! You've had all morning to memorize your lies, now you're just cutting into our fucking lunch hour.
1: 23:By the way, you have official Wonkette permission to drink boozes during the daytime today, because it is a fun news day for the first time since sometime in 2016. Be sure to drink every time she says "Hillary" or "uranium," but not too big a drink, because you will get the alcohol poisoning.
1: 26:OOF, y'all. This is before all today's news.
1: 30:UGH TRUMP WHITE HOUSE, YOU CANNOT BE AN AUTHORITARIAN SHITSTORM OF DEMOCRACY-KILLING PROPORTIONS AND ALSO BE LATE LIKE A COMMON OBAMA.
PICK ONE.
1: 35:And here she is finally, to tell us lies. Sanders begins with a hilarious joke about how everybody wants to ask her about tax reform today. The entire White House press corps died of laughter in response to her joke, and now the press conference is over.
1: 37:For today's festival of lies, we have chosen this extremely pink dress. Just FYI.
Blah blah blah, she is doing some kind of stupid storytime about why Trump's tax reform is the best. BRB taking a nap until she shuts up about stuff nobody wants to talk about.
1: 40:OFFICIAL WHITE HOUSE REACTION TO THE INDICTMENTS AND THE RUSSIA GUILT: This has nothing to do with the president. This has to do with the Clinton campaign (DRINK!), Fusion GPS and Russia. Then she said "Clinton" again. (DRINK!)
IS TRUMP GOING TO FIRE ROBERT MUELLER: No.
HOW DOES THE GEORGE PAPADOPOULOS THING NOT HAVE TO DO WITH THE CAMPAIGN, HE WORKED FOR THE FUCKING CAMPAIGN! We don't know her.
1: 43:WHEN IS THE LAST TIME DONALD TRUMP INVITED PAUL MANAFORT OVER FOR PUSSGRAB 'N' CHILL?
Sanders: I don't know Peggy Minestrone or whoever this person is you keep talking about.
1: 45:Wow, they are really throwing Manafort under the bus here! Sanders says Manafort's crimes have literally NOTHING to do with them.
REPORTER: How is the Papadopoulos thing not collusion, when it seriously fucking collusion, my god?
SANDERS: We never paid him any dollars! He was one of THOUSANDS who volunteered on the campaign!
1: 46:REPORTER: Should Congress investigate Hillary Clinton?
SANDERS: Don't tell anybody I told you this but ZOMG YES!
1: 48:This is George Papadopoulos, the "low-level" nobody staffer who was just one of a MASSIVE HORDE of people who volunteered for the campaign. He is sitting four people to the right from Donald Trump: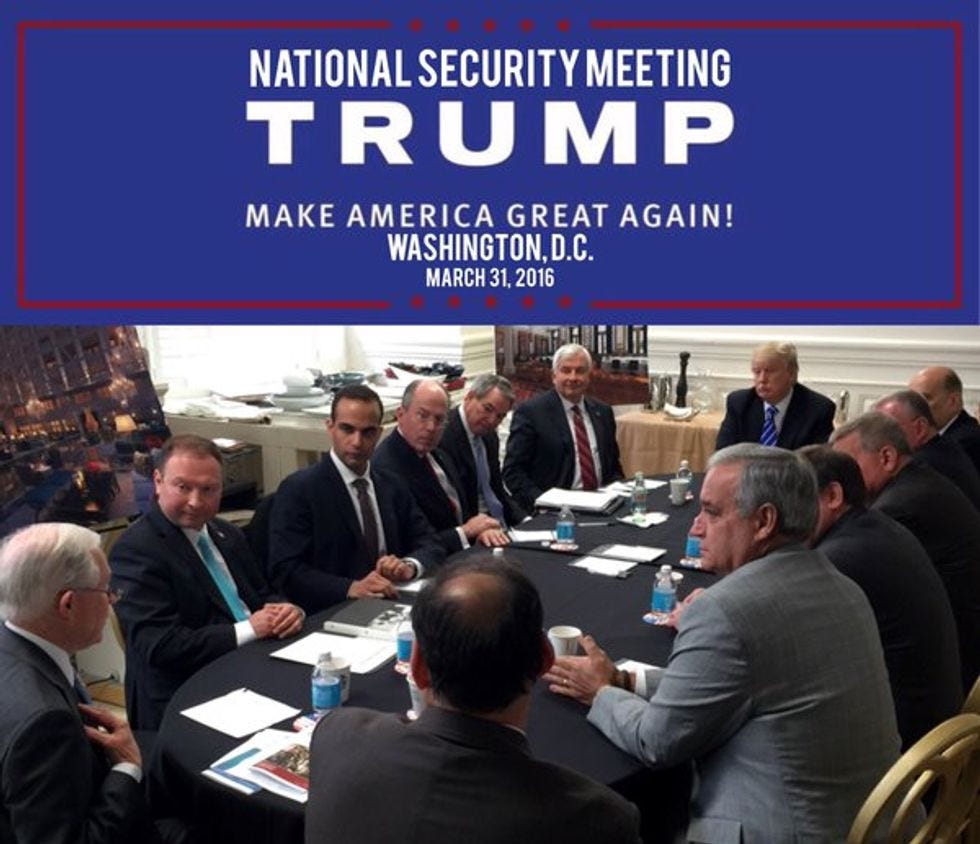 In the foreground, there is Jeff Sessions. The Trump campaign must have been really cool if Trump did "national security meetings" with literally everybody, even the dumb dumb nobodies!
1: 56:REPORTER: Does Donald Trump hate his son-in-law Jared Kushner now for getting Paul Manafort hired?
SANDERS: Nah they're good.
REPORTER: Does Donald Trump really hire the best people?
SANDERS: Sure why not.
REPORTER: Trump's approval rating is shittier than ever before. What say you?
SANDERS: Fake news!
This is getting dumb.
1: 57:Annnnnnnnnnnnd she's gone. Stick around though, because we're making Dok transcribe a total bullshit answer Sanders gave, about how Trump's collusion is OK, unlike, Hillary's "collusion," which deserves the electric chair or something.
In other news, Paul Manafort and Rick Gates have pleaded "not guilty" to the one million charges in their indictments, so that's LOL.
2: 05:As we leave, here is your official Sarah Huckabee Sanders Bullshit Hillary Clinton Collusion statement. This is really what they're going with:
The real collusion scandal, as we've said several times before, has everything to do with the Clinton campaign, Fusion GPS & Russia. There's clear evidence of the Clinton campaign colluding with Russian intelligence to spread disinformation and smear the president to influence the election.
Yeaaaaaaaah buddy. Anyway, click below to follow us on Twitter and tip your bartenders BYE.
 Follow Evan Hurst on Twitter RIGHT HERE.  
 Wonkette salaries, servers, and all of the things are fully funded by readers like you! If you love us, click here to fund us!