Discover more from Wonkette
Wonkette is filthy, hilarious, liberal news. YOU CAN HANDLE THE TRUTH!
Over 15,000 subscribers
This Post Does Not Have The E. Jean Carroll Jury Verdict In It, Scratch That, Does Too
Like we said.
UPDATED 3: 30 p.m.: Former president of the United States Donald J. Trump has been found "liable" by a New York jury (it's a civil case, there is no "guilty") for defaming and battering author E. Jean Carroll in the following manner:  
"BIG BREAKING: The jury in e. Jean Carrol v. Donald Trump has found the former President LIABLE for: -Sexual Abuse -Forcible Touching -Injury of e. Jean Carrol -Willful and Wanton Negligence -Defamation -False Statements -Malicious Intent -Injury for Defamation -Acting…"

— Ali Velshi (@Ali Velshi) 1683660018 
Have a good CNN town hall tonight, former president Donald J. Trump!
 Your post continues as follows. 
The First Amendment means being able to say whatever crazy shit pops into your head, all the time. Right?
Waiting for a jury decision on a False Accusation where I, despite being a current political candidate and leading all others in both parties, am not allowed to speak or defend myself, even as hard nosed reporters scream questions about this case at me. In the meantime, the other side has a book falsely accusing me of Rape, & is working with the press. I will therefore not speak until after the trial, but will appeal the Unconstitutional silencing of me, as a candidate, no matter the outcome!
Obviously that quote is from the nation's foremost constitutional scholar, Donald J. Trump, who is GRRRR so mad that he's not "allowed" to smacktalk the judge and screech into the ether about excluded evidence in the E. Jean Carroll defamation and battery case. It should be noted that Trump was perfectly free to "defend myself" in court, and chose not to. Last week, after he ran his mouth to reporters in Ireland about the Carroll case and called Judge Lewis Kaplan "extremely hostile," the court moved on its own to invite Trump to seek leave to testify even after the parties had rested their cases. But Trump's lawyers were not about to let him anywhere near that jury, and so they abstained courteously .
Nevertheless Trump is sure that being a candidate for office entitles him to tamper with the jury by making inflammatory public comments about pending litigation. These April 26 posts discussing DNA evidence and litigation funding, both of which have been excluded from trial, infuriated Judge Kaplan, who warned , "We are getting into an area in which your client could face a new liability and I think you know what I mean."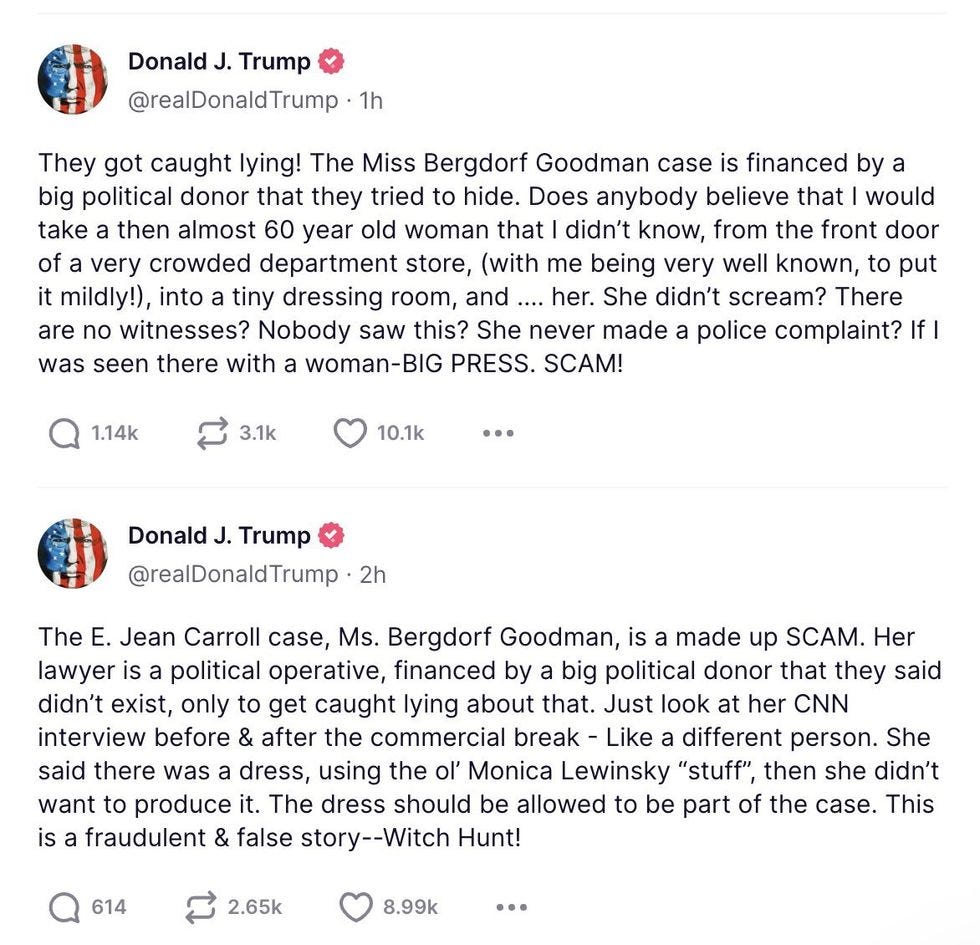 Indeed, Trump's lawyer Joseph Tacopina knew exactly what Judge Kaplan meant, and promised to tell his client to put a sock in it. Trump wasn't "silenced" — he was instructed by his own lawyer not to invite a charge of witness tampering or contempt of court. And good luck appealing that shit to the Second Circuit, particularly after you threatened "death and destruction" should the DA dare to indict you.
Meanwhile, Twitter is breathlessly reporting that Trump was gagged in the New York state prosecution's case, which is also not correct! The former president has been attacking Justice Juan Merchan online, and he's free to keep on doing that. What he's not free to do is post the discovery materials on social media or sic his rabid followers on witnesses or lawyers in the case. Specifically the protective order signed yesterday by Justice Marchan says that discovery materials shall be used "solely for the purposes of preparing a defense in this matter."
Since the indictment, the courthouse has been barraged with bomb threats and DA Alvin Bragg has been targeted with threats and even received an envelope containing white powder. In light of this (and Trump's habit of unleashing the mob on random "enemies"), the names of low level staff in the DA's office will be redacted. Furthermore, the lawyers will ensure that no copies of discovery docs denominated by prosecutors as "Limited Dissemination Materials" will be handed over to, say, Steve Bannon.
This is effectively an instruction to his lawyers that they better keep that shit locked down if they don't want to wind up crosswise with the court. Because Justice Merchan isn't trying to hold Trump in contempt, but he can make life very professionally unpleasant for Trump's lawyers.
"A lot of procedural developments in the pending criminal case against Trump by the Manhattan DA's office, including yesterday's entry of a protective order by Judge Merchan. This is widely being described as a "gag order." IT IS NOT A GAG ORDER. /1 https: //t.co/goa4AKgwpa"

— Opening Arguments (@Opening Arguments) 1683656593 
So if Trump wants to see sensitive documents, he's going to need a lawyer to babysit him and make sure he doesn't take them home and stick them in the pool locker:
Defendant is permitted to review the Limited Dissemination Materials only in the presence of Defense Counsel, but Defendant shall not be permitted to copy, photograph, transcribe, or otherwise independently possess the Limited Dissemination Materials.
Which is very funny, since there is no universe in which Trump, who had to have his presidential briefing in the form of a one-page comic book, would pore over thousands of pages of discovery to find the "smoking gun" he could use to pin the WITCH HUNT on a convenient Black woman who once liked an Occupy Democrats post on Facebook.
While we wait for the Carroll jury to return, enjoy the jury verdict sheet here .
Catch Liz Dye on Opening Arguments podcast.
Click the widget to keep your Wonkette ad-free and feisty. And if you're ordering from Amazon, using this link will give Wonkette a small cut.