Discover more from Wonkette
Wonkette is filthy, hilarious, liberal news. YOU CAN HANDLE THE TRUTH!
Over 15,000 subscribers
Those Cakes We Like … Are Just Chilling Over Here
A simple, and delicious, summer recipe. It's Tiffin!
As temperatures continue to rise no one really wants to be working with hot ovens, so this month I'm having mercy on you all and giving you a delicious "cake" recipe which requires no baking at all. It's also one of the easiest, and most versatile recipes ever; if you have the ability to melt chocolate and butter, and a refrigerator, then this recipe is for you! It's also a great recipe to get the kids involved with.
Today, we're making Tiffin.
Tiffin is a fridge cake, very similar to your Rocky Road, made with crushed cookies (biscuits to us Brits), dried fruit, and chocolate. This Tiffin originated in Troon, Scotland, at the start of the 20th century and is not to be confused with the other Tiffin, which is a light afternoon meal eaten in India (confusing I know).
I'll give you a base recipe and three different variations you can try, but you can change this up however you want; make it gluten- free, or vegan, or change the chocolate and fruit – the world is your oyster. Here's the all important carb count for my fellow diabetics: 258.3g for the whole Tiffin, based on 300g chocolate, 14.4g per serving (based on 18 servings per 300g chocolate).
In terms of equipment, this is incredibly simple. All you need is:
Microwave and a microwave safe bowl or a pan and a stove top (gas, electric, or induction, no one is judging you here)
Small, square baking tray (8 inch is perfect)
Baking paper
Wooden spoon
Bowl, food bag or similar, to contain your cookies as you smash them up
Possibly a rolling pin, depending on how seriously you take your cookie smashing duties
And, of course, your trusty electric scales (seriously, if you want to bake and don't have a set of these yet use the trusty linky at the bottom of this post, or whatever shopping method you prefer, and buy yourself a set).
And your ingredients: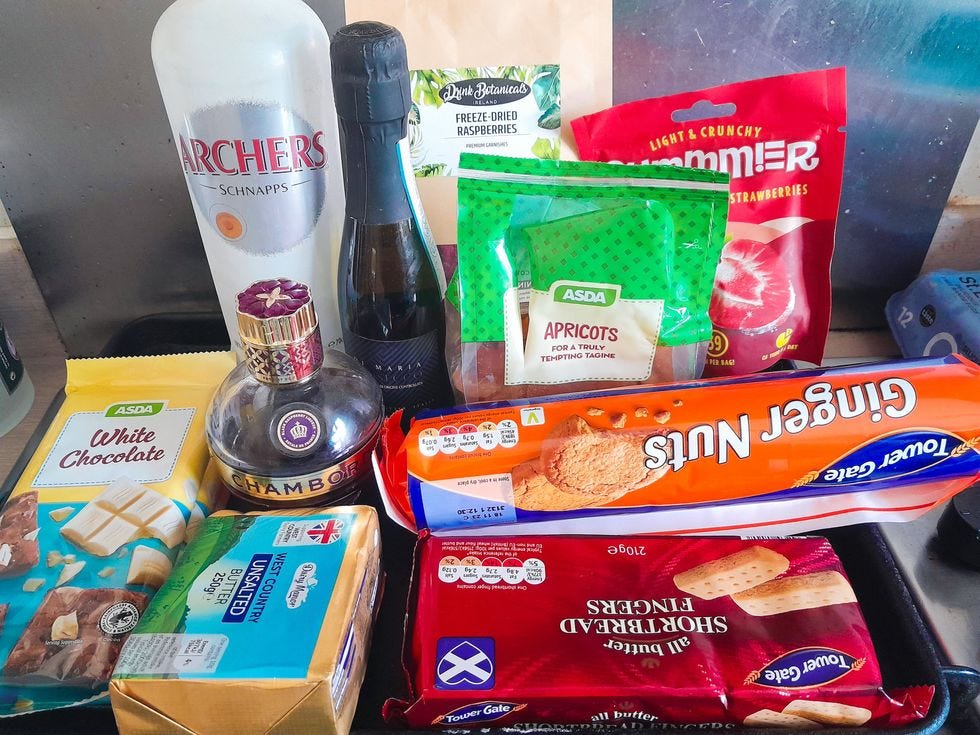 Everything you'll need to make 3 different varieties of Tiffin... 
For the base:
300 g white chocolate (if using dark chocolate you should increase the butter by 25g)
50 g butter
1 tbsp golden syrup/treacle if you have it, don't worry if you don't
For Raspberry Tiffin add:
100g shortbread
30g freeze dried raspberries (I don't recommend using fresh raspberries as the Tiffin won't set correctly)
50ml Chambord or an alcohol of your choice (or leave out the booze if you're making this for the kiddies)
For Strawberry and Prosecco Tiffin add:
100g shortbread
30g freeze dried strawberries (70g if you use the regular dried kind, again, I do not recommend using fresh fruit)
50ml Prosecco
For Apricot and Ginger Tiffin add:
100g Ginger Snaps
70g dried apricots
50ml Peach Schnapps
The method is incredibly simple; line your baking tray with baking paper. Smash up your cookies/biscuits and roughly chop any larger pieces of fruit into chunks of no more than ½ inch in size. Break up your chocolate and melt it and the butter together.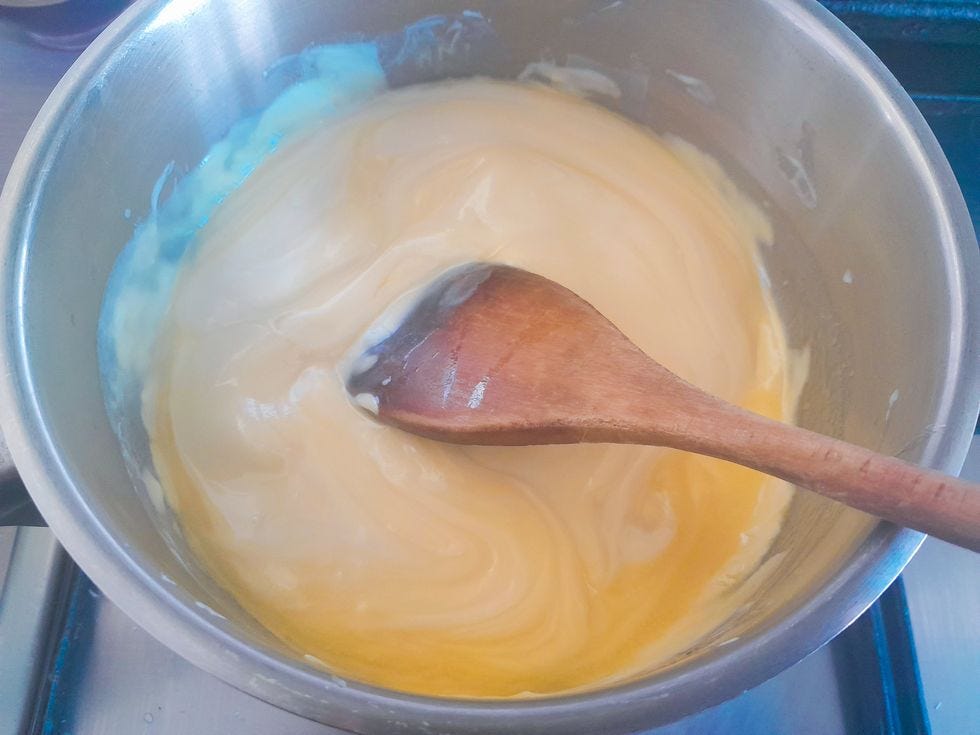 It's as simple as melting some chocolate. 
If you use the microwave, turn it down to medium and heat the chocolate and butter in 30 second blasts, checking the mixture each time. Or I suppose you could just leave it outside for 10 minutes if you live in Arizona.
Once you have a smooth mixture, stir in your syrup/treacle and alcohol. Now mix in your cookies/biscuits and fruit.
Transfer your mixture to your lined baking tray and push it into the edges using a spoon, flatten the top as best you can. If you're baking with your kids or grandkids you can go mad with sprinkles or chocolate chips here if you want to, just sprinkle them all over the top and gently press them into the Tiffin mix. I've used yellow popping candy for my Apricot and Ginger Tiffin, and Gold Nuggets for the Strawberry and Prosecco variety.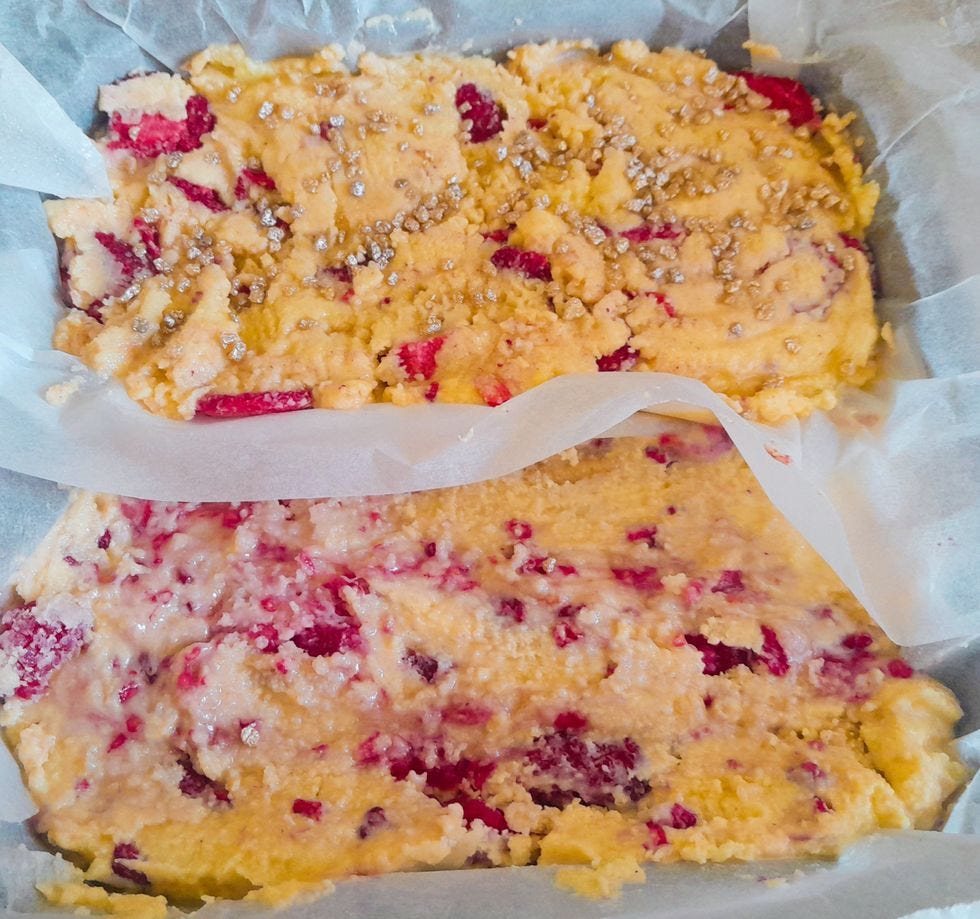 I've made a 1/2 batch each of of Raspberry and Strawberry Tiffin here. 
Pop the finished Tiffin into the refrigerator for a couple of hours, or into the freezer for about 20 minutes. Then it's as simple as cutting it into portions using a sharp knife.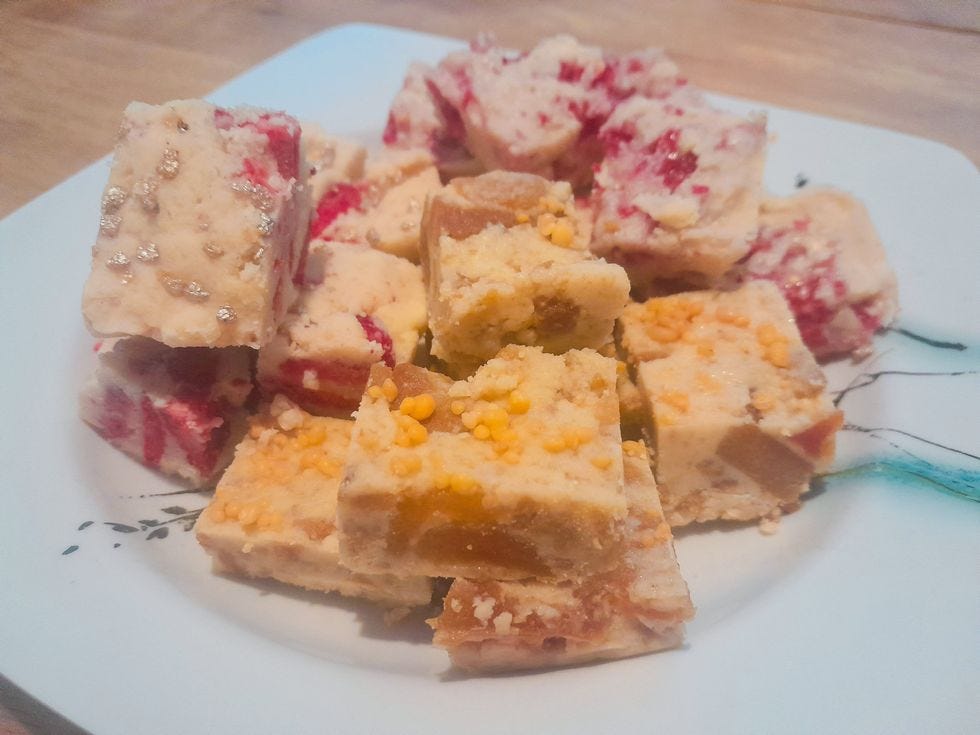 Perfect for sharing. 
This recipe can be stored in an air-tight container in the fridge for up to two weeks, although I doubt it'll last that long without being eaten.
This would be a great treat for sharing at a BBQ or family get together. Make some for the Fourth of July and throw in some dried blueberries alongside the strawberries if you want to go with a Red, White and Blue theme. Or use dark chocolate, raisins and cherries with Irish Cream for a Christmas treat or as a Festive gift for a loved one. Most importantly, just enjoy it – that's what baking is all about.
If you need any baking equipment or ingredients that you can't buy in your local store use this handy Amazon linky and help support Your Wonkette.
 Do your Amazon shopping through this link, because reasons .
Click the nice widget to help keep Wonkette ad-free and help your Wonkette writers afford baking ingredients.