Discover more from Wonkette
Wonkette is filthy, hilarious, liberal news. YOU CAN HANDLE THE TRUTH!
Over 15,000 subscribers
This week, the news dropped that Chick-Fil-A, like pretty much every company on earth, hired a Diversity, Equity and Inclusion Officer ... back in the year 2021. Conservatives, naturally, consider this a great betrayal and many of them have decided to boycott the notoriously homophobic and Christian chicken sandwich chain, in hopes of encouraging them to be shittier to employees and customers who are not white heterosexual cisgender men.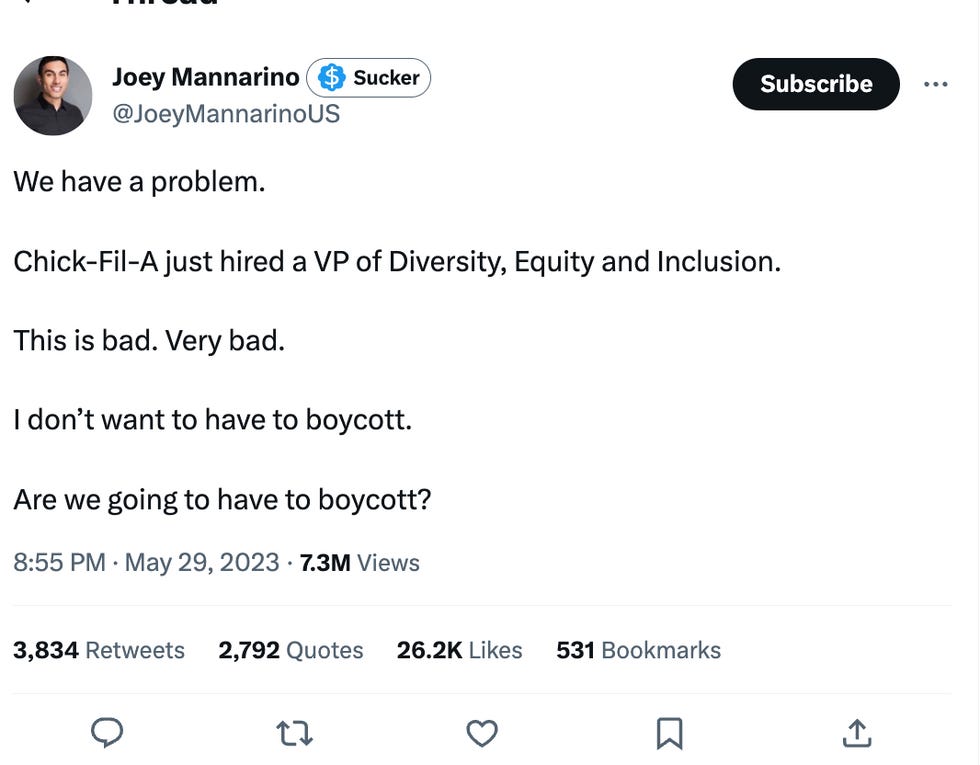 Chick-Fil-A has, of course, long been a favorite of the Right due to founder Dan Cathy's public opposition to same-sex marriage and the incredible amount of money that he and the restaurant funnelled into anti-LGBTQ causes throughout the 2000s, so some aren't ready to give up their chicken sandwiches yet. Kayleigh McEnany, for one, has said she won't boycott until they sell "tuck-friendly" bathing suits, which seems unlikely for a fast food restaurant.
To be clear, hiring Diversity, Equity and Inclusion Officers is not just a thing companies do to be nice or to be "woke," but to protect their bottom line in a variety of ways. This may mean ensuring that people are coming to a pleasant and non-discriminatory work environment every day so that quality employees don't start looking for places where they will be less miserable (or that will pay them more fairly), ensuring that they have a diversity of expertise in their marketing strategies, and, obviously, to ensure that they don't get their asses sued or boycotted (by people who are actually good at boycotts).
The person most distraught over this, it seems, was some chick named Morgonn McMichael and her friend Aubrey. Morgonn McMichaels works for Turning Point USA in some capacity. She is very much not to be confused with Morgan McMichaels, a drag queen who appeared on the second season of RuPaul's Drag Race and once broke  her hand punching a Nazi .
"A TPUSA Contributor learned Chick-Fil-A has a diversity, equity and inclusion officer: "Chick-Fil-A you are no longer the Lord's chicken. You're actually the woke chicken and I'm really upset about it as a Christian woman.…We're taking this boycott Chick-Fil-A thing seriously.""

— PatriotTakes 🇺🇸 (@PatriotTakes 🇺🇸) 1685710889 
"So I'm grieving," McMichaels begins "It's lunchtime. I'm here with Aubrey. And we really wanted some Chick-fil-A but because they decided to hire a diversity, equity and inclusion corporate position, and also bow down to the woke lord because their ESG scores ... "Chick-fil-A, you are no longer the Lord's chicken. You're actually the woke chicken and I'm really upset about it as a Christian woman. All we wanted was some good fried chicken so now we're gonna go to [Raising] Cane's, we're going to try it out."
Alas, Morgonn McMichaels and Aubrey are headed for even more heartbreak — because Raising Cane's is even more "woke" than Chick-Fil-A is.
According to sdlgbtn.com :
Since its inception in the early 2000s, Raising Cane's has been a strong supporter of the LGBT community. The chicken chain was one of the first companies to offer domestic partner benefits to its employees and has been a vocal advocate for LGBT rights. In 2015, Raising Cane's was named one of the best places to work for LGBT Equality by the Human Rights Campaign.
Whoops!

Clearly, they're just going to have to make their own, sufficiently hate-filled, chicken at home. Perhaps they can use Lester Maddox's recipe, because at this point, the last restaurant that really lived up to their "standards" was the Pickrick.
OPEN THREAD!
 Do your Amazon shopping through this link, because reasons .
Wonkette is independent and fully funded by readers like you. Click below to tip us!