Discover more from Wonkette
Wonkette is filthy, hilarious, liberal news. YOU CAN HANDLE THE TRUTH!
Over 18,000 subscribers
Trump Caves, Will Give State Of Union After Shutdown Ends, Like Maybe Jan. 21, 2021
Picking fight with Nancy Pelosi works out about as well as you'd expect.
Donald Trump had a pretty dismal day yesterday. As you'll recall, Nancy Pelosi disinvited him from delivering his State of the Union address during the shutdown, so then yesterday Trump confidently announced he'd just show up at the House of Representatives next week to give his speech. That didn't go so well, as Pelosi reminded the President that the Speaker of the House really does control who can use the chamber for birthday parties, bat mitzvahs, and lying to the American public in prime time, and she sent him a nice letter to say, no, the House would not even be voting on the necessary invitation. Trump then sputtered a bit about delivering the SOTU in some other forum, like maybe during WrestleMania, but later Wednesday evening he took to Twitter to holler "Uncle" and insist he'd said "WINNING."
But at least Trump made clear HE'S the reasonable one: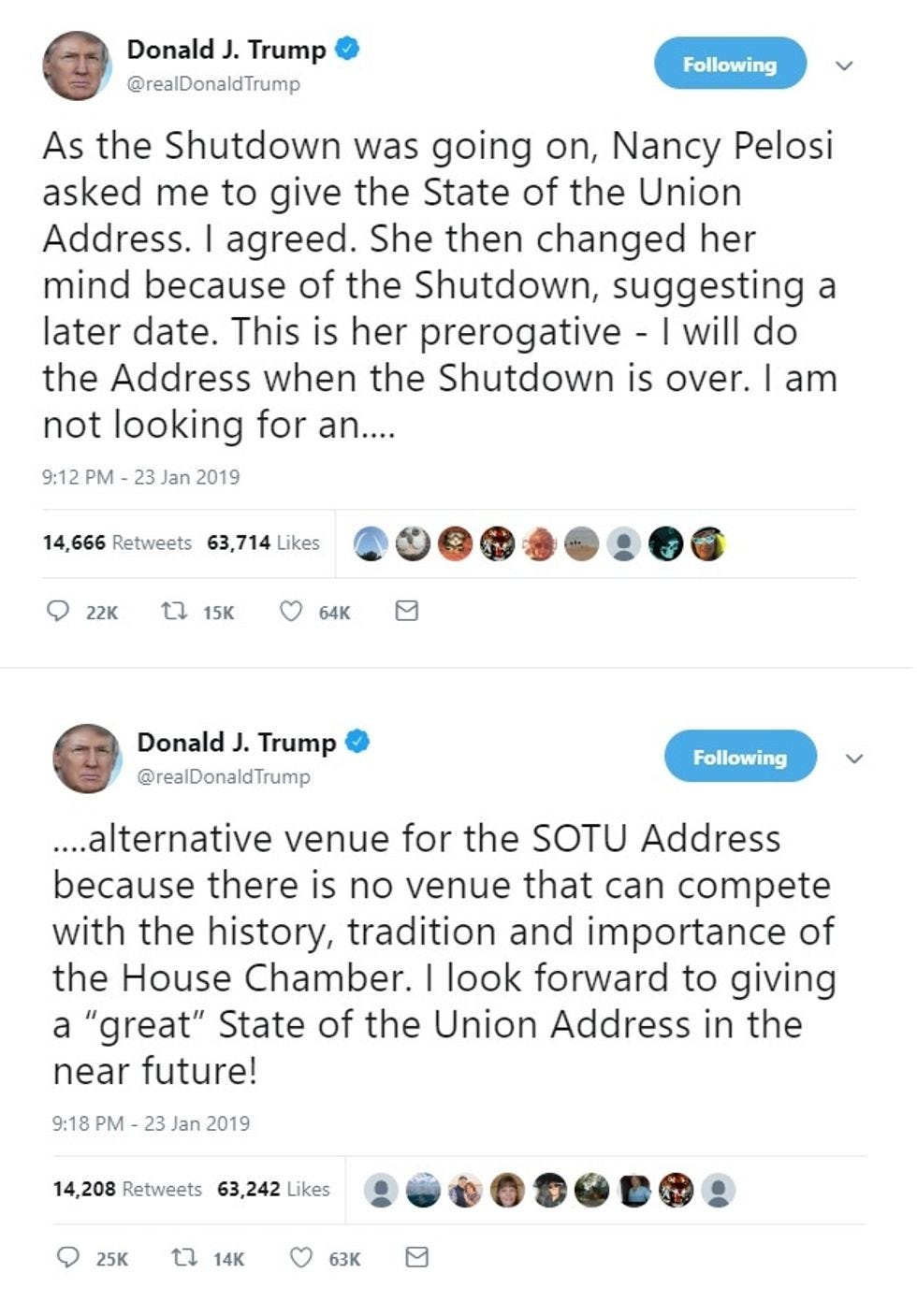 So much for delivering the State of the Union speech in the gym at Covington Catholic. It's a heck of a disappointment, too, since a lot of the students had already run out to buy extra blackface makeup. 
Before tweeting out that capitulation (which Trump hasn't yet mentioned in his Thursday morning TwitFit), Trump had accused Pelosi of completely losing her damn mind like some crazy radical, which meant he'd already won the battle of the SOTU:
"We're supposed to be doing it, and now Nancy Pelosi — or 'Nancy,' as I call her — she doesn't want to hear the truth. And she doesn't want, more importantly, the American people to hear the truth," Trump said at a meeting with conservative leaders at the White House.
You have to admit, calling her "Nancy" is easily the most devastating nickname Trump has come up with to date. We also like the "she doesn't want the American people to hear the truth" tack, which indicates yet again Trump has converted our political discourse into nothing more than an endless exchange of online comments. Never mind the polls showing just seven percent of voters support WALL spending to end the shutdown -- Donald Trump has heard in direct messages that most people agree with him but are afraid the moderator will banhammer them for saying so.
Pelosi replied with a tweet of her own, reminding Trump that if he wants to, he could end the shutdown today, seeing as how the Senate will be voting on a clean temporary funding bill that's virtually the same as one it already passed before the shutdown. And then maybe once we've paid the 800,000 government workers who are about to miss rent payments, and made sure the food supply -- unlike Trump's skull cavity -- isn't full of rat feces,   then we can talk about WALL.
Mr. President, I hope by saying "near future" you mean you will support the House-passed package to #EndTheShutdown… https: //t.co/YQYvHoR1Jg

— Nancy Pelosi (@Nancy Pelosi) 1548305691.0 
The Washington Post   notes that since Woodrow Wilson first started delivering the State of the Union address to a joint meeting of Congress in 1913, the annual address has never been delayed because a House speaker withdrew the invitation to the president. Then again, there's never been a "president" who forced a government shutdown to continue over a month in a tantrum over a single ill-defined budget item that served no real purpose beyond making radical nativists get a stiffy.
Ronald Reagan delayed his 1986 State of the Union speech for a week when the space shuttle Challenger exploded the day he'd planned to deliver it, and in 1946, President Truman first delayed the speech, then simply delivered the message in writing, an option Pelosi suggested in her letter to Trump last week. Also too, in his final year in office, 1945, Franklin Roosevelt didn't speak to Congress either -- instead, his written State of the Union message was read to a joint session. In 1947, Truman returned to the House chamber for the speech, which was also the first televised SOTU, and now you are ready for State of the Union bar trivia.
So now it looks like Trump will just have to wait to see if he can find some way of reopening the government without looking like an idiot loser idiot who lost. Maybe he should dust off that national emergy thing again. And since Trump never really sticks to any one plan, look for him to announce before lunch that he'll deliver the State of the Union address in a boat and with a goat, because if you build WALL, then crime will FALL .
[ WaPo / House of Representatives ]
Yr Wonkette is supported by reader donations. Please send us money so we can deliver our annual State of We're So Fucked address someplace with a good bar.