Discover more from Wonkette
Wonkette is filthy, hilarious, liberal news. YOU CAN HANDLE THE TRUTH!
Over 18,000 subscribers
Trump Declaring Five Minutes After Boning GOP Senate Hopes? Don't Threaten Us With A Good Time!
Do it, buddy.
Last night, Donald Trump fucked Mitch McConnell, and it was HOTTTTTTTTT. For the second election in a row, his refusal to put the interests of the Republican Party over his own narcissistic demands for tribute has probably cost McConnell the Senate majority leader sash and tiara.
Left to their own devices, Arizona Republicans would likely have gone with Attorney General Mark Brnovich, who is gross and terrible but in a normal way . Instead Trump saddled them with Blake Masters , Peter Thiel's repellent little puppet, who has all the charisma of a polyp. And he's only trailing Senator Mark Kelly by five points.
Mehmet Oz, a preposterous quack from New Jersey who managed to fuck up a trip to the grocery store , is just three points behind John Fetterman. If Trump had backed a replacement-level white money guy like David McCormick in Pennsylvania, they'd have held that seat.
LOL! Dr. Oz Too Sleepy To Know What Grocery Stores, His Kids Are Called 
Herschel Walker is floridly demented, and he's only trailing Senator Raphael Warnock by one point. (Yes, he's trailing again!) So now we get to spend another $150 million on a Peach State runoff. All Trump had to do to flip that seat was let Georgia Republicans pick their own candidate, and then back him. Instead he dragged that nutbag with his tractor trailer full of baggage all the way from Texas and foisted him on a skeptical electorate.  
We love Sen. Catherine Cortez Masto, but if she manages to hang onto Nevada's Senate seat, it won't be because she's such a great campaigner. (She's not.) It'll be thanks to Trump anointing that little twerp Adam Laxalt as a reward for backing his lies about election fraud in Nevada.
LOL, just look at Trump trying to pretend Don Bolduc lost to New Hampshire Senator Maggie Hassan because he didn't embrace Trump's Big Lie hard enough.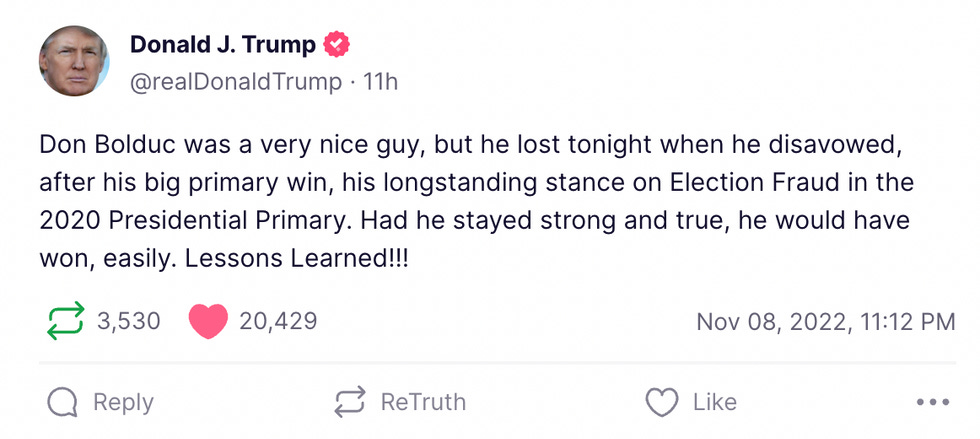 And that's not even taking into account all the statehouses and US House races he screwed them on. FFS, the incumbent president's party always loses seats at the midterm, the world is in an inflationary spiral, and Biden's approval rating is somewhere between anemic and moribund. They should have killed us last night, particularly with their wildly aggressive gerrymanders.
With the exception of New Hampshire, the Republicans probably could have swept these seats simply by nominating a regular candidate chosen by the state party and its voters. Instead they hitched their wagon to weirdos whose main qualification was a willingness to pucker up and kiss Trump's ass, then turn around and stick their brown noses in the air while telling egregious lies about election fraud in 2020.
The GOP has a huge, orange problem, and they know it . But they don't have a clue how to stop this parasite from consuming them.
"GOP source tells me "if it wasn't clear before it should be now. We have a Trump problem""

— Jacqui Heinrich (@Jacqui Heinrich) 1667976467 
Oh, GOP sources are whispering that to Fox? Cool. You know where they aren't saying it? OUT LOUD WHERE PEOPLE CAN HEAR THEM.
Because they know damn well that, unless your name is Brian Kemp or Mitt Romney, getting crosswise with Trump is probably a death sentence in today's Republican Party. And those guys survived politically, but Trump did manage to put both of them in physical danger from his crazed mob.
Naturally Donald Trump thinks the solution to the Trump problem is more Donald Trump . He's reportedly contemplating announcing his 2024 candidacy next week, and we are not mad about it. He should only make himself the face of this GOP for all eternity. Because the former president does not give a shit about the Republican Party, much less the country. He will happily bed down with extremists without a care that it make the GOP toxic to the voters it desperately needs.
Look at these exit polls for yesterday's races from NBC .
Thanks to our fakakta electoral system, you can win the White House and both houses of Congress with a minority of votes. But you can't do it when most people under 40 think your party is rat poison. And if Donald Trump wants to show his whole ass before Thanksgiving and fuck the GOP on yet another Georgia runoff, who are we to complain? (Well, we're going to complain bitterly about our own Gen X peers, who suck ass. What is wrong with you people, OMG!)

In summary and in conclusion, do it, dude! No balls, you won't! Show the haters and the pundits that this is your party now, and everyone needs to get on board or GTFO. Put that waddling little wannabe Ron DeSantis in his place. Work your magic to Make America Great Again!
GOD BLESS!
Follow Liz Dye on Twitter!
Click the widget to keep your Wonkette ad-free and feisty. And if you're ordering from Amazon, use this link, because reasons .