Discover more from Wonkette
Wonkette is filthy, hilarious, liberal news. YOU CAN HANDLE THE TRUTH!
Over 18,000 subscribers
Trump PAC Exactly As Ethical As Trump Campaign And Trump Org, So Time To LAWYER UP!
Fam, we are shook!
For people who lie all the goddamn time, these guys are really, really bad at it. For instance, in September, Paul Manafort tried to feed federal prosecutors three different explanations for a $125,000 payment made to his former lawyers by a media company in June 2017. If this was an attempt to stop them from investigating the source of that cash, it failed spectacularly. Manafort might as well have shouted, X MARKS THE SPOT, LOOK HERE FOR MORE CRIMES! It's unlikely that Robert Mueller needed Mr. Smooth to tell him about the kickback scheme at Trump's Rebuilding America Now PAC -- he'd already made contact with a key witness in January of 2018 -- but the dumbass divining rod shaking like a maniac was a pretty good sign to DIG HERE NOW.
And dig they did. Remember a few weeks ago when we played Redaction Bingo with the FBI agent's affidavit and discovered that kickback scheme whereby Multi Media Services Corporation (MMSC), the ad buyer for Trump's grifting Rebuild America PAC, was getting a six percent commission and kicking three percent of it back to Manafort's buddy Laurance Gay, who ran Rebuilding America Now (RAN)? Then, some sort of way, MMSC wound up sending $125,000 to WilmerHale to defray Manafort's legal fees in June 2018? Which is, ummm ... an unorthodox way to fund a legal defense.
Well! Yesterday, NBC's Christina Wilkie pulled back another layer of the giant onion to reveal ...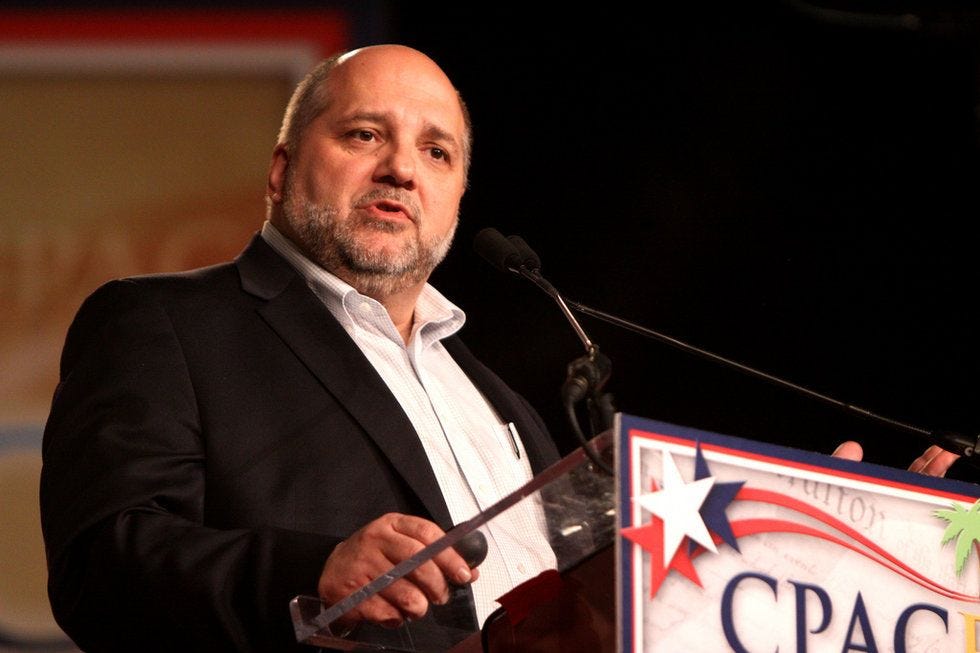 Hooray, it is a new character to keep track of! This big fella's name is Tony Fabrizio, and he's a Republican pollster who goes back 20 years with Paul Manafort and Roger Stone. These goons have been tight since the Dole campaign, and Tony and Pauly had many fun adventures in 2012 ratfucking with possible Kremlin spy Konstantin Kilimnik for the pro-Russian Party of Regions in Ukraine. Manafort brought Fabrizio into the Trump team in May of 2016, and it was the pollster's idea to concentrate the campaign's efforts in Michigan, Wisconsin and Pennsylvania. It was probably his polling that Manafort handed over to Kilimnik in that cigar bar the following August. So weird that the Russians went on to focus their social media disinformation campaign on Michigan, Wisconsin, and Pennsylvania, huh?
Mr. Fabrizio is a senior counselor at Mercury Public Affairs, which is currently under investigation by SDNY for failure to register as a lobbyist for Ukraine. His polling firm also got paid $273,378 for work on the Republican National Convention in 2016 -- you know, the one where the platform mysteriously got changed to weaken support for arming our Ukrainian allies against Russian incursions. (Seriously, how have we not heard of this guy before?)

But Big Tony also has another business, one that he owns on the quiet. Can you guess what it is? 

Tell us, NBC:  
At first glance, MMSC appears to be a small, two-man shop with no obvious ties to Manafort or anyone else with whom Manafort has "a long relationship." Moreover, there are no signs that either of the principals at MMSC was ever "a vendor on all these campaigns [Manafort has] used in the past," which is how Manafort's lawyers described the person who ran this firm.

But there is more to MMSC than meets the eye. Interviews and corporate records unearthed by CNBC have revealed that MMSC has a silent owner: Tony Fabrizio, a longtime Manafort associate and the chief pollster on Trump's 2016 presidential campaign.
So Manafort pulls his buddy Laurance Gay off the campaign and parks him at the brand new PAC Trump's real billionaire pal Tom Barrack created to hoover up infinity Ameros from one-percenters looking to invest in a political candidate. Then Manafort sets up a side deal where his pal Tony -- who is working for the campaign, and not supposed to be coordinating with the PAC, for the record -- will give Gay a three percent kickback on the $20 million ad buy.
UH HUH.
Okay, so let's take this new piece of information to go back and fill in some blanks from the Manafort hearing before Judge Jackson in DC on February 4. Here's prosecutor Andrew Weissman describing the arrangement:
But what we think the actual -- what was really going on was that Mr. Manafort was aware that there was a -- to put it charitably, a [KICKBACK] scheme where Mr. [FABRIZIO] was paying money back, not to the [PAC], but to the head of the [PAC], and that Mr. [FABRIZIO] was holding the money for Mr. [GAY]. Mr. [GAY] may -- may have, in turn, had that same relationship, or similar relationship, with Mr. Manafort, although that's not necessary to our argument.
Yes, he certainly may have had a "similar relationship," since Gay is the one who reached out to Fabrizio, who was "holding" his commission for him, and told him to send $125,000 to Manafort's lawyers in July 2017. As we speculated before, we think said arrangement may well have been how Manafort got paid when he was "volunteering" to work on the Trump campaign. Particularly since Gay was paid almost $925,000 for his consulting work, most of which he received after the campaign was over. NBC reports:
For Gay, his relationship with Manafort would also prove to be extremely lucrative. Between June 2016 and June 2018, Gay collected just over $1 million in consulting fees from Rebuilding America Now.

More than three-quarters of that, a total of $775,000, was paid to Gay after 2016, and after Rebuilding America Now had shed staff and stopped running TV ads for Trump.

During that same two-year period, Gay collected another $254,000 in travel reimbursements from the super PAC. Again, the majority of this money, $149,164.03, came after 2016 was over.
DRAIN THE SWAMP! NBC points out that MMSC reimbursed the PAC $347,505 in February 2017 for unused ad money. But then there were three more transfers in May and June totaling exactly $800,000. And if you add them together with the $125,000 payment to Manafort's lawyers, you get ... $925,000, exactly what Laurance was paid by the PAC. Which is one hell of a coincidence!
Clearly, Messrs. Fabrizio and Gay will have lots to talk about with the FEC, which is just wondering how Gay managed to rack up $42,286 of travel expenses between January and March of 2018 when the PAC appears to have been doing diddly squat besides posting memes on Facebook. Then when they get done with that, they can mosey on over to tell their story to the House Judiciary Committee. Last week, Chairman Nadler sent Fabrizio a preliminary request for documents related to Trump campaign contacts with Ukraine. Sorry you didn't get a love note, Mr. Gay, but we're sure your time in the barrel is coming soon, particularly since you worked at the campaign, the PAC, and the inauguration, all three of which are currently under multiple federal and congressional investigations.
LOCK 'EM ALL UP.
[ NBC / Manafort Hearing Feb. 4, Transcript / Campaign Legal Center ]
 Follow your FDF on Twitter! 

Please click here to fund your Wonkette, who connects all the dots WITH DICK JOKES!