Discover more from Wonkette
Wonkette is filthy, hilarious, liberal news. YOU CAN HANDLE THE TRUTH!
Over 18,000 subscribers
Trust The Internet: This Really Is The 'Easiest Peanut Butter Fudge Recipe'
Your Recipe Hub was interested in a food meme making the rounds on social media. Billed as the "Easiest PB Fudge EVER," this recipe has only four ingredients, and it's almost as popular as a cat video. Is this fudge easy or what? Is it potentially edible? Can we make this for an office holiday party without looking like a jerk? Let's find out!
The peanut butter fudge meme in question: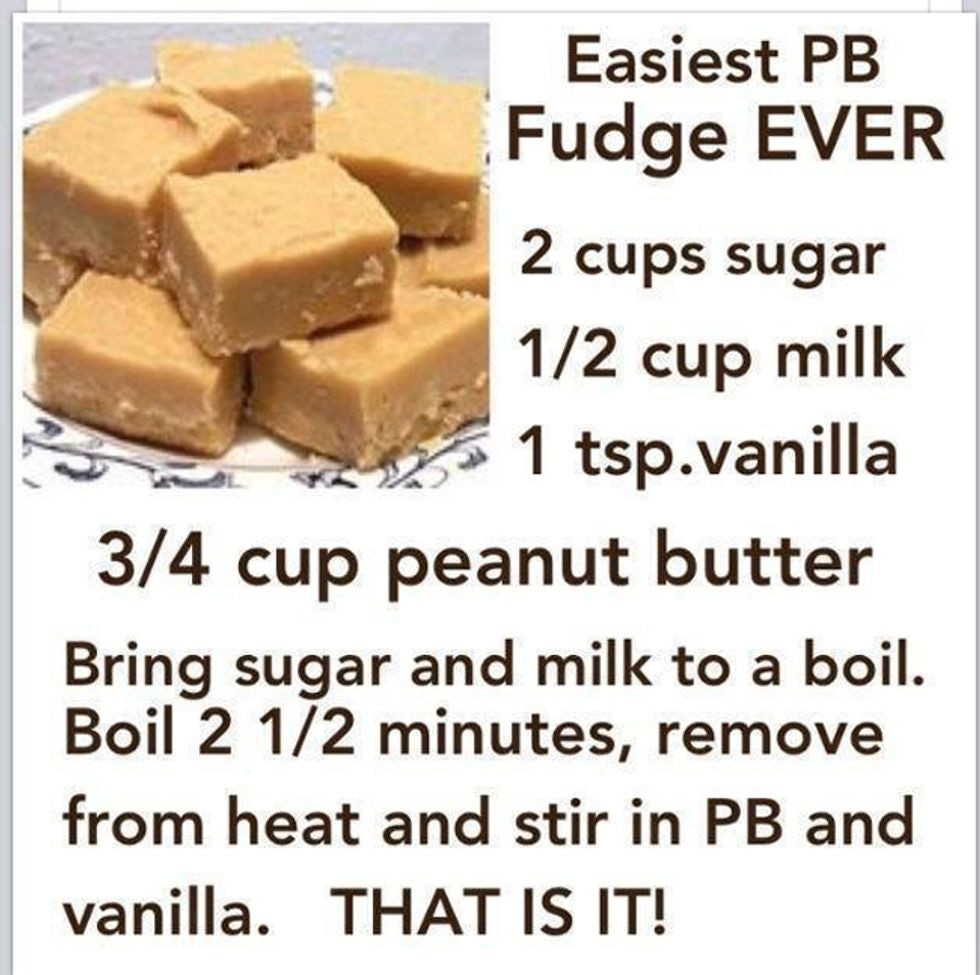 I got started and oh my goodness, look at how quickly that came together!

There were no further instructions, so I took for granted that I was supposed to pour the mixture into a small casserole pan and let it cool. Pretty sure I made the right call.
It looked like it needed something on top, so I opened a failed red grape jelly that I botched over the summer. Failed jelly is too stiff for sandwiches but it goes well with roasted pork so I kept it. For our fudge-related mission, I chopped up a few sliced of the red grape jelly and dotted the top of the pan. PB & J, right? I know. The pan rested in the fridge for about four hours.
Q & A:
 Is this fudge truly easy? 
Yes. Easiest PB Fudge EVER is something that even the most unenthusiastic chef can prepare with minimal effort. For as long as no one allows the pan to boil over, and if you keep stirring the mixture to prevent the milk and sugar from burning, this is going to work. Until you try and cut it out of the pan! I did not care for that part. Have patience, because it's pretty crumbly.
 Is it potentially edible? 
It's hella sweet. Hurt-your-teeth sweet. Sugar fiends will have found their new crack.
 Can we make this for an office holiday party without looking like a jerk? 
Most people will be grateful for homemade PB fudge, some will return for seconds, and the one a-hole who rolls his eyes at everything might have the good sense to do it behind your back this time.
 Fact or fiction? 
Let's go with "sort-of fact." Easy to make but difficult to cut and sort of flaky.
Enjoy your fame now, Easiest PB Fudge EVER, because you are one microwavable PB fudge recipe away from being the next Overly Attached Girlfriend.