Discover more from Wonkette
Wonkette is filthy, hilarious, liberal news. YOU CAN HANDLE THE TRUTH!
Over 15,000 subscribers
Tudor Dixon: Democrats Murdered Cities In Retaliation For Losing Civil War, But *Also* Are *Black*!
If you or a loved one can follow this, please ask for help.
With a week and some days before the midterm election, CNN journalists Em Steck and Olivia Alafriz have dug up some damning video of Tudor Dixon, the former TV news anchor and MAGA Republican goofus who's running against incumbent Michigan Gov. Gretchen Whitmer, the Democrat and sane person.
 In the 2020 video for streaming (and steaming) wingnut network "Real America's Voice," Dixon promoted one of the weirder conspiracy theories we've ever heard of. Here's the gist of it, a sort of elevator pitch for the elevator to crazytown:
According to Dixon, Democrats in the summer of 2020 sought to use the pandemic and the death of George Floyd as cover for a plot to overthrow America and seize power, and then bring back slavery, but this time not only for Black people but for anyone who questions the woke agenda, because don't you know Democrats are addicted to enslaving people and also they are still sore over losing the Civil War. That's why you always see Confederate flags at Biden rallies.  
Yes, this is where you can mentally rerun that clip from the Adam Sandler movie where the guy says everyone in the room is now dumber just from hearing what Sandler's character said. No, you don't have to post it in the comments because we mentioned it, but you will, because some people can't read a reference to a well-known movie without reflexively adding the clip, even though pretty much everyone knows it and we linked it right there. Sure, this is just petty griping, but at least my pet peeve is about something people actually do, unlike Dixon's bizarre persecution fantasy.
Dixon offered her unusual take on American history in a six-minute monologue that opened up her show on June 23, 2020, a couple weeks after protesters in Lafayette Park, across from the White House, scared Donald Trump into his panic room and then he ordered all the police and the National Guard and maybe the Space Force to beat and gas the protesters so he could hold a Bible upside down in front of a church that asked him not to.
Oddly, none of that latter part gets mentioned in Dixon's monologue, which initially focuses on some of the protesters who declared the park the "Black House Autonomous Zone," and whom she claimed had plans to start an entirely new communist nation in the park. If you knew nothing about how Trump ordered the park cleared, you might think she was describing an ongoing effort to "topple America."
"The country today is divided, and this was the plan. It's been in the works for years. The idea that you can topple the greatest country in the world. But to topple a country like the United States of America, you must be planning this for decades," said Dixon. "Why wouldn't that come from the party that lost the Civil War? The party that wanted to own people because they viewed them as less than human? Do you think that the Democrats are over losing to the North?"
Ah yes, the good old DId You Know Democrats Did Slavery And Republicans Ended It? canard. Someone's been watching their Dinesh D'Souza movies! Mind you, the notion that Democrats remain committed to Jim Crow ignores the century-long shift of party alignment that started under FDR and was largely completed with the GOP's Southern Strategy following the passage of the Civil Rights and Voting Rights Acts, which were passed by liberal Democrats and some Republicans, with Southern conservatives of both parties in opposition. In the eternal sunshine of the lying MAGA mind, those bills were entirely Republican victories, although puzzlingly they were introduced and signed into law by Democrats. Dixon glossed over most of that, but explained that schools don't teach the real history of how Republicans freed the Democrats' slaves, because they want children ignorant and easily manipulated.
Read More:
 Dinesh D'Souza's 'Hillary's America' Turns Your Angry Wingnut Uncle's Emails Into A Movie 
 Dennis Prager's Fake 'University' Is Back, Lying Like A Common Trump U 
It all started with Barack Obama, who in her alternate universe was constantly telling white people "how badly you treated Black people your whole lives," and you could never hate yourself enough to win the tyrant's approval.
"Then they were handed a gift in the form of the virus," she went on, somehow skipping from Barack Obama's constant harping on white guilt straight to the pandemic without even mentioning that Donald Trump had been president since 2017. (Trump is strangely absent from the entire rant, possibly because however good and noble his intentions, he was no match for the wily Democrats who still ran everything.) "How much of your life could they take from you if you were scared enough? And the answer was, nearly all of it!"
The virus was Democrats' excuse to force everyone out of their job and to hide in their homes, and "their children were even pulled out of their government-run indoctrination centers," which seems like a real slip-up since it would interrupt all that indoctrinating. In fact, somehow that happened all over the world, since we guess Democrats run everything everywhere.
Those vicious Democrats even paid people to stay home instead of working, so they would vote for Democrats, although that's an odd thing to say about the stimulus checks that the still-unmentioned Donald Trump demanded bear his signature.
Then George Floyd died, and in Dixon's telling, everyone was united in sadness about the tragedy of it all, but then those wily Dems deployed all the children they'd filled with White Guilt (she pronounces the capital letters) to go and join the riots. This is some deeply evil shit that Dixon needs to explain, but won't. As she spoke, more than half the screen was taken up by a photo of Floyd, looking big and scary. The background matters.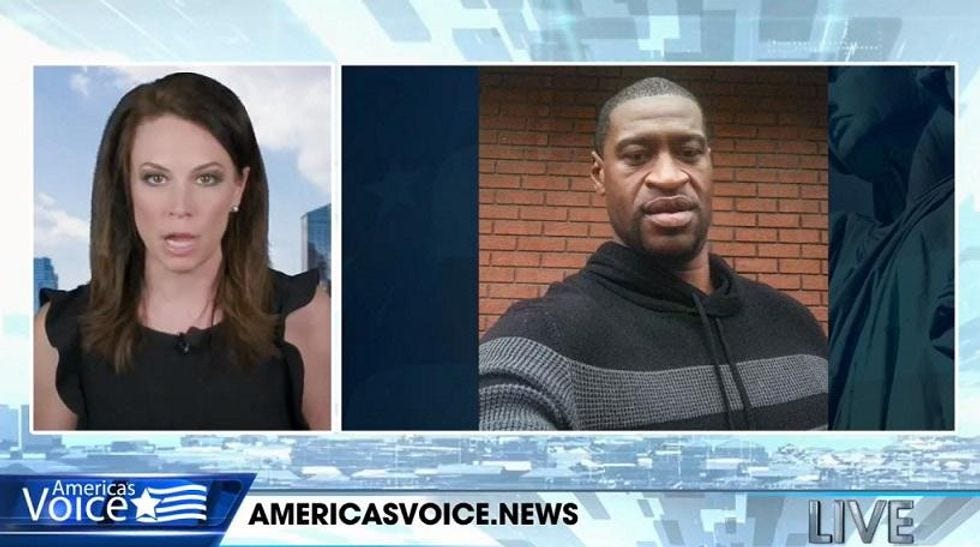 That final serving of White Guilt was warmed and ready for the serving, and young white women were especially begging for their last dose, changing their profile pictures; admonishing anyone who asked "Does my life matter?"; rushing to tell you your life was meaningless unless you admitted you'd kept the Black man down; begging to disband the evil police; and supporting a new country within our own: CHOP [the brief experiment with anarchism in Seattle — Dok]

Never mind that women would be raped and young men would be murdered and no hope of protection. It was all for George Floyd, and their white skin was so disgusting to them they had to apologize for all the injustices they'd caused by simply existing!
That's some insane, Turner Diaries -level white victimhood, complete with the poor white virgin lasses offering themselves to be brutalized by animalistic commies and Black men. Saying Black people shouldn't have their lives snuffed out automatically negates the value of all other lives, that's just math.
Perhaps astonishingly, Dixon doesn't ever mention George Soros, but in this discourse, perhaps there's no need. Like Santa Claus, Jesus, or Tom Joad, he's everywhere, watching:
Democrat leaders, meanwhile, they sat back in their designer suits, eating their fillet with their nice béarnaise sauce while they watched the country rip itself apart because they were getting it all back, the slaves again. This time they'd be people of all colors – poor and broken – looking to them and begging for help. And they will gladly own you all . Look at their cities. The elite will thrive while the broken shoot each other in the streets on Father's Day weekend. They started with fear, moved on to guilt, told you the men and women who protect you really hate you, and the next things they will take are your guns, your speech and your God.
There's more, but that's the prime sludge in the hatebarrel, which ended with Dixon fretting that THEY are coming to take away Jesus, because fake radical Shaun King tweeted that statues of Jesus should be pulled down, and all Democrats take orders from one guy on Twitter. She also condemned Joe Biden and Nancy Pelosi for not speaking out against the "Black House Autonomous Zone," taking special care to castigate Pelosi for "pretending to be a Christian."
Maybe somebody should ask Dixon today, right now, whether she still thinks Pelosi is a fake Christian. Maybe God won't even hear Pelosi's prayers for her husband Paul, 82, who was beaten in the head with a hammer by a man who reportedly asked "Where's Nancy?"
CNN notes that it asked the Dixon campaign about the 2020 video and her comments, but that
The campaign responded not by addressing the substance of the comments but rather by claiming "CNN is rushing to the aid of their favored candidate, Gretchen Whitmer." CNN followed up by asking if Dixon wrote the monologue about the Civil War, the campaign did not respond.
Gosh, the news media is full of terrible people, isn't it?
[ CNN / R eal America's Voice with Tudor Dixon on Facebook]
Yr Wonkette is funded entirely by reader donations. If you can, please give $5 or $10 to help us keep you on top of the very best people, in even more detail than CNN does.
 Do your Amazon shopping through this link, because reasons .