Discover more from Wonkette
Wonkette is filthy, hilarious, liberal news. YOU CAN HANDLE THE TRUTH!
Over 18,000 subscribers
Twitter + Teabagger = About What You'd Expect
This guy is too much: He was so PISSED OFF by Homeland Security noting that certain heavily armed anti-government wingnuts might, uh, do something crazy that he decided to take his guns to theOklahoma Cityteabagging protest and, uhm, kill a bunch of cops. That'll learn 'em!
An Oklahoma City man who allegedly threatened on Twitter to turn a tax protest into a massacre has been arrested on suspicion of making interstate threats in what is believed to be the first federal prosecution based on posts made to the micro-blogging site.

The FBI arrested Daniel Knight Hayden, 52, after agents identified him as Twitter user CitizenQuasar. Using the micro-blogging site, Hayden allegedly threatened to start a "war" against the government at the Oklahoma City Capitol where a "Tea Party" tax protest was planned.

"START THE KILLING NOW! I am willing to be the FIRST DEATH!," read a message posted at 8: 01 p.m. on April 11, which was followed by, "After I am killed on the Capitol Steps, like a REAL man, the rest of you will REMEMBER ME!!!" Another post said: "I really don' give a (expletive) anymore. Send the cops around. I will cut their heads off the heads and throw the(m) on the State Capitol steps."
So, well, he was arrested. Luckily, his Twitter is still up, so we can all safely enjoy not only his insane rage, but his many links to Alice Cooper and Jethro Tull video clips. Yes, the guy is really a 52-year-old Oklahoman.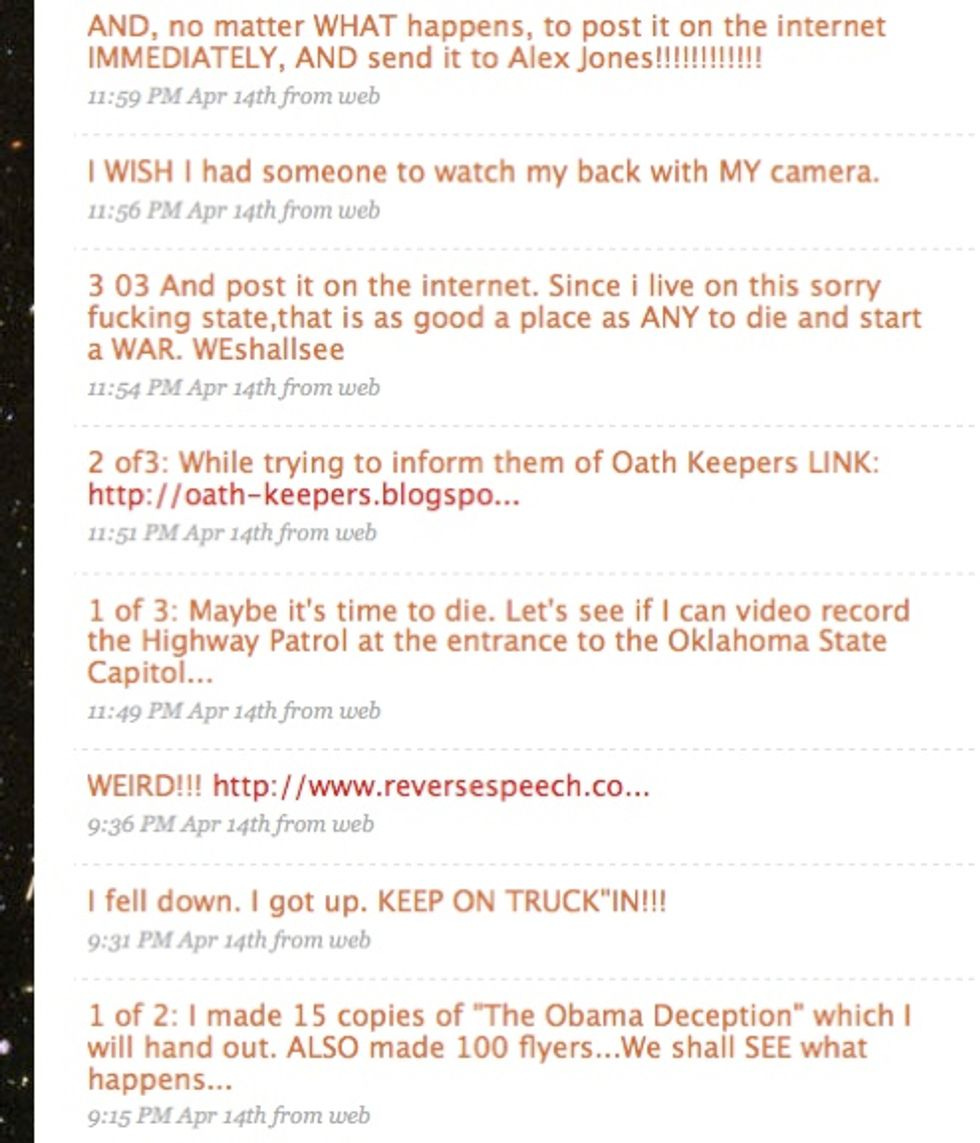 And, in an epic example of why the UN needs to shut down Twitter, now, here is "CitizenQuasar" in a fury over DHS keeping an eye out for crazy wingnuts, while also showing himself to be a 9/11 truther, while screaming about Newt Gingrich being an evil clown from the New World Order. (That last part is true, or at least itwastrue until Gingrich was kicked out of the NWO a decade ago for being too fat.)