Discover more from Wonkette
Wonkette is filthy, hilarious, liberal news. YOU CAN HANDLE THE TRUTH!
Over 18,000 subscribers
We'd Tell Nikki Haley To Go Fuck Herself, But Instead We'll Just Say Bless Your Fucking Heart
Wouldn't want to be impolite.
You guys, we want you to be gentle with UN Ambassador Nikki Haley for two reasons today, unless you feel like telling her to fuck off, which is of course your right. One is that she is mourning her hero, Tom Petty:
Thoughts 'n' prayers, Ambassador Haley, for real.
The other thing we want you to be gentle about (unless you don't feel like it) is jumping to conclusions about Haley leading the U.S. delegation in voting "no" on aresolution at the United Nations condemning the use of the death penalty in discriminatory ways, including against those caught gay-sexing. Luckily, our side lost! But while 27 apparently more civilized nations voted for the resolution, our nation was joined by 13 fellow lovers of freedom like Saudi Arabia, China, Iraq, Qatar, the United Arab Emirates and fellow death-penalty lover Japan ( YUP ) in saying "NO WAY JOSE" to the resolution, which states that the death penalty is torture and a violation of human rights, and that it's disproportionately used against the poor and political dissidents. The resolution further condemns the use of the death penalty against the mentally ill, and against those caught in the acts of "apostasy, blasphemy, adultery and consensual same-sex relations." Also too, it notes that usually when someone gets the death penalty for adultery, "someone" is usually a woman.
We see you out there jumping to conclusions, even though we just said not to!
You are saying, "WHAT THE FUCKING FUCK, THE TRUMP ADMINISTRATION AND NIKKI FUCKING HALEY CAN'T BRING THEMSELVES TO CONDEMN THIS? WHAT THE FUCK IS WRONG WITH THEM? HOW THE HELL ARE WE GOING TO BE ONE OF 13 NATIONS THAT SIDES WITH THE WORST HUMAN RIGHTS ABUSERS ON THE GLOBE, PLUS FOR SOME REASON JAPAN?"
Cool it, you bleeding hearts, OK?
First of all, America did support two amendments to the resolution, both put forth by the Trump administration's best friend Mother Russia, that said the death penalty wasn't automatically a human rights violation or torture. Oh wait, our bad, that is not helping our case for Be Gentle With Nikki Haley.
 Buzzfeed explains that it's really not that the Trump administration thinks it's OK to kill gays or stone adulteresses. It's just that AMERICA loves killing PEOPLE, in general, which means we can't sign on to some pantywaist gay free-love resolution that says it's not OK for a government to murder its citizens. Back in the good old days of Obama, we weren't signing on to resolutions like this either:
... [T]he resolution likely would not have seen a different vote from the UN under previous administrations. Though it lacked the portion highlighting LGBT rights, in 2014 the Obama administration abstained on a resolution at the Human Rights Council.

"International law does not prohibit capital punishment when imposed and carried out in a manner that is consistent with a state's international obligations," Ambassador Keith Harper said at the time. We therefore urge all governments that employ the death penalty to do so in conformity with their international human rights obligations."
See? You are not mad at Nikki Haley anymore. (OK, maybe you are.) It's more that you're enraged at America overall , for being one of the only pigheaded first world nations that still refuses to give up its love affair with state-sanctioned killing.
Paste Magazine further notes that "our good pal" Saudi Arabia was very mad about this resolution, which leads us to ask whether America would be acting in Saudi Arabia's best interests if we publicly condemned that nation's little habit of executing gay folk and transgender folk. Doesn't sound like BFF behavior to us. (ESPECIALLY not after Saudi Arabia let Donald Trump play with their big glowy magic orb ball!)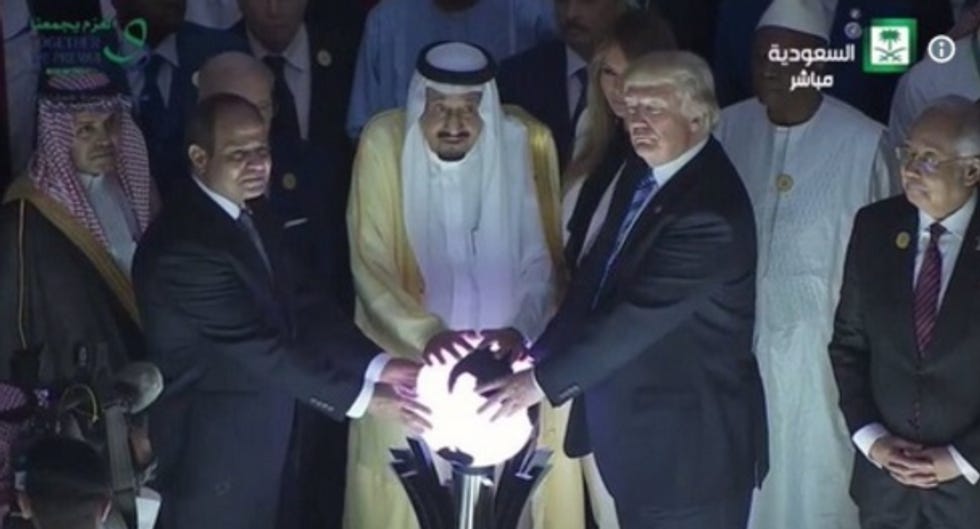 Buzzfeed reports that Nikki Haley's Team America Fuck Yeah hasn't explained why it didn't support this resolution, and that it's "not clear" they even tried to half-assed-ly append a statement to their "no" vote affirming that the U.S. still supports human rights. (Why would they? Secretary of State Rex Tillerson has clearly stated that supporting human rights abroad is a TOTAL boner killer.)
Anyway, so do you libtard Alinsky lovers get it now? The Trump regime isn't endorsing killing gays or adulterous slut ladies, it's just continuing to endorse ALL THE KILLING IN GENERAL.
Situation normal! (All fucked up.)
If you didn't catch on to the LOL sarcasm in this post, what a silly boy you are. OF COURSE we should be outraged that this is still the status quo in America, and OF COURSE we should be furious that the Trump regime is helping to perpetuate it, not that we expected any better from them.
And it goes without saying, but OF COURSE you are free to tell Nikki Haley to fuck right off. Just don't do it while she's listening to Tom Petty, because she's grieving, OK?
 Follow Evan Hurst on Twitter RIGHT HERE.  
 Wonkette salaries, servers, and all of the things are fully funded by readers like you! If you love us, click here to fund us! 
[ U.N. resolution / Buzzfeed / Paste ]