Discover more from Wonkette
Wonkette is filthy, hilarious, liberal news. YOU CAN HANDLE THE TRUTH!
Over 18,000 subscribers
Welcome to Wonkette Happy Hour, With This Week's Cocktail, Christmas Eggnog!
Wait really? Yes really!
Greetings, Wonketeers! I'm Hooper, your bartender. I've been wanting to share this recipe with you all year, for several reasons. One, I like getting my Christmas shopping done early. Two, I wanted to hear the howls of Wonketeers facing delayed gratification. But most of all, I really, really love good eggnog. And this, my friends, is the best Christmas Eggnog ever. Here's the recipe.
Christmas Eggnog
12 egg yolks
1 pound sugar
1 teaspoon nutmeg
1 pint half-and-half
1 pint whole milk
1 pint heavy whipping cream
1 cup Appleton Estate Rum
1 cup Pierre Masson VSOP brandy
1 cup bourbon
¼ t sea salt
Beat the eggs, sugar, and nutmeg in a large bowl until the yolks lighten in color and fall off the whisk in a smooth ribbon. Combine the booze, dairy, and salt in a second bowl (add the booze slowly while whisking to prevent curdling). Beat the egg mixture into the boozy dairy. Pour the mixture into several bottles and store for at least 2-3 weeks, possibly until Christmas. Serve with extra nutmeg sprinkled on top.
There's nothing quite so gloriously rich as a glass of eggnog. It was a decadent treat in the 13th century, when monks made it with sherry, figs, and eggs. It found a home in colonial America in the 18th century. As a holiday drink, it's never gone completely out of fashion.
However, eggnog can be quite strong and boozy, even with all the dairy. Alton Brown was one of the first chefs to suggest aging eggnog to mellow out the harsh alcohol notes. Mr. Brown's of the opinion that you cannot age eggnog too much; in his words, "...there's nothing that says you couldn't age it a year, but I've just never been able to wait that long." I've encountered opinions to the contrary. Some sources suggest that eggnog reaches its peak at three weeks . After that, the booze starts to predominate again.
I think the answer is to treat this as an eggnog liqueur, and not a complete punch itself. A quick run through my calculator puts this drink at nearly 30 proof. In comparison, Bailey's Irish Cream is 34 proof. Drinking it neat for Christmas might not be the best idea. It would be better to pour some of this into good non-alcoholic eggnog — or maybe your Christmas morning coffee.
Let's talk ingredients. I'll offer some options here, but we won't spend much time talking about eggs and milk. Use the best you have.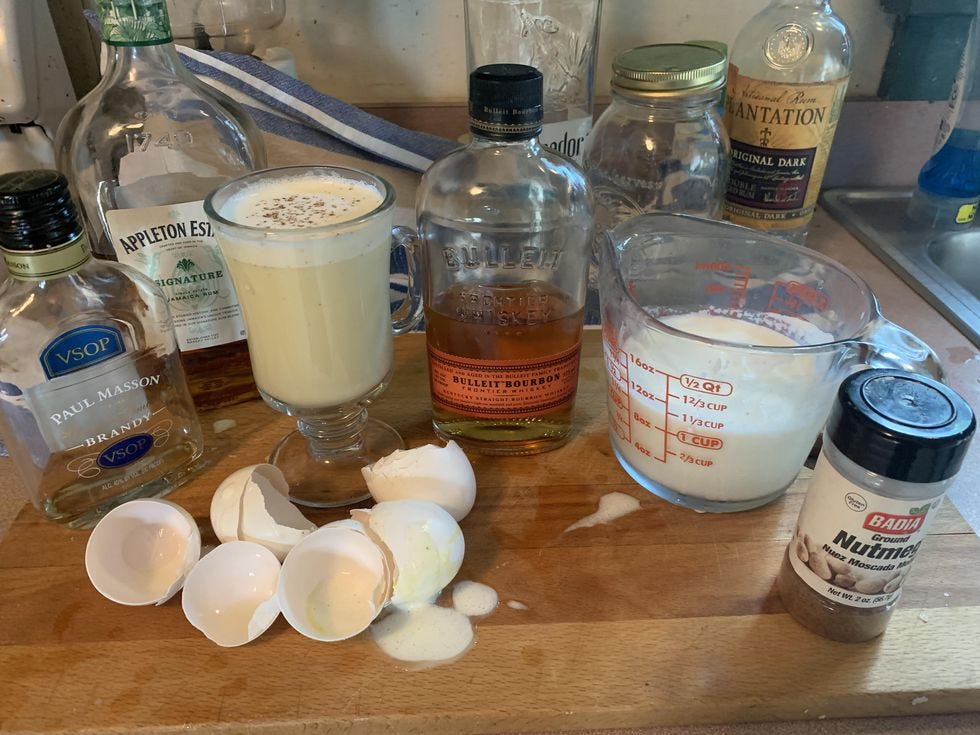 Ingredient Shot. The large bowl of eggnog just off camera disappeared into the bottles in the background, and burrowed themselves into the fridge, shortly after this picture was taken. Matthew Hooper 
Egg yolks: Use pasteurized eggs if you want extra security. They won't impact the taste, although the egg yolk mixture might not turn lemon yellow.
Nutmeg: Feel free to omit this if you must. Cinnamon is perfectly acceptable as a substitute, but I'd only use half a teaspoon.
Dairy: If you're lactose intolerant, consider makingcoquito , a Mexican cocktail featuring coconut milk. It still incorporates sweetened condensed milk, but it's not as heavy as pure eggnog. (Sorry, it's a Goya link. Their recipe really is the best.) I'd drink coquito fresh instead of aging it; I don't know how well coconut milk ages.
Appleton Estate Rum: You do need a bright, slightly funky rum to cut through the heavy dairy. The dark caramel rums I generally recommend won't cut it in this recipe.
Bulleit Bourbon: One of my favorite workhorse bourbons. No need for anything fancy.
Paul Masson VSOP Brandy: Brandy's a smooth, mellow liquor that finds a home in every punch. I bought a half pint of Paul Masson, which was just enough for the recipe. I might swap the bourbon for extra brandy if I wanted to make a mellower cocktail.
Technique: This recipe makes a lot of eggnog. I now have two wine bottle's worth of eggnog in my fridge, plus a mason jar's worth for testing purposes. I plan on giving the bottles away as Christmas presents to friends I really like. Be prepared to have containers for the yield, or halve the recipe.
If space is still a constraint, consider skipping the dairy entirely. Add the booze directly to the egg mixture and refrigerate. At time of service, add the egg mixture to fresh dairy. Potentially, you could get the best of both worlds this way — aged booze and fresh cream. It won't be a thing of beauty in your fridge, though.
Be sure to have a plan for using 12 egg whites when you're done. Ms. Grog is making Martha Stewart's Mocha Chip Angel Food Cake . I may have fallen in love with her all over again.
If you've never added egg yolks to sugar like this, you'll be convinced that you did something wrong at first. The eggs and sugar initially have a consistency like Play-Doh. Don't panic; keep stirring. The sugar dissolves very rapidly, and the mixture soon resembles pancake batter in texture and color. When the eggs and sugar drizzle off the whisk, it's ready.
Want to make this recipe even more decadent? I'd consider adding half a teaspoon of real Madagascar vanilla. Vanilla and dairy cooperate well, and it would smooth out the booze just a touch. Just remember, let the eggnog rest until it's time. With some patience, you'll have an amazing Christmas treat. Mind you, tasting every week or so for quality isn't a bad idea …
In summary and conclusion, drink well, drink often, and tip your bartender — donate to Wonkette at the link below! And if you'd like to buy some bar gear or books from Amazon, please click here! 
OPEN THREAD!