Discover more from Wonkette
Wonkette is filthy, hilarious, liberal news. YOU CAN HANDLE THE TRUTH!
Over 18,000 subscribers
Welcome To Wonkette Happy Hour, With This Week's Cocktail, Hooper's Rum!
This one ain't for the faint of heart, kids.
Greetings, Wonketteers! I'm Hooper, your bartender, and I'm on vacation! As you're reading this, I'm camped out in a field in Pennsylvania with my wife and kid, stabbing folks with swords, learning how to stab better, relaxing, and generally having a great time. But before I left, I wrote out my secret rum recipe. I even batched up a full bottle to take out camping. Here's my personal after-hours grog, just for you.
Hooper's Rum
2. oz. Plantation Barbados Rum
½ oz. Hamilton 86 Demerara Rum
½ oz. Hamilton 151 Demerara Rum
¼ oz. Wray and Nephew Jamaican Overproof Rum
1 oz. Demerara Syrup
1 oz. Fresh lime juice
2 dashes Hella Ginger Bitters
2-3 flakes sea salt

Shake and strain into an old fashioned glass over ice.

Yes. Yes, that it a lot of rum.
And yes, I do love rum . A lot. I've sloshed together some version of this grog after way too many grueling shifts at the country club. It's never exactly the same. Rum is an astonishingly diverse spirit, far more so than tequila or bourbon. Exploring all the possibilities has been fascinating. It can be sweet or dry, mellow or harsh, mild or funky. I wanted to take a quick tour of everything rum can offer you in this cocktail, along with the little extras that make rum sing. Here's a rundown of the ingredients.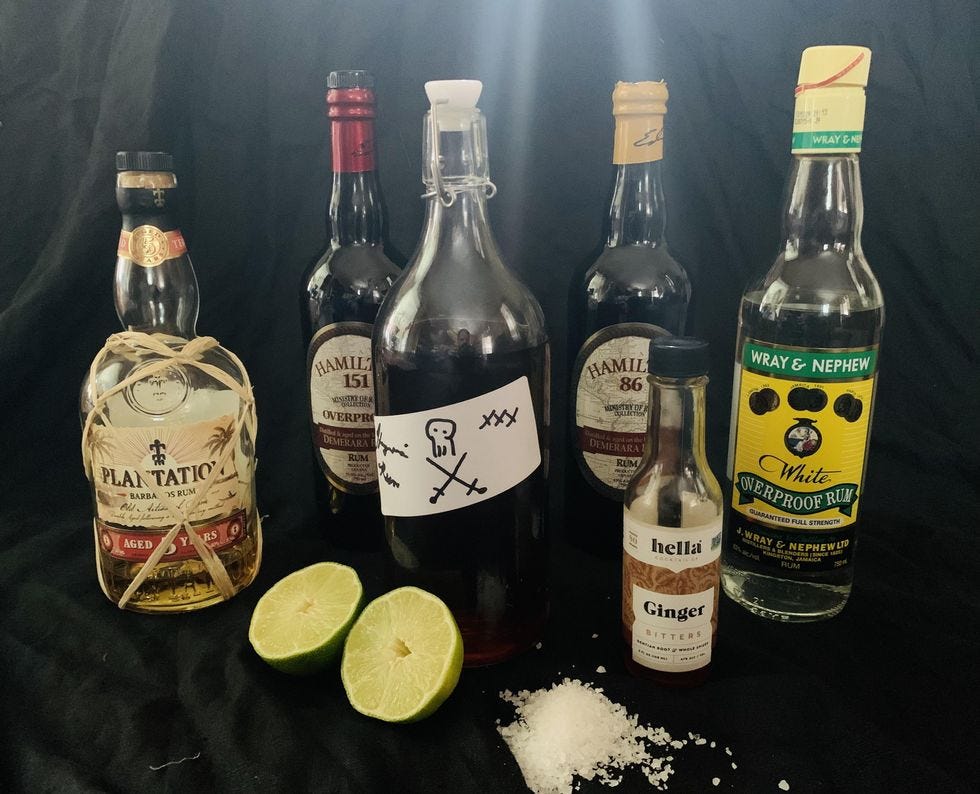 Told you it was a lot of rum. Matthew Hooper 

Plantation Barbados Rum: Rum can change drastically depending on its country of origin.This mild, buttery rum is a great base for a cocktail that's going to get wild and wooly as we go. I'd use Puerto Rican rum for a base in a heartbeat, especially an aged one like Bacardi Anejo Quarto .

Hamilton 86 Rum: Generally my favorite rum. I love thedeep caramel notes of this Guyanese spirit. It harmonizes with the lighter butterscotch notes of the Barbados rum wonderfully.

Hamilton 151 Rum: Aka "the flammable rum." Using this rum as the primary spirit in a cocktail is … not a good idea. For those of you playing along at home, it's roughly 75 percent ethanol. But upping the proof on this cocktailcan accentuate some of the flavors that might get lost, such as the baking spice notes of the Barbados rum, or the really funky rum that's next on the list.

Wray and Nephew Overproof Rum: A high-ester, high-proof monster. Thisclassic Jamaican rumhas massive amounts of " hogo" – a funky, overripe-banana-but-in-a-good-way flavor that is utterly unique. It's like truffles or kimchi – you either love it or you hate it. I love it. I can only use it in small amounts here, though, or it will dominate the glass. Just a quarter ounce adds a funky grace note to the smooth dark sugar notes.

Demerara Syrup: This tends to end up in every rum cocktail I make. It's a thick dark brown syrup that gives the cocktail needed sweetness and body. It's simple to make: 1 part white sugar, 1 part sugar in the raw, 1 part water. Heat gently until the sugar melts.
Lime Juice: I never trust any rum that doesn't like lime and sugar. Citrus is a vital component of any rum cocktail.
Hella Ginger Bitters:  My secret weapon in any house grog. The ginger and lemon notes from these bitters are fantastic in any dark rum mix, and they emphasize the spice notes in the Barbados and Demerara spirits.

Sea Salt: Just a little sea salt enhances the sweetness and other flavors in the glass. It doesn't have to be huge amount. Use a light hand – you're seasoning the cocktail, not making it salty.

I decided to batch this grog up for my vacation. Instead of mixing the cocktail repeatedly, I'll have this bottle at the ready. Add some water and a lime quarter, and you'll end up with a "real" grog similar to what was served onboard ship during the Age of Piracy. Only mine's way tastier.
When you're batching cocktails, the most important rule is to keep any juice or carbonated ingredients out of the mix. Liquors, spices, and sugar are fine, but alcohol will eventually break down and oxidize juice. Aside from that, the sky's the limit. Do you love margaritas? Batch up some tequila, triple sec, and salt. Add lime juice at the last minute. Martinis and Manhattans are naturals for batching. Batching gives you a lot of opportunity to layer and mix multiple spirits. Feel free to indulge.
I wish that I could tell you that I carefully did the math, up-scaled the recipe, and bottled it here. But honestly, I went by feel and taste – I've made this drink by hand dozens of times by now without measuring, and more often than not I'll pour whatever interests me into the cocktail before collapsing in a heap in the wee hours of the night. By extension, fiddling with the proportions on my recipe is recommended and encouraged. Go as the spirit moves you, as they say.

Hooper's Rum (Batched)

3 cups Plantation Barbados Rum
½ cup Hamilton 86
½ cup Hamilton 151
½ cup Wray and Nephew Overproof Rum
2 t Hella Ginger Bitters

½ cup Demerara Syrup
10-12 flakes sea salt

Add to a sealable bottle and shake well. Squeeze ¼ lime into a cup, add the spent lime to the cup, and pour over ice and lime to serve.

The idea of doing a non-alcoholic version of this is … well, no. And we're just about out the door – we're grabbing Mexican takeout before we leave. On that note, I'd recommend sipping some Jarritos soda if you're never tried it. This Mexican soda practically glows in the dark with artificial color. It's loaded to the gills with cane sugar, and it uses a ton of artificial flavor. My daughter loves it. I'd add some citrus and just a little extra soda water if I wanted an "adult" version. Lemon, lime, or pineapple juice all work; orange juice isn't acidic enough. And don't pair an artificial and natural flavor. Putting real lime juice in artificial lime flavored syrup never works well.

See you when I get back, Wonketeers. Miss you all. Don't forget to tip your bartender – donate at the link below. Also, if you want to buy some ginger bitters, or Jarritos, or a bottle to batch cocktails in, please clink on this Amazon link. 

OPEN THREAD!