Discover more from Wonkette
Wonkette is filthy, hilarious, liberal news. YOU CAN HANDLE THE TRUTH!
Over 18,000 subscribers
Welcome to Wonkette Happy Hour, With This Week's Cocktail, Lynchburg Lemonade!
The Perfect Lemonade. Seriously.
Greetings, Wonketteers! I'm Hooper, your bartender. It is ridiculously hot in Ohio. Time to pull out the big guns and provide something seriously refreshing. Groceries are getting expensive, too. Let's squeeze every bit of value from what we buy. Let's make some Lynchburg Lemonade. Here's the recipe.
Lynchburg Lemonade
1 oz Jack Daniels
1 oz Stirrings Triple Sec
2 oz lemon sherbet (recipe follows), or lemon juice
1 oz simple syrup
2-3 oz soda water
Shake all ingredients but the soda water. Strain into a pint glass with ice. Add soda water. Transfer back into your large shaker and pour back into the glass, to fully incorporate the soda into the cocktail. Serve with a lemon wheel garnish.
Lemon Sherbet
5-6 lemons
⅓ cup sugar
Wash the lemons with warm water. Gently scrub them with a rough dish cloth. Peel all the lemons, retaining as little pith as possible. Toss the lemon peels with the sugar in a small bowl. Cover and set aside for at least 24 hours. Juice the peeled lemons into the bowl with their lemon peels. Stir gently and strain into a bottle. Keeps refrigerated for a week.
Lynchburg Lemonade is not an old cocktail. It was created by an Alabama bar owner named Tony Mason back in the '80s. When Jack Daniels stole Tony's recipe for their website without crediting him, Tony sued and, ultimately, lost. Cocktail recipes don't have a lot of legal protection in the US. A few distributors trademark drinks, but generally once a recipe gets out into the world, it's fair game.

Sadly, Tony's original recipe isn't all that great. He used lemon and sugar to make a quick bar lemonade, then added Jack Daniels and triple sec to finish the drink. I've made bar lemonade like this before. It's never strong enough. This version is much, much tastier.

Let's talk ingredients:

Photo by Hooper 
Jack Daniels: "Tennessee Whisky" is not, technically, bourbon. It's made like bourbon. It uses the same ingredients. But as an additional step, it's filtered through activated charcoal. The filtering gives Jack a unique flavor profile that reminds me of apricots or peaches. Jack Daniels needs some citrus and acid to stand out. A lemonade like this is an ideal platform.
You can swap in your favorite liquor here and get great results. I'd love to try this recipe with a good blanco tequila. Vodka or white rum would work well too.
Stirrings Triple Sec: Most cheap triple sec is corn syrup, neutral grain spirits, and artificial orange flavor. Stirrings is an all-natural product. I hate using anything artificial in my drinks. If you can only find the artificial stuff, skip the triple sec entirely.
Lemon Sherbet: This stuff is so good, and so useful, that I wanted to slow down and walk through the recipe in depth. This process gets every last scrap of lemon flavor out of the fruit you buy from the store. As grocery prices ratchet up, it's imperative to extract every last bit of flavor from the produce you buy. Besides, lemon sherbet is super tasty. It makes any beverage with citrus better. Margaritas, daiquiris, you name it. This stuff rocks. It's the key to making the best lemonade you'll ever have.
Start by roughly washing each lemon with hot water and a clean, coarse kitchen towel. Your objective is to scrape off any wax on the outside of the fruit. Peel each lemon with a sharp veggie peeler. Don't use too much force. You only want the outer skin of the fruit. The thick white pith is bitter and useless. I use this OXO veggie peeler. It works like a dream. Put the peeled lemons into a Zip-Loc baggie and save them in the fridge. We'll need them later.
Toss all the lemon peels with ⅓ cup of sugar in a small bowl. You're looking to coat each strip of lemon peel in sugar on both sides. Here's a picture of what it looks like before a day's rest.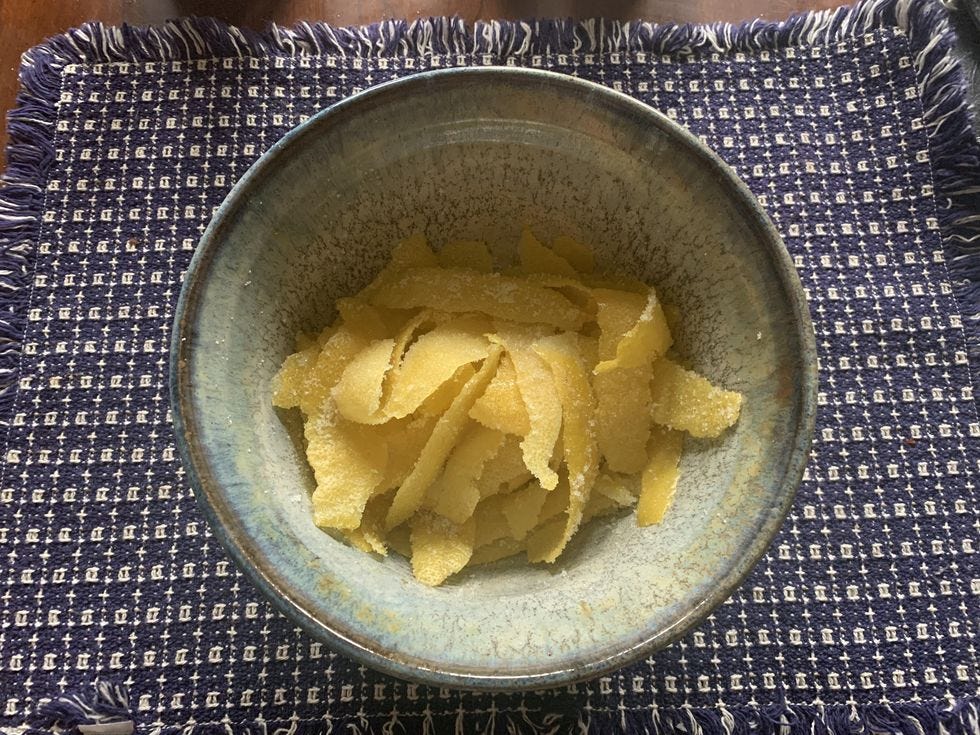 Matthew Hooper 
Cover the bowl with plastic wrap and leave at room temperature for a day or so. After that rest, the lemon peel will have changed radically: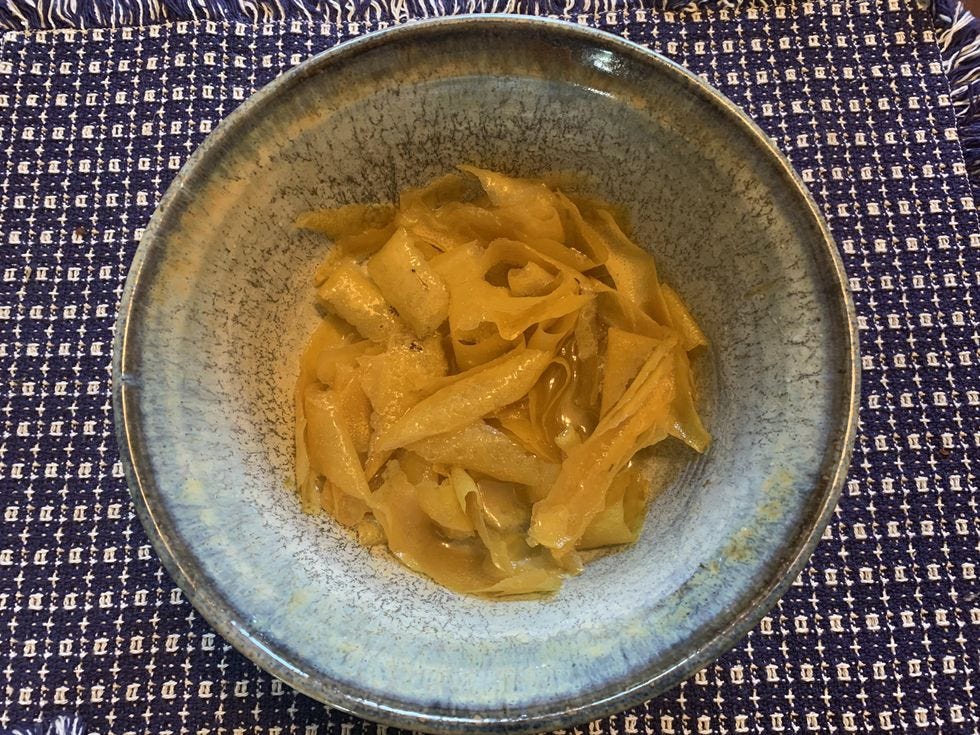 Matthew Hooper 

The sugar sucked all the lemon oil out of the peels, leaving us with translucent scraps and roughly a quarter cup of lemon heaven. Juice the lemons that you peeled right into the bowl. Give everything a good stir and strain it into a container. Just for good measure, rinse all the lemon peels with a few tablespoons of water and strain that into the container as well. Try not to waste a single drop of that lemon oil. The sherbet will keep for a week in the fridge. If you don't drink it all before then, I'll be shocked.

Simple Syrup: The drink needs a touch more sweetness. When it's hot like this, you don't even need to turn on the stove to make simple syrup. Put equal parts sugar and water into a bottle, give it a good shake, and wait an hour or two. The sugar will dissolve on its own.

Soda Water: Tony Mason used lemon-lime soda, but I don't think that it matters. Seltzer, or good filtered water, would work fine. Do toss the cocktail between the shaking tin and your glass once, to incorporate the soda into the drink.
Leave off the Jack Daniels and triple sec, and this becomes killer lemonade. Feel free to add as much lemon sherbet or sugar as you need to make your drink perfect. I'd toss in a sprinkle of sea salt to boost the flavor. Whiskey or no, this will be your new favorite lemonade.

In summary and conclusion, drink well, drink often, and tip your bartender — donate to Wonkette at the link below! Come see me at The Spotted Owl at Tremont! And if you'd like to buy some bar gear or books from Amazon, please click here! 
OPEN THREAD!