Discover more from Wonkette
Wonkette is filthy, hilarious, liberal news. YOU CAN HANDLE THE TRUTH!
Over 18,000 subscribers
It's Wonkette's Christmas Eve Happy Hour, With This Week's Recipe, Mulled Wine!
Hopefully, this will make your Christmas jollier.
Greetings Wonketteers! I'm Hooper, your bartender. I've got a punch bowl's worth of happiness for you, just before the holiday. Let's make some mulled wine. Here's the recipe.
Mulled Wine
1 bottle Beringer Red Moscato
1/4 cup brandy
2 T honey
1 orange, peeled
2 whole cinnamon sticks
3 cardamom pods
3 whole cloves
3-4 clementines, cut into thin wheels
1 lemon, cut into thin wedges
Remove the skin from one orange. Add peel to pot with red wine, honey, and spices. Bring the mixture to a gentle simmer, then reduce to low heat. After 30 minutes, strain out the orange peel and spices. Add the brandy. Keep warm at low heat on the stove top. Ladle into coffee cups or heavy old fashioned glasses. Garnish each serving with a clementine slice on top of the cocktail and cinnamon stick.
Mulling wine is an ancient way of warming up during the holidays. The Romans invented it in the second century, and the recipe's been kept alive ever since. It's never been quite as popular here in America as it is in Europe. American Christmas traditions don't date further back than the Colonial era, and getting drinkable wine across the Atlantic wasn't easy. Far easier to use durable rum in a custard based drink like eggnog.

I want to think about this recipe in a modern way. Most classic mulled wine is left to simmer for hours and hours. That will extract all the flavor from the spices, but it will destroy any fruit you add to the wine. The acids from citrus will break down, and what started as a crisp winter cocktail ends up being a muddy, flat drink by the end of the party. Let's treat this cocktail as a warm, spiced sangria. If you strain the spices and fruit when the flavors are just right, you'll have a cocktail that's going to be stable all night long.

This recipe will keep just fine if you've got leftovers, or if you're celebrating Christmas safely at home. Let the mulled wine cool after the initial boil and simmer, strain it, put it in the fridge. Warm it up in the microwave and add fresh fruit on top. It should hold for weeks.

Let's talk ingredients:

Red Wine: I started off using my favorite cheap merlot in this recipe, and nearly gagged on the tannins. Pinot Noir is a pretty low-tannin wine, but the heat seems to amplify the bitterness. On a lark, I decided to try a red Moscato. This is afairly new varietal on the American market from what I can gather — lots of berry notes, sweet, and very low in tannins. It proved to be delightful when heated, sweetened, and spiced. The color is a lighter than a "true" red, but it's still very attractive. If you're looking for a dark purple red for your mulled wine, a cheap Pinot will work well, but I think this red Moscato is an improvement.

Brandy: My standby for cocktail brandy is Remy Martin 1738. I don't think I'd use a brandy cheaper than that. Please add the brandy after the initial heating of the wine. If you add it too early all the alcohol will cook out. Swapping in other liquors will provide a different flavor profile. Rum would probably cooperate with the recipe as written. I don't think I'd recommend bourbon. Using white wine with tequila actually sounds pretty good.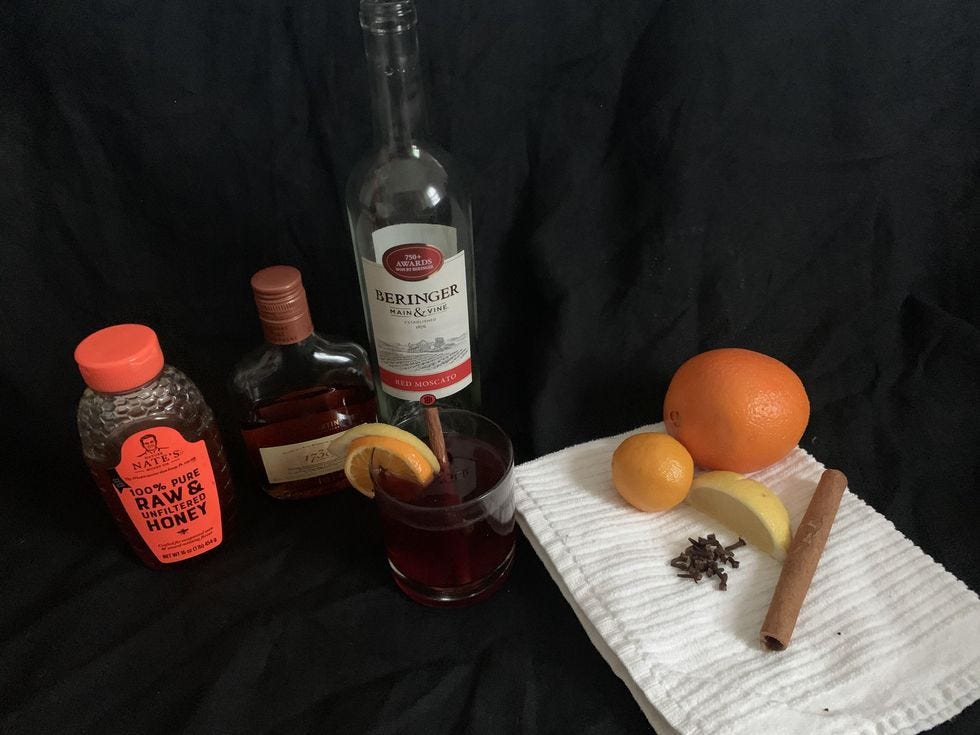 Ingredient shot. The mulled wine vanished merrily shortly after this shot was taken. Matthew Hooper 
Honey: Feel free to use brown sugar, agave nectar, or whatever other sweetener you like. Honey's the most ancient of all these sugars. Considering the age of the recipe, I think it's the correct one. You could try using buckwheat honey here if you want something dark and caramel flavored. Otherwise, I'd stick with wildflower or orange blossom honey. Use raw, unprocessed honey if possible.
Orange peel: Use long, thick strips of peel – it'll be easier to fish it out later. Try to avoid including the white pith of the orange. It'll add unwanted bitterness to the cocktail. All of the peel is getting pulled out of the drink before serving, so don't worry if it comes off in ragged chunks.

Spices: You have a ton of creative freedom here. Whatever spice you like is the right spice. I do think that you need cinnamon in the cocktail to give it a holiday profile. But you can swap out the cardamom for star anise, allspice berries, black peppercorns ... whatever floats your boat. Avoid ground spices; it'll be impossible to get them out of the drink.
Fresh fruit: Putting fresh fruit on top of the cocktail will add needed brightness, crispness, and acid. A clementine wheel as a garnish is very pretty, and they're in season for the holidays. The cocktail could use just a touch of acid, but lemon juice will break down in the warm wine quickly. Put a slice on the side for guests to use as they like.
It is possible, given enough heating time, to transform this mulled wine into a non-alcoholic drink. I can't predict how long it would take to cook out all the alcohol, however. Too much heat will damage the flavors as well. Let's make some mulled cider instead:

Spiced Cider
½ gallon fresh apple cider
2 cinnamon sticks
2 whole allspice berries
1 whole clove
Peel from 1 orange
Gently simmer all ingredients until warm. Serve with fresh apple or orange slices.
Use natural, unfiltered cider if at all possible. If the "apple cider" is clear, stay away from it.

In summary and conclusion, drink well, drink often, and tip your bartender — donate to Wonkette at the link below! And if you'd like to buy some bar gear or books from Amazon, please use this link! 

Happy holiday and OPEN THREAD!