Discover more from Wonkette
Wonkette is filthy, hilarious, liberal news. YOU CAN HANDLE THE TRUTH!
Over 15,000 subscribers
Welcome To Wonkette Happy Hour, With This Week's Cocktail, Mumbai Fizz!
Time to drag out the serious quenchers for a hot week.
Greetings, Wonketeers! I'm Hooper, your bartender. It is STINKING HOT outside. It's time to pull out the big guns and make the most refreshing drink I can possibly come up with. Here's a spin on the classic Tom Collins with a few Indian twists. This should be a serious thirst quencher. Let's make up a Mumbai Fizz together. Here's the recipe.
Mumbai Fizz
1.5 oz fresh lime juice
1.5 oz chaat masala syrup
1 oz Tanqueray Rajpur Lime Gin
Club soda
Shake the lime juice, syrup, and gin with ice and strain into an iced highball glass. Top with club soda. Garnish with a lime wheel and mint sprig.
Chaat Masala Syrup
½ cup white sugar
½ cup water
3 pinches chaat masala powder
1 pinch sea salt
Add all ingredients to a small saucepan and heat until the sugar completely melts. Strain into a small container for further use. Keeps in the refrigerator for at least 1 week.
The original Tom Collins was invented by a bartender by the name of … John Collins. Disappointing, I know. John's creation was simple — genever, lemon juice, sugar, and club soda. Genever is a Nordic cousin of gin that uses unaged rye whisky as a base instead of vodka, and isn't quite so juniper-forward. Genever's finding a bit of a renaissance in modern mixology, as bartenders rediscover classic spirits, but that's a subject for another day. John was the head waiter at London's Limner Hotel in the 1830s, and his creation was the victim of another popular booze craze. "Old Tom" gin — a lighter, sweeter version of classic London Dry gin — was all the rage. Customers started asking for "Old Tom" Collins cocktails, and eventually the genever version of the drink fell by the wayside.
This particular variation of the Tom Collins comes from my wife's stash of Martha Stewart magazines. Martha's style director, Ayesha Patel, wrote the Bombay Fizz for an Indian-style barbecue in June 2013. That version was a pitcher of lime Tom Collins, with a pinch of salt. Ten years later, we've got a ton more Indian spice mixes and flavors available to play with. I went with chaat masala for this beverage. It's a complex, salty, sour spice blend that sets off the simple lime and syrup base of the drink wonderfully. I'm generally not a fan of using spice powder in a cocktail. It's hard to strain out the powder before the drink is served, and I don't want to give a gritty cocktail to a guest. Chaat masala is very intense, however. A little goes a long way, and the powder is unnoticed in the drink.
This is a perfectly nice NA cocktail if you choose to omit the gin. In India, a drink similar to this is called nimbu pani . Bear in mind that it's meant to be tart, not sweet, and adjust the sugar to citrus ratio appropriately. I'm reminded a bit of the sweetness level of Gatorade — not sugary, but not exactly tart, either.
Let's talk ingredients: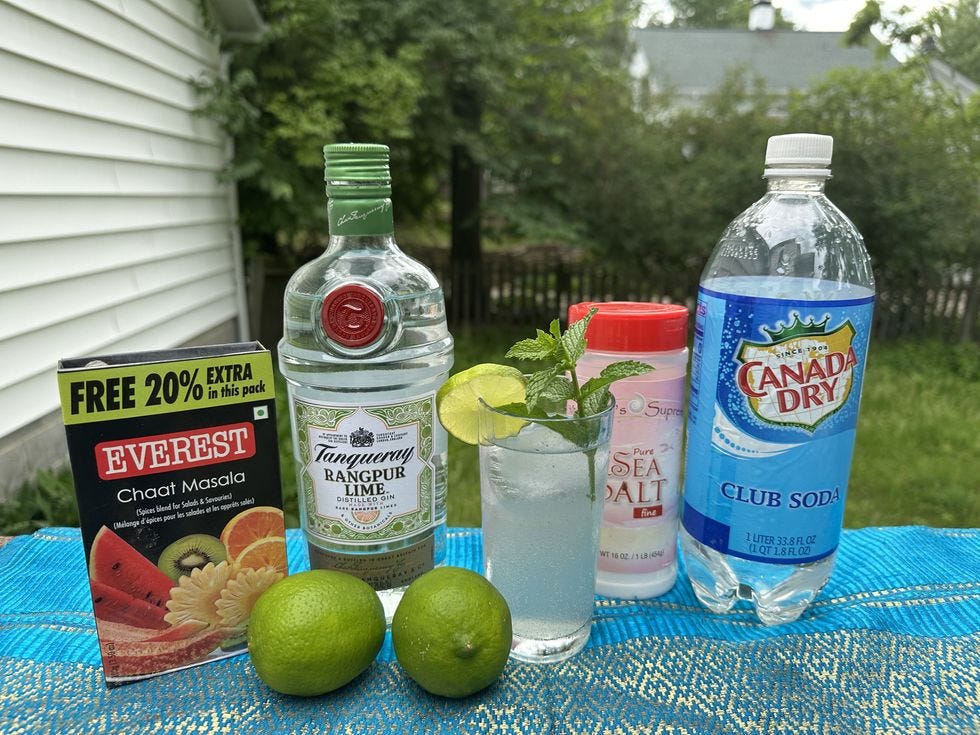 Ingredient shot. The cocktail vanished shortly after this photo was taken. Matthew Hooper 

Tanqueray Rajpur Lime Gin: I'm not a fan of Tanqueray in general, but this particular variety has been on my radar for a long time. Rajpur limes aren't really limes per se; they're something in between a citron and a mandarin orange. This gin uses bay leaves, ginger, and this little citrus bomb to make a classic citrus gin. I can't find any juniper in this bottle; it's definitely one to try even if you're not a gin fan. Vodka will do here, as will unaged rum.
Lime juice: You should know by now how fanatical I am about fresh limes in cocktails. The idea of using lime juice as a central flavor in a drink instead of a supporting flavor pleases me mightily. Fresh, as always.
Chaat masala syrup: Chaat masala spice is easy enough to get, but if you don't care for it I'd give serious thought to using amchur powder . This super-tart dried mango powder would be an awesome way to round out the citrus profile we're building in this cocktail. Want to skip the exotic spicing? Use whole black peppercorns, or another favorite spice of yours, in the syrup. If you're feeling bold, and have it on hand, try using black salt instead of sea salt. It's a bit sulphuric for my taste, but it will make the drink extra fizzy.
My wife, who advises me on things Indian, notes that different brands of chaat masala will have different spice profiles of heat, tartness and complexity. Indian cookbooks may have a homemade version you can grind up fresh. Whichever option you choose, taste your syrup and adjust for your palate. Worried about using up the box? Sprinkle it over fruit as you would Tajin.
Club soda: Seltzer of any stripe is fine. Seltzer mutes flavors as well as diluting them. This cocktail is fairly intense, so a 1: 1 ratio of cocktail to seltzer seems appropriate.
In summary and conclusion, drink well, drink often, and tip your bartender — donate to Wonkette at the link below! Seriously, my boss is awesome, if you like reading my recipes please chip in! And if you'd like to buy some bar gear or books from Amazon, please click here! 
OPEN THREAD!