Discover more from Wonkette
Wonkette is filthy, hilarious, liberal news. YOU CAN HANDLE THE TRUTH!
Over 15,000 subscribers
Welcome To Wonkette Happy Hour, With This Week's Cocktail, Sangria!
Made up three ways. Or as many ways as you like. No one's judging.
Greetings, Wonketeers! I'm Hooper, your bartender. I'll admit, I was feeling stumped for this week's drink. I knew that it was time for a fruity, sessionable pitcher of cocktails. But the exact recipe was proving elusive. The oppressive heat and Canadian smoke had worn me down. I slipped into the local cantina for some inspiration. The chalkboard sign at the front door solved all my woes: "Today's Special: Sangria Flight." Let's talk about how to make your favorite version of this American classic. Here's the recipe:
Sangria
1 bottle (750 ml) chilled wine (red or white moscato … use your favorite)
1 cup brandy (or sherry, vodka, vermouth, unaged rum … use your favorite)
Fresh fruit, coarsely diced
Simple syrup, herbs, or seltzer as needed
Combine all ingredients in a pitcher and let sit in the fridge for at least one hour. Strain over ice into glasses for your guests and garnish with additional fruit. Serves 4-6.
Sangria as we know it was invented in America. Very specifically, what we know as sangria today was created at the Spanish pavilion of the 1964 World's Fair in New York City. It's been an American summer staple ever since. The EU has defined sangria as a protected regional product; the bottled stuff, by law, has to come directly from Spain. Nobody cares. Fresh sangria is the best, and the EU can't stop people from heaving fresh fruit into wine and enjoying themselves.
Most bartenders I know don't have a set recipe for sangria. It's not so much a drink as a good idea. When I was behind the stick at the country club, I took some bottles of red wine that had rotated off the menu, added some fruit that was just past its prime from the kitchen, sweetened it with some simple syrup, and sent it to the pool bar. My local cantina, Monarca , has clearly taken the notion a bit more seriously. I enjoyed a classic red sangria, a mango sangria, and a kiwi sangria at the bar. I love jammy, dry, dark red sangria, and this sample delivered. The mango sangria was supremely fruit forward — mango in a glass, but not thick like a lassi. The kiwi sangria was a very pleasant surprise — tart, but mild, and blessedly free of green food coloring. Quality sangria is fruit punch for grown ups, and this lovely flight of sangrias in my hour of need reinforced the point perfectly.
With that in mind, I'd urge you to view the recipe below as less a set of directions and more of a template. If you love the classics, use red wine and citrus as your base for the sangria. If you have a passion for any non-red, non-citrus fruit, like mango, kiwi, or melon, use a white base. Do Not Skimp On The Fruit. More is more. Go crazy. Use multiple fruits. Nothing's holding you back. Make sure you get every drop of summer's bounty into your glass.
Let's talk ingredients: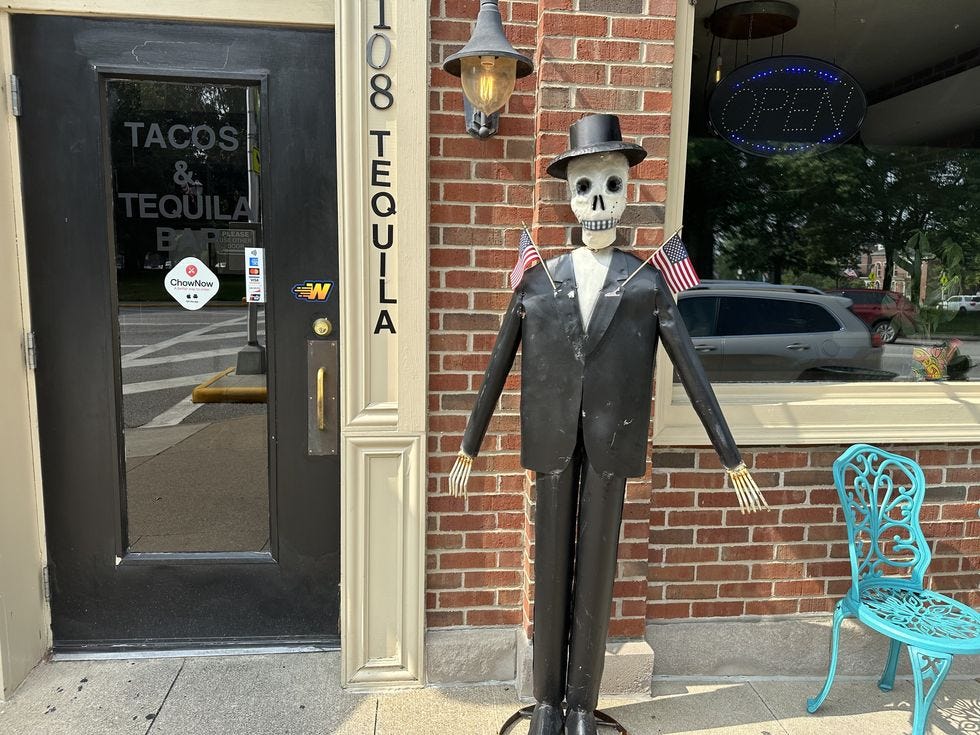 Front door shot. Any place that has "tequila" written on the front of the building that many times deserves a visit. Matthew Hooper 
Wine: I like to use low tannin wines as much as possible. There's a lot of cheap American wine out there that fits the bill; feel free to grab a sweet bottle of dubious varietal for this one. Nobody uses "good" wine for sangria. I've found that red moscato works wonderfully for red sangria. Don't use dry red wine. No matter how much sugar you heave into the pitcher to correct things, you'll end up with bitter sangria. If you want to use a white wine, you've got more options. I'd go with moscato or pinot grigio, but use your favorite. Chill the wine before you begin making the drink, and don't add ice to the pitcher. You don't want to dilute the sangria more than you have to.
Brandy or Other Liquor: Traditionally, sangria is fortified with brandy to up the proof. It makes sense — brandy's made from wine grapes, after all. But that's no reason to limit yourself. I've seen some bartenders use sherry or vermouth for a low ABV sangria, which makes a lot of sense to me. Vodka is an easy option as well. Nothing's off the table. A fall sangria with bourbon and apples would be fun. Use what you like. No one will judge.
Fruit: A classic red sangria uses orange slices, lemon slices, and green apples. That's only the starting point, though. Strawberries, melon, kiwi, mango … roll through the market and see what sticks to you. Use what you like, and use a lot of it. Give the fruit time to sit in the wine. An hour is good; overnight is better. Strain out the fruit before serving. It won't look very pretty after the wine bath. A few extra slices of fresh fruit make a solid garnish.
Other Ingredients: This is a very freeform process, so if you see something in your kitchen or backyard that looks like a tasty choice, roll with it. Mint goes very well with every fruit I can think of; a few leaves in the pitcher would be great. It's very possible that you'll need to add sugar to correct tart fruit or bitter tannins. Simple syrup is fine for this. A flavored sweetener, like honey, is going to get lost in this fruit bomb of a cocktail. Conversely, a too-sweet sangria can be tamed with a little seltzer. Taste your drink and make it your own.
There's not much you can do to ruin good fruit and wine in a glass, so let your imagination run wild. Even something as unconventional as a kiwi sangria can taste wonderful, if you don't skimp on fresh ingredients and taste as you go. The best drinks are ones where you put everything you love in a glass and drink it. Follow that essential notion as you make a sangria for the weekend, and you can't go wrong.
In summary and conclusion, drink well, drink often, and tip your bartender — donate to Wonkette at the link below! Seriously, my boss is awesome, if you like reading my recipes please chip in! And if you'd like to buy some bar gear or books from Amazon, please click here! 
OPEN THREAD!