Discover more from Wonkette
Wonkette is filthy, hilarious, liberal news. YOU CAN HANDLE THE TRUTH!
Over 18,000 subscribers
Welcome to Wonkette Happy Hour, With This Week's Cocktail, The Bloody Mary!
And an awesome Bloody Mary mix recipe, too!
Greetings, Wonketeers! I'm Hooper, your bartender. Fast forward to Saturday brunch – let's make some Bloody Marys. I've got a trick or two that make them less thick and heavy. I'll walk through making the cocktail first, and then we'll talk about mixes. Here's the technique (calling it a "recipe" is sort of a stretch).
Bloody Mary
1 ½ oz. Vodka
5 oz. Bloody Mary mix
1 dash celery bitters
Add ingredients to a tumbler with ice. Throw the Bloody Mary: slowly pour the cocktail into a second iced tumbler through a spring bar strainer . As you pour, raise the first tumbler until it's roughly a foot over the second tumbler. Repeat this process, pouring from one tumbler to the other, 3-4 times. Strain into an iced highball glass. Garnish with lime wedge, olives, and a small celery rib.

I've poured a ton of these for Mother's Day brunches and golf outings. Honestly, I never get bored with them. A good Bloody Mary is spicy, vegetal, sour, sweet, pickle-briny ... it's a ton of flavor, and substantial enough to get you moving after a rough night. The trick is to froth and dilute the juice enough to make it a drink, and not a loose soup.
To get the best result, I use a "throwing" technique I learned from Meehan's Bartender Manual . It looks really busy and weird, but trust me, it works. Imagine water coming out of a drinking fountain — you're aiming for that level of aeration and speed as you pour. Pour it too fast, and the Bloody Mary will bounce off the ice, fly out of the cup, and make a mess. If you can hear the Bloody Mary gurgle as your pour from one cup to another, you're doing it right. Here's a video showing the technique. 

The celery bitters are another trick for cutting through the heavy tomato juice. The requisite celery garnish adds a clean, sharp scent that rounds out the cocktail, but the bitters really take it up a notch. You can use celery salt instead, but most Bloody Mary mixes are salt bombs; adding more sodium is difficult without making the drink briny.
Don't go nutty with garnishes. [DON'T GO NUTTY WITH GARNISHES? SIRRAH, HOW VERY DARE YOU. — EDITRIX] Every garnish on a drink should provide a scent or a tool to personalize the cocktail. Olives give you an option for extra salt and sour, lime lets you increase the acid. The celery is pretty much traditional here, and its scent improves the cocktail. But I really don't like it – no one ever eats the celery out of a Bloody Mary, and it seems like a colossal waste.

All right, time to address the elephant in the room: Your choice of Bloody Mary mix. Using a commercial bottled mix is perfectly fine. We used Zing Zang at the country club, and with a little extra lime juice and olive brine it was great. But homemade Bloody Mary mix is on another level. It's thicker, spicier, and the acids in the cocktail are still bright and fresh. Here's my current version. Be warned: This makes a lot of Bloody Mary mix, far more than you'll need for a dozen cocktails. Be ready have it live in your fridge for a while.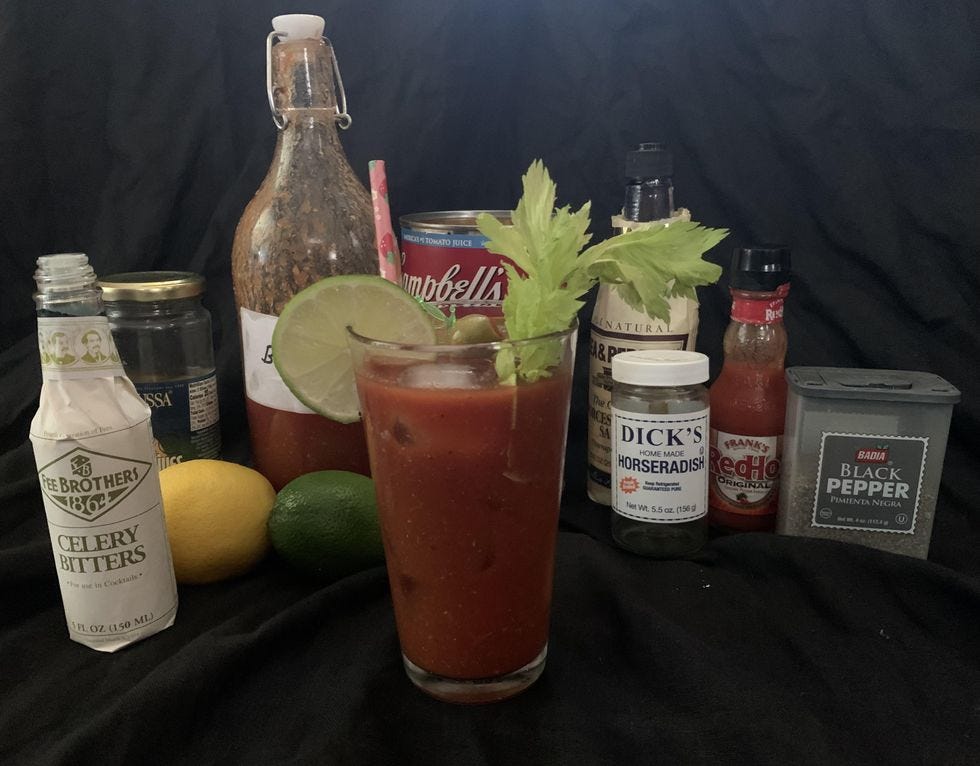 Matthew Hooper  
Bloody Mary Mix
1 large (46 ounce) can tomato juice
5.5 oz. (small jar) prepared horseradish
¼ cup fresh lemon juice
¼ cup fresh lime juice
½ cup Worcestershire sauce
2 teaspoons black pepper
2 teaspoons olive brine
2 teaspoons Frank's hot sauce
Blend all ingredients well. Salt to taste.

Some considerations on ingredients:

Tomato Juice: This cocktail was literallymeant to be used with canned tomato juice . The texture, body, and acidity of fresh tomatoes won't produce the same result. There's a significant difference between tomato juice that's made from concentrate and unconcentrated juice. The concentrated stuff is thinner and smoother. The unconcentrated is closer to a loose cocktail sauce. I like the juice from concentrate. It's not as hearty as the unconcentrated, but it's much easier to pour and work with.
Prepared Horseradish: I'm using Dick's Horseradish Root, and YOU STOP GIGGLING RIGHT NOW. (I suppose the name could be worse... ) Buy prepared horseradish, not horseradish sauce. The latter's a mayonnaise-based condiment that doesn't belong in a cocktail. Don't use fresh horseradish, either; it loses potency over time.

Hot sauce: I used Frank's because I wanted a straightforward, clean hot sauce that would make a fairly neutral Bloody Mary. Sriracha would be great here. So would chipotle sauce – this cocktail would be great with a smoky component. Adjust the heat to your liking, but you do need a little spice to cut through the other ingredients.

Olive brine: A sour, pickled note is great in Bloody Marys. Pickle juice would work just as well. I keep bottles of clean, filtered olive juice at the bar for dirty martinis, but skimming some brine from a freshly opened jar of olives works too.

The non-alcoholic version of this cocktail (the "Virgin Mary") is a classic, and pretty much self-evident. I'd still throw the Bloody Mary mix – aerating the cocktail will make it taste better, with or without vodka. Celery bitters are 100 proof, but you're only using a drop or two. Omit them if you're adamant about no alcohol.

In summary and conclusion, drink well, drink often, and tip your bartender: Please donate to Wonkette at the link below! I'm currently behind the stick at Tiki Underground in Hudson, Ohio — come see me sometime! And if I've inspired you to pick up a proper cocktail strainer, some celery bitters, Meehan's Bartender Manual, or even some quality horseradish, hit the links above, or use this link for a Wonkette-cut of your Amazon purchases.
OPEN THREAD!
Also too don't forget, Pacific Northwest and Southern California Wonkadoodles,we have Wonkmeets this weekend! 
Yr Own Dok Zoom will be coming to SPOKANE, WASHINGTON, for the Wonkmeet on Saturday, August 14 in Spokane Audubon Park at 6 p.m. Look for the WonkMeet flag!
Hosted by Wonkette Deep State Operatives Paul and Skepti-KC, who note this will be a "Family friendly event in a city park, so keep it cool, ya know." We think that means you gotta wear pants.
And on Sunday, August 15, in LOS ANGELES, CALIFORNIA, your hosts will be Rebecca her own damnself and Wonkette Deep State Operative CAlly for a meetup at Pan Pacific Park, 7600 Beverly Blvd from 3 to 6 p.m.