Discover more from Wonkette
Wonkette is filthy, hilarious, liberal news. YOU CAN HANDLE THE TRUTH!
Over 18,000 subscribers
Welcome To Wonkette Happy Hour, With This Week's Cocktail, The French 75!
The perfect drink for Mother's Day.
Greetings, Wonketeers! I'm Hooper, your bartender. I got a request to talk about the French 75 last week. It's hard to say no to this gin and champagne classic. It's a perfect Mother's Day cocktail, even better than the classic Mother's Day brunch mimosa. (Fight me.) Let's run down the basics on this powerhouse of a cocktail, and then talk about some fun variations on the theme. Here's the recipe.
French 75
1 oz The Botanist Gin
½ oz simple syrup
½ oz liqueur, syrup, or fresh juice, or ½ oz additional simple syrup
½ oz lemon juice
Martini & Rossi Prosecco Sparkling Wine
Shake all ingredients and pour into a chilled champagne flute. Top with prosecco. Garnish with a lemon twist, fresh berries, or edible flowers.
A cocktail similar to the 75 appeared as early as 1915, when it was called a champagne cup. The Soixante-Quinze (75, in French) was published in cocktail books starting in 1922. It was most likely named for the French 75-mml field gun, the preferred artillery of the French during WWI. Some wags suggested the name meant the drink could hit the unwary like a French 75 – unassuming but powerful. Harry Craddock's The Savoy Cocktail Book , published in 1930, brought the drink to a wider audience with the version that is most familiar.
I'm quite certain that the 75 became a drink used to hide poor-quality gin. Lemon, sugar, and champagne disguise a multitude of sins. However, that's no reason to grab bottom-shelf gin for this beauty. More than a few drinkers have bad memories of Pine-Sol masquerading as gin that gave them wretched headaches in the morning. This is the perfect place to banish those demons and start tasting the good stuff.
Modern floral and citrus gins, such as Hendricks, have completely changed the notion of what gin should be. Hendricks has an unnoticeable amount of juniper, but strong cucumber and rose notes. It's been described as "walking through an English country garden." I set out to use Hendricks in this drink, but my all-time favorite gin, The Botanist, called to me at the last minute. The Botanist tastes … amazing. I can't tell you exactly what it tastes like. All the reviews I've read can't quite decide what it tastes like, either. But we can all agree that it doesn't taste like juniper, and that it is delicious.
This drink cheerfully welcomes extra ingredients. I've suggested in the past that adding fresh OJ and making a Mimosa 75 provides the best of both worlds for Mother's Day. I'd rather add pomegranate juice, passion fruit puree, or even cranberry juice. I have a sour cherry syrup in my cupboard that would be a treat in this glass. A liqueur like Chambord, Midori, or Grand Marnier would be an excellent option as well. Your creativity here is paramount. Something fruit forward and not overly sweet would be my vote, but whatever tastes good to you is the best choice. (Within reason – no Fireball 75. Please. That can't possibly be pleasant.)
Let's talk ingredients: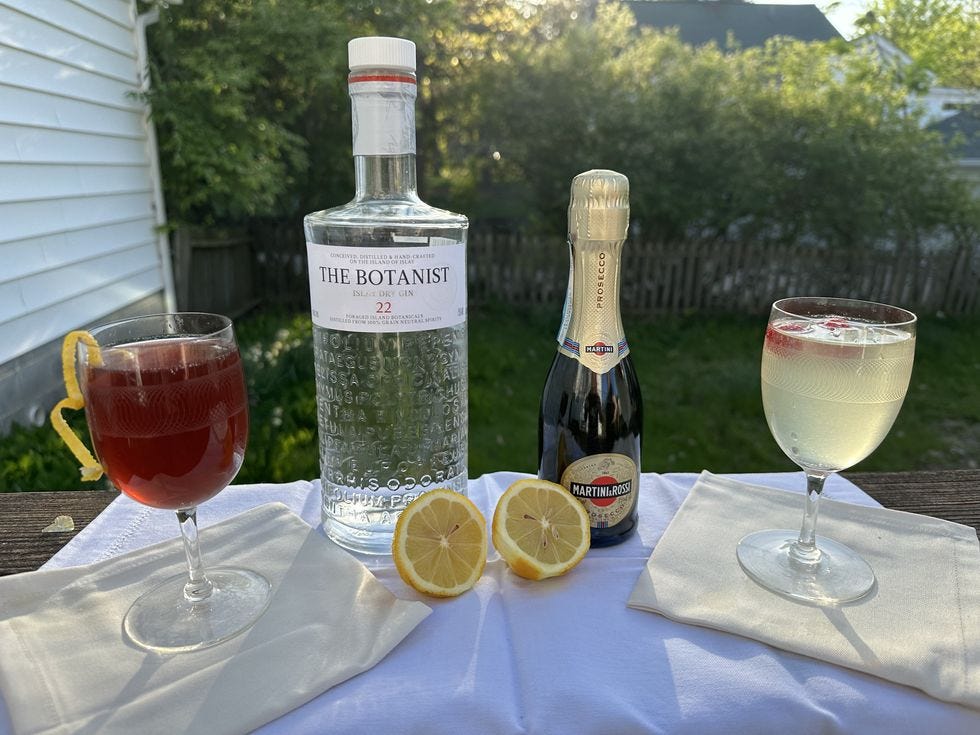 Ingredient shot. I shared these glasses with my wife, lovingly, shortly after this photo was taken. Matthew Hooper 
The Botanist Gin: If you absolutely cannot stand gin in any form, I would recommend trying a nice cognac here. "Nice" does not mean Paul Masson cognac. There are a lot of cheap cognacs on the market currently. They're worth every penny. If you are using a gin, Hendricks would be ideal. Another citrus forward gin would be solid here. I like a Watershed Four Peel as a local choice. Citadelle Jardin d'Ete is a low-cost gin in the same vein that I like very much. I would urge you to take a look at what your local distilleries might be producing. If a company's making vodka, it's probably making gin as well, and some of those gins are going to be creative and interesting.
Lemon juice: Fresh juice. Always. At this point in the recipe, you'll want to add whatever juices, syrups, or liqueurs you'd like to play with. Everything gets shaken together before adding the bubbly.
Simple syrup: Equal parts sugar and water, heated until the syrup is clear. Easiest thing you'll ever make in the kitchen. Using a honey syrup instead would be a treat with an add-on (dissolve honey into equal parts water). Fruit and honey are natural pairings.
Martini & Rossi Prosecco: My choice of sparkling wine is defined by what I've got in the liquor cabinet right now, but I still think prosecco is the correct choice. A dry Brut sparkling wine is great in the right place and time, but something mellow and sweet will be easier to balance in the finished cocktail.
Garnish: A lemon twist is great here. The lemon aroma enhances the drink. If you're hosting a Mother's Day brunch, throw an edible flower or some fresh berries on top of the cocktail instead. It adds a huge wow factor to the cocktail, and it requires zero prep time.

In summary and conclusion, drink well, drink often, and tip your bartender — donate to Wonkette at the link below! Seriously, my boss is awesome, if you like reading my recipes please chip in! And if you'd like to buy some bar gear or books from Amazon, please click here! 
OPEN THREAD!