Discover more from Wonkette
Wonkette is filthy, hilarious, liberal news. YOU CAN HANDLE THE TRUTH!
Over 15,000 subscribers
Welcome To Wonkette Happy Hour, With This Week's Cocktail, The Gin-Gin Mule!
Let's gin up a great summer cooler for the scorching heat.
Greetings, Wonketeers! I'm Hooper, your bartender. Today, I've got a super refreshing cocktail created by one of the leading female bartenders in America. It's crisp, it's tasty, it's fashionable. Best of all, it uses up the mint plant that's threatening world domination on the back porch. Let's make a Gin-Gin Mule! Here's the recipe:
Gin-Gin Mule
1 ¾ oz Bombay Sapphire East
1 oz fresh lime juice
1 oz simple syrup
3-4 fresh mint leaves
Ginger beer
Gently muddle the mint leaves with the lime juice and syrup. Add gin and shake. Double strain into a highball glass. Top with ginger beer. Garnish with a long mint stem and serve.
The Gin-Gin Mule is the signature invention of Audrey Saunders , an absolute goddess of modern mixology. My wife brought her to my attention via a book she was reading: " Girly Drinks ," by Mallory O'Meara. If you love feminist history, snarky writing, and/or booze, read this book. You'll love it. Swear to Deity, portions of this book sound like they were written by a member of the Wonketariat.
Ms. Saunders was one of the first wave of female bartenders mentored by Julie Reiner , a trailblazer who refused to settle for being a cocktail waitress and elbowed her way behind the bar. In the process, she founded the iconic Clover Club bar, offended a lot of good old boys, and changed all the rules about what makes a solid cocktail. You can see Ms. Reiner in action as a judge on the Netflix show Drink Masters . Ms Saunders, in return, trained a flotilla of upcoming bartenders, opened her own bar (Pegu Club), and taught Americans to love ingredients like rye, Luxardo cherries, and gin.
This cocktail was designed by Ms. Saunders to be a gentle introduction to gin for the timid vodka drinker. There's a ton of summer flavors going on here that make this drink appealing. Functionally, it's a gin mojito with ginger beer, but the devil's in the details. The mint keeps drinkers who have unpleasant high school memories of drinking Pine-Sol gin from having flashbacks. The ginger beer elevates the herbal notes in the gin. The lime and sugar balance the cocktail. It's a simple, inspired way to enjoy gin. I'm thoroughly in love with the approach.
Let's talk ingredients: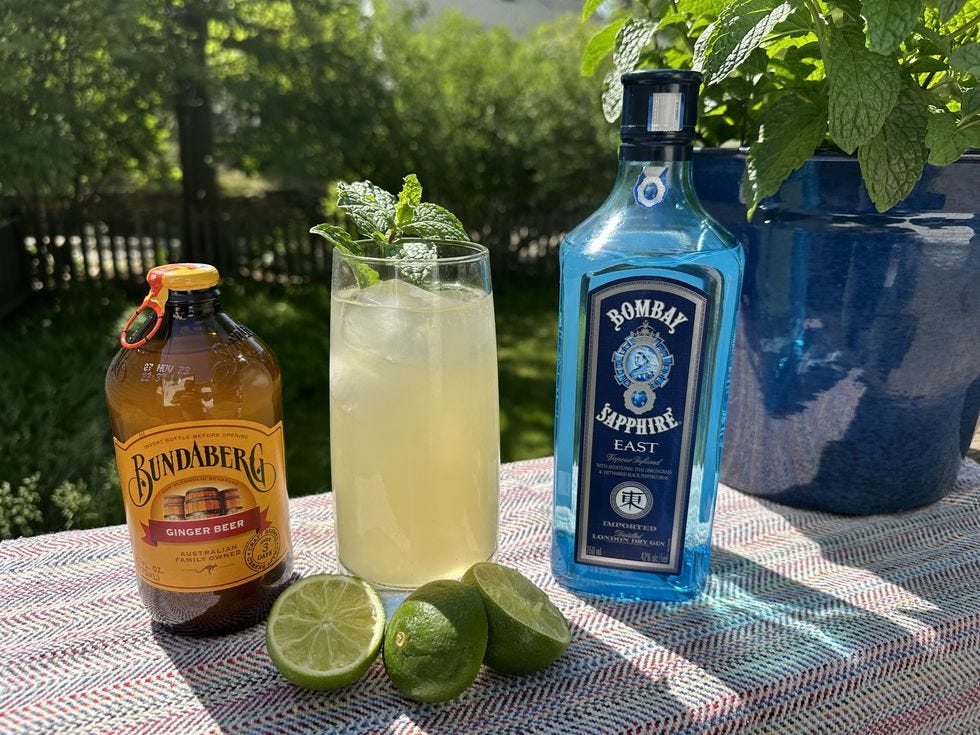 Ingredient shot. The very large mint plant threatens to become a kaiju by mid-July. Matthew Hooper 
Bombay Sapphire East Gin: The original recipe called for Tanqueray gin, which is not my favorite. A delicate floral gin would get buried under the mint and ginger beer here. A classic gin is necessary, but something for the summer is in order. I settled on Bombay Sapphire East. This gin might well be one of the first "modern" gins, first dating to 2011. Back then, adding lemongrass and black pepper to gin was daring. These days, it's a bit quaint. However, Bombay Sapphire East might also be seen as the first attempt to give drinkers new to gin a welcoming on-ramp to bolder flavors. The Asian spices blend seamlessly with the lime, mint, and ginger, adding a little depth without changing the core concept of the cocktail.
Fresh lime juice: Always fresh juice, always always always. Plastic limes give you plastic juice.
Simple syrup: Sugar and water, equal portions, heated until clear. It's called "simple" for a reason.
Fresh mint leaves: If you're stripping a plant from the backyard like me, please wash the leaves under running water before muddling.
Bundaberg Ginger Beer: Ginger beers vary widely in spiciness and flavor. I decided that Goslings and Cock and Bull were both too hot for this drink. Bundaberg is a much smoother ginger beer; it reminds me of a cooked ginger candy, instead of raw ginger soda. Canada Dry Bold would also be a good choice here.
Technique: Muddle the mint leaves gently; smash them too hard and you'll end up with unwelcome grassy flavors in the drink. To double strain a cocktail, I use the Hawthorne strainer and a little chinois strainer. Both tools used together let me catch all the little flakes of mint leaf before they land in the glass. Your mint garnish is a must; the scent of mint perfumes the cocktail. While this is a mule, you are under no obligation to use a copper cup.
In summary and conclusion, drink well, drink often, and tip your bartender — donate to Wonkette at the link below! Seriously, my boss is awesome, if you like reading my recipes please chip in! And if you'd like to buy some bar gear or books from Amazon, please click here! 
OPEN THREAD!