Discover more from Wonkette
Wonkette is filthy, hilarious, liberal news. YOU CAN HANDLE THE TRUTH!
Over 18,000 subscribers
Welcome to Wonkette Happy Hour, With This Week's Cocktail, The Godfather Sour!
And a vanilla almond egg cream for your non-alcoholic option!
Greetings Wonketteers! I'm Hooper, your bartender. I haven't done a bourbon cocktail yet, and we're getting into fall. Here's an original I wrote up this spring at the country club. Fair warning – this cocktail includes a scary ingredient. I'm giving two recipes if my first take freaks you out. Let's make a Godfather Sour.


Godfather Sour
2 oz Larceny Kentucky Straight Bourbon
1 oz Disaronno Amaretto
1 oz honey syrup
1 oz fresh lemon juice
1 pasteurized egg white
Pour all ingredients into a cocktail shaker. Do not add ice. Shake for 30 seconds. Add ice to the shaker. Shake an additional 8-12 seconds. Strain into a coupe or martini glass. Garnish with a lemon twist and luxardo cherries on a cocktail sword. Let the cocktail sit 2-3 minutes before drinking.
 Vegan option : Omit the egg white. Add two shakes of orange bitters. Shake over ice 8-12 seconds. Serve in an old-fashioned glass over ice.

I took the inspiration for this cocktail from The Godfather , a rather unhappy mix of Scotch and amaretto made in honor of the movie. I replaced the Scotch with bourbon and transformed it into a mashup of the whiskey sour and amaretto sour, with some honey syrup to complement the almond. It's a lovely combination, something like a lemon meringue with almond brittle in a whiskey glass.

That being said, I'm sure a lot of you lost your marbles when I put a raw egg white in the glass. Don't be afraid. You aren't drinking raw egg here, no more so than if you drank the foam off a pint of beer. The egg proteins snatch up impurities and bittering agents from the liquor, and leave behind a rich, silky mouth feel that rounds out the drink. The cocktail tastes nothing like egg. The "vegan option" is a more conventional cocktail, and is very nice in its own right. But I'd urge you to try the version with egg white at least once, just to see how the ingredient can change a cocktail.

Let's talk about those ingredients: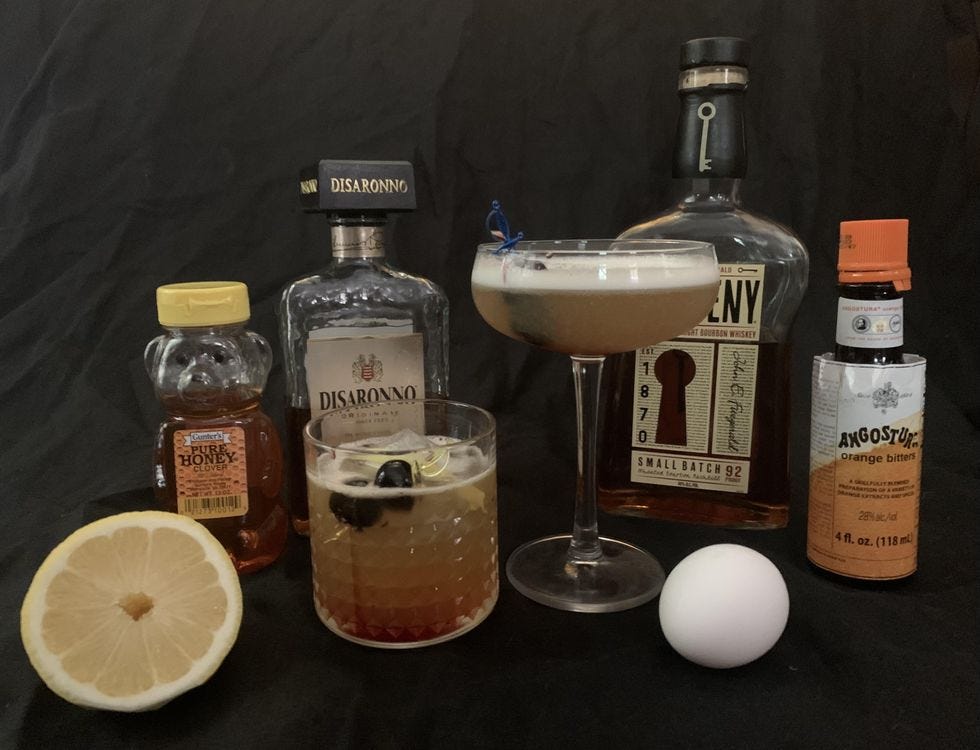 Ingredient shot. Ms. Hooper was kind enough to help me make both cocktails disappear shortly after this photo was taken. Matthew Hooper 
Larceny Kentucky Straight Bourbon: America produces a lot of extremely good bourbon. It also produces a lot of hideously overpriced bourbon. A bottle of Pappy van Winklecan sell for $3000 on the secondary market, and it's not any better than a $40 bottle of Weller 107 or Four Roses. I group bourbons into two categories: $100 bottles that are subtle enough that I can only serve them neat, or $40 workhorses I can use to make a good cocktail.

 Larceny is definitely in the latter category. It's a smooth, clean bourbon with a big mouth feel and strong chardonnay-like notes. It's a little higher proof than other options, but fantastic for what we've got in mind. Four Roses Yellow Label or Weller Special Reserve would also be good choices here.
Disaronno Amaretto: You really should use quality amaretto here. Cheap stuff from DeKuyper would be a waste paired up with the Larceny. If you hunt, you can find a smallish bottle ofDisaronno for $15 or so.
Honey Syrup: This is water to honey in a 1: 1 ratio. Undiluted honey is too thick to pour or shake into a cocktail. I used plain-Jane clover honey from a squeeze bear, but it might be fun to play with other kinds of honey. Buckwheat honey will be too dark and molasses-like, but orange blossom might be good.
Lemon juice: You can't make a "sour" without an acid, and lemon is excellent here.

Pasteurized egg white: I can't emphasize enough how important the word "pasteurized" is here. You can get pasteurized whole eggs from your local market, or if all else fails you canpasteurize them at home . Your chances of getting salmonella from a standard egg white are slim, but getting sick from a cocktail sucks. Some mixologists I follow have suggested using aquafaba (the water from rehydrating chickpeas) or artificial foaming agents in classic sours. While I appreciate the effort, I think an egg is best. For starters, it's much easier to acquire. Also, it's the proteins in the egg white doing the job here – substitutes might foam up, but they won't give the right mouth feel.
Technique: The first shake on this cocktail builds up the meringue. Don't skimp on shake time with your initial "dry shake." The second shake with ice cools and finishes the cocktail. Letting the cocktail rest a few minutes is important as well. Initially, the drink will have a lovely light almond color, but will taste astringent. Wait a little bit. The foam will settle to the top, and it'll be easier to find the almond and honey notes in the glass.

Garnishes: The lemon twist sharpens up the lemon flavor without adding acid, and no opportunity to add Luxardo cherries to bourbon should be missed. That being said, the best "garnish" for this drink is an early-season McIntosh apple and some nice cheddar cheese. Everything in this glass – almond, honey, bourbon, lemon – complements a good in-season apple. It's a great welcome to fall.

Since we're making talking about eggs and using them in cocktails – or not – let's make a vanilla honey egg cream for our non-alcoholic drink. This would be great with a big head of whipped cream on top, and maybe some crumbled Halloween candy.
Vanilla Honey Egg Cream
1/2 cup whole milk
2 oz honey syrup
.25 oz vanilla extract
4 drops almond extract
In a chilled pilsner glass, add all ingredients over ice and stir well. Top with soda water and whipped cream.

In summary and conclusion, drink well, drink often, and tip your bartender — donate to Wonkette at the link below! I'm currently behind the stick at Tiki Underground ; come by and say hello. And if you'd like to buy some ingredients or bar gear from Amazon, please click on the links above, or this one! 
OPEN THREAD!