Discover more from Wonkette
Wonkette is filthy, hilarious, liberal news. YOU CAN HANDLE THE TRUTH!
Over 18,000 subscribers
Welcome To Wonkette Happy Hour, With This Week's Cocktail, The Grapefruit Gin And Tonic!
Also, fresh house lemonade. Also, no grapefruit juice in the cocktail, don't panic.
Greetings, Wonketteers! I'm Hooper, your bartender. We've finally gotten past the worst of the summer heat here in Ohio. I really need to share this cocktail before we cool down. Let's make up some gin & tonics – easily the most refreshing drink in my bar book. Here's the recipe.
Grapefruit Gin and Tonic
3 oz. Modern American gin
3 oz. Fevertree tonic water
½ oz. Fresh lime juice
Grapefruit peel
Build in the glass over crushed ice – first lime juice, then gin, then tonic. Cut a ¼ inch wide strip of grapefruit peel with a vegetable peeler, 2-3 inches long. Gently squeeze the peel over the cocktail, curl it into a twist, and use it garnish the drink.
The recipe itself isn't very hard, but we can talk a lot about the ingredients. Even a bad G&T made with Beefeater and tonic from the soda gun is tasty on a hot day. But a good gin and tonic, made with top-notch ingredients? It's like comparing Country Time lemonade with homemade lemonade. They're both drinkable, but one is amazing. This grapefruit G&T? Well ... suffice to say I've had half a dozen since I decided to write this article. Lord, these are good.
Okay. Time to take a deep dive into the ingredients.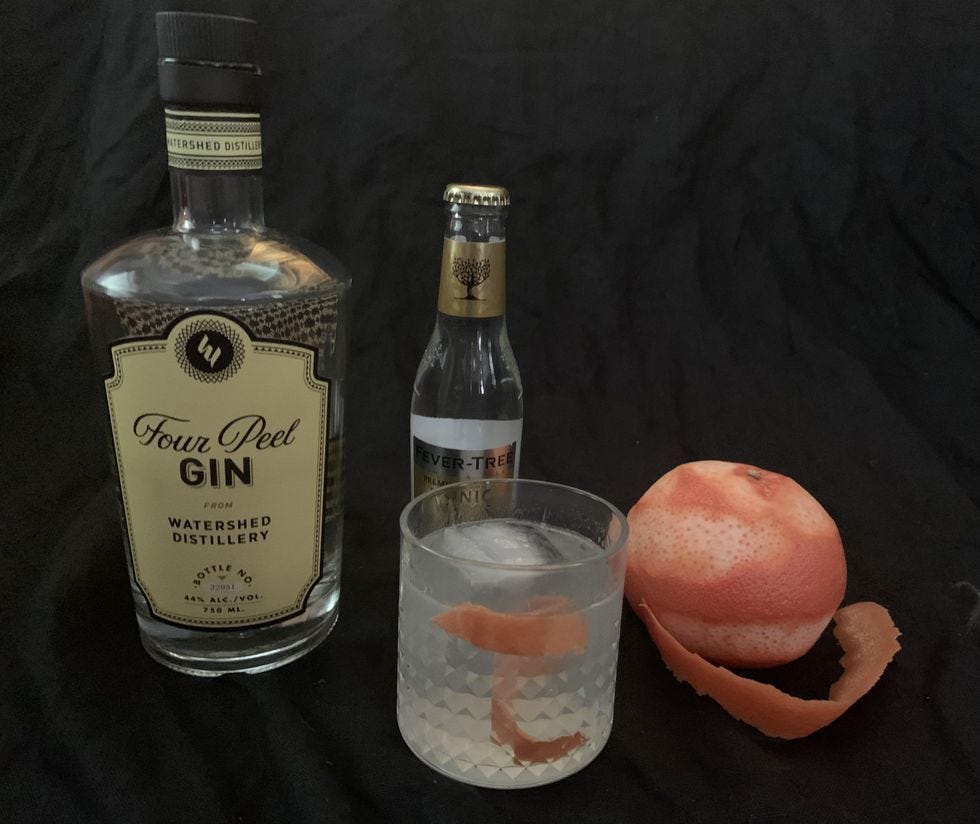 Ingredient shot. It's a miracle the G&T survived this long. Lord, these are tasty. Matthew Hooper 
Modern American Gin: To be very clear: "Modern American Gin" is not Beefeater. It isn't Tanqueray, or Bombay Sapphire, or any of the other gins you might have tasted when you decided you didn't like gin.

Those gins are classified as London Dry gins. They're very juniper forward, they're classics, and they still have their place at the bar – I reach for them when I'm building a complex tiki drink or a martini for a senior citizen at the country club. They're fine.

But currently, there are a host of gins being made by craft distillers across the country that barely have a whiff of juniper berries in them. Hendrick's Gin paved the way and demonstrated how versatile the gin category could be. Any spirit infused with herbs can qualify as "gin," as long as there's a tiny amount of juniper in there somewhere. There are a ton of local companies across the country making gin that tastes nothing like Beefeater, and it's worth your time to explore the options.
In this case I'm using Watershed Distillery's Four Peel Gin . Lemon, lime, orange, and grapefruit peel are front and center in this wonderful spirit out of Columbus, Ohio. The juniper is practically nonexistent. I'm just a little bit obsessed with this spirit right now. But realistically, I would be surprised if you can get it outside of the Midwest. If you can't, I'd urge you to hunt through the shelves of your local liquor store and find out what someone near you is making. Modern American gins are so varied, and so amazing. It'd be a shame if you turned your back on the category based on old, tired Beefeater.

(And I should note that some distillers are now circling back and making brand-new London Dry gins that are crispier, cleaner, and even more juniper forward than Beefeater. Gins like Ford's and Plymouth are incredibly bracing, and make a really hardcore G&T… but that's a different cocktail altogether.)

Fevertree Tonic Water: Tonic water's another beverage that's undergone an incredible change in the past few years. Schweppes's and Canada Dry tonic water are weak corn syrup bombs.Fevertree started making herbaceous, quinine forward tonic water a few years back, and the end result is utterly delicious. Personally, I think Fevertree is diluting its brand by putting too many variations of tonic water on the market … but the original Indian tonic water is just fine. Once you try Fevertree in a gin and tonic, you'll never go back.
Tonic water does contain a small amount of quinine — not enough to be medicinal, but enough to make tonic water bitter. Chloroquine was last year's Ivermectin for a while. Greg, from How To Drink, heroically jumped on the grenade and explained just why taking chloroquine for COVID-19 was bullshit. The video is awesome , and so is Greg. Give it a watch.

Lime juice: I tried grapefruit juice in this drink, and it wasn't satisfactory. It's too bitter and not acidic enough to balance the cocktail. Lime juice adds the acid the drink needs.
Grapefruit twist garnish: Getting grapefruitoil into the cocktail, on the other hand, provides a little extra citrus without disrupting the balance of the cocktail. It also provides just enough grapefruit flavor to register as "grapefruit" without making it grapefruit-forward. Bonus: Grapefruits have very thick peels, which means you'll be able to cut a twist without getting any bitter pith into the drink. Cut a nice long, thick strip of peel from the grapefruit using a sharp vegetable peeler. Use a knife to trim up the edges to make it look pretty. Then, twist and garnish. Even if you hate grapefruit juice, try this. It's far subtler than juicing the grapefruit, and very much worth your time.
There's nothing wrong with adding a healthy pour of fresh lemon, lime, or grapefruit juice to good tonic water and making a J&T (juice and tonic) for yourself. But since I mentioned it in passing, I thought I'd share a recipe for fresh bar lemonade. I've shaken this up at the country club on request at times. It's a bit labor-intensive for the money but still excellent. It's also a useful way to make one glass of lemonade, instead of a whole pitcher.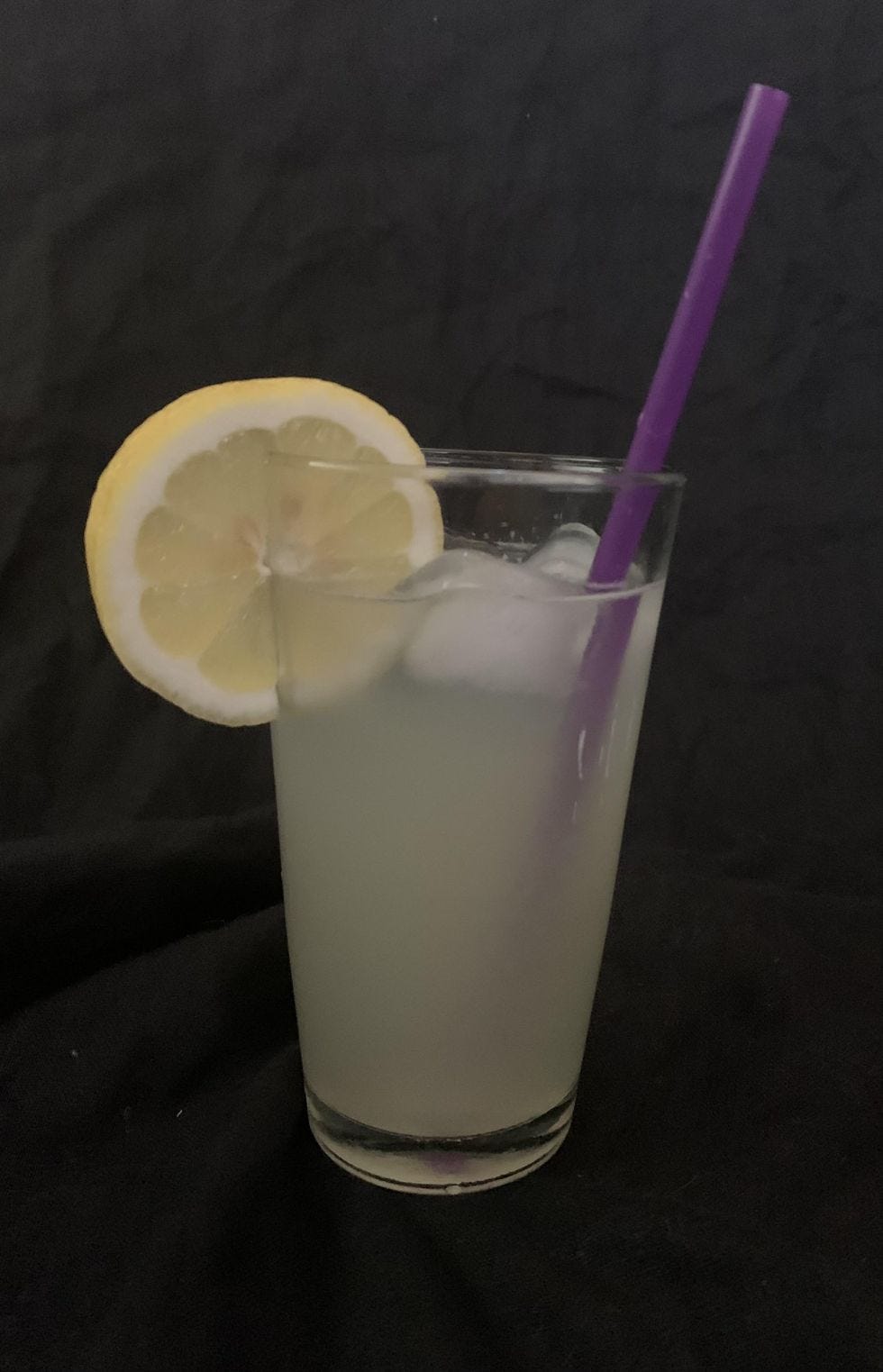 The more lemon juice, the better. Don't skimp. Matthew Hooper 
House Lemonade

4 oz. Fresh lemon juice
4 oz. Simple syrup
Dash of sea salt
Shake ingredients in a cocktail shaker and strain into a highball glass. Top with mineral water, sparkling water, or tonic water. Garnish with lemon wheel.
In summary and conclusion, drink well, drink often, and tip your bartender – donate to Wonkette below! I'm currently behind the stick at Tiki Underground – please swing by and visit if you're in the neighborhood. And if you'd like to buy some Fevertree tonic water, please use this link . Or for anything else, the link below!
OPEN THREAD!
 Do your Amazon shopping through this link, because reasons .