Discover more from Wonkette
Wonkette is filthy, hilarious, liberal news. YOU CAN HANDLE THE TRUTH!
Over 15,000 subscribers
Welcome To Wonkette Happy Hour, With This Week's Cocktail, The Jet Pilot!
Two of these and you'll be flying high.
Greetings, Wonketteers! I'm Hooper, your bartender. We are in for a very, very exciting and gratifying summer. I thought I'd brace myself with one more high-test tiki cocktail from Tiki Underground to get ready. This one's not for the faint of heart, but if you're ready for something really rousing, let's get flying with a Jet Pilot. Here's the recipe:
Jet Pilot
1 oz Goslings Bermuda Rum
¾ oz Smith and Cross overproof Jamaican Rum
¾ oz Hamilton 151 overproof Demerara rum
½ oz fresh lime juice
½ oz fresh grapefruit juice
½ oz Maggie's Farm falernum
½ oz cinnamon syrup
1 dash absinthe
1 dash Angustora bitters
Add all ingredients to a drink mixer tin. Shake and pour over crushed ice into a double old-fashioned glass. Garnish liberally with umbrellas, cinnamon sticks, and a little blue ice cube shaped like an airplane.
Real talk: This is not a cocktail that I would expect you to make at home. We've got three rums in the glass, two of them flammable, and some exotic ingredients that have no business being in a home bar. It is, however, a fantastic drink to order out, and one of my all-time favorites. I recommend it heartily when you visit your local tiki bar. I'll give you a rundown on why these ingredients are in your glass, and offer a few notes that might be useful when you're fiddling around in your home bar.
Tiki came into its first wave of popularity in the 1950s, when the Space Age was just beginning. Cocktails like the Test Pilot, Jet Pilot, and Saturn (named after the rocket) appear on most classic tiki menus. The Cates describe this drink in their book as a "Zombie, but (with) a little pitch, roll, and yaw to make this an interesting variation." I tend to agree, at least in terms of net effect. This is a tasty, slightly spicy drink that artfully disguises the alcohol through well-balanced ingredients. You've got no idea how strong it truly is until you stand up and your brain says "WHAR FLOOR?!?" I think it's a little more demonstrative of some core tiki principles than a Zombie, just because there's so much going on in a Zombie glass. The Jet Pilot is pared down enough that you can see some of Donn Beach's logic in composing these drinks.
When it comes to rum, tiki fans firmly believe in the adage, "never use one rum when three will do." Rum is an incredibly diverse spirit. It can be light and funky, dark and earthy, black and sweet, or anywhere in between. A solid tiki drink will get all of these flavors into one cocktail by using multiple bottles. We aren't using high proof rum just for the kick here. We want to get as much of those unique rum flavors into one glass as possible. The less diluted (i.e. lower proof) our starting rum is, the more intense it will be.
A good tiki drink also incorporates sweet, sour, spicy, and herbal in one glass. I am entranced by the combination of cinnamon and grapefruit juice here. It's a flavor combination I'd never consider, but it works. There are a lot of other spices and flavors gluing this one together, but those two flavors are distinct in the glass, and they come together surprisingly well.
Let's talk ingredients: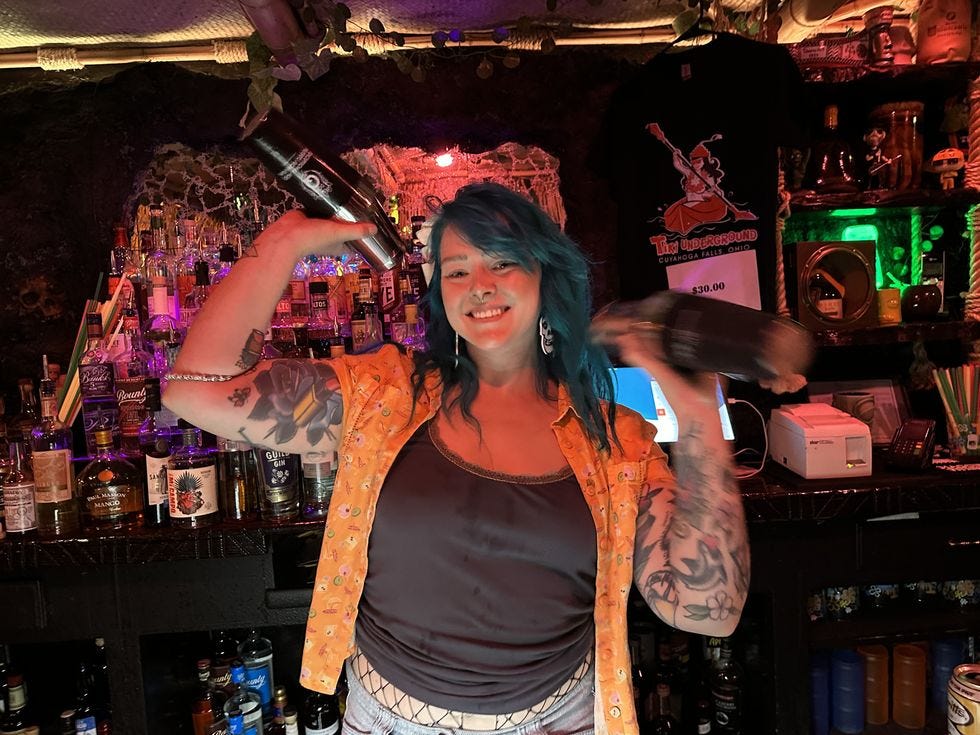 Bartender shot. Lea was about 15 drinks in the weeds when I asked to take a picture. I'm lucky she didn't throw a tumbler at me. Matthew Hooper 
Gosling's Bermuda Rum: Black rum often tastes of molasses, but properly aged rum never has a molasses flavor. A "blackstrap" or aged rum has molasses added back in after distillation. Gosling's is fairly subtle about this. Cruzan is a little too on the nose with its blackstrap flavor, and Meyers has degraded in quality over the years — it's garbage now.

Smith and Cross Overproof Jamaican Rum: This aged funky Jamaican rum is wonderful. The tropical notes are very present, but not overwhelming. It's not the overripe-banana flavored bomb that's Wray and Nephew, but you can immediately tell where this rum comes from as soon as you taste it. I keep some in my liquor cabinet at times, but it's a bit potent for my everyday cocktails at 114 proof.
Hamilton 151 Demerara Rum: Hold onto your hats, folks. The 151 on the label is the proof, which means this bottle is 75 percent pure alcohol. I love Hamilton rum for its rich caramel notes, but this one is very, very intense. Buy a bottle if you want to set something on fire. Seriously — if you like bananas foster or a flaming rum cake, this is your go-to.
Lime juice: Do I really need to tell you to use fresh juice by now?
Grapefruit juice: Fresh is best, but there is quality bottled juice. Cheat if you need to.
Maggie's Farm Falernum: Falernum is a syrup or liquor flavored with lime zest, clove, allspice, and other flavors. In essence, it's all the flavors that go well with rum in one bottle. Definitely a secret ingredient in most tiki bars. John D. Taylor is the most common brand, but Maggie's Farm from Pittsburgh makes a version I like, and I always want to support local businesses.
Cinnamon syrup: One part sugar, one part water, and a cinnamon stick. Heat until the sugar melts. This keeps great in the fridge — store it with the cinnamon stick, and it'll get stronger over time.
Absinthe and Angostura: In many tiki bars, these ingredients are mixed 50/50 and kept as sort of specialty tiki bitters. It's called "Herbstura," and it's a subtle but useful mix. When administered by the drop, it adds herbal notes without making the drink taste of anise or gentian root.
Garnishes: In a tiki drink, more is more. In my time behind the stick at Tiki Underground, I remember making little blue ice cubes shaped like airplanes for this drink. They were a pain in the butt to get out of the mold, but customers loved them.

In summary and conclusion, drink well, drink often, and tip your bartender — donate to Wonkette at the link below! Seriously, my boss is awesome, if you like reading my recipes please chip in! And if you'd like to buy some bar gear or books from Amazon, please click here! 
OPEN THREAD!