Discover more from Wonkette
Wonkette is filthy, hilarious, liberal news. YOU CAN HANDLE THE TRUTH!
Over 18,000 subscribers
Welcome to Wonkette Happy Hour, With This Week's Cocktail, The Jukebox Rebellion!
Because Pride wasn't always sunshine and rainbows.
Greetings, Wonketeers! I'm Hooper, your bartender. It's Pride Month. I found a recipe to celebrate LGBTQ+ history with you. (No, it's not rainbow colored. That would taste awful.) Let's taste some history and make up a Jukebox Rebellion. Here's the recipe.
Jukebox Rebellion
5 oz pineapple juice
2 oz Skyy vodka
2 oz soda water or 7-Up
1 oz house ginger syrup
1 oz fresh lemon juice
Shake pineapple juice, lemon juice, and ginger syrup. Strain over ice into a pint glass. Top with soda water. Pour the vodka into the shot glass.
Presentation: Pour the shot into the soda. Stir gently. Clutch the shot glass in your hand. Yell "I got my civil rights!" at the nearest law enforcement officer. If needed, throw said glass at said officer. Never, ever back down again.
This is a cocktail that approximates something that might be served at the Stonewall Inn on June 28, 1969. The mafia-run speakeasy was technically a "bottle shop." If you wanted real booze, you'd have to sneak it in. But it was safe, and home. Then the police raided the joint. The jukebox stopped. And, according to legend, Mother Marsha P. Johnson had had enough. She threw a shot glass at a mirror, screaming "I got my civil rights!" at the top of her lungs. For the queers and drag queens of the '70s, it was the shot heard round the world. The Stonewall Riots had begun. Conservatives are still trying to turn back the clock , but nothing would be the same after five nights of rage.
The original version of this recipe was composed by Chris Cabera , the LGBQT+ brand ambassador for Bacardi. Their version is a deliberately sloppy tiki drink, with a few West Coast ingredients. I kept his original ginger pineapple soda idea, made it my own, and decided to use vodka instead of rum. Cheap vodka was probably the liquor of choice at the Stonewall Inn. And this soda is so tasty that it doesn't need extra flavors.
This recipe is still too fancy for the Stonewall. The Stonewall Inn was the worst dive bar ever. If you were lucky, you didn't remember what you drank at The Stonewall last night. But this drink is meant to help us remember, and look forward.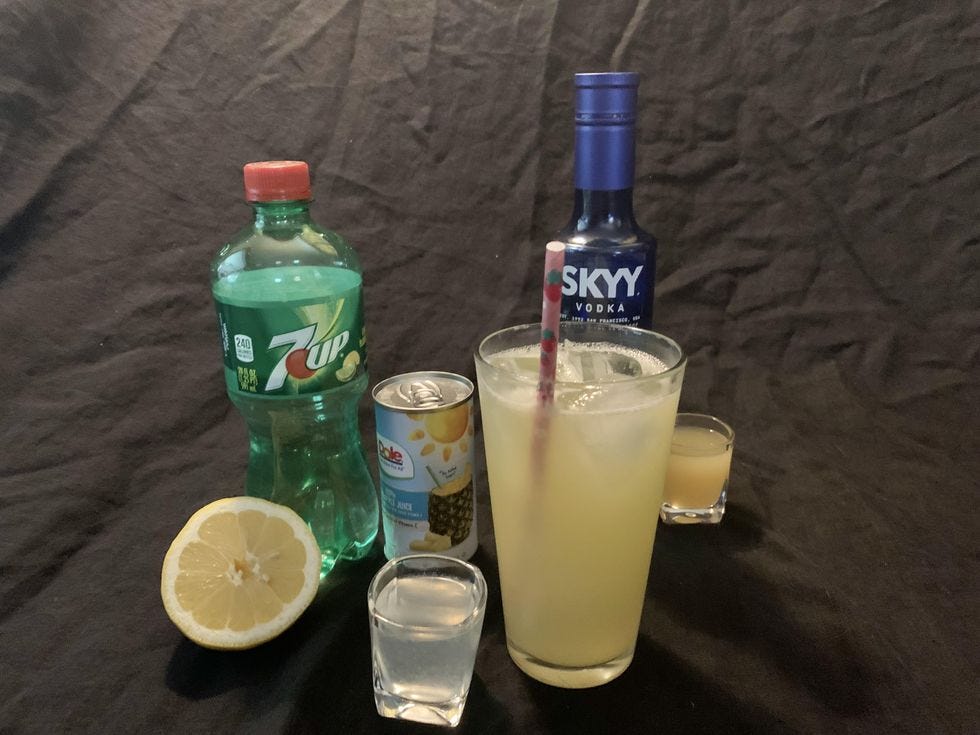 Ingredient shot. The cocktail refused to disappear after this photo was taken. I drank it anyway. Matthew Hooper  
Let's talk ingredients:

Pineapple juice: Canned is fine. Fresh pineapple juice is nice, but it's not always an ideal cocktail ingredient. It tends to be unstable, and not as strongly flavored as the canned stuff.
Skyy vodka: I'm not a fan of vodka cocktails. But this drink is meant to have some historic roots, and cheap vodka was certainly on the menu at Stonewall.Skyy Vodka has supported LGBTQ rights for nearly a decade. Their commitment has gone deeper than slapping a rainbow on their bottles for a month. Feel free to use your favorite vodka, but I feel their work earns them a place in this recipe.
Soda water: I might try some 7-Up here instead of seltzer. "The Un-Cola" had its heyday in the '70s, and the Stonewall Inn certainly didn't have a seltzer gun — or running water behind the bar, for that matter. I tried it, and it didn't make much difference. Ultimately, seltzer makes a crisper cocktail, but either is fine.
Ginger syrup: This fiery, barely sweet syrup livens up the cocktail tremendously. It's also easy to make. Add equal parts roughly chopped ginger, water, and sugar to a blender. (Don't bother peeling the ginger.) Puree until smooth. Strain through a fine sieve or cheesecloth. It'll keep in the fridge for a week. Here's amore in-depth rundown on the recipe if you need it.
Lemon juice: I doubt there was a drop of lemon juice in The Stonewall Inn, let alone a fresh lemon. But there are some standards I won't compromise. The lemon juice is a natural partner to the ginger. Having them both in the glass is what makes the drink.
Presentation: If you're making this for guests, I might try putting a splash of lemon and 7-Up into each shot glass along with the vodka. Serving a lemon drop shot with homemade pineapple soda is fun. You can treat it like a boilermaker — sip each separately, combine them, or chug the shot and sip the pineapple. There's no wrong way to drink this. Conversely, if you don't have a shot glass in the house, feel free to shake the drink with the vodka in the tin. The shot glass is for theater. It's cool, but it doesn't make the drink taste better.
The non-alcoholic version of this drink should be self-evident. Skip the shot, enjoy the soda. No matter how you enjoy this, please remember where we came from, and have a terrific weekend.
In summary and conclusion, drink well, drink often, and tip your bartender — donate to Wonkette at the link below! Come see me at The Spotted Owl at Tremont! And if you'd like to buy some bar gear or books from Amazon, please click here! 
OPEN THREAD!