Discover more from Wonkette
Wonkette is filthy, hilarious, liberal news. YOU CAN HANDLE THE TRUTH!
Over 18,000 subscribers
Welcome To Wonkette Happy Hour, With This Week's Cocktail, The Kingston Negroni!
Try this scary monster of a drink right before Halloween.
Greetings, Wonketteers! I'm Hooper, your bartender. Today I've got a riff on the classic Negroni from Death and Co. The devil's in the details on this one. These ingredients are so assertive that a fight's going to break out in your glass. Say hello to the Kingston Negroni. Here's the recipe.
Kingston Negroni
1 oz. Smith and Cross Jamaican Rum
1 oz. Carpano Antico sweet vermouth
1 oz. Campari
Stir over 3-5 small ice cubes, 10-12 seconds. Strain into a rocks glass over ice. Gently squeeze a large orange twist over the glass. Garnish with the expressed twist.
The classic Negroni is the oldest cocktail we've talked about so far. ( Maybe. The history is murky. ) According to the tales, the cocktail was born in 1919 at the Caffe Casoni in Florence, Italy. One of the regulars was a gentleman by the name of Count Negroni. The count was having a bad day, it seemed. Normally he drank Americanos, a fairly gentle cocktail featuring vermouth and soda water. Instead, he asked the bartender to swap the soda for gin. The new cocktail took off, and the Count earned immortality at bars ever since.
The Kingston Negroni is a variation on the classic that comes to us from Death and Co, one of the greatest craft cocktail bars in America. Death and Co is charting the same course that Trader Vic's took back in the '60s – they're opening franchises across the country, spreading the gospel about craft cocktails, and changing what America drinks one glass at a time. Their first cocktail book is living on my kitchen table right now. I can't recommend it highly enough.

The Death and Co crew invent new drinks by swapping out a classic ingredient for something unexpected. It's a fun approach. At Tiki Underground , we serve a "Rye Tai" that swaps whiskey for rum in a classic Mai Tai recipe, and it's amazingly tasty. I've swapped some bitters and sweeteners for a cocoa margarita at the country club, and it knocked some socks off. Death and Co went big with this one, though. Let's talk about the ingredients.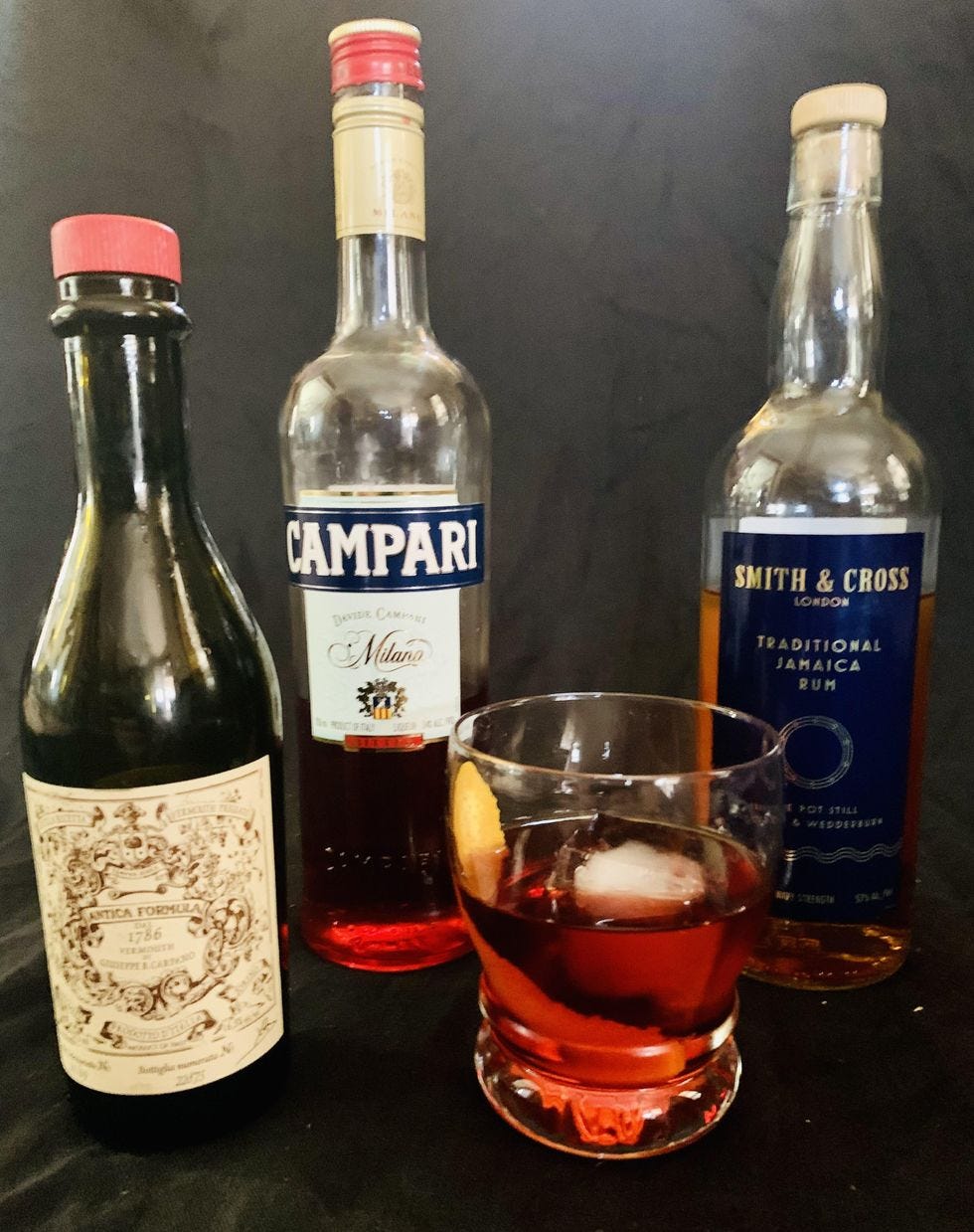 The Kingston Negroni disappeared after this photo was taken. Very slowly, and gingerly. Matthew Hooper 

Smith and Cross Jamaican Rum: This is the boldest, most complex rum I've ever worked with. Wray and Nephew is more pungent, butSmith and Cross has a full, thick mouth feel that reminds me of bourbon or aged tequila. It's a Jamaican rum, so notes of overripe fruit and tropical sugars predominate. It is most definitely a loud, assertive rum. I'd normally expect to find it in a tiki drink with lots of fruit juice and syrup.
Carpano Antico Sweet Vermouth: This is adecadent vermouth , redolent of raisins and vanilla. Whenever I pulled this bottle out at the country club, it brought a smile to the Manhattan lovers at the bar. It makes even lousy bourbon taste decadent. Pricey for vermouth, but worth it – buy a small bottle, you'll be using it sparingly.

Campari: I mentioned last week that I'm not a Campari fan. It's anItalian apertif that is supremely dry and bitter. Drinking it neat is unimaginable. The first thing I do with any Negroni recipe is cut the Campari in half or more. I tried that here… and it failed, miserably. The rum and vermouth are sweet and unctuous together. The harsh, bitter Campari is necessary to balance the other two liquors. It's still got a long, bitter finish, but it's the kind of bitterness that encourages you to take another sip and get back on the roller coaster of sweet to bitter again. I think of cocktails like this as Godzilla movies. You can't control ingredients this strong. You can only let them fight, and let them find their own balance.

Technique and Garnish: Okay, there are a few things you can do to tame these monsters. The first is to stir this drink correctly. Use a lot of ice in your stirring vessel. If you have access to crushed ice, use it. The more surface area you can expose to the ice, the better. Stir for at least 10-12 seconds. You're looking to get the drink diluted properly as well as chilled to the right temperature.

The orange twist is another way to tame these beasts. Use a big strip, and squeeze it gently before putting it into the cocktail. The orange oil goes a long way towards brightening the Negroni and giving the liquors just enough space to do their thing.

My non-alcoholic drink this week is a personal favorite. I present you with a recipe for Mayan Hot Chocolate, first published in the AJC in the year 2000. My wife-to-be and I moved in together that year, and we made this drink when we were courting each other. This week is our 19th wedding anniversary. Enjoy.
Mayan Hot Chocolate
½ dried ancho chili pepper, seeds removed
2 ½ cups whole milk
½ t good quality vanilla
1 cinnamon stick
4 ounces bittersweet chocolate
1 T honey
1 T lightly toasted blanched almonds
Grind the almonds into a coarse powder. Add chili pepper to 1 cup boiling water. Let simmer until reduced to ½ cup. Strain the chili from the water; keep the solids and set the water aside. In a medium saucepan, combine milk, vanilla, and cinnamon. Warm under medium heat until simmering. Reduce to low heat. Add the chocolate and honey to the milk. Stir until the chocolate dissolves. Add almonds and chili water to taste. Strain and serve piping hot.
In summary and conclusion, drink well, drink often, and tip your bartender — donate to Wonkette at the link below! I'm currently behind the stick at Tiki Underground ; come by and say hello. And if you'd like to buy some ingredients or bar gear from Amazon, please click on the links above, or this one!