Discover more from Wonkette
Wonkette is filthy, hilarious, liberal news. YOU CAN HANDLE THE TRUTH!
Over 18,000 subscribers
Welcome to Wonkette Happy Hour, With This Week's Cocktail, The Mai Tai!
And a pretty cool coffee non-alcoholic cocktail, too!
Greetings! I'm Hooper, your bartender. And it's past time for me to give you a recipe for one of the most iconic tiki drinks on the menu – the Mai Tai. Here's my take on the classic.
Mai Tai
1 ½ oz Hamilton 86 Rum
1 ½ oz Appleton Estate Rum
¼ oz Fee's orgeat syrup
½ oz Pierre Ferrand Dry Curacao
½ oz enriched Demerara Syrup
½ oz fresh lime juice
Shake and strain into a mai tai glass or your favorite tiki mug over crushed ice. Garnish with an expressed lime half and a mint sprig.

According to legend, this cocktail was created late one night at Trader Vic's. Donn Beach and some Tahitian pals were fooling around at the bar, building for the perfect drink to showcase a 17-year-old bottle of Jamaican rum. The trick was nailing the supporting cast — finding the ingredients that would emphasize the flavors of the rum while staying the in the background. When they finally nailed the recipe, his friend exclaimed, "Maita'i Roe Ae!" — Tahitian for "Eureka!"
Since then, the drink has been copied, bastardized, rewritten, and repeatedly mangled. God help you if you order a Mai Tai from Applebee's. Once, I was served a bright pink "Mai Tai" at a hibachi joint that had none of Donn Beach's ingredients in it, including the rum.
The dirty secret here is that nobody makes 17-year-aged Jamaican rum anymore. We can't recreate Donn Beach's drink perfectly. Everyone has to use artistic license to find a combination of rums that resembles Donn Beach's treasure and work out from there. As I learn more about my craft, the art of writing the "perfect" Mai Tai has gotten daunting. I hope this version pleases you.
On to the ingredients: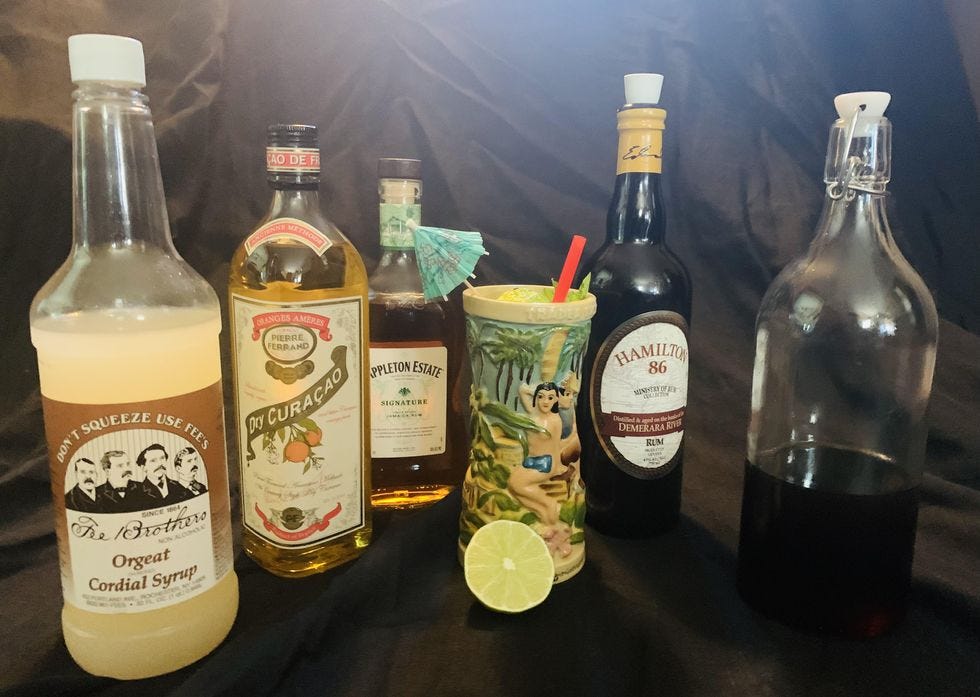 Ingredient shot. The Mai Tai disappeared shortly after this photo was taken, before I took a leisurely nap. Matthew Hooper 
Hamilton 86 Rum: Easily my favorite rum. Slightly funky, dark, and rich, it's a go-to for all my favorite tiki drinks. Plantation Special Dark is another excellent choice. If you're lucky enough to own some well-aged Kirk and Sweeney or Pilar, please use it here. However, you may need to lower or even omit the Demerara syrup. Many "sipping" rums have sugar added to them before bottling, and you'll need to re-balance the cocktail for sweetness.
Appleton Estate Rum: This is an extremely well-behaved Jamaican rum, with very little of the "funk" that defines hard core rums like Smith and Cross or Wray and Nephew. Mild apricot and molasses notes make this Mai Tai into a warm hug of a drink. The aged versions of Appleton Estate are glorious. If you can afford their 15-year-old rum, by all means treat yourself. But their base line rum is excellent, and very affordable.
Fee's Orgeat: This is a great "secret ingredient" of tiki. It's pronounced "or-ZHO," like "Zsa Zsa Gabor." It's an almond-based syrup that's great for building rich mouth feel and sweetness in a cocktail. I trust Fee's brand for my cocktail ingredients, soI ordered a bottle from Amazon that will probably last me a year. You can make this at home, but it's honestly a pain in the butt. I wouldn't recommend making it from scratch at a home bar. My friends at Crafted Cocktail in Wadsworth, Ohio, make a house pistachio orgeat that's barely sweet and utterly amazing … but I'll talk more about that when I can pry the recipe out of them.
Pierre Ferrand Dry Curacao: It's getting tough to findPierre Ferrand out in the Midwest. Supply issues are wreaking havoc on imports, and this little gem is falling by the wayside. I had to hunt down a dusty bottle from a convenience store in the middle of rural Ohio for this cocktail. It was worth it. It's drier and more complex than cruddy DeKuyper curacao. Besides, I hate the idea of tossing artificial orange flavor into the same glass as these two great rums.
Enriched Demerera Syrup: This is the same enriched syrup we made last week for the Old Fashioned. The short version of the recipe: two parts sugar in the raw, one part water, a dash of good vanilla, and a pinch of sea salt. I love caramel notes in aged spirits. This syrup's going to be a mainstay in my cocktails, so no reason not to make a big batch for the fridge.
Fresh Lime Juice: Rum loves lime juice, and it would be criminal not to use it here.

Garnish: Save one half of the juiced lime when you're making the cocktail. Place it cut side down on top of the drink, and put a little mint sprig next to the shell. Per Donn Beach, it should look like a little tropical island floating on the drink. You don't have to get that cute – a lime wedge on the side is fine – but the mint sprig's a must. The scent of mint as you're drinking the cocktail adds astringency without altering the flavor of the cocktail itself.
I thought that orgeat and coffee would make a good NA cocktail this time around. Shaking orgeat and coffee together creates an iced coffee amaretto with a rich, foamy head. See if you like this one:
Coffee Grog
1 cup iced coffee
1 oz orgeat
½ oz enriched demerera syrup
½ oz fresh orange juice
Dash of sea salt
Shake all ingredients over ice and pour directly into a small coffee cup or old fashioned glass; do not strain. Garnish with an orange wheel and cinnamon stick.
In summary and conclusion, drink well, drink often, and tip your bartender — donate to Wonkette at the link below! I'm currently behind the stick at Tiki Underground ; come by and say hello. And if you'd like to buy some ingredients or bar gear from Amazon, please click on the links above, or this one! 
OPEN THREAD!