Discover more from Wonkette
Wonkette is filthy, hilarious, liberal news. YOU CAN HANDLE THE TRUTH!
Over 15,000 subscribers
Welcome To Wonkette Happy Hour, With This Week's Cocktail, The Maple Bacon Old Fashioned!
Mmm. Bacon.
Greetings, Wonketeers! I'm Hooper, your bartender. I was challenged last week to make a bacon cocktail. Turns out there's a craft cocktail classic that marries bacon, bourbon, maple syrup, and cherries all together into one marvelous drink. It's my privilege to make a Maple Bacon Old Fashioned for you this Friday night. Here's the recipe.
Maple Bacon Old Fashioned
3 oz Bacon Fat Washed Bourbon (see below)
½ oz Grade A Dark Maple Syrup
10-12 shakes Woodford Reserve Spiced Cherry Bitters
1 barspoon Luxardo cherry syrup
Stir all ingredients and strain into a single old fashioned glass over 1 large ice cube. Garnish with a Luxardo cherry and a small strip of bacon.
Bacon Fat Washed Bourbon
1 ½ oz freshly rendered bacon fat, strained
750 ml Old Grand Dad Bottled in Bond 100 Proof Bourbon
Add the bacon fat to the bourbon bottle. Let sit for 4 hours, shaking once or twice every 30 minutes. Place the bottle upright in a freezer and let sit overnight. Strain the bourbon through cheesecloth and decant into a fresh bottle.
This cocktail was originally created by a New York speakeasy called PTD (Please Don't Tell) in 2007. The idea of fat washing spirits is at least 15 years old, and it still seems like utter genius. It takes a fair amount of chemistry to explain what's going on here, but suffice to say that if a flavorful fat is added to a spirit, it makes that spirit tasty. Refrigerating the spirit lets you strain the fat from the spirit without too much fuss. I've used this technique to make amazing hot buttered rum for Christmas, and I've heard rumors of a duck fat washed Sazerac that make me tingle. And it truly is not hard to make this; a little effort one day ahead does wonders. Try this technique. It's completely worth your time.
Let's talk about ingredients and technique. The fat washed bourbon deserves particular attention.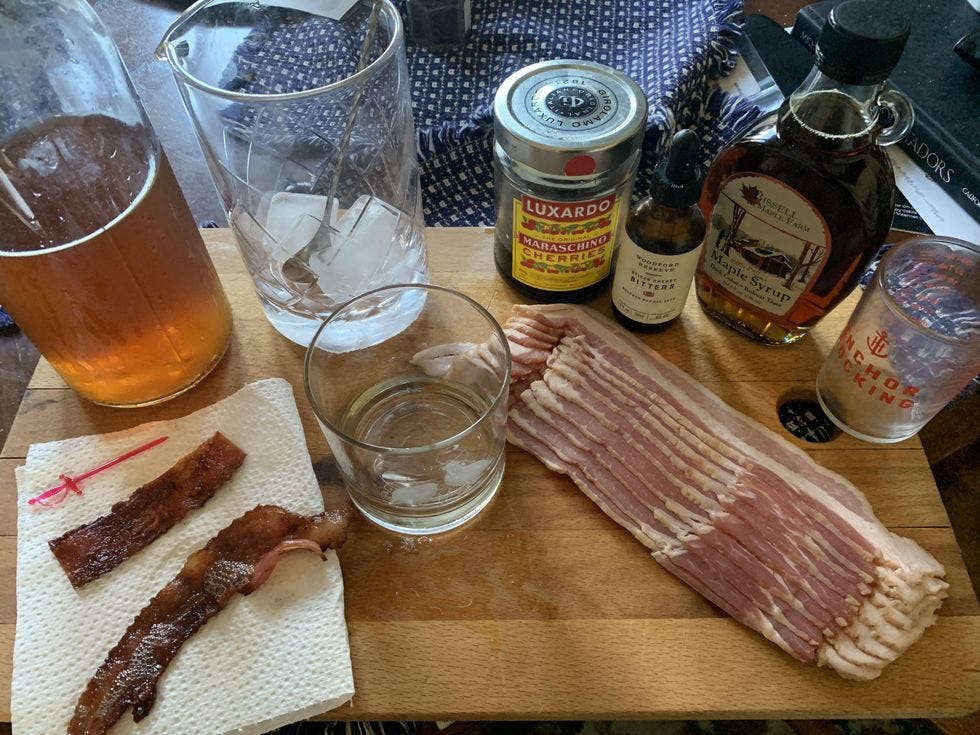 Ingredient shot, right before making the cocktail. That little Anchor Hocking measuring cup is a great tool. Matthew Hooper  
Fat Washed Bourbon:
Freshly Rendered Bacon Fat: Good quality bacon, freshly cooked, makes the best fat washed bourbon. This is a perfect excuse to splurge at the grocery store. Don't pass it up. Beef bacon would work here as well. Don't bother with turkey bacon, it's not worth the effort. You don't need to use a lot of fat. A little goes a long way, and too much fat will make straining the end product harder. DO NOT SHAKE THE BOTTLE TOO MUCH. The first time I tried making this, I used an immersion blender to blend the bacon fat and bourbon. One month later, the fat still hadn't risen to the surface. It was … not good.
Old Grand Dad Bottled In Bond 100 Proof: PTD uses Four Roses Bourbon for their maple bacon old fashioned. I used 100 proof bourbon to extract more bacon flavor from the fat. Quite honestly, I think PTD's choice is better. A 100 proof old fashioned is a very stiff cocktail. My liver is fairly stout, but it was challenged by this one. Four Roses, Bulleit, or Old Forester are all excellent choices. Feel free to use your favorite.
Technique: If you can put the bourbon into a freezer upright, or even at a 45 degree angle, straining out the fat becomes much easier. Puncture a hole through the fat layer with a chopstick, pour the bourbon through a layer of cheesecloth, and put the defatted bourbon into a clean bottle. It's not a pretty looking process, but the end results are worth it. Speed is of the essence; you want the fat to stay cold and solid for as long as possible. Do this right, and the end product won't be greasy at all.
Maple Bacon Old Fashioned:
Maple Syrup: If you can lay hands on Grade B maple syrup, please use that. Otherwise, Grade A Dark maple syrup is fine. Don't bother with Grade A Amber; it's too thin and mild to bring much flavor to the cocktail. Feel free to boost the maple syrup to a full ounce if you're a big maple fan.
Spiced Cherry Bitters: This variety of bitters is my secret weapon for creating killer old fashioneds. If you're a bourbon fan, you owe it to yourself to get this stuff. My teacher at Crafted Cocktail, Scott Sauer, firmly believed that you should be very generous with your bitters in any cocktail. That idea holds firm in this modern classic as well. If you don't have the spiced cherry bitters, use Angostura. PTD uses it in their version, and it's hard to argue with success.
Luxardo Cherry Syrup: If you love cherries, and don't sneak a little cherry syrup into your old fashioned, you lead a joyless life.Luxardos are pricey but delicious; no other preserved cherry compares. If all you've got are some bright red maraschinos in the fridge, don't bother.
In summary and conclusion, drink well, drink often, and tip your bartender — donate to Wonkette at the link below! And if you'd like to buy some bar gear or books from Amazon, please click here! 
OPEN THREAD!