Discover more from Wonkette
Wonkette is filthy, hilarious, liberal news. YOU CAN HANDLE THE TRUTH!
Over 18,000 subscribers
Welcome to Wonkette Happy Hour, With This Week's Cocktail, The Merciless Virgin!
And the non-alcoholic Shirley Temple of Doom!
Greetings, Wonketteers! I'm Hooper, your bartender. I went for a deep dive into the tiki playlist this time and found a tasty sour. Let's make a Merciless Virgin or two for the weekend, shall we? Here's the recipe.
Merciless Virgin
1 ½ oz. Mount Gay Eclipse Rum
¾ oz. Fresh lemon juice
½ oz. Seltzer
½ oz. Cherry Heering liqueur
½ oz. Maggie's Farm Falernum
¼ oz. Pierre Ferrand Dry Curacao
Shake and strain into a pilsner glass or a tiki mug. Garnish with Luxardo cherries on a cocktail sword.
This is a terrific little cocktail that's fruity, but not sweet – sort of a tart lemonade with a lingering cherry finish that goes on forever. The rum's practically invisible, but it definitely sneaks up on you. It's sort of a lost classic – "Skipper" Kent ran one of the first and best tiki lounges in California until it burned down in 1967, but he never franchised nationwide like Trader Vic. This recipe was found in his notes for an unpublished recipe book, alongside a quote from The Rubaiyat of Omar Khayyam : "She must be merciless. Ah! Moon of my delight/that knows no wane/The moon of Heaven has risen once again. How oft hereafter rising/shall she look/through this same garden/after me/in vain!"
And that little story right there is why I love tiki so much. It's so over the top. A world traveler sails the South Seas, brings his antiques home, opens a bar, hosts in a crisp white linen suit for decades, loses everything in a three alarm fire, and leaves behind a recipe in the notes for an unpublished book along with a snippet of poetry? Really? Seriously? It's so wildly romantic that it can't be true. But if we turn off our fact checkers long enough to embrace the story and enjoy a drink with a little umbrella in it, magic happens. It's a thing you need to enjoy in moderation. Too many fables, like too much rum, can lead to a nasty hangover. Or, if you're lucky and stubborn, a career.
Okay. On to the ingredients.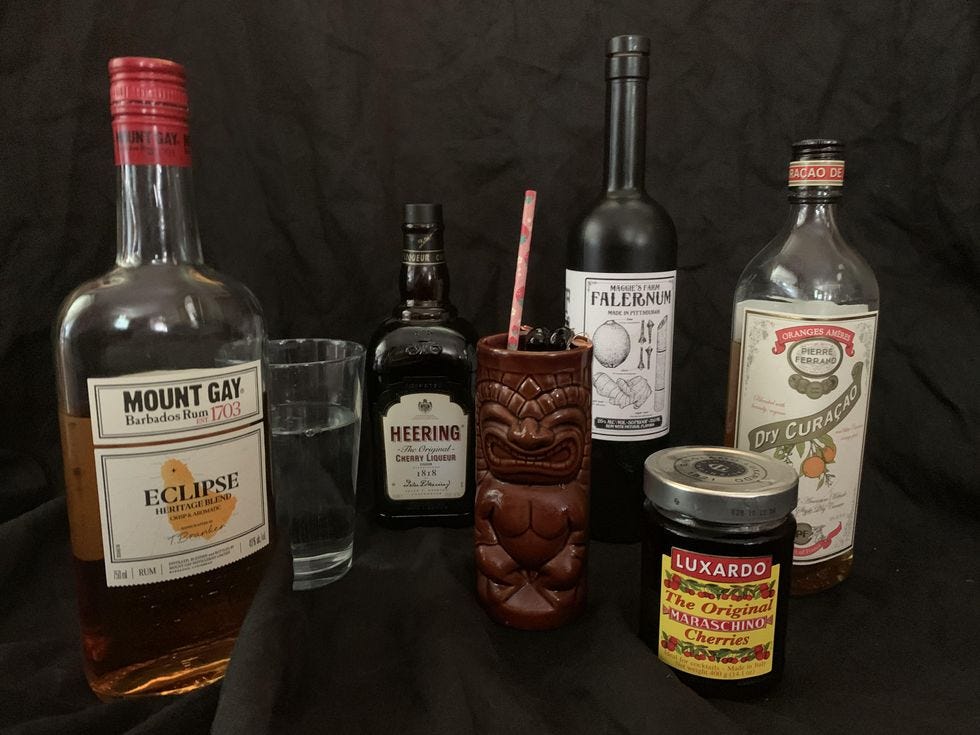 Ingredient shot. My wife informed me that the Merciless Virgin disappeared shortly after this photo was taken. Matthew Hooper  
Mount Gay Eclipse Rum: This is a light blended rum that's not too hard to find. It has a full, syrupy mouth feel, but ends on a dry finish that works extremely well in this tart drink. I'd use Plantation 5 Star here in a heartbeat. Bacardi might cooperate here, but Puerto Rican rum is a different animal than a blended rum like this, so it might be iffy.
Lemon Juice: Absolutely must be fresh, no substitutes. I find that one big lemon gets you just enough juice. Squeeze it carefully. Lemon seeds suck.
Seltzer: I don't pay attention to the brand much, and a sparkling mineral water would add some unwelcome flavors. Note that the seltzer is an ingredient here, not a filler – we're shaking in the tin with the other cocktail ingredients.
Cherry Heering Liqueur: I discovered, to my sorrow, that Cherry Herring has a shelf life after it's opened. I bought a bottle during lockdown, and when I used it again it had oxidized and taken on an ugly rust color. Make sure you use this stuff liberally lest it go to waste.
Maggie's Farm Falernum: Falernum is one of the great "secret ingredients" of tiki. It's a lime, ginger, and clove liqueur that provides a balance of sweetness and exotic spice in one bottle.Maggie's Farm is a distiller out of Pittsburgh. Their products are nothing short of amazing. But it's a lot more likely that you'll be able to find John D. Taylor's Velvet Falernum in the rest of the US. You can make your own falernum at home , but quite honestly it's tedious work. I zested seven limes by hand to make my own batch at home during lockdown, and it was no fun. Maggie's tastes better than mine, anyway.
Pierre Ferrand Dry Curacao: Another secret tiki ingredient.Pierre Ferrand is a kissing cousin to Grand Marnier, but the orange isn't quite as prominent and it does have a distinct dry finish. A mini of Grand Marnier from the liquor store would be a perfectly fine substitute.
Garnish: Luxardo cherries are at least four times as expensive as maraschino and worth every single penny. The syrup from the cherry jar is worth the price of admission all by itself. You'll never regret buying these.
Since we do have these amazing cherries to work with, I thought I'd toss some of that syrup into our non-alcoholic cocktail. You could just add the luxardo syrup to Coca-Cola and have the most amazing cherry Coke of your life, but I decided to raid my cocktail staples and build a bone-dry version of the Shirley Temple. Hope you like it.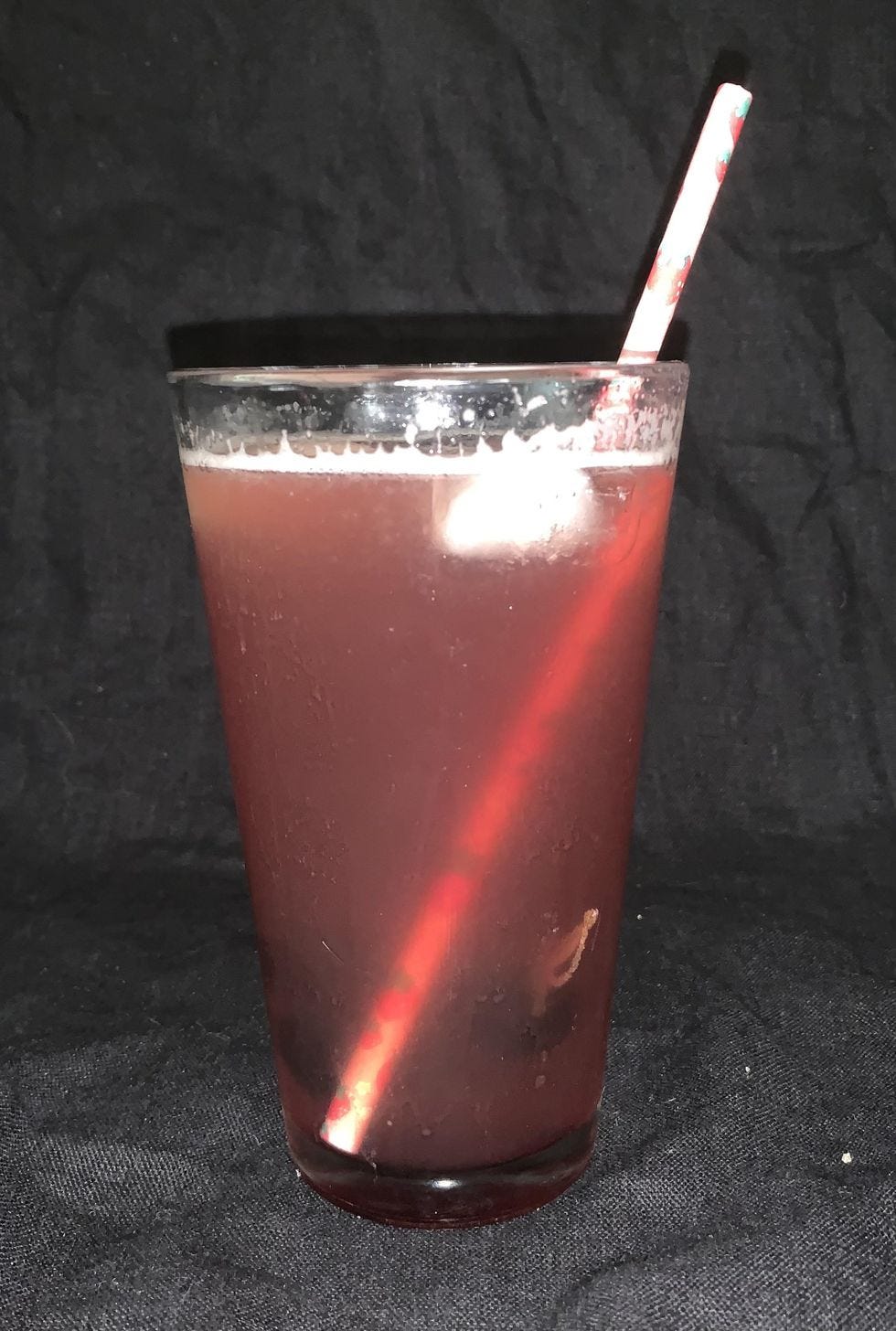 There are no less than four Luxardo cherries at the bottom of this glass. Never skimp on cherries in a Shirley Temple. Matthew Hooper  
Shirley Temple of Doom
1 bottle Reed's Ginger Beer
1 oz. Fresh lime juice
3-4 spoons luxardo cherry syrup
Dash orange blossom water (¼ t.)
Fill a highball glass with ice. Slowly drizzle lime juice over the ice, coating the ice cubes. Stir together the ginger beer, syrup, and orange blossom water in a mixing tin, and pour into the highball glass. Garnish with 2-3 cherries.
In summary and conclusion, drink well, drink often, and tip your bartender – please donate to Wonkette at the link below. I'm currently behind the stick at Tiki Underground in Hudson, Ohio – please feel free to stop by and say hello. And if you're shopping for tiki mugs or luxardo cherries on Amazon, please use the links above, or for anything else, use this link .

OPEN THREAD!