Discover more from Wonkette
Wonkette is filthy, hilarious, liberal news. YOU CAN HANDLE THE TRUTH!
Over 18,000 subscribers
Welcome to Wonkette Happy Hour, With This Week's Cocktail, The Mud Shark!
Mocha sundae cocktail? Yes please.
Greetings, Wonketteers! I'm Hooper, your bartender. It is blazing hot outside. Time to raid the liquor cabinet for some goodies and make a frosty, chocolatey boat drink. Let me offer you my take on the frozen mudslide. I call it a Mud Shark. Here's the recipe.
Mud Shark
½ oz 360 chocolate vodka
½ oz Paul Masson brandy
1 oz coffee liqueur
1 oz Godiva chocolate liqueur
½ oz chocolate syrup
¼ t espresso powder
Coffee ice cream
Shake all ingredients but the ice cream. Strain the cocktail into a frosted glass filled with coffee ice cream. Garnish with mini chocolate chips or your favorite sundae toppings.
I've made some fairly subtle cocktails before, with layered flavors and subtle interplays of ingredients. This is not one of those drinks. It's a boozy chocolate sundae for grownups. It will wreck your diet and give you a brain freeze. When the temperature's skyrocketing, it's the best thing in the world.
The mudslide has been around since the '70s. It was created at the Wreck Bar in Rum Point Club on Grand Cayman Island, when a customer ordered a White Russian with Bailey's. You wouldn't think a coffee and cream cocktail would work on a beach bar. But somehow, this drink found its legs and took off. Mudslides have lurked on the back of many chain restaurants' menus ever since.

At the bar, it's common to make this drink with a high-powered blender and lots of crushed ice. It's cold that way, but not very rich. I decided to pour the cocktail over coffee ice cream instead. I also swapped some of the traditional ingredients with liqueurs that boost the mocha flavor. The end result is a sort of boozy affogato , and utterly decadent. I wouldn't want one every day, but as a special treat it's heaven.
Let's talk ingredients: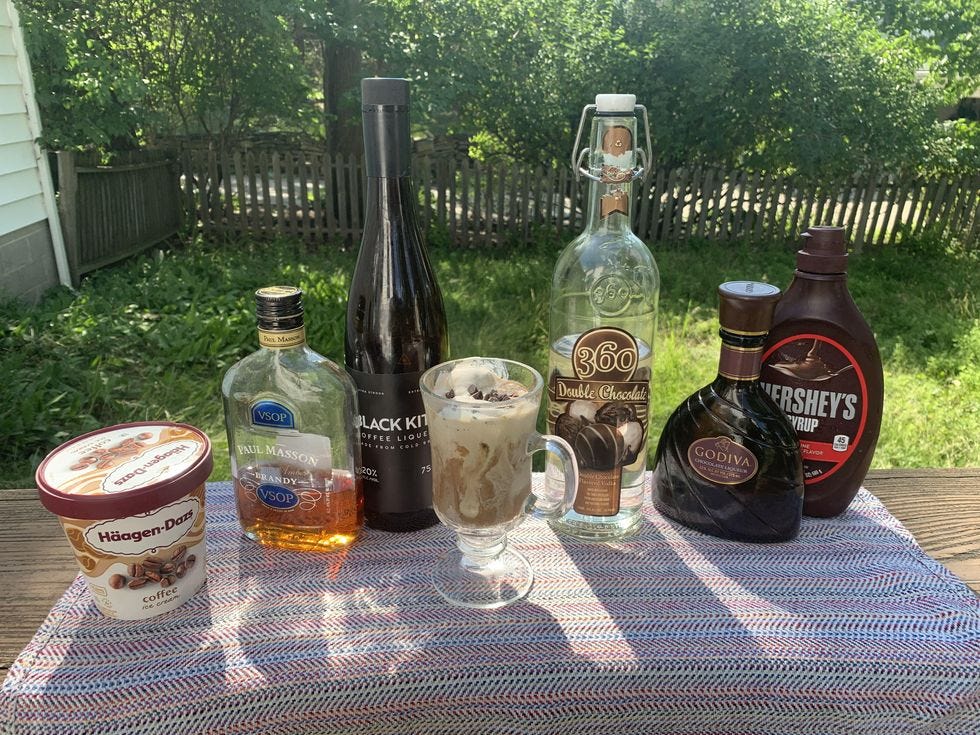 The ice cream melted in this cocktail shortly after this photo was taken. The cocktail vanished soon after. Matthew Hooper 


360 Double Chocolate Vodka: This isn't fantastic vodka, but the chocolate flavors ring true in this glass. I'd check the liquor store for other options, just out of curiosity. Odds are good that there's a local distillery near you making a good chocolate vodka. West Branch Malts in Brunswick, Ohio, makes a chocolate vodka with a subtle malt flavor. It's killer in ice cream cocktails. Chocolate malted mudslide? Yes, please.

Paul Masson Brandy: Some brandy in the cocktail adds depth and warmth to a straightforward drink. If you omit the brandy in favor of more vodka, you'll be fine. I might even try bourbon, Puerto Rican rum, or reposado tequila here.
Coffee liqueur: I'm not a fan of Kahlua. It's too sweet and the coffee flavor isn't as strong as it should be. Use it if you have to, but look for other choices. I'm using Black Kite coffee liqueur out of Toledo. Mozart espresso vodka would also be a solid option.
Godiva chocolate liqueur: Bailey's has been the cream liqueur of choice behind the bar for years. There are more options available now. I do like Bailey's in a whiskey cocktail. But this drink is all about the mocha. Godiva brings quality chocolate flavor and cream to the glass. It's pricey, but worth it.
You could try some Rumchata instead of Godiva. Swap the brandy for some Bacardi, and you'll have a Mexican chocolate cocktail. Alternately, go back to using Bailey's and swap the brandy for Jameson. Make the drink that makes you happy.
Chocolate syrup: A little Hershey's adds more yet more chocolatey goodness. It also brings some body to the cocktail. Hershey's Special Dark might dial back the sweetness a bit, which would be welcome.
Espresso powder: We desperately need a bitter note to bring all this sugar back under control. Instant espresso powder enhances the dark, bitter notes of chocolate.
Coffee ice cream: Use your favorite. A premium ice cream like Haagen-Dazs is going to be denser, richer, and colder than an over churned brand like Pierre's or Breyers.
Presentation: Use a cold glass to keep everything as frosty as possible. Use agraduated cylinder to measure the ingredients, if you have one. Getting chocolate syrup out of a jigger isn't much fun. (If a jigger is all you have, measure the chocolate syrup first. You can use the Godiva to rinse out the jigger.)
It may be difficult, but wait a little bit before drinking this cocktail. The booze will kick like a mule if you don't let some ice cream melt into it. Stir it, and wait.
Top this with your favorite sundae toppings. I used mini chocolate chips. Bittersweet chocolate shavings would be elegant. Of course, more chocolate syrup is also an option. Magic Shell on the rim of the glass would be spectacular. The sky's the limit.
You'll probably need a spoon and a straw to enjoy this cocktail. It's practically a sundae. However you choose to enjoy it, take your time. Relax. You've earned some decadence after a long hot summer.

In summary and conclusion, drink well, drink often, and tip your bartender — donate to Wonkette at the link below! And if you'd like to buy some bar gear or books from Amazon, please click here! 
OPEN THREAD!